The Top 5 Struggles Every Digital Nomad Faces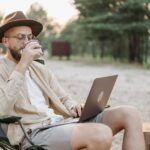 The life of a digital nomad appeals to many people, but I have identified the top 5 struggles every digital nomad faces. Only some make the commitment to pursue "keyboard adventures" throughout the world. But it is not always easy for them.
For those wondering what the term refers to, a digital nomad works from their computer, allowing them to remain mobile without ever settling down in one place. Rather than working from home, a digital nomad may travel the world, taking advantage of their freedom to explore while maintaining a steady income.
Image from: https://www.pexels.com/photo/man-drinking-from-a-cup-9143546/
Here Are The To 5 Struggles Every Digital Nomad Faces …
Like all professional pursuits, being a digital nomad has both upsides and downsides. Before anyone chooses this career path, they may want to consider the common struggles every digital nomad faces …
1. Staying Connected to the Internet
---
You might not think staying connected to the internet would be a problem, but some digital nomads may discover relying on Wi-Fi in some areas could be problematic. Maybe they stay in a hotel or hostel that does not offer reliable connections.
Or, they could go to remote areas where Wi-Fi might be limited. Some digital nomads may use their smartphone's personal hotspot to connect to the internet, but weak signals can make such connections difficult.
There may be an issue with a laptop's Wi-Fi driver. Getting the laptop fixed could be a burden when traveling, and buying a new one from a local store could be more expensive than expected.
Generally, travelers won't have too many difficulties connecting to Wi-Fi, but they may be faced with a common question, "Where can I find the best internet provider in my area?". For digital nomads, a lost or weak connection will cause inconveniences at the very least. Even worse, their ability to earn an income might suffer, or they might find connecting with friends and relatives back home more difficult.
2. Knowing When to Take Work Seriously
---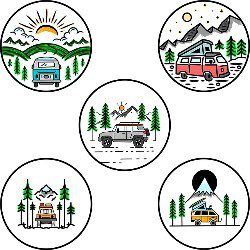 Most people don't travel to far-away destinations intending to sit in their rooms working 12 hours a day. However, those work days are what pay for the trip and other expenses, such as insurance policies and other essential costs.
Digital nomads want to enjoy their new environment and might enthusiastically pursue unique hobbies like scuba diving or kickboxing. Some might find the overall cost of living so low in a temporary home that they could sign up at a language or art school, actions that would be cost-prohibitive back home.
While it is understandable that a digital nomad wants to have fun, shirking work responsibilities comes with risks. Namely, they could lose the clients and employers who provide them with the income needed to live abroad.
3. Never Putting Down Solid Roots
---
Digital nomads, by their very nature, often only intend to stay in a particular place for a short duration before moving onward. Yes, some might find a country so appealing that they could stay there permanently. However, most digital nomads remain in a place for the short term.
Those who live this lifestyle likely won't ever feel like they've put down roots. Many live "out of a suitcase" and travel from place to place with few belongings. Such an approach to traveling might become tiresome after a while, as some digital nomads may eventually long for stability.
4. Social Stigmas
---
The digital nomad lifestyle is relatively new, and many people do not understand it. Friends and family members might gain false impressions about people working as digital nomads. Namely, they assume that the nomads are not doing much work, even when the nomads earn substantial incomes.
It could be challenging to overlook insults and false opinions. Negative attitudes from others could give digital nomads unwanted stress from hearing less-than-positive opinions about their work and lifestyle. Unfortunately, dealing with such negative social stigmas is unavoidable to some extent.
5. The Bittersweet Time to Leave
---
Visas only last for so long. Issues may arise back home that require immediate attention. Some might feel better by having health ailments treated in their country of origin. The reasons vary, but several things could come up that prompt a digital nomad to return home. Not everyone wants to say goodbye to the digital nomad lifestyle, but that day may eventually come.
Conclusion
---
A digital nomad's lifestyle could be exciting for those who appreciate adventurous travel and have a profession that supports mobility. Simply put, new people, places, and experiences are quite fun. Nothing in life is perfect, though. If you're seriously considering taking on the lifestyle of a nomad, expect that the adventure will come with some drawbacks.
About the Author of "The Top 5 Struggles Every Digital Nomad Faces" …
---

Stephanie Caroline Snyder who is a talented writer, graduated from The University of Florida in 2018; she majored in communications and minored in mass communication.
She is currently an Author, Freelance Internet Writer, as well as a Blogger. Her family still resides in Panama City, Florida, where she was born and reared.
Stephanie, who is the oldest of four kids, moved to Utah at the beginning of 2019 to pursue her career goals. Since then, she has worked on content production, blogging, and writing articles for the internet.
---

If you wish to submit an article to be published on this blog, please follow the instructions on ~~> "Write for Us".
Sponsored Ads:


To have your banner on this site, please contact me at: yourbiztips@gmail.com