A LeadsLeap Review – Why You Should Join?
This review will show you why LeadsLeap is one of the best marketing platforms and explain in detail why you should join. Read it all and receive a totally FREE gift that will help you make money online in record time …
Here is a brief recap of what LeadLeap is:
LeadsLeap is a company that specializes in lead generation.
LeadsLeap is an advertising network, not just a pay-per-click site or a traffic exchange.
Surfing other members' advertising is only one of the many ways to earn money on this site.
The site exists since 2008 and has since become one of the most popular advertising networks.
Kenneth Koh, a Singaporean, is the owner.
The minimum cashout is $10 and you can cash out by PayPal or Solidtrustpay.
LeadsLeap has two membership options: free and pro, which costs $27 per month.
A Complete Review of LeadsLeap
I'll concentrate on LeadsLeap 's ptc aspect in my review. If you wish to market online, the site includes a lot more marketing options that you can look into …

How can LeadsLeap help you make money?
---
1 – Advertisements on the internet
Surfing advertising is the simplest approach to make money on LeadsLeap.
Simply watch 10 ads every day, and your credits will convert into cash on a daily basis. What distinguishes LeadsLeap's ad-surfing experience:
If you see fewer than 10 advertisements per day, you will keep the credits for future advertising or encashment, but you will not earn that day.
You are free to watch as many advertisements as you wish.
There is no countdown, and the longer you interact with an advertisement, the more credits you receive. After 5 seconds of viewing an ad or upline message, you will receive 0.2 credits. After that, for every 5 seconds of surfing, you'll receive 0.1 credit, up to 3 minutes. It's worth noting that if you open a page and leave it open for 3 minutes, you won't get the entire 3 minutes of credits. Only actual surfing time is recorded. You can cash in your credits for 0.10$ after you reach 50.
You may also earn credits by rating advertising/messages or reporting ads that aren't working.
Except for credit encashment, your daily earnings will be calculated using all of your credits earned on that day. LeadsLeap distributes 5-10% of its daily earnings to you. If you are a Free Member, you will receive 5%, and if you are a Pro Member, you will receive 10%. For a minimal 5-second visit of 10 adverts, that's roughly 0.01$ for that day.
Unused credits will expire after 6 months, so if you don't want to utilize them for advertising, make sure you pay them in when you reach 50.
This is how the ad viewer appears …
You can either click 'Show More Links' or 'Show More Links In The Same Category' to see more advertising.
2 – Referrals
If you refer others to LeadsLeap, you'll earn 25% recurring commissions if you're a Free Member and 50% recurring commissions if you're a Pro Member.
You will get extra credits in addition to direct commissions when your referrals see advertising. You'll get 10-levels of overriding credits if you individually refer 20 referrals. Here below is a breakdown your referral credit bonus: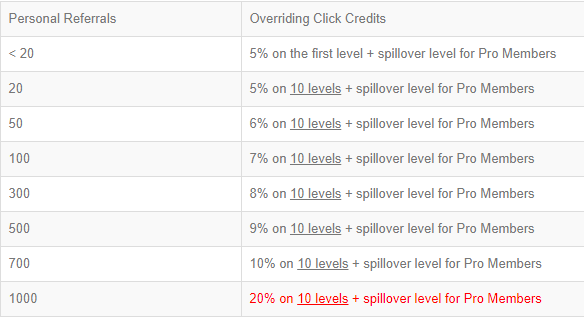 A 10-level downline builder is available through LeadsLeap. Level 1 is your personal recommendation. Those to whom your level 1 refers are those to whom your level 2 refers, and so on.
A spillover level is also available to Pro members. Each member has a total of ten uplines. Some uplines may have canceled their accounts, therefore not all members have ten. As a result, 'empty' upline slots exist. The system will automatically assign these spots to Pro Members. This is what LeadsLeap call The Spillover Level. If you decide to cancel your pro subscription, your overflow referrals will be yours forever.
Finally, LeadsLeap offers a one-of-a-kind downline messaging system that allows uplines to create an ad-like message for their downlines. This brief message will be sent to all levels of downlines in their members area and through email (as well as to spillover level for pro members). Viewing this message will earn your downlines credits, which is a good incentive for them to see what you have to offer.
3 – LeadsLeap is a widget created by LeadsLeap
This option is only available to individuals who own a website. I can also see some of those advertisements on the sidebar of my website.
The amount and quality of traffic that clicks on your adverts determines your earnings. The more individuals who click on the advertising and stay on the ads for longer, the more credits you'll earn and the higher your income share will be. Members who deliver non-member third-party visitors through the widget to LeadsLeap ads receive 15-30% of their advertising earnings from LeadsLeap (15 percent for Free Members or 30 percent or Pro Members). On a weekly basis, the earnings are calculated.
What are some of the advantages of using the LeadsLeap widget?
You will earn credits if someone clicks on the adverts in the widget on your website.
Your ads will appear in the widgets on other members' blogs/websites once you add LeadsLeap Widget to your blog/website.
In the widget below, you can see an example of a typical LeadsLeap ad. If a visitor clicks on one of the highlighted links, he will be directed to your affiliate link and may become a prospective referral.
It's simple to add using the LeadsLeap Widget Plugin, and it's entirely customizable to your needs as well as mobile adaptable. Simply click the "Get Code" button and paste the code into your page.
Unlike Google Adsense, you can start monetizing your website right now.
You can generate more money, gain more visibility for your ads, and increase your leads all at the same time when you utilize the LeadsLeap widget.
LeadsLeap is a Website Where You May Advertise Your Business
---
On LeadsLeap, there are two types of ads: credits ads and pro ads …
Advertisements for credits
All members have access to Credit Advertising, which is a free advertising service. Credit Commercials are powered by credits, which may be won by watching other ads in the network or referring friends. As long as they have one credit, any member can submit a credit ad. A free member's ad limit is three, whereas a pro member's maximum is ten credit advertising.
What distinguishes LeadsLeap advertising from the rest?
Although there is no set time for watching an advertisement, the system compensates members based on how long they surf. They gain more credits the longer they surf. There is no reason for them to move on to another ad if yours is interesting. As a result, your ad will receive more high-quality traffic.
Your audience isn't limited to LeadsLeap users. If you use the LeadsLeap Widget on your website, your ad will also appear on the websites of other members.
An advertisement has a 14-day lifespan. Your advertising will be shown more frequently if you have more credits.
For every 5 seconds of surfing, 0.4 credit will be consumed by traffic to your adverts.
Pro Advertisements
Only Pro Members have access to Pro Advertising, which is has a limit of 10 ads. Without the need of credits, Pro Ads are present 24 hours a day, 7 days a week across the whole network.
What's the difference between paid and free advertisements? …
No payment card is necessary, and the ads receive an unlimited amount of visitors.
There is no time limit on this offer.
The ad will be active immediately after submission, unlike credit advertising, which receive an evaluation beforehand.
Pro Ads are also present in LeadsLeap's daily emails to members.
Without having the widget on your website, the pro advertisements will appear in other members' widgets.
Credit advertising is gets a lower priority and has a lower visual quality than Pro ads.
Free marketing tools from LeadsLeap
---
As you can see, LeadsLeap is a comprehensive advertising network that provides a wide range of services to its members. The best part is that the majority of them are completely free.
Below is a list of those services …
A Real Tracker
The Real Tracker (TRT) is a service that tracks links. You can use it to track links that you advertise everywhere on the internet, as well as to measure the efficacy of your marketing efforts.
You only need to enter the url you want to track:

Then, when you promote that link, you'll have data on total clicks, unique visitors, true visits (over 5 seconds), conversion (adding a code to your website), browsing duration, traffic source, and area.
The Real Tracker is a terrific alternative for members who don't have a website but still want to make use of the LeadsLeap widget's benefits. You can personalize the tracker, and when you advertise that link, a LeadsLeap ad will appear if you choose. Now you may add a popup to your tracker! This means you may now promote affiliate links while building a list.
LeadsLeap also has an Ad Rotator that you can use to rotate your TRT Links. Visitors to your Rotator will be sent to one of the links in the Rotator on the basis of the "weightage" you've set.
Finally, in your Real Tracker, you may include an ad bar, which is a horizontal bar that shows at the top of your tracked link and contains a link to another offer you have.
You can cross-promote your offers using an ad bar. You'll be able to run a supplementary promotion in addition to your present campaigns in this method.
The Real Tracker is a free LeadsLeap tool available to all users, and it's worth registering for that alone. It will be especially valuable to individuals who do not have a website. We're only scraping the surface here because a complete review of the Real Tracker isn't part of this study, but you can find more information here:

Review of LeadsLeap on social media
Here you can offer your thoughts on the programs you've participated in. You will also provide your affiliate link for that program when you submit the review. Your review becomes public and visible to both LeadsLeap members and search engine visitors.
You can create up to five (5) suggestions that will appear on the homepages of your downline members and in your profile (if you are a pro member). They'll also appear in every social review you've written.
It's a fantastic free approach to generate high-quality leads for the programs you care about.
Create popups and create a mailing list
With the LeadsLeap's PopupXpert tool, you can build amazing popups. Exit popups, slideup bars, corner sliders, animated end-of-post opt-in forms, animated sidebar widgets, and other animated widgets may all be created with PopupXpert. You can also make several offers for different types of traffic. It also has tracking capabilities, allowing you to monitor the effectiveness of your campaign.
What sets PopupXpert apart from other popup creators?
You are free to make any design you want.
You can tailor the widget to different target audiences.
It is possible to customize the widgets and include them on various WordPress posts, pages, or categories.
You can change the settings depending on the device you're using to surf.
You can do split testing and monitor the results.
Visit this website for more details on how to utilize PopupXpert ~~> PopupXpert Guide
LeadsLeap also offers a free autoresponder system that you may use to communicate with your list. You may integrate the PopupXpert popup with your own autoresponder, collect leads, and begin sending emails to them.
The OTO List Builder
OTO List Builder is a script that allows you to create a list from scratch. It is managed by SendSteed and provided for FREE by LeadsLeap.
A Review of What's Great at LeadsLeap
---
Stability – Since 2008, LeadsLeap has been online and paying consistently.
Refer as many people as you want – You can refer as many people as you want. Furthermore, the 10 level referrals and spillover level greatly improve the earning possibilities.
There are no membership limits, and anyone from any country can join for free.
No earning limits – You will not have to surf in order to withdraw your profits from LeadsLeap. Furthermore, there is no requirement to invest any funds in order to withdraw. Finally, there are no ROI limits in this case.
There are no time limits, so you can surf as many commercials as you like for a maximum of 3 minutes per ad.
Members do not have to see an advertisement for a set amount of time, so if they find it intriguing, they can remain longer, improving your conversions.
Free marketing tools – Even as a free member, the quality of services you receive is exceptional and difficult to obtain elsewhere online.
Upgrading costs only $27 per month – This may seem expensive but once you have signed up 2 Pro members, your monthly fee is paid for (which is a very easy thing to achieve).
What's not so Great LeadsLeap
---
High minimum payout – You can only receive a payment if your account balance is at least $10.
Mandatory advertisements – To receive your daily earnings, you must see at least 10 ads every day.
It is mainly for the making money online niche – if your focus is anything else, you'll have a hard time getting excellent advertising results.
Upgrade Plan for LeadsLeap
---
You can see the differences between the free and pro plans below. If you are not happy with the pro membership, the admin offers a 30-day money back guarantee …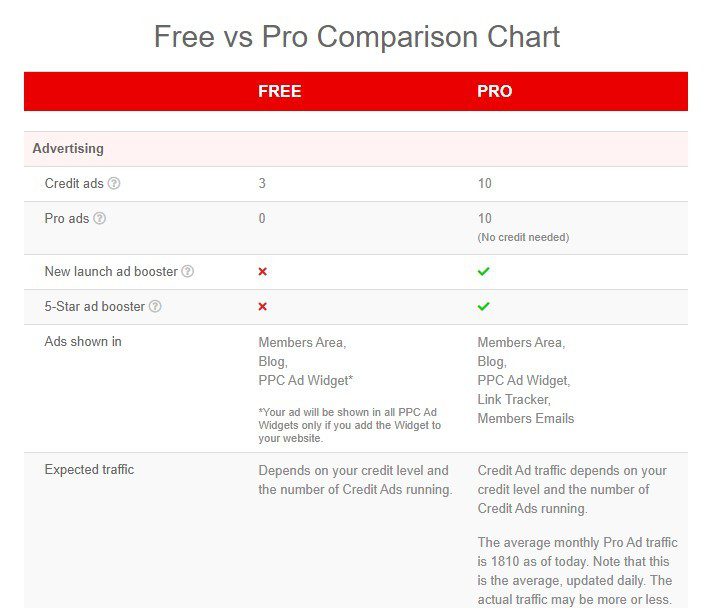 To Summarize, Should You Sign Up For LeadsLeap or Not?
---
LeadsLeap is one of the most effective internet advertising networks in existence. You may make money while surfing advertising and growing your online business. Because LeadsLeap is completely free, you should absolutely sign up and check if the site is right for you.
I hope you found my LeadsLeap review to be helpful and interesting. If that's the case, please share it or leave a comment below.
Did you enjoy this LeadsLeap review?
Yes, then don't keep this LeadsLeap review to yourself, share it with your favorite Twitter followers by clicking on the bar below once you have logged in to your best Twitter account …
A LeadsLeap Review – What Makes LeadsLeap The Best FREE Marketing Platform And Why You Should Join It? – RT Plz #Marketing #marketingtips #MarketingSuccess
Click To Tweet
Thanks for doing that, here is a free gift for you …