Is The Smart Cash App A Scam?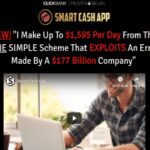 A man by the name of Robert Fisher has introduced and launched a new app he calls SMART CASH APP, that sounds like a scam to me.
Why am I saying that?
Simply because he promises its users to provide them an easy passage to earning $1,595 in one day. And so what? You would say. Is that not possible? Is that this single statement makes it a scam?
Of course not, but with my over 18 years of marketing online, and the many money making opportunities and apps I have reviewed, this is the first thing that raises a flag for me.
But, as usual, I won't just label a program as being a scam, or legit, unless I get all the fact and figures, and test it for myself. So to be fair with Robert Fisher and my readers, I have digged in and prepared this impartial review.
Now I can understand it if the promise of earning $1,595 in one day is enough to put you off, but don't go away without picking up my free Internet Marketing course. Click on the banner below and get started …

Okay, still around? So, let's get on with my review …
Is the Smart Cash App a scam?
---
You probably know that online money earning sites and apps are in full swing now a days. It encompasses 'one simple scheme' that probably exploits an error made by a $177 billion Company.
On hearing the word "error" you become doubtful and sceptic, deeming that this might be an unlawful or illegal application. It seems that there might be something fishy. Now here I'll reveal all the truths and facts regarding this Smart Cash App.
Those who want to enter the world of smart cash might have some concerns regarding it's authenticity. Whether it will be legitimate to use the Smart Cash App; as they could be merely doing a scam rather than earning legitimately; like most of the ClickBank products do.
In this article you will be answered the following questions:
---
But before we get started, let me show you what I call my >> Number One Recommended Money Making Opportunity << Now, if you are here because you are looking for an honest way of making money online, part time or full time, this is the one that you must look at. Plus, it is totally FREE to learn how to create your own online business from scratch. Perfect for total newbies and already complete professionals.
I hope that you had a look and that you bookmarked the page. Then, let's continue …
What is the Smart Cash App about?
---
In a nutshell, the Smart Cash App is an e-digital product, sold via ClickBank. Here is a summary of what it is …
Summary: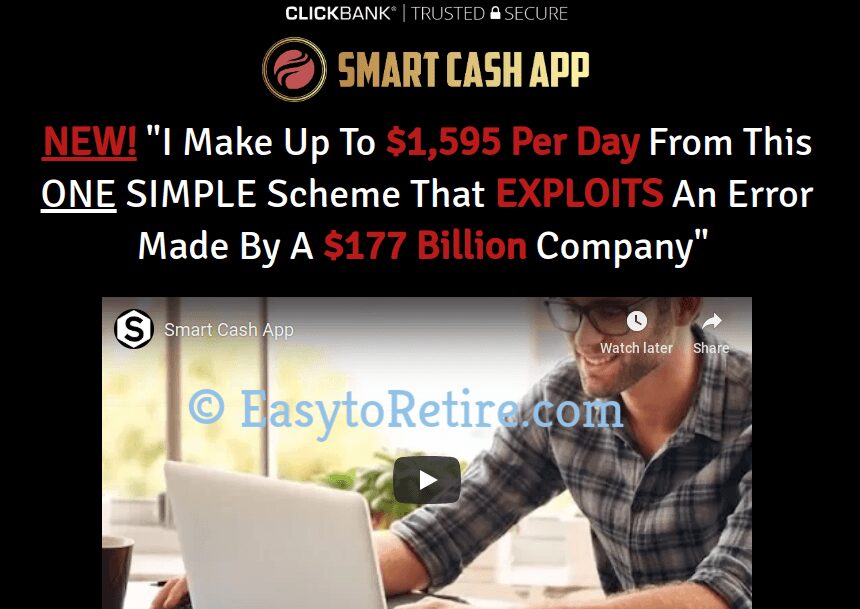 App's Name: Smart Cash App
Creator: Robert Fisher
Website: Autopilot Profits
Founded in: end of 2018
Business registration appears to be in the US
Training: 2.0 / 5.0 very basic
Support: 0.0 / 0.0 I didn't find anywhere I could ask for help.
Marketing Tools: Just a few
WordPress Hosting: Not available
Success Stories: 0.0 / 5.0 Only his own "achievements"
Product Price: $37
EasyToRetire.com Rating: 1 ★ out of 5 ★★★★★
According to the creator of the app, Robert Fisher, the Smart Cash App is the latest app that provides you the platform for earning up to $1500+ per day.
The figure of $1500+ is a great enticement and captivator for the viewers to follow the app in order to follow their huge money making dreams.
No matter whether you have any experience or not; you are qualified or not, this application will surely provide you the platform. Moreover, you have to do nothing unusual except following the instructions provided by with the application and you are just 17 clicks away from your $1,595, under 30 minutes.
But doesn't this statement feel ridiculous? Surely it is…
Why is the Smart Cash App controversial?
The Smart Cash App is under great controversy regarding its authenticity, which makes it look like a scam. It's because it encompasses nothing like you have ever seen before.
Also the creator has spent months and months in correcting and perfecting this application. Like other professional web  pages, Robert Fisher has also created privacy terms and conditions. But despite all his efforts, it raises a lot of red flags that may be deemed as scam warning signals! … and they are about 100 in number on the sales page and video as well.
The application claims to be earning its users a pretty nice amount of money in a very little time.
According to the promised earning figures, it is very easy to become a millionaire; or even a billionaire in just a few days. If that is true, you could quit your day job and/or stop doing whatever you are doing online to make the ends meet, as the Smart Cash App will be sufficient for you to live your life lavishly and retire on your own dream island in the Bahamas.
$1,595, in just 30 minutes and 17 clicks …
Ridiculous!
Moreover, this application does not put any emphasis on knowledge, skill, experience and qualification.
It means that whether you are qualified or not, it is immaterial and not at all a barrier. The question here arises then, where does the value of education stand? If both the qualified and unqualified are equal?
Another point of great importance is that no one really knows who Robert Fisher is. This is a very common name. To me, it is a "borrowed name', which is a common practice among scammers.
If you Google "Robert Fisher", the first person that will come up is a "Robert William Fisher" on Wikipedia, who is an American fugitive wanted for the murder of his wife and two children in 2001. Could it be the one? I doubt it, but who know? A scammer, a murderer, all the same kind of bandits, right?
Anyway, our Robert Fisher has just launched the application under his name but he has not exposed himself openly to the public. This, to me, is a short sign that he might be hiding his identity from the people.
If the Smart Cash App is really authentic and legitimate source of earning, and not a scam, then why is he not revealing his real identity in the public openly. This categorically makes his character doubtful and suspicious.
Moreover the application does not provide any information regarding how such a huge amount of money could come your way, or how does the application work. Secondly the restriction on the video sharing also raises some questions.
Objectives and goals of the Smart Cash App
---
The Smart Cash App is said to be designed for anyone in order to help them make loads of money by simply staying at home without having to do any hard and difficult activity.
The offer seems to be quite cool; in fact the coolest I think I have ever been offered. Everything sounds to be amazing as the creator explains in the video.
In my opinion there can be nothing better out there as the Smart Cash App that offers you many 100 of dollars without any extraordinary effort or hard work. Great isn't it?
Is the use of Smart Cash App legal or illegal?
---
Robert Fisher claims that the system is completely legal; and that it has nothing to do with any scammy or doubtful activities, such as gambling, taking paid surveys, pyramid schemes, free bitcoins, etc.
It just requires 30 minutes of your precious time per day and what you need to do is only to follow the instructions in a series of steps as suggested by the application itself.
The sales video in the application mainly focuses on the amount of earning of money. It manifests and depicts basically the easiest way of using the system for helping people to earn some money. But the users are not told about the sort of training you need to get.
Despite all the great enticements offered and the exposure of all the exciting promises and great pictures of the app, the application lacks that fundamental information and data we regard as necessary for us to understand what it entails.
The truth behind the claim of $1,595
---
The training might provide you some sort of learning but to me I can't believe that you can earn as much as $1,595 in a day by using and working on this application.
This huge amount is simply an exaggeration in order to captivate the people towards the opportunity. Moreover the number of days that one can expect to cash in, also does not have any authenticity and truth in itself.
The system is designed in such a way that it results in the profit of the creator more efficiently and effectively rather than the earning of the user. What's new there then?
There is a huge difference between the sales pages and the member's area. Once you get excited after visiting the sales pages and you make yourself a complete picture in your mind of entering the world of luxury with the Smart Cash App, the scenario reverses and the things do not remain as easier as they used to be on the outside of the sales pages.
So in other words we can say that what is shown and displayed and what is in real life, is totally different.
The dream starts to vanish.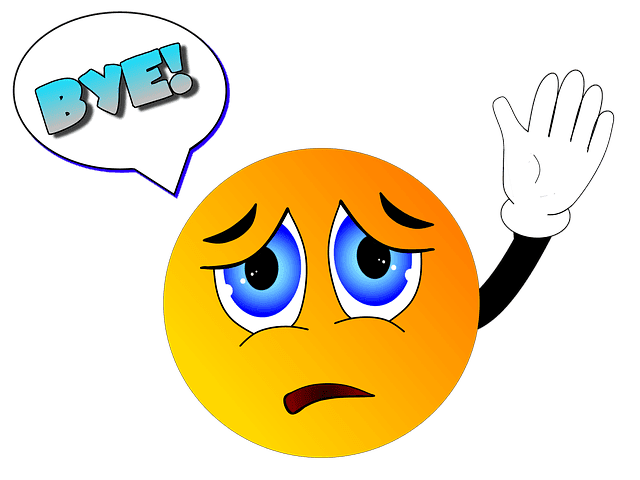 Another interesting fact about the Smart Cash App is that it seems to be geared towards Affiliate Marketing which is a business model that helps honest people to earn a 4-digit monthly income online.
One's job as an Affiliate Marketer is to sell the products and services of other companies and individuals. With a sale of every single product you get a commission payment.
This is the kind of business I am involved in since 2001; and have been making a full time income since then. Now retired in the south of France with my wife Kate, after having travelled all over the world, and nearly never had a boss.
What do I do now? Well, I simply continue enjoying my residual incomes and take great pleasure in guiding others, young and older, professionally active or retired people, stay at home moms and disabled persons, to create their own Internet Marketing business …
If that interests you, know that you are most welcome to start from the beginning which is to sign up for my free Internet Marketing course below and from there I will take you under my wing as I have done for thousands of students who are now very successful in business …

Conclusion
---
Is the Smart Cash app a scam? Absolutely not, but I would say that Robert Fisher grossly exaggerates the income that his users can expect to earn. Especially when saying that this kind of income is possible in 30 minutes of your spare time per day, and just 17 clicks of your mouse.
There is no doubt that the sales page and the video display the greatest picture of a money making opportunity which has people rushing towards this application like as if it was a hot cake.
But still it lacks the most basic elements that can get someone from buying the program to the point of even making a red cent.
To show how the Smart Cash App compares with what I call my >> Number One Recommended Money Making Opportunity << I have created the chart below so that you will easily see that if you want to get into business for yourself and earn a comfortable monthly and residual income, it is definitely not with the Smart Cash App that you will achieve that. So, let's see …
Thanks for reading this review
---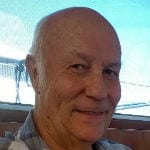 If you are, or have been, a user of the Smart Cash App we would like to know from you if you think that it is a scam or not.
Should you have some experience to share regarding this particular opportunity, it would certainly be a pleasure to hear from you. Also, if you have some questions, please use the comments' area below. You will typically receive an within the following 48 hours.
If you liked this article, please do share it socially and share a comment with us here below, I will be very grateful!
As a Premium Member at Wealthy Affiliate, I learned how to share my passions with the world. You are very welcome to become part of my team of very successful netpreneurs and to become a successful business owner and to live your laptop life. I will be your personal mentor for FREE. It is 100% FREE to join, learn and earn! Click the button below and let's …