What Is Email Sending Jobs About?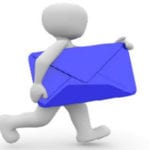 Scam or Legit? An honest review …
What is email sending jobs about? Again, a hot topic that we are going to dive right in. Is it a scam money making opportunity? Or is it worth getting involved with. Let's find out now …
Is it really possible to get payment just by sending emails? You might already have asked this question online. Perhaps it is why you have landed on this review.
To my knowledge yes, it is possible to earn some money for sending emails. But it is not as easy as you may think, or that you are being made to believe. Also, it will require some practice before you become successful. It is a form of making money online commonly known as email marketing.
There are many companies out there that I have seen which are offering to work from home and paying for sending emails. Some are also paying to read emails. They are usually advertising some attractive income potentials. But is it really a way to make money from that you could serious take into account?
To get you a good idea of what this sort of activity entails, I have chosen one that seems to be very active, which is called "Email Sending Jobs (ESJ)". I have studied it, interviewed several users, and even gave it a try myself, so that I could write this honest review for you in case you are considering spending you time taking it on board.
To save you time and the trouble of reading this review all the way through, here is a recap of my evaluation. Then, if you wish to read more about it, you are most welcome to continue reading.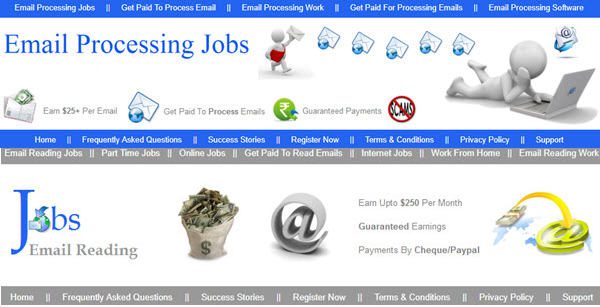 Product Name: Email Sending Jobs
My Overall Evaluation: 1 ★ out of 5 ★★★★★ – FAILED
Cost: $75 
Founders/Owners: Couldn't find
Website: http://www.emailsendingjobs.biz
Head Office: USA?
Training: No training
Support: No support
ScamAdviser Trust Rating:


Notes:-
* The owner of the website is using a service to hide their identity
* No Valid SSL Cert is available
Who is responsible for Email Sending Jobs?
As I was expecting, I couldn't track down someone behind this organization, which, to me, it is not a good sign. Why would a legitimate business hide who owns it?
If you were the creator of an honest money making opportunity, wouldn't you be proud if your name would appear all over the Internet? I know I would. So, of course, this first point caught my interest, so, I couldn't resist the temptation of digging in deeper. That's what I do, especially when I smell a rat.
So, while getting deeper in my investigation, I landed on two other opportunities that look quite similar. The websites have the same layout. You can have a look at:  email-reading-jobs.com and emailprocessingjobs.info. Strange isn't it, especially that when I submitted these urls to ScamAdviser, it couldn't find any trace of them at first attempt, then, at second trial it came out with pretty much the same rating as for emailsendingjobs.biz, if not worse, so, if you want my advice … keep OFF !
Want to make money with a 100% legit business?
I bet you do, so trust me, don't waste your money, and a lot of your time to earn peanuts, if anything at all. Have a look at my #1 recommendation. Click on the button below to learn more about it …
But for some of you who still want to know more about email processing or email reading jobs, let's continue with my review.
If you go on the website email-reading-jobs you will see that they are paying for you to read emails and not for sending emails. Furthermore if you click as if you were going to buy the programs, all three of them will take you to a PayPal payment page carrying as beneficiary the same person's name.
The purpose of writing reviews is solely to show my readers when there is a legit program out there worth buying into, as well as to expose scams. For this reason I will not give the name of the person showing as the beneficiary on the the PayPal payment form, because, as I went deeper in my investigation, I discovered that there were pages of people with exactly the same name, on Facebook alone, never mind on Google images!

When comparing the profile photos, I am not too sure that they are all the same person, some are even ladies. They all seem to be from the same part of the world though. So, in order not to damage the reputation of some honest people out there, I am not giving the name here. You can easily find out for yourself if you really want to.
So, then, what is email sending jobs about?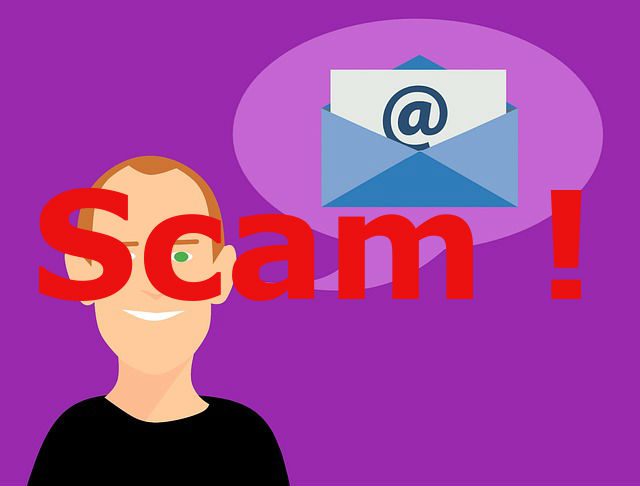 It says that with this program you will earn at least $250 a day by sending emails. All you need to do is to sign up and get started almost immediately. You will be earning in the region of $25 for each email that you are sending. 
Couldn't be easier right? But is it for everybody?
Apparently, this can work for anybody who is looking for ways to make money online. All you need is:
a computer
an Internet connection
an email account
and a PayPal account where you can get paid
These Email Sending Jobs are available in over 200 countries around the world and the only prerequisite is that  you have to be over 18 years of age.
How does Email Sending Jobs work?
First of all you need to register. To do that, you will have to cough up $75 (US).  As I am not very keen on giving these guys my hard earned money that easily, to be honest with you, I am not joining, as I would normally be happy to do if there was at least a slim chance of it being a legit program. So the information that I gathered for this review has been compiled from researching the Internet, reading comments on websites and forums and interviewing people who have purchased the membership and worked on the program for a reasonable length of time. So, assuming that you have registered, this is what you will come across …
In your member's area, you have to choose and apply to work with the businesses of your choice. Then you select the products or services that you feel confortable sending emails about. You will find this listed under the businesses you have selected.
Your next task is to write your emails. Here you have the choice of writing the emails yourself, or to make use of the pre-written emails provided by Email Sending Jobs (ESJ).  The program recommends that you use the pre-written emails provided. It means that it is just a matter of copying and pasting some sample emails. Who would bother writing emails when there is such an easy solution? Duh! … At this is a positive point.
And finally, it is time to send your emails
Honestly, this looks like a really easy job and from my personal experience, when something looks this easy usually there has to be a catch. Let me ask you a couple of questions:
Why would small or large companies pay as much as $25 to have you send emails? Don't you think that they could easily hire freelancers from many countries who would be more than happy to do the same job for a fraction of what they are willing to pay you?
Where will you be sending the emails? You will most likely be sending spam emails to people offering products and services that you don't even know; or perhaps you could very well be promoting Email Sending Jobs itself. Simply trying to get new people in their program!
In any case, these are not the kind of business partners you should to be involved with, trust me. You will very quickly be flagged as a spammer. Your email address will be on a blacklist and no-one will want to do business with you, ever!
They might even suggest that you do some promotions on your social media accounts, again, spamming people, this could get your accounts suspended, or even banned.
As a result, your online reputation will be damaged for good, and for ever, just for trying to earn a few easy and quick bucks. Is it worth it? I leave it to you to answer that question.

But if you are planning in starting your own business, and learning how to earn a full time income honestly, from home, or in addition to some other projects that you already have going, you can learn and earn at the same time, plus it is totally free. Would you like that? If your answer is yes, then click on the button below and see what I am talking about …

Okay, you are back. I guess that you are still curious about where this review is going to reveal about Email Sending Jobs. No problem, this is why I have done my research and put together this review. So, let's continue with it …
How much can you make with ESJ?
Now, this is when I start to think that Email Sending Jobs is becoming a too-good-to-be-true offer, which it is without any doubt now. According to what they say, your income per email that you will be sending will range between $15 and $50.
They display a little possible earnings calculator to shows members the insane amounts of money that you can earn. It is the kind of calculator that you usually find on money making scam websites.

Do you really believe that you can receive this kind of money for each and every email that you send out? I hope not!
Many, if not most, of these "get payment to send emails opportunities" motivate you that way for you to send emails in order to attract other opportunity seekers to join the same program. If you have heard of the very popular envelope stuffing scams, well, the system is about the same. And it has been going on for many years already.
It could also be that your emails contain some advertisements and that you will only receive a commission when someone actually purchases the product that is advertised in your email. You better read the small prints at the bottom of the sales pitch before engaging yourself.
Whichever way, you will never make anything even close to the $15 to $50 for each email that you will process. On top of that, you will be spamming Internet users and will very quickly get your email account banned.
Want some proofs of payment?
No problem, they are plenty. Email Sending Jobs display several so-called proofs of payment. They are images of checks dating back to between 2006 and 2009. The issuers of the checks have been blurred off but the address on the checks is usually that of  ClickBank. I have been unable to find any of these opportunities promoted on ClickBank. Why? Two possible reasons came to my mind:
Although the images may be of genuine checks from ClickBank, nothing proves that they are in payment for commissions for jobs done through Email Sending Jobs.
The checks are over 8 years old, so it could be that originally Email Sending Jobs used to sell their products through ClickBank, until they were reported as scammers and eventually banned from ClickBank.
Okay guys and gals, we have already covered quite a lot. Thanks for taking the time to read that far. As a thank you gift I am offering you my FREE Internet Marketing course, with my free one-on-one mentoring inside (this extra is for a limited time only). Click on the banner below ⬎

 Can you really make money sending emails?
By now, I am sure that you agree that Email Sending Jobs, as well as the related email reading or processing jobs have to be scams, but when doing my research for this report I landed on another program that offers email sending jobs without joining fee.
Despite the fact that this program displays an inferior rate of income for each email at $1, they affirm that you may earn $40 an hour which is very attractive.
But, this is not really as simple as they make you to believe that it is . First thing they ask you for is to give them your email address for you to begin. Then, you are faced with a lot of hoops to go through before you can finally start.
First of all, you will have to download some kind of email sending program. So far, reading this, you may think that it is simple, but in reality it is not that easy. Because, before you can download the email sending software you will have to complete a few surveys and offers. Which means that you will be giving out your email address, name, and phone number. Personally, this is something that I would not like to do.
Then, this company will receive a small payment for you to complete the surveys and offers. So this means that they are making the money and not you.
If you wish to make money for completing surveys, there are some legit firm out there that you can join and make money for yourself. Here is a review that I have written which will point you in the right direction: Is Paid Social Media Jobs Legit ? Or Is It A Scam ?
So, as you can understand, so far, I wasn't very excited about the fact that I had to give out my full name, email address and phone number to complete strangers for being undoubtedly spammed later, so, obviously, I stopped right there and then.
You really want to make money online?
So far, even though I tried my best in researching, with an open mind, the possibilities of making money for reading, sending and/or processing emails, I had to come to the conclusion that there is in fact no easy or honest way to do that.
But, as you have come here to find a way to make money online, from home, full time, or during your spare time, I will show you what I am doing very successfully.
Of course, you don't know me any more than you know those who are promoting the reading, sending and/or processing emails opportunities, but I can assure you that I have nothing hide. Before going ahead with what I want to share with you, you can have a look at my "About Me" page.
Okay, happy with that? So let's continue. What I am about to show you is just one of the ways I make some of my money online. The company I am involved with opened its doors in 2005, so it is not a "fly-by-night" kind of opportunity that comes in, scams everybody, and vanishes the next day.

They have, what I can really categorize as the best learning university out there, and guess what … it is FREE to join, learn and earn!
Want to know more about it?.. read on …
I have honest tried all my best to find the least positive point about the possibility of earning a bit of cash with those email processing opportunities, but really, nothing at all grabbed my fancy. So, I won't keep you waiting any longer. Here below is a comparaison chart which shows the difference between these email processing scams and what I am about to recommend, which is 100% legit. Once you have seen it, I will talk a bit more about it and let you make a decision:
See what I'm talking about? Right, so now let me introduce to you my  #1 Recommended Affiliate Training Program!
In reality, there is no easy way of making money online. Don't let anyone fool you, there is NO shortcut! There is a procedure which includes:
complete training program
support system available 27/7 rain or shine
a private coach (which will be me if you joined here)
free websites and hosting
an option to try it for free
and more …
All this, and much more, is available at Wealthy Affiliate!
The main reason why I joined Wealthy Affiliate is because it showed me how to start a business of my own, from the beginning and to grow it so that I started to earn early on more and more while learning to improve my skills.
I can now consider myself to be one of the Wealthy Affiliate successful entrepreneurs on the rise. Although, my earnings at this time are only just above a thousand dollars a month, but regularly increasing, I can show you what some other members are making. It is simply astonishing …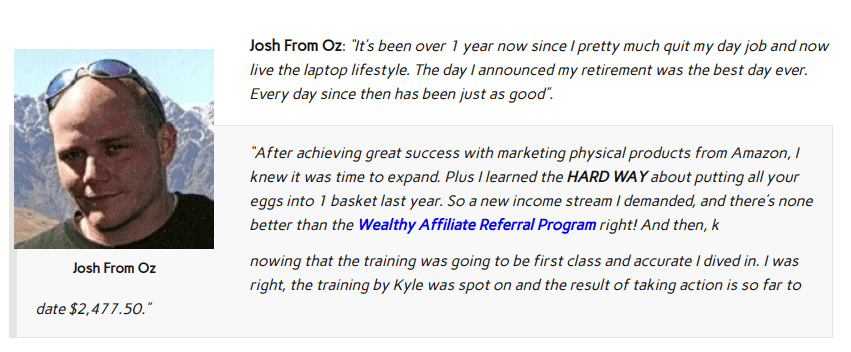 Now, let me tell you a little bit about Grace, aka "Little Mama". She is such a generous person. Early on I was watching her grow, month after month and I decided to contact her and asked her if she would be willing to mentor me. Now I must say at this stage that I have not been sponsored by Grace, therefore she had nothing to gain by helping me. But 24 hours later I received a private message from her telling me exactly what I should be doing for my business to grow.  That very month, my business just exploded.
This is how Wealthy Affiliate works. We succeed by helping others to succeed!

So, if you want to a part of this genuine organisation that is Wealthy Affiliate and learn how to build a business of your own, to become financially independent, from home, now is the time to become a Starter Member … it is FREE. So do it now, click on the button below and I will welcome you on the other side ⬎
Easy to Retire – Copyright © since 2017 to date!