What Is Ecom Cash Code About?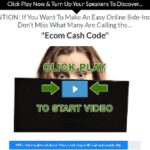 Hello, John here, and I'm here to unmask the true nature of Ecom Cash Code in this review article.
I don't plan on doing this alone, you and I will work together as we will unveil the truth about this program.
In the end, you will be able to tell for sure that this tool is just a major scam, and investing in it is a waste of time as the program is designed to rob you of your hard-earned cash.
I want to let you know a little truth before we proceed to expose the truth about this product: I have no relationship with anyone called Teo Vee, I don't know him, I don't work for him, and I am not here to promote his product.
And you may want to know my reasons for writing this post?
Well, I hate being scammed, and I don't want you to fall a victim for any product or program that wants to scam you through false promises of making a huge sum of money after paying for their products.
So, you can expect nothing but the truth in my Ecom Cash Code Review.
You may like to share this review with your Twitter followers, in this case just click on the block below and that's it …
Check Out What Ecom Cash Code is About - Is it a Scam, or is it Legit?
Click To Tweet
At this stage you might think that there is no reason for you to continue reading this scam review if it is not going to get you to anything positive, right? Okay, but don't go away empty handed …
Since you came here in search for a way to honestly make money online, join my free Internet Marketing course by clicking on the banner below …

As you are still here and want to know more about Ecom Cash Code, let's continue then …
Did I sign up for the Ecom Cash Code?
Yes, I did, so that I could show you what I discovered after signing up. And you won't need to spend your own money to discover the hidden truth about it.
A quick overview of the Program …
Product Name: Ecom Cash Code
Author: Teo Vee
Cost: 47 USD or 97 USD
Upsells: Close to ten thousand US dollars! Can you believe it?
Summary:
This program is available on different platforms on the net. However, you should expect the same regardless of the website you visit; they will want to deceive you into paying money so you could access secret methods that will make you wealthy "beyond your imaginations", and of course, as usual .. with little or no effort.
The author of Ecom Cash Code, Teo Vee, is nothing but a major scammer. He is using a fake identity, and he will promise you the best of heavens so that he can make of you his next victim.
Everything about this system or program is not realistic or legit. Make sure you don't fall for the video testimonials – everyone you see on the video is fake, they are not using their real names – as the purpose of these videos is only to deceive and manipulate you.
Ecom Cash Code is a scam. Also, the so-called 'expert coaches' that will call you countless time asking you to purchase different upgrades and upsells are part of the scam-crew.
Victims who are unaware may fall for the stunts pulled in this program and end up paying for upsells that will never ever yield results.
Need a piece of advice from me?
I will be completely honest with you. Once you see any product with the name Teo Vee, don't bother subscribing to it.
Instead of falling a victim for Teo's get-wealthy-quick scam, you would be much better off spend your time online learning how to make legit money, like with …

Overall rating – how do you even rate such a scam product like that? Anyway, here it is …
Zero rating for me! Here is why …
Training – You will not learn anything from this program. I will score this program 1% because the only thing you will learn from this program at the end of the day is that you have wasted your valuable time and money investing in a scam!
Support – 0%, expecting nothing
Possible earnings – 1%
Price -1%
Doesn't look great, is it? I can do better than that …
Quick navigation of this review …
Ecom Cash Code – What is it?
Looking at the webpage of this program, you can tell it's very simple, and you cannot know anything about this program or how it works or operates until you fill the form on the page, giving them your information (name and contact information).
At the top of the page, you will see a message saying that everybody is talking about this program and how the program can help you make easy money.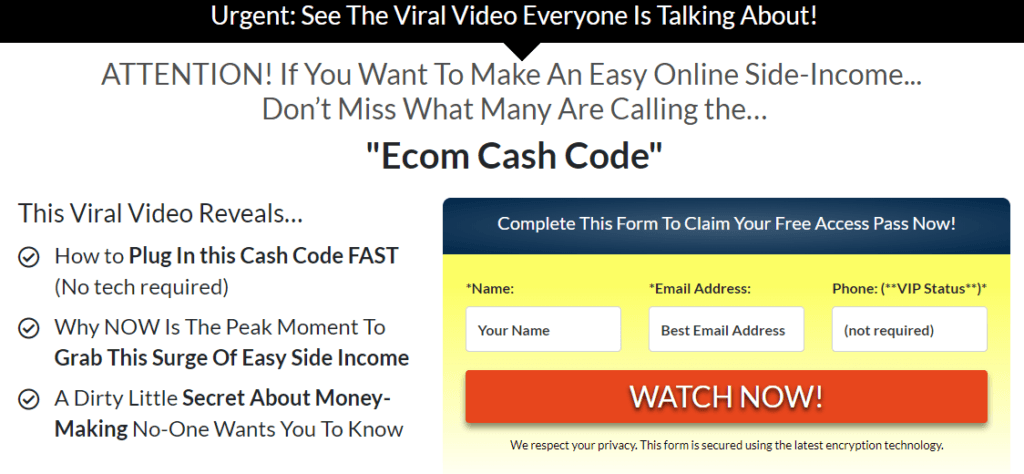 Well, it's strange to me that a system is calling itself Ecom Cash Code, yet, it is on a site titled CashCodeSecret.com. This alone is a pointer; there is no difference between this program and other scam programs you find on different websites using different names.
Now I know that you will be tempted to verify this and will search for it, or have already done it. So, don't be surprised if you lend on an error page saying that this page is not available. This confirms my comment above …
This website in itself doesn't exists! …
It keeps moving and changing name. Typical of a "grab your money and run" kind of program.
Even though I was suspicious and had my doubts about this program, I was damn curious. I wanted to know more, so I used fake details in filling out the form. (I didn't want any disturbing sales calls as I knew that is this is not legit).
After providing my information (fake details), I discovered that the signup process has some sort of glitch, and I could not proceed to the next screen.
So I did a little digging and discovered a second website for this product (https://strahag-e.com/start.php). However, it took me several attempts to get to a page that was not again an error page, and finally this is how the website looks like …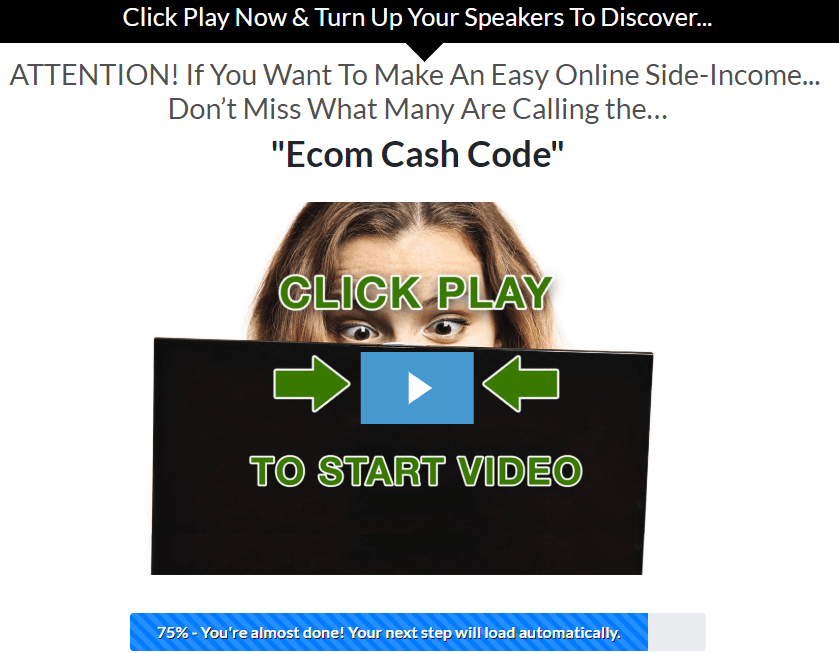 I later watched the video, and honestly, I was not motivated to continue!
According to Teo Vee, he first earned $213 overnight as commission; then he made $6,822 within a week, and $114,500 within three months; all this was possible because his friend taught him how to find a suitable site and integrated this unique code.
He also mentioned how he had shared this unique code with some people, and they are making serious cash from it as well.
Teo Vee claims that Ecom Cash Code functions when you plug into a code. And you don't have to be a guru, computer tech or affiliate marketing expert to use this code. Anybody can use it, provided you have an active internet.
What he is trying to say is that you can earn $350,000 or more per year by plugging into this code and doing nothing. I love it! Not you?
The system will generate money for you while you sleep … even while you sleep? How possible is this? It sounds unbelievable and untrue. This sounds ridiculous to me.
Let's be realistic, can something like this really happen or it's only a fairytale of lies and a scam? Constructed to manipulate your minds into paying for a product that leaves you with nothing.
Also, you will find this program on different websites, like Cashcodesecret.com/index.php? and Strahag-e.com/start.php, among others.
These are the two websites I know that have Ecom Cash Code.
Make sure you don't fall for it. If you know of any site that has this product, please share with us in the comment section so we can update others not to fall for this scam.
The real truth about Ecom Cash Code exposed
1 – Teo Vee or should I say Teo Vanyo is back again with another scam …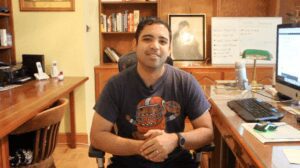 Yes, Teo Vanyo, the scam-mind behind get-rich-quick programs like Get The Discovery, The Ecom Club, and Click N'Flip, among others, is the creator of Ecom Cash Code.
Teo Vee is more of a false identity and not a real name as you might have guessed.
According to him, he discovered the secrets to Ecom Cash Code from a friend. In Click N'Flip, he said he discovered the code from a French guru, who was just 14 years old. Damn, these French guys are clever isn't it? I should know, because I'm French, so it must be true.
The stories he tells in all his programs are the same and pure scams. He did not discover any code or secret from anyone. But he maintains that he is the only person with access to this life-changing unique secret code; and to get this code, you will have to pay him US$97 for it.
2 – The video testimonials are fake; I have seen them in another program!
Unfortunately for Teo Vee, I know these people who produced the video testimonials as the are selling their services on Fiverr, and bad luck I have also being selling what I am good at on Fiverr too, since January 2011.
I came across them, worked with them and for them, and they have worked for me as well. So I know that they sold their testimonials to Teo, and that they are very good at it, no doubt about that.
So, I immediately recognized the people who testified on using this code and how they have made so much money from it. I have also seen the same people in similar scam programs. Because, of course, they don't do that sort of job only for Teo, but also for hundreds of other clients.
Anybody you see on the video has been paid to talk good about this program and how they benefited from it, do not fall for their lies. Rather, I should not say that they are lying, as they have been paid to say what they were told to say. It is a noble and legit profession called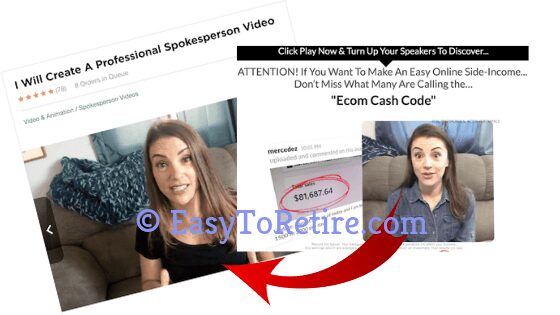 If you listen closely, nobody in the video called this program by its name. And these same videos have been used by Teo in all his scam websites. So that he paid this young lady once and used the same video over and over. This shows how cheap Teo is.
The proof and stories you see in these videos are fake and designed to make you feel the program is legit.
3 – The website makes use of fake verification certificates
You will find verified e-commerce logos if you scroll down to the bottom of the site. Does that mean this website is verified? If yes, by who?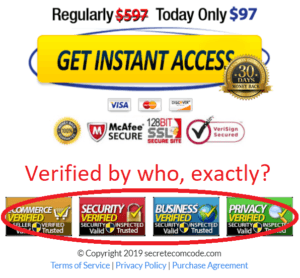 These sorts of actions will only manipulate you, making you feel safe. These verified logos were copied and pasted on the site by Teo to give the site a legitimate appearance or feel.
4 – The "experts/professionals" will call to scam your money
Teo promises professionals who will call you from time to time to ensure you are using the program the right way and help you to answer questions (if you have any) or troubleshoot problems.
This alone made me know that this program is a scam. I have come across many different scam programs over the years where success coaches or expert advisors were used to manipulate you into subscribing for upgrades or expensive upsells.
These people are well trained, persistent and pushy, they will only stop when you agree. They will ask you some manipulative questions like how passionate are you to make millions and fulfill your dreams and then they will try to sell you a complete training that costs $1,000 or more, alongside hosting fees per month.
My advice, ensure you don't give these self-proclaimed success coaches your real phone number. This is one thing that I never, ever do! They are only interested in running your account down, and they will not stop calling until they succeed.
Is this program a hoax?
How can you tell that a program or system is a scam? …
Can you call a program a scam because of the outrageous cash it promises they give you on autopilot?
Or for making use of professional actors and story tellers in videos claiming the program is effective?
Or when the author uses a fake a name or profile to conceal his identity?
The only thing I can say from my observations is that everything about Ecom Cash Code is a big scam.
There is nothing realistic about it. The mastermind of this scam, Teo Vanyo, makes use of deception, fake stories and proofs, and aggressive tactics to brainwash his victims; thus, this is not a program you should trust.
How to really make money online …
There is always a better way out there if you want to make legit money online rather than falling for a scam program that promises heaven.
Scam programs like Ecom Cash Code, among others, will always want you to believe that you can make money instantly with zero efforts, but I assure you, there is no secret code or revolutionary system that will generate money for you while you are asleep.
There is no shortcut to making money online or becoming successful financially, always remember this. Not everyone will like what I am saying, but it's the truth.
Fortunately, you can create a profitable and successful income stream on the Internet if you are ready to work hard, work smart, and put in the required effort.
Making money online is really not difficult if you are willing to take that bold step and act accordingly. With the right training program, anybody can build a successful and profitable online income stream.

Thanks for reading this scam review to the end …
---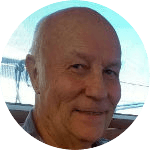 If you have any questions or ideas regarding the Ecom Cash Code, or Affiliate Marketing in general, or even if you know of better ways to make money online, please do share your experience with us in the comments' space below. You will always get a reply! 
And again, if you wish to learn how to make money from home, part time of full time,  join my FREE Internet Marketing Training by clicking on the banner below …