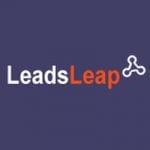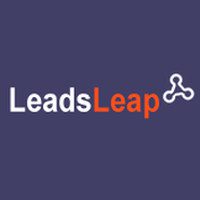 Would you like to know how this most amazing LeadsLeap program works? I'm sure you do. So keep reading and be amazed …
"Make Free Money In 5 Ways"

Kenneth Koh, Founder of LeadsLeap
---
This is what LeadsLeap's founder, Kenneth Koh, claims his program can do for its members, and we are going to strip it off for you. First of all, for me, to "make free money" means to make money without paying. So let's see how LeadsLeap works, if Kenneth can deliver, or is it one of those hypes?
In order to give a very accurate review on any program or product that I analyse, I always signup for the highest level of membership so as to leave no stone unturned, or I buy the product and use it myself and/or have it used by someone that I trust.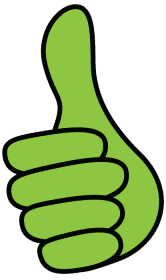 Product Name: LeadsLeap
My Overall Evaluation: 5 ★★★★★ out of ★★★★★
Cost: $0 for free membership: Create your FREE account
Owners: Kenneth Koh
Website: LeadsLeap.com
Founded in 2008
Registered in Singapore
Training: 4.5 / 5.0
Support: 5.0 / 5.0
Website Builder: Some tools available
WordPress Hosting: Not available
Success Stories: 4.7 / 5.0
RealDealAffiliate.com Rating: 4.8 / 5.0
My review and how LeadsLeap works
---
My first impression when visiting the website was that it is simple, clear and of high quality. And, it is loaded with a huge amount of positive reviews which are for most part credible and seem to be genuine. Many of them bear a web address so that I could check their authenticity.
Whether you have already joined LeadsLeap or yet to be a member, this review will help you decide if this program is for you or not.
LeadsLeap is intended, according to its creator, to help you generate traffic and leads using a totally different and unique approach.
The various approaches include:
---
advertising
traffic
viral lists development
access to tools to convert your traffic into leads
What is the difference between "traffic" and "leads"?
---
If you are not a total newbie your will know that traffic refers to visitors to your website and leads are those visitors that have given you permission to contact them by giving you their details, at least their email address.

Advertising will normally bring you some traffic, but, according to Kenneth Koh,  it is the other approaches that are provided that will get you quality leads.
So, the sooner you grasp the difference, the nearer you will be getting to success.
Let's look at the 7 ways they claim to get you traffic and leads
---
1. Advertise for FREE on LeadsLeap and it works!
---
You can place a text ad like those below:

Your ad will appear in their Members Area and blog.
They claim to have 120,000+ members with the potential to see your ad.
They become members for a number of reasons.
1 – Many of them joined to get paid to view ads
They get paid according to how long they stay on an ad. So, the longer they stay, the more money they get.
Traditional PTC programs pay their viewers per ad. Therefore, the viewers have to stay at an ad for 10 or 20 seconds to get paid for that ad. Once the time is up, the viewer has go to the next ad to earn more money.
These systems are imperfect.
They are basically forcing the viewers to get off your ad and go to the next one once they have earned their money.
LeadsLeap, on the contrary, will pay the viewers as long as they are on your ad. If your offer is attractive, they will stay to find out more, and at the same time they will continue to get paid.
2 – Other members are marketers and/or website owners
They have joined to get traffic, leads and use the tools to build their businesses.
What do you think this means to you?
First of all, if you have a product or service to offer to this group of people, advertising in LeadsLeap is a no-brainer. Why?..  Because it's FREE.
But being free to advertise doesn't mean you can post just any kind of ad. According to Kenneth, they have a strict regulation in place: your ad must be family-friendly, in good English, no nudity, gambling or other offensive contents.
And, they say that they manually review each and every ad. Kenneth admits that it creates a lot of work, but that's the only way to ensure the ad quality in the network.
2. By having your ads on 1,000's of sites – FREE
---
The same advert that you have on their website will also be shown on thousands of other websites.
1 – They claim that your ad could be shown on more than 4000 websites/blogs operated by their members
I was not able to confirm that!
But, why would people show your ads on their blogs or websites? The explanation given was that LeadsLeap pay them when their visitors click the ads.
I must admit, I found this system quite unique.
2 – The ads can also be shown in over 20000 trackers that are shown all over the Internet, including many traffic exchanges, PTCs and forums
Why do people use our tracker? Because, as they claim, their "unique tracker" can tell whether the traffic received are from real human visitors and not bots.
Also, some of their users have reported that their "unique tracker" has helped receiving refunds from dishonest traffic sellers who sold them fake traffic.
3. Search Engine Traffic – FREE
---
One of the proven ways to receive quality leads is by writing search engine optimized reviews on products or services that you know well and it will attract traffic from the search engines.
LeadsLeap runs a Social Review Directory – Below is a screenshot of it. Someone has even posted a 5 star review on Wealthy Affiliate:
You can write your own reviews on any businesses you know and submit them to the directory which is, according to them, already ranking very well in the search engines., and they will rotate your affiliate link in the reviews and get you free signups.
Here is what one of the users has to say about the "LeadsLeap Social Review":

I personally find this concept very attractive.
As you can see, and I have made mention of it earlier on, you can make a Google search for the website of this David Martinet, and you will see that it is a genuine post (provided the website is still live). Now, this I find very comforting about the transparency of LeadsLeap.
4. Multiply A Few Leads Into Thousands – FREE
---
The LeadsLeap system also comes with a 10-level down-line builder. (also FREE?)
I have checked on that to make sure that it is really free and this is how Kenneth Koh explains it?
"Imagine that you recommend 10 people to join LeadsLeap and they do the same, you will have 100 extra leads at Level 2, 1000 extra leads at Level 3, 10000 extra leads at Level 4, and an incredible number of leads at level 10."
To me, that sounds like mlm, but Kenneth argues that they are not an mlm company, and neither are they a safelist or mailer system where members email members.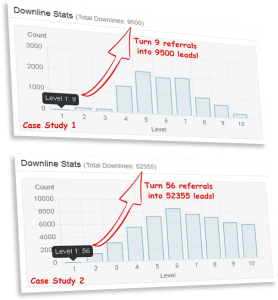 "Our 10-level network is purely for leads building."
Of course I had to dig in deeper to confirm his statement and indeed, I had to agree they LeadsLeap have a unique, healthy and annoyance-free communication system that permits up-lines to reach out only to their 10 levels of their down-lines.
"This "Down-line-Text-Message" feature is a really intelligent way to stay in touch with your people without annoying them, and yes, this feature goes 10-Levels deep. So you will not only be able to reach your personally referred people, but all they refer, and all they refer, and all they refer, and so on until the 10th level."
Here is what Till Geissinger has to say:

5. Convert Your Website/Blog Traffic Into Leads – FREE
---
They also provide a free web-based popup generator called PopupXpert
Now guys, this is one of my favorite tools that is offered by LeadsLeap, and for FREE, this is how it works …
It is of course well proven that popups increases the conversion of traffic to leads. Even though Internet users claim that they are annoying, they do work … if used in moderation.
But Kenneth assures that most popup generators out there are either costly or unreliable, plus, he claims that they are not as robust and flexible as the PopupXpert which can generate just about any type of popup imaginable, such as a "light-box", a popup from a corner of your website or blog, a "floating" popup, a "slide up", an "exit intent" popup, an "end-of-page" popup, a "mobile friendly" popup etc.
The image below shows PopupXpert ranking #1 in Google search.

I always hated installing popups on my websites as I never had any good results with them, until I tested the PopupXpert. In fact I chose the pop under as I feel that it is much less annoying the regular popup that most webmasters use.
It can be integrated with basically any autoresponders and my mailing list is constantly growing thanks to it. The autoresponder I use is TrafficWave as by experience, it is the most reliable and cheapest to run.
And again, another user's report: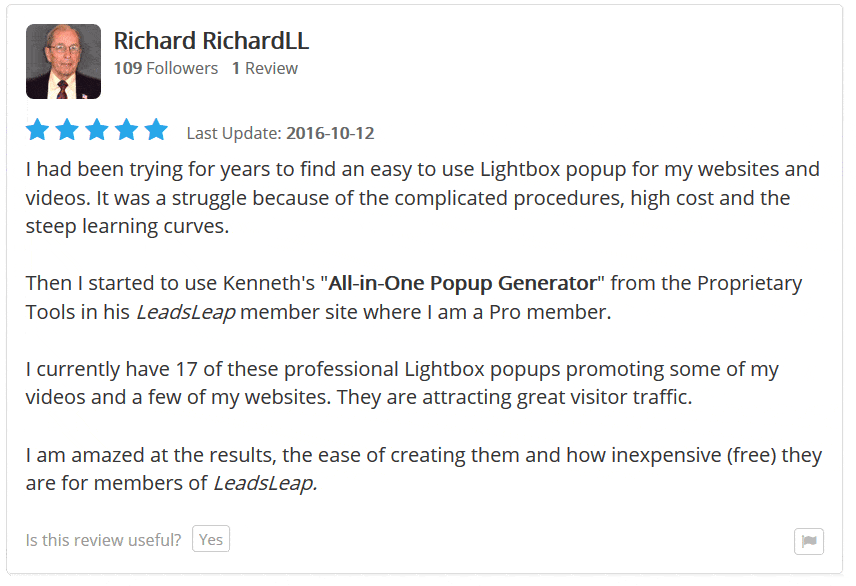 6. Your Own Autoresponder – FREE
---
They also provide an autoresponder system that you can use to build your own list.
According to what I have understood, this is a relatively new feature they have included, so it still has to prove its merit with time.
Technically, all you should have to do is to compose a lead magnet, create an opt-in offer using PopupXpert and deliver your offer using your very own Autoresponder.
And yes, it is also free and the list you build is totally yours, they assure that they will never send any promotional emails to your list.
7. Run Your Own Ebusiness Like A Pro – FREE
---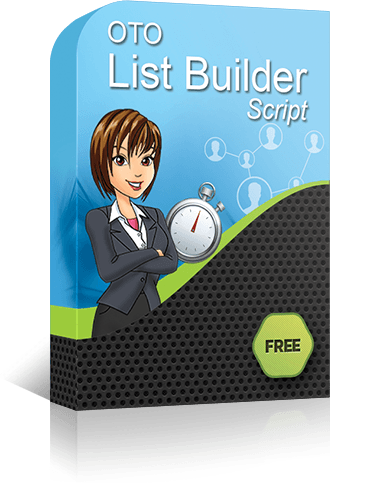 And finally, the last technique they offer to get you leads, is a full-fledged, self-hosted, un-encrypted PHP Script – Their famous fully customisable script, the OTO List Builder.
This script is perfect with:
built-in autoresponder,
mass mailer,
one-time offer system,
payment integration, and
affiliate program
It should give you the ability to build your very own sales funnel and run an online business like a pro.
I wanted to find out exactly how the OTO List Builder worked, so I created one:
First, you will need to have a free product to encourage people to optin.
When they have opted-in, you will offer them an irresistible one-time offer. A good bargain, one-time offer will converts perfectly!
Your leads can in turn offer the same free product to their leads, using their affiliate link and earn 100% commissions from the one-time offer.
Kenneth Koh assures that this is extremely viral and will grow your lists.

So, here it is, a full review of what LeadsLeap has to offer.
To recapitulate – How LeadsLeap works?:
---
The negatives about LeadsLeap:
Although LeadsLeap has it all, and it is all free, I find the program a bit overwhelming for the newbie, but you do not need to use all the system
It took me a bit of time to navigate within the back office because of the many choices
The positives about LeadsLeap:
Everything is clearly laid out
Everything they say is free, is really FREE
The tools available to the members are of great quality
The support system is excellent. Kenneth Koh answers personally to messages in a timely manner
Zero risk to join as everything is free
LeadsLeap have an extensive blog with articles that members can use for their own blog with their ID embedded in all the links
So, yes, it is a program that I could easily recommend. It can very well work alongside with other programs such as Wealthy Affiliate for example. Now that you know just about everything about how LeadsLeap works, the decision is yours. I would suggest that you join like I did, for free, and see for yourself if it is really for you:

If you wish to learn more about starting your own online business from home, click on the banner below …

And remember that you can subscribe to my newsletter so that you will be instantly notified by email when a new article is made available for you to read. Just follow this link ~~> Subscribe to my Newsletter!
Thanks for reading How LeadsLeap Works
---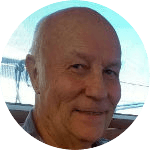 I hope that you now understand how LeadsLeap works and how it can benefit your business.  If you have any experience on the subject we would love to hear from you. And, if you have any questions, please use the box below and I will respond as soon as possible. If you enjoyed this article please share it socially and leave a comment below, I will highly appreciate it!
I am a Premium Member of Wealthy Affiliate, where I have learned how to share my passions. I am inviting you to join my team and learn how to become successful in business and retire early. It is 100% FREE to join, learn and earn! Click the button below and I'll see you on the other side.

⬐ Here are some great ideas that will make you more money ⬎