The Best WordPress eMail Newsletter Plugin – SumoMe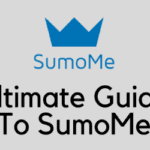 How to double the number of subscribers to your newsletter
You may need the best WordPress email newsletter plugin if it has been several weeks or months since the number of subscribers to your newsletter has not increased. Your articles seem to have "fossilized" and apart from a few friends, there are not many shares on social networks? And it's not for lack of installing attractive share buttons on your blog!
So what's going on?
Do not panic, we may be able to help you. So, how to resurrect the traffic of your site and increase your list of subscribers to your mailing list?
The answer: SumoMe, recently been renamed Sumo. This is one of those multi-function tools that will literally save your life: powerful, free and easy easy to install. The winning cocktail!
It will serve you both on social networks, for your web analysis and for capturing new subscribers to your newsletter.

Want to know more? Here is …
The best WordPress email newsletter plugin
---
SumoMe, which is now called Sumo, possesses several apps. The best way for you to acquaint yourself to this most wonderful plugin is for you to install it and to follow my guidelines. To do that, just click on Sumo. And follow the instructions for WordPress sites. For traditional sites (other than WordPress), you have to select the option next to that of WordPress.
So, download the SumoMe plugin on your computer in zip version. Then go to the "Extensions" menu on your WordPress dashboard, go to "add" then "send" and download your zip file. Once installed, all you have to do is activate it!
Now, still in your WordPress dashboard, you just have to go in the menu "Settings", then "SumoMe", and you will normally see this screen appearing: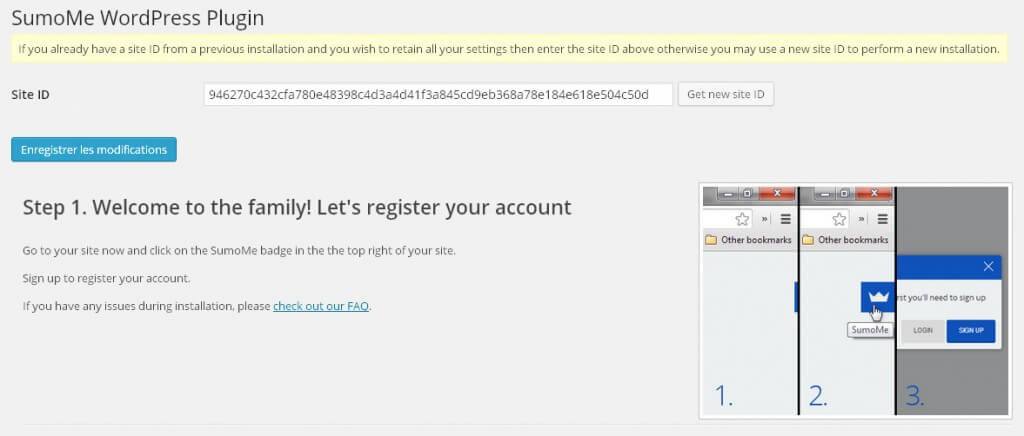 This will generate an identifier for your site (ID site). It's a kind of plugin memory. Once you have it, if you eliminate the plugin and install it a second time, it will remember this code and you will have the option to reinstall your old configuration (or else generate another code by clicking on the Get new site ID button).
The next step will be to locate the SumoMe tab (Badge). It will show on your site, at the top left, an almost imperceptible blue slider. When you click on it, it will expand and you will see an icon with a crown. Click on this icon and you will be registered on the platform to access the complete catalog of apps.
Once the registration is done, you will be presented with what will be your plugin operations center. From the various icons displayed, you will have access to the different apps offered by SumoMe. Click on Settings and let's see the possibilities to locate the SumoMe badge on our site.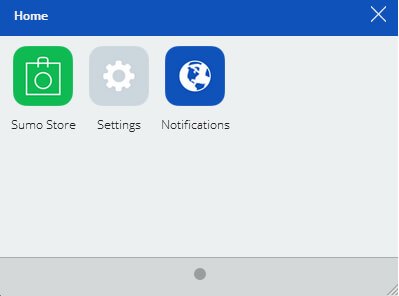 Note:  As you can see, by paying $5, you could hide it.
Do not forget to click on "Save" to save your changes!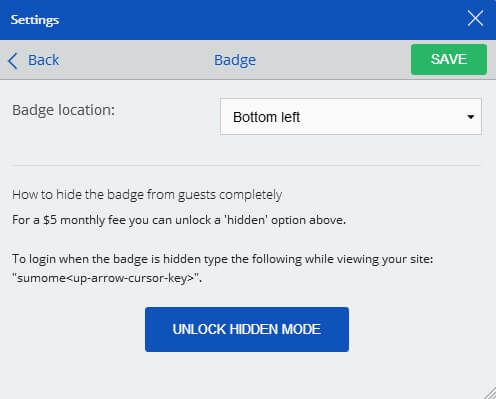 Then, let us return to the icon of the crown and then go to the visualization of all the apps offered by this plugin on the "Sumo Store". And they are many!
They are divided into 4 sections:
---
1 – The eMail
One of the great features of SumoMe is the recording of subscribers. That's why its strong point is without a doubt the pops-up with a call to action.
You will have 4 types of apps:
List Builder: to create an emerging pop up (or emergent window) on any page of your site
Scroll Box: to create a pop-up on a corner of your site
Smart bar: to create an registration bar, discreet, in a horizontal position on your site
Leads: to offer pdfs to incite registration to your newsletter
Note:  This last option is only available in the paid version, although you have a free trial period.

Our goal is always the same: to get to capture subscribers to convert them into customers!
2 – The Share buttons
Here we have 3 apps:
Share: a sidebar of social sharing buttons, much like Digg Digg, that we can locate in different places of our site and that offers us statistics on the shared contents.
Image Sharer: to share images with one click!
Highlighter: to select any part of the text of our site and share it on Twitter or Facebook with a link on this page.

Note: For this, remember to add your Twitter user (without @) and select the option to reduce the url
3 – The Analytics
These 2 apps, Content Analytics and Heat Maps, are based on the heat maps of your website. You will know, through the colors shown on the maps, on which areas of your site your readers stop, where they give up and where they click. Not bad isn't it ?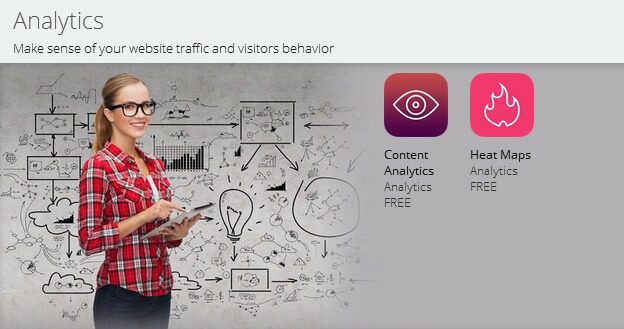 4 – Communicate
This section is used to insert a contact form on your site with the Contact Form app (you can even insert a capcha!). It offers you limited design options, because to change the type of template you will have to pay.

So that's about it for the presentation of this great plugin. Now what do you have to do with this plugin? …
Creating a pop-up (or emergent window) is perhaps one of the most interesting options for capturing subscribers.
But remember that good manners always differentiate elegance from blatant spam! And …
Do not swamp your readers!
Offer them something in exchange for their registration
Do not promise anything that you can not deliver
If you are only going to update your blog every 6 months, do not expect great results with this strategy!
We are now going to create a pop-up to register to our site with the Scroll Box app. The procedure is the same for the rest of the apps in its category.
How to create a pop-up on SumoMe and increase your number of subscribers?
---
1 – Enter the Scroll Box application
On this same panel of SumoMe apps, go to the 1st option Email. Then you can click on Scroll Box and then, at the top right, on the button Free. The Free button will then change and appear as Open.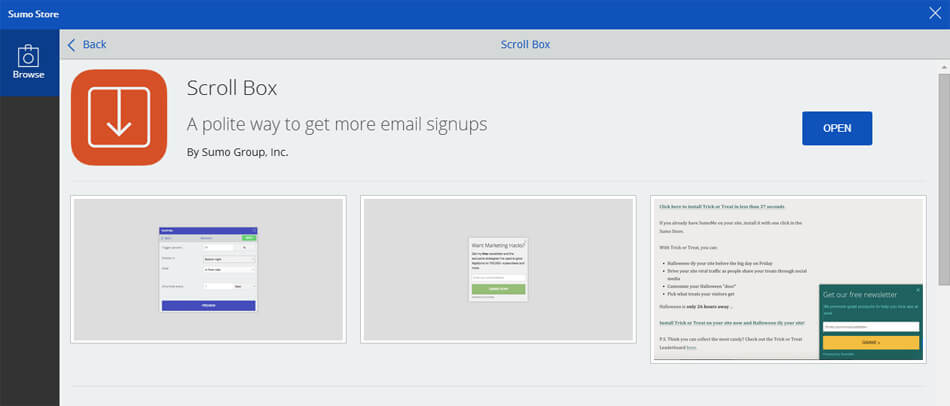 Let's click on it. It will show the statistics panel of the Email tab (at zero for now, since we have not created the pop-up yet).
2 – Configure your pop-up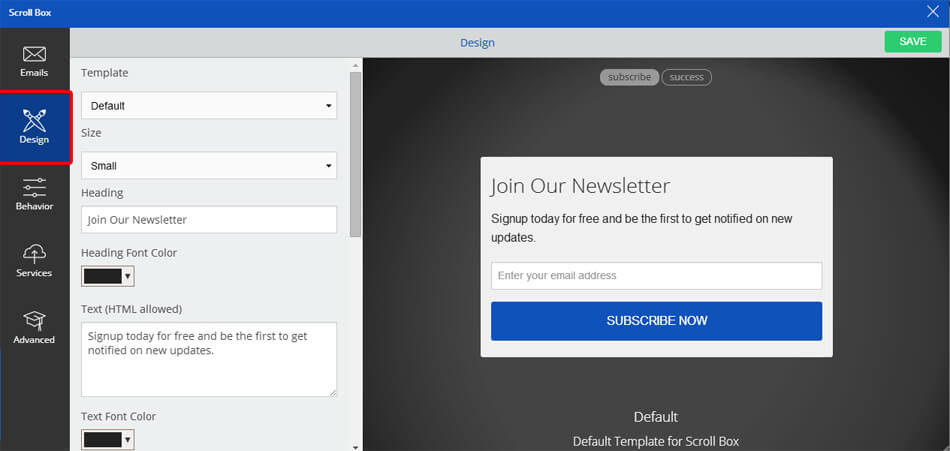 In the left menu, in Design, here we will choose:
The size of the window: I suggest that you do not choose the big one, nobody wants a pop-up that occupies your entire screen!
The colors: select one that they are in agreement with the colors of your brand
The text: all the text of the window (heading, text, button etc.) is in English. If you are working in a different language, you can personalize it that language so that your reader understands what he / she is doing when registering.
Do not forget to save your changes!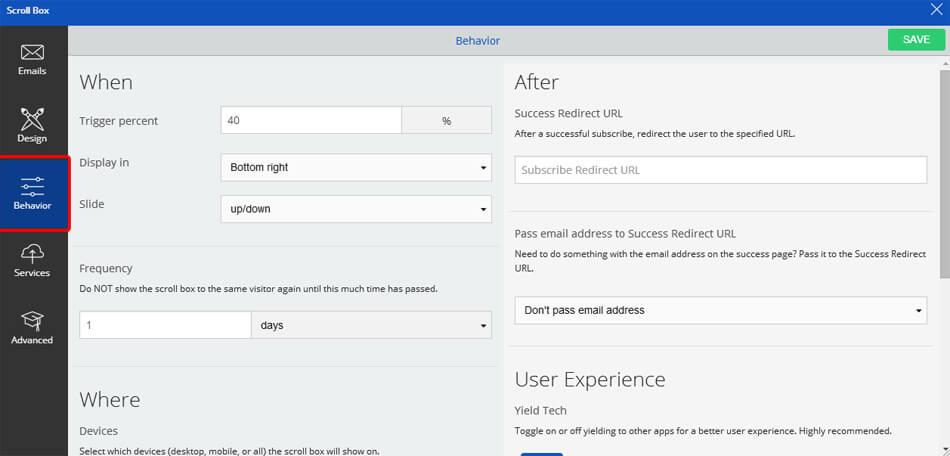 In the box Behavior, this is where you will be able to differentiate between a super heavy or a fine use of your registration pops-up.
When: Here, we define when our pop-up will appear. Trigger Percent is the percentage of the page on which the reader will have scrolled until the appearance of the pop-up (80% for example, I think it's good). Display in is the situation of the pop-up.
Frequency: Select the period of time that the window does not show for the same visitor.
Where: select if it will be visible on all devices (mobiles, tablets, pc …). Better select Show on all devices.
Exclude Pages: You can exclude urls from pages you do not want the pop-up to appear on. Insert the url in the html box with the text you want.
After: leave as is or insert the url to which you want your reader to land after registering. This can be your blog for example.
The rest, leave as is!
Then go to Preview (on the left part of the screen). If the window that appears on the right of your screen is what you want, save the changes again!
3 – Connect it with your emailing platform
SumoMe is compatible with many platforms used for email marketing. So, there will surely be your favorite! See below …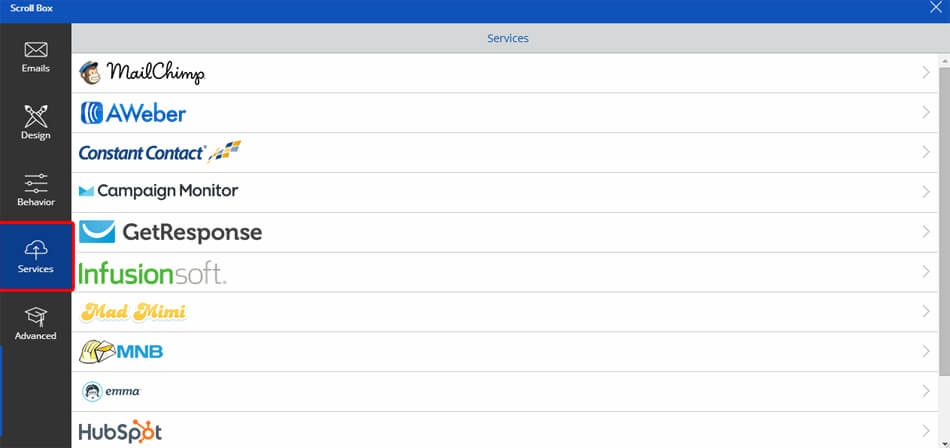 Click on your platform. Let's say for example AWeber.
Note: If you are already using one of the above autoresponders that's fine, you can connect SumoMe with it. But, if you are not subscribed to any other autoresponder, or would like to change, I can highly recommend that you signup at AWeber, you can have a free 30 day trial account, which will make it also easier for you to follow this tutorial.
 Once logged in with your AWeber account, you will have the option to define to which list you will add your new subscribers. Save the changes!
There is a last option, where you can further customize your pop-up form, through HTML (Advanced). Only for advanced users!
Here you are!..
You now have your Scroll Box registration form ready to go!
Now, it is time to see if you cannot eliminate some plugins that you have already installed and that fulfill one of the functions already provided by  this great plugin. This will help your website or blog to load faster.
You now have successfully installed your plugin, it is a big step forward. Bravo! But that's not all …
Of course, there are other tips to increase your emailing base, have a look at our "How To Start An eMail List"
But if you want your mailing list to build up, you will most likely need to identify the best incentive for your subscribers. This is a nightmare that prevents may you from sleeping, but you can surely find an answer through an ebook or other, in exchange for signing up for your newsletter … Here is a great one to offer:  "One Signup A Day Strategy"
And, in this case, actually, the double incentive, One Signup A Day Strategy + SumoMe can work wonders and you will finally see your mailing list take off! 
Thanks for reading
---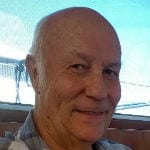 I hope that you enjoyed reading the best WordPress email newsletter plugin review and installation guide for SumoMe. If you have any other tips in this particular field, my readers and myself would like to hear from you. And, should you have any problems, please make use of the comments box below. I will respond typically within 24 to 48 hours. If you enjoyed reading this article please share it socially and post your appreciation in the comments area below, I will highly appreciate it!
I am a Premium Member at Wealthy Affiliate, where I learned how to share my passions and successes. You are most welcome to join my team and learn how to become successful in business and retire early.
I will personally mentor you for FREE. It is 100% FREE to join, learn and earn! Click the button below and I'll see you on the other side ⬎

And I have also selected for you a few books that you might find useful for your business ⬎