What Is the Fiverr Affiliate Program About – The Ultimate for 2022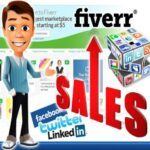 What is the Fiverr affiliate program about, and most importantly: Is is worth joining it? … my answer in two word is: YES, DEFINITELY!
It's an excellent platform for experts in their skills who want to earn money online through Fiverr. Freelancers from around the world can join and advertise their services on one of the largest online marketplaces. You can find work in a variety of fields, including writing, designing, programming, marketing, singing, and more, for as little as $5.
Fiverr Pro, an upgraded version within Fiverr, lets you hire only the best and most reliable freelancers, including those trusted by some of the largest brands in the world. Only one percent of applicants are accepted into the program, which requires an extensive application process.
There are many benefits to joining the Affiliate Program on the site, especially if you're a freelancing professional. You can also earn a percentage of each new sale made through their affiliate program.
Fiverr's Organizational Structure and Functions
Spokesmen and co-founders: Micha Kaufman and Shai Wininge.
Micha Kaufman, the company's CEO, founded the company in 2010.
In Israel's capital of Tel Aviv, is where the headquarters are located.
Over 160 countries around the world use FVRR's stock ticker.
Although the minimum charge for a gig is $5, freelancers are free to charge what they feel is appropriate for their abilities and work.
How to Earn with the Fiverr Affiliate Program: A Guide
---
Fiverr Affiliate Program – What Is It and How Can I Join It?
Affiliate programming has become THE best way to earn money online today, and many people are taking advantage of it. In the world of freelancing, Fiverr is now certainly as one of the top places to find work and earn money.
Fiverr's affiliate program allows users to make money by promoting the company's products as well as services to their friends and family. Several affiliate programs are available. Cellxpert's affiliate marketing package powers one of their programs, while the Awin Affiliate and the CJ Affiliate networks power the others.
The affiliate program has a number of advantages, including a long cookie life. There is no limit to how much money you can make as long as the customer uses one of your links containing your affiliate ID. Your can promote your affiliate link in 160 countries. There is no cost or hassle involved in signing up for an account. An email address is all you need to start selling your products and / or services.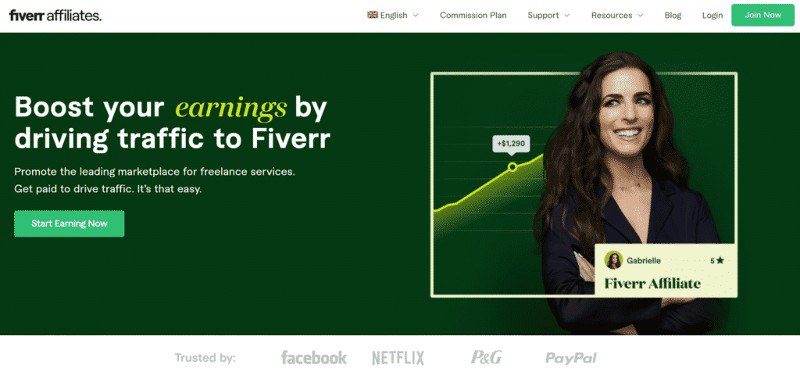 How do I Become a Fiverr Affiliate?
---
It's very simple to sign up for their program; there are only a couple of steps to fulfill …
Step #1 – Head for the Fiverr Affiliates Signup Page
Signing up is a simple process. To begin, navigate to the homepage and click the "signup" link. After that, enter your login information and create a robust pw.
Step #2 – Describe yourself.
You'll be asked two questions on this first page: how you plan to promote Fiverr's services, and what kinds of things your target audience is interested in. Make sure you're telling the truth here, because if you're being honest, you'll perform better.
You'll also receive the advertising material based on your answers. Once you've finished entering all of the pertinent information, click the "Agree to Policy Terms" icon to confirm your agreement.
On the next page, you'll see the option to signup. Now that you've completed this signup process, you can log into your newly created account. As a result, you can begin promoting products or services soon after you signup because there is no approval process.
Advantages of the Fiverr Affiliate Program …
---
The registration process is simple and straightforward.
The site's homepage has been improved to increase the number of visitors and sales.
Either one-time or 12-month links are available for you to choose from.
Affiliates are well taken care of thanks to their excellent service.
The link will remain operational for a year after being clicked.
Any freelancer can be advertised, or a entire category can be advertised.
Excellent structure of commissions.
On this Fiverr Platform, only the best and most competent freelancers are listed.
The ability to pay their affiliates in numerous ways.
The page's content is very well-presented. Videos and FAQs are available here to help you start.
There is a deep link available for you to use.
The Only Disadvantage of the Fiverr Affiliate Program …
---
Unless a new member signs up through your affiliate link and purchases services, you won't get a commission. You will not receive any commission if some existing members click on your link and only become members.
Is There a Good Reason to Join the Fiverr Affiliate Program?
---
Why use Fiverr instead of the competition?
Over 160 countries can be targeted for the promotion of your goods or services.
Low-cost services have sparked the most discussion.
Every new customer gets a reward with a CPA of about $15 to around $100.
They allow you to promote your content on social media.

Fiverr's Offerings in Terms of Services
---
Using Fiverr, you can earn a commission based solely on the kind of services that your customers purchase. Listed here are some of the specifics:
The primary marketplace is Fiverr, where you can sell and buy services such as editing, designing, content, and video. You can expect to earn anywhere from $5 up to $50 as a result of providing these services.
Second, there is Fiverr Pro, which is a more specialized version of Fiverr where only a select few sellers can offer their services. Only a small percentage of those who apply for Fiverr Pro are chosen, so you'll only be eligible to join this affiliate program if you're a top-tier professional. The commission is $150 because of the high cost of the services offered on this higher level platform.
Freelancers can upgrade their skills by enrolling in classes at Fiverr's academy. Despite the fact that these classes are geared toward independent contractors, anyone can enroll. As an affiliate, if someone purchases the course through your link, you receive a $30 commission.
The freelancing software known as AND.CO has been acquired by Fiverr for an undisclosed sum.
AND.CO primarily aims to help businesses as well as freelancers get more organized. This app helps freelancers to better manage their marketed gigs, while keeping track of their time, and better maintain their invoices. For promoting the software, the $30 commission is yours.
What is the Fiverr Commission Schedule?
---
You must always remember that only a first-time buyer (FTB) will earn you a commission. Although they haven't purchase anything from Fiverr yet, they have to be already registered for an account.
CPA (Cost Per Acquisition) commissions are strong here. Once a customer makes a purchase using your unique affiliate link, then you are eligible for compensation. Their commission plans are divided into three categories:
Cost-Per-Sale (CPS)
Per-Action-Costs (CPA)
Cost-Per-Revenue (CPR)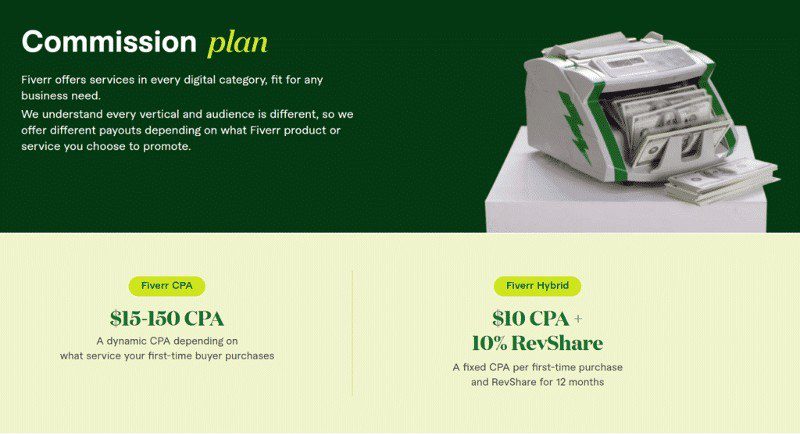 Depending on the service your prospect buys, your commission will be calculated differently. Fiverr is home to a variety of different marketplaces. A slideshow purchase, for example, would net you $30 in commission. The original Fiverr marketplace allows you to earn as much as $30 for an article or blog post.
Affiliate Commission Plan Types for Fiverr
---
The following are the three kinds of commission plans:
1 – When a new customer opens their account and makes a purchase as a first-time buyer (FTB), the affiliate is eligible for a commission under the CPA program. As a result, you will earn up to $150 for each new customer brought in through your Fiverr affiliate link.
If your FTB purchases products from a specific category, you will earn anywhere between $15 and $150 in commissions. Each time a customer purchases a Fiverr Pro service, you earn $150 in commission.
2 – The Hybrid Commission: It combines both the CPA and the Revenue shares into a single commission. For each FTB, you'll earn $10 for CPA + 10% for the Revenue Share during the next year under the hybrid commission model. As a result, there are no upper limits to the amount of money you can make from these commissions. Your earning potential increases if the customers you refer make larger purchases.
3 – Promote the Fiverr Learn as well as the And.Co platform and earn as much as 30% commission on each course sold and 50% in commission on each referral customer payment if you want to earn revenue share commission.
What Methods Does Fiverr Use to Compensate its Partners?
---
Fiverr has a payout threshold of a $100, which is the same as with many other affiliate programs. You can cash your money in a variety of ways once you have this amount.
As far as payment options are concerned, you can opt for the direct deposit (but you need to have an American bank account), if not, you can use the Fiverr payment card, bank transfers, or PayPal.
To Lifespan of Fiverr's Cookies
---
When promoting Fiverr services, their cookies will last for a full month. Customers who use your referral links and sign up for Fiverr within one month of doing so will earn you a commission from Fiverr as a result.
Learn and the And.Co's referral cookies last for a full year after a user clicks on your link.
In What Ways Can You Make Money as a Fiverr Affiliate?
---
One question you may have before joining the Fiverr Affiliate Program is, "How can I make good money through this program?" There are a great deal of options, including the following:
1 – Make a step-by-step manual
Creating some guides for your niche is the first step you must take. For example, as you may have a blog about blogging, you can produce a guide about starting a blog while discussing WordPress website expansion, the value of regular posting, etc.
Do recommend at least one freelancer for each section if you can, if at all possible. You can also include links in these guides, increasing the likelihood that someone will make a purchase after clicking on one of your unique affiliate links in it.
2 – Develop your website's reviews and tutorial contents
Create freelancer gigs and also video courses as well as post your unique affiliate links all over the web to promote yourself. Use your native language when writing about the best Internet marketing courses, for example.
In addition, you can create tutorials and include links to your products which will help you boost sales.
If you don't feel confident enough to do that, you can hire the services of some excellent professionals, like those I am using myself below …
3 – Do mention products or services you've purchased for yourself
Potential customers are drawn to these products as a result of this strategy. Writing about the best place to buy some particular piece of software is an example of this. Include Fiverr and mention that you have purchased this software from this platform in your list.
People who like your idea are more likely to get in touch with the same individual and click on the link they find there, which is your Fiverr affiliate link.
4 – Set up a Fiverr resources page on your website
Only people who have never purchased from Fiverr are eligible for a commission. In order to increase sales, you should promote Fiverr within the resources section. Reviewers should be brief and to-the-point when describing the benefits of hiring freelancers through Fiverr, as well as the downsides.
5 – In targeted Facebook forums or groups, promote affiliate links
You can advertise in over 200 different categories that exist on the Fiverr platform. Facebook groups and forums exist for many of them. Using your affiliate links as a marketing tool is a great way to boost your revenue.
Attempt to add value to the discussion by answering some questions and recommending your link. On Fiverr, for example, you can make as much as $40 in commissions for promoting WordPress services.
As a result, you'll need to figure out who your ideal customers are. For example, if you're promoting WordPress, your ideal customers should be those who are just starting with their own blogs.
6 – Include banner ads for Fiverr Affiliates on your websites
You can start your CPA Marketing with Fiverr Affiliates. These marketing tools are available on the assets pages, where you can download banners as well as other items. You could get more customers if you put the ads on headers and widgets.
If you want to make lots of money through the Fiverr Affiliate Program, then you should focus on promoting products and services with the CPA of around $50, such as e-commerce, website builders, game development and Content Management System (CMS), and so forth. It's possible to earn $150 right away if you promote the Fiverr Pro services.
How do You Make Use of Fiverr for Your Affiliate Marketing?
---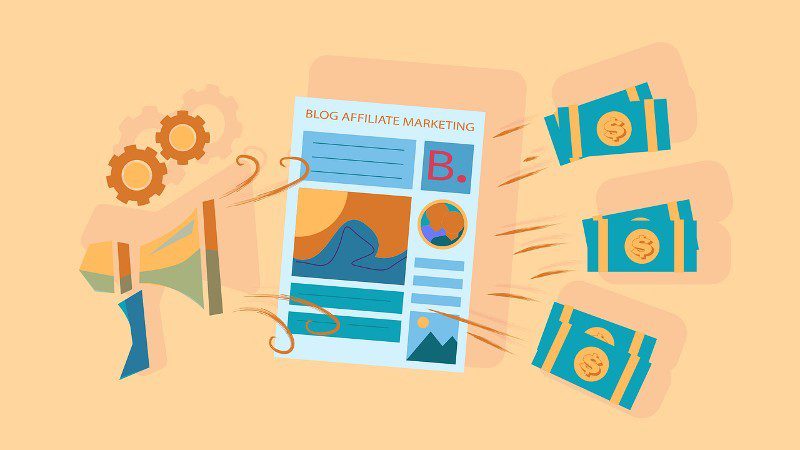 Having a well-trafficked website is a must if you want to make a lot of money with this program. However, Fiverr can help you make money if you use it correctly. You can use Fiverr for your affiliate marketing in a variety of ways …
Some of which are listed below:
1 – If you've used Fiverr in the past, it's a great idea to create some mega guides and lists all of the services that you've purchased from them. For each service you've used, write a brief description and include your unique affiliate link under the description.
2 – You can see that deep links are effective in increasing your customer base and you should use them to that end. If deep links are working for you even while you sleep, you'll be making money. Since your customers want and / or need answers quickly, this is akin to helping them out.
3 – In the same way that writing some Fiverr reviews will help you attract even more customers, people who search for reviews on Fiverr are almost certainly considering purchasing a product or service. As a result, people who are searching for products are often first-time buyers, making them prime candidates for your unique affiliate links.
4 – It is possible to earn a lot of money by promoting Fiverr Pro products if you concentrate your efforts there. If you want to earn money fast, focus on Fiverr Pro products and / or services, which can earn you up to $150 per sale.
5 – Promoting on Quora – Quora has now become the most popular Q&A (Questions and Answers) site in the world. When it comes time to promote your business, Quora can be a great tool. Make a list of questions people might have about this affiliate program on Fiverr and reply to them. Then, include your affiliate link in your answers.
How to Earn Money by Promoting Your Fiverr Affiliate Link?
---
If you don't want to promote the links onto Fiverr, there are a number of other platforms you can also use to generate a decent income each and every month.
No. 1 – Facebook traffic
A CPA affiliate product can benefit greatly from Facebook marketing. There are a number of methods available via Facebook, however the following are the most important:
a) Commenting on some other people's job postings is a simple way to promote your affiliate business on Facebook. On Facebook groups, for example, you'll see a slew of people looking for some freelance services such as graphic design and content creation.
For the best results, search for these groups and leave comments on their posts recommending some Fiverr gigs.
b) You can promote Fiverr Affiliate courses as well by sharing these on specific Facebook groups relevant to your niche. Promote a web designing course, for example, by joining design-related groups, promoting your personal affiliate link, as well as including a brief description of your course itself in your posts.
No. 2 – Twitter traffic
The Fiverr Affiliate Program can be promoted in a variety of ways, including this one. Again, there are two methods available via Twitter:
a) Go to Twitter and search for the job request tweets, and then comment on them. For example, you can use the Twitter search bar to look for content writing job postings such as "content writing expert needed" etc. As a result, your job will be to leave comments on every posts with links to the most relevant gigs and write a brief description of what they offer.
b) Tweets on Twitter is also a great way to promote your affiliate links. Do a number of tweets about gigs on courses for freelancers, and make sure to tag each one with relevant hashtags. This means that all of your posts will be seen by the intended audience.
No. 3 – LinkedIn
One great way to promote Fiverr Affiliates on LinkedIn is by using the network. Here are some of the most important ways to do so on LinkedIn:
a) Promoting links on LinkedIn is as simple as leaving comments on other members' posts and then posting your own. A search on LinkedIn's search box will help you find relevant job postings for commenting on.
Bloggers can use LinkedIn as their platform to publish their own content, which they can then include in their recommendations. Write on a variety of topics that relate to your business.
b) A good way to promote affiliate links is through the use of LinkedIn groups. For this, you must join LinkedIn groups relevant to your business and start sharing other Fiverr sellers' gigs there after joining. Quality traffic as well as referrals can be generated in this manner.
No. 4 – Classified ads sites
Classified ads websites with free ad posting allow you to promote your Fiverr affiliate links for no cost. Simply sign up for a free account on a classified website and begin listing your services or posting job opportunities as if you were the seller.
No. 5 – Forums traffic
Using forums to promote your affiliate link is also an option. Here are a few options:
a) Posting on various forums is a great way to spread the word about Fiverr's freelance jobs. To do this, you'll need to join relevant forums for your niche. To locate niche discussion boards, use Google's search engine.
In order to participate in these Fiverr Affiliate Program forums, you must first join. If the forum's moderators spot any spamming activities, they will not allow your posts to be approved.
c) Some reviewers of the Fiverr Affiliate Program point out that leaving comments on forums can also be beneficial. All you have to do is look for other people's posts that are similar to yours, comment on those posts, and include a link to your referral page.
d) Adding a link to your Fiverr Affiliate account to your profile signature is a great way to promote your business. One of the primary advantages of doing such thing is that while you post and / or comment on these forums, your signature will appear below that.
No. 6 – What About Email Marketing?
Email Marketing is again another effective means of promoting a Fiverr affiliate link. Fiverr is a great place to outsource tasks to people who have access to the company's or affiliate marketer's email list.
On LinkedIn, you can look up companies and online companies profiles. Go to LinkedIn and search for "web designing" or any other relevant terms in their search bar. After that, select the type of profile and the location where you want to target.
The next step will be to open each profile and look for the email address of each person. Once you've compiled a list, send an email to each person on it outlining the advantages of outsourcing to Fiverr.
No. 7 – Webtalk
This particular social media platform, which is about similar to both Facebook and LinkedIn, but is largely unknown. The good news is that even if you don't have a website, you can still promote affiliate links.
Webtalk allows you to do a promotion of an affiliate program in a variety of ways. For example you can post about some gigs or by sending some direct messages.
No. 8 – Instagram
Instagram is a well-known social media platform in today's world. By creating short video advertisements, you can also post an article on it. You have the option of including your links in the video's description. The people who are already following you can be considered potential customers.
Even if a customer chooses to make some purchases from different freelancers after clicking your link, you will still be compensated. Since the link you've created will determine the amount, there is no set amount.
No. 9 – Increasing the number of Sub-affiliates
Just promoting the Fiverr Affiliates Network has a good chance of you making some money. For the second tier, Fiverr Affiliates receive a ten percent commission. Plus, you get a cut of their future earnings if you send others to the program. In other words, if your affiliates make money, you do too.
How do You Select Affiliate Link Promotion Tools?
---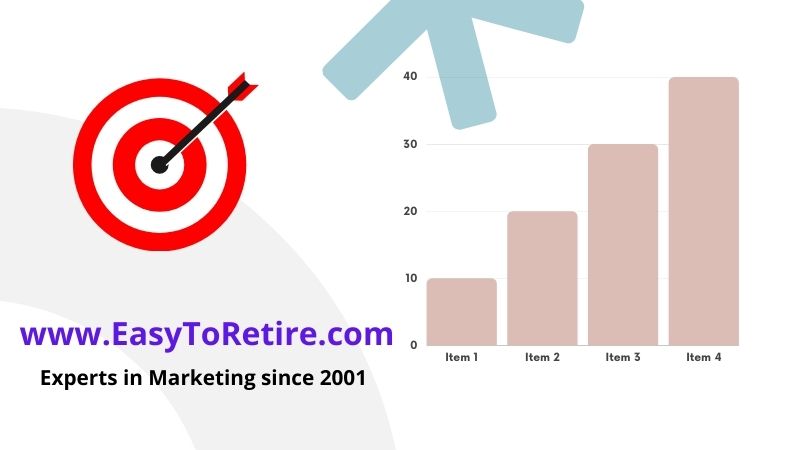 Promoting your services and / or products with the aid of marketing tools is critical if you want to see an increase in your revenue and profits. On Fiverr, you can select any marketing tools you want to use …
The first step is to sign in or create an account on Fiverr.
"All Marketing Tools" can be found by clicking on the "Marketing tools" tab at the top of the page.
If you're having trouble narrowing down your search results, try the filtering feature.
Filter it by brand to make things easier: A combination of CPA, Hybrid, Education, & AND.CO
Select any marketing tools you want to use by type.
Pick a language to use as a filter.
Select the appropriate banner for the Fiverr pages you would like to promote using the "Filtering by name" option. "Filtering by size" lets you pick a design based on the size of the image.
On the "Show Creatives" page, click "Apply Filters."
After clicking "Get the HTML Code," you'll be able to copy and paste the code into your website's HTML or save the image.
And What is this Fiverr Referral Program?
---
Many people voiced their opinions after reading a review of Fiverr's Affiliate program. Because of this, it was necessary to underline it for you to be aware of all the ways in which you may profit from Fiverr.
You can use your Fiverr account to sign up for this referral program. The referral program does not require you to fill out a registration form. Open your dedicated Fiverr account and click the user's image. Then select "Refer & Earn Up to a $100" from the drop-down menu that appears.
Because you don't get paid in your chosen bank account, it's important to know about the company's referral program. Instead, you'll get up to US$500 in Fiverr credits.
In other words, if someone buys through your affiliate link, you will receive some 20% discount on your very next order, which is limited at $100). A 20 percent discount is given to anyone who uses your link to make a purchase. First-time buyers, on the other hand, must be eligible.
It doesn't matter how much money the referral program pays you, you can still secure up to as much as $500 when placing the next order.
There is an Affiliate Program and Then There is the Fiverr Referral Program!
---
The Affiliate and the Referral programs are available on Fiverr. You get 20% commission when they first place an order, and the buyer will also get 20% discount, just for referring them. Plus, each customer will pay you $100 even if you don't do a lot of work.
However, the Affiliate Program is geared toward bloggers, social media influencers, YouTubers and other social media personalities. You can make money in a variety of ways, including through CPA, and where you can earn between $15 and $150 or also $10 plus 10%.
As a result, the affiliate program for customers is preferable to this referral program.
Frequently Asked Questions
---
1 – Is there a fee to become a Fiverr Affiliate?
In fact, there isn't any fee to join; there is no vetting process whatsoever. Earn money as soon as you sign up.
2 – Is this program open to people around the world?
You can join from anywhere in the world. You can also take advantage of its extensive network by selling your products in over 160 countries.
3 – Payment options for the Fiverr Affiliate program are as follows:
Payoneer, PayPal, and Wire Transfer, are all acceptable payment methods for receiving payments from your customers.
4 – When are the commissions made available for withdrawal?
Each month, you receive a paycheck, but you must request it manually.
As an affiliate, you can make money through the Fiverr Affiliate Program. When you join them, you become part of a well-known and respected brand that is expanding year after year. You don't have to pay anything to join it, it's well-known around the world, and it's easy to get into. What else could you possibly require? It's time to take a leap of faith.
Join them now and start earning thousands of dollars each month.
What Is the Fiverr Affiliate Program About – The Ultimate for 2022 – RT Plz – #fiverrseller #fiverrgig #fiverrseller #fiverr #freelancer #fiverrgigs
Click To Tweet
Other Interesting Reads to Help You Make Money From Anywhere …
Thanks for reading about the Fiverr Affiliate Program …
---

I hope that you enjoyed reading this new tutorial and that you will look into it closely as it could change your life forever. 
I have been a member on Fiverr since 2011, first as a buyer, then when I realized how much money one could make by just using their already acquired skills, I quickly decided to post a couple of gigs and offer my services.
Amazingly, I started to receive orders and to get paid for doing something that I was already doing to promote my many other online businesses successfully. Till now I have earned over $47,000 (US) with it, and it is growing month after month.
If you want to know how I did it, click on the banner below …

Above all, you are most welcome to share your experience, good or bad, with the Fiverr affiliate program. And, if you have any questions, make sure to use the box below and I or some of my readers will respond as soon as possible. And, if you enjoyed reading this article please do share it socially and leave your comments below, I will really appreciate it!