How to Write an Evergreen Content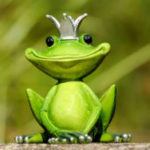 Evergreen, when it comes to plants' science (Botany), refers to the ability of some plants to maintain their foliage throughout the year. Okay butope, you have not landed on a gardening site by mistake, so keep reading as what we are going to talk about is how to write an evergreen content.
Evergreen content is therefore persistent content, almost timeless content, which does not expire, and remains relevant long after its release.
For example, if you write a blog post that discusses the release of a product or service, it will not be "evergreen" because after a while, its content will no longer interest to your readers.
Another example, the blog article you are reading right now is precisely an "evergreen" content! There is therefore a clear distinction between perishable content and evergreen content.
So, how to find and create this "non-perishable" content that will attract visitors long after its publication? This is what I am going to explain in the following 7 steps tutorial …
But, before we get started, you might like to share this article with your Twitter followers. To do so, simply click on the block below …
How to Write an Evergreen Content - A FREE 7 Easy Steps Tutorial
Click To Tweet
Thanks for doing that! And, here we go …
How to write an evergreen content …
For easy navigation purpose, I have divided this tutorial into the following 7 steps …
Step 1 – Find evergreen content ideas by analyzing your own statistics
---
Content ideas come from very different sources but in general it is best to start by studying your own resources. Ask yourself the following questions:
Are there certain topics that are particularly popular with your visitors? Look over the past year on the topics that were most appreciated and list those that, historically, capture the interest of the greatest number.
Do you have content that enjoys fairly constant traffic? All you need to do is look at your tracking indicators to identify which items are in the lead (number of total visits).
Anatomy of timeless content
Timeless content, should look pretty much like this (in terms of data):

As you can see on the above screenshot, this content has received constant visits over a period of a year.
It does not have to be loads of traffic. If the content is relevant to the type of products or services you are selling, the most important is to attract the right kind of visitors, and on a regular basis.
Once you have found by analyzing the curves of attendance, your own timeless content, determine what these pages have in common:
Titles: Do titles have something in common? a particular formulation?
Topics: What are the common characteristics that these articles have that work well?
Style: Are your articles that are successful are rather "best of", infographics or rather long articles?
Presentation: how are the articles presented?
Recycling good ideas
An easy way to create content that lasts is to refresh existing content and rewrite articles while keeping their good ideas but presenting them differently.
For example, if you produce a very successful infographic, you can easily keep it in your favorite content by updating the data on a regular basis.
For this reason, some site owners sometimes pick up old articles and update them as if they were new.
This method can bring you additional clicks and also help your SEO with minimal effort.
Although it may be practical, this tactic should be used sparingly.
Step 2 – See what works on social networks
---
By using a tool like Buzzsumo, you can identify the type of posts that work well on social networks.
This can be another source of inspiration for finding the right topic or title for your evergreen content.
I do not suggest that you look for buzz at all costs, but you can get inspired by it.
Step 3 – Write your evergreen content to coincide with your product
---
On the site rentokil.com, the solutions of rat extermination (or what is more widely called pests) are accompanied by a whole series of informative articles on the rules of hygiene to be followed or the material risks incurred.
This content is evergreen, the behavior of rats and other pests being fairly predictable from one year to another and from one consumer to another.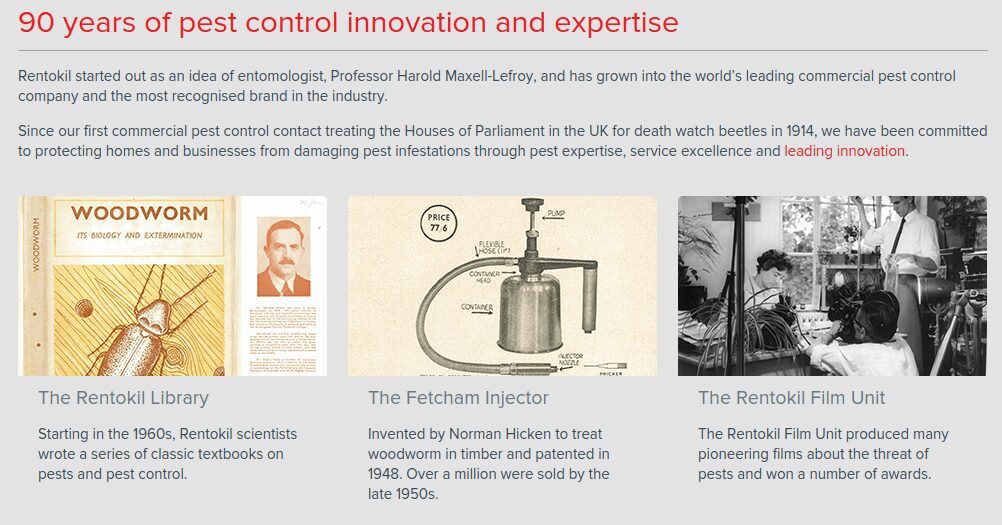 … unless of course, the behavior of rats evolve soon, which doesn't seem to be the case!
Step 4 – Identify the problems your customers are having
---
First of all, content creation should start with identifying your customers' problems!
Therefore, your articles must help them overcome their problems.
Take for example the case of Wealthy Affiliate. With their slogan …
"The Home of Affiliate Marketing! Absolutely everything you need to create and grow a successful business online is included at Wealthy Affiliate. We cater to all levels of experience!".
As a matter of fact they answer some problems or questions that their prospects and members might have.
Thanks to their intelligent tutorials and thematic articles, they address subjects such as: "Step By Step To Create Your First Article", "I want to build a video blog,any problem I need to care?" or even "How do I write an about me page?".
 Which shows that Wealthy Affiliate responds to the common concerns of its members.
Here, Wealthy Affiliate alternates between evergreen content and news content.
The contents are divided into 13 classrooms …
Getting Started
Authoring & Writing Content
The Wealthy Affiliate Platform
WA Affiliate Program
Website Development & Programming
Everything WordPress
Search Engine Optimization
Social Engagement & Marketing
Keyword, Niche and Market Research
Email Marketing
Local Marketing
Video Marketing
Pay Per Click Marketing
And more will be added when the need will arise. Also, these classrooms are subdivided into 4 topics …
Videos
Courses
Tutorials
Webinars
All this information is extremely useful for visitors as well as the members. So, any questions can be answered to solve any money making problems.
Step 5 – Be sharp when you write an evergreen content
---
The content that lasts does not have the unique vocation to bring back a large volume of clicks on the duration. It is just as essential that it addresses specific Buyer Persona.
For that reason, do not be afraid to produce sharp content. It will do well in organic long-tail research.
Also be sharp in terms of structure and quality of writing – "Evergreen" content is above all quality content!
To do this, you can refer to the principle of the inverted pyramid: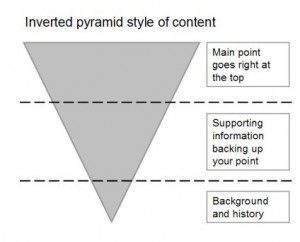 It is a simple principle that encourages the reader to read all the content!
Step 6 – Find the right format
---
Guides and other white papers work well in time and bring real value to users. They perform well on search engines for the same reasons: Internet users often type "how …" or "guide for …".
Lists of tools or encrypted data are useful resources for users, who will use it and come back.
Love them or hate them, the lists work! They represent 70% of the most popular items. They work because the reader knows in advance that he can browse the content quickly if he wants.
At this stage, I think you deserve to collect my free gift, right? Just click on the banner below and that's it …

Done it? Thanks, and let's get on with our tutorial …
Step 7 – Make it long or short?
---
Do not hesitate to write long, quality, evergreen content. The most searched articles are those that can bring all the information that the surfer is looking for on a subject.
The idea that the length of the articles should be shorter and shorter as readers' attention diminishes over time is undermined by the success of longer blog posts.
For example, after noticing that their 500 to 800 word articles were less successful than the others, many website owners and bloggers have decided to offer long contents and have increased their number of repeat visitors.
It seems that beyond 500 words, an article is not fast enough consumable and that below 800 words, it is not detailed enough. This in-between is therefore to be avoided.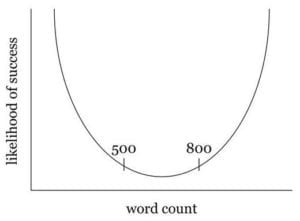 For evergreen content, you should try to avoid items that are between 500 and 800 words
These numbers may vary, but the trend seems to be repeated on many sites, which constitutes a good reference to base our writing on.
As an example, this article is more than 1,700 words on "evergreen" content and therefore has a good chance of being read in its entirety!
By the way, this reminds me about a friend of mine and colleague at Wealthy Affiliate, Loes Knetsch, who is an expert in content writing. She wrote in one of her many fabulous tutorials "How many words should a blog be?" the following guideline …
If you write …
300 words – you are in the wrong business
500 words – it's a start
750 words – you are getting better
1000 words – it is acceptable
1500 words – getting good
2000 words – it must be your aim
2500 words – that's excellent
3000 words – now that's awesome
3500 words or more – write a book
Since then I am keeping this guide in mind whenever I write quality, evergreen content, and the results show!
To summarize …
There is no magic formula for creating content that will last in time, but by working the bottom line, the form, and with practice, you can get close to it.
In any case, remember that you will never do the wrong thing when creating quality content that is correctly optimized for SEO.
Okay, and now …
What's your view on the subject?
---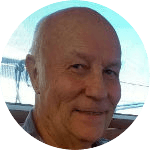 I hope that you've enjoyed this tutorial on how to write an evergreen content. If you have some particular techniques that you are using which prove to be successful, we would love to hear from you.
And, if you have any questions, please use the box below and I will respond as soon as possible. If you enjoyed this article please share it socially and leave a comment below, I will highly appreciate it!
I am a Premium Member of Wealthy Affiliate, where I have learned how to share my passions. I am inviting you to join my team and learn how to become successful in business and retire early. It is 100% FREE to join, learn and earn! Click the button below and I'll see you on the other side.