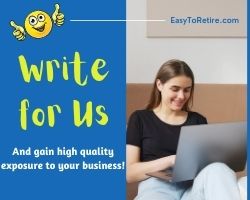 Would you like to write for us? If yes, you will gain exposure for your work and build your brand when accepted as it will be posted on my very popular WordPress blog "Easy to Retire" – Living The Laptop Life!
It is perfect for freelancers already offering their services on platforms such as Fiverr, UpWork, Glassdoor, etc. as they will have at least one link back to their paying platform.
This is an ideal advertisement, the perfect win-win situation!
We are seeking guest authors …
When you write for us …
Guest Bloggers will gain exposure for their work
Each and every guest posts are submitted to the search engines as soon as they are published
All blog posts are regularly shared on the major social platforms
Bloggers who write for us will gain a valuable back-link to their website or blog
Requirements:
Blog posts must be 100% original content (I will pass it through Copyscape to be sure).
Articles must be written in a friendly, simple manner
Your blog article must be at least 1,000 words long, 1,500+ is better. If less than 1,000 words, you agree for me to add a few sentences to it.
Perfect English expected (US/UK/AU/SA accepted)
If you need someone to write an article for you, I can recommend: Karen
You can include a maximum of three (3) contextual outbound link within the content and one in the author's bio
The links you are providing must be of at least 20 in domain ranking. You can check that here: Authority Checker
You agree that I include as many relevant internal links as I feel fit within your post
You agree that I modify the title of your post to match the Focus keyword / keyphrase to improve its optimization
If you supply images they must be 100% copyright free and you agree that I re-size them if need be
Your content should be relevant to one of the following blogging-related topics:
Blogging
Writing
Business opportunities reviews (scams)
Social Media
Marketing
Search Engine Optimization (SEO)
Time Management/Productivity
Product reviews provided they have something to do with the above
Any other relevant content may be accepted (contact me to find out)
If interested, send your work to YourBizTips@gmail.com with "Guest Post" in the subject line and a mention at the top of your email that you have read and are in agreement with my terms and conditions.
👉 Please note that due to the high volume of requests that I am receiving, I am very strict as far as the quality of the work you are offering is concerned, I am also performing an "Authority Check" on your website. In case your document does not conform with my requirements (less than a thousand words, or corrections to be made, for example), I may ask you to pay a US$10 setup fee and adjustment, payable to my PayPal account.

Admin
Important Notes:
Once you guest author for EasyToRetire.com, all guest posts become the property of Easy To Retire to modify or reprint.
I reserve the right to add words, sentences, chapters, etc. to your work as I feel fit, or remove if necessary.
Thanks for your time and I look forward to our future and long lasting business relationship.
Expert in social media and affiliate marketing since 2001.