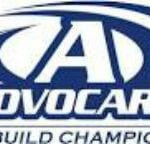 Is AdvoCare an MLM scam? Or can you make money with this company? Well, you better read this review before you go any further …their produ
AdvoCare is a company – established in 1993 – based in Texas that produces different varieties of dietary supplements; these supplements are sold via network marketing. AdvoCare had about 600,000 distributors in their MLM (Multi-level Marketing) system in 2016. They generated profits of $586 million. Which ranked the company at 37th position on the Direct Selling News Global 100 list in 2017.
I feel it's necessary to pin our thoughts about this company in this AdvoCare review. I strongly believe that making money with network marketing is impossible, but I don't want to jump into conclusion. Thus, I want to give AdvoCare an opportunity to prove me wrong.
Is Advocare an MLM scam?
---
If you have this question on your mind, you may find the answer as you read through this AdvoCare review.
Before we proceed, please note that I am not in any way in association with AdvoCare or an affiliate if their possible MLM scam scheme. I have not purchased or used any of their supplements. Any information you find in this review is entirely based on information publicly available on the net.
I sincerely apologize if any information you see in this post is inaccurate or outdated. However, while continuing this review, I will "keep an ear to the ground" should anything of interest comes up in the news.

Personal notification
If you wish to invite your Twitter followers on this most important review, all you have to do is to login to your main Twitter account and click on the bar below …
? Is AdvoCare an MLM Scam? - The Complete 2019 True Facts With Proofs ...
Click To Tweet
If you have several Twitter accounts, you can repeat the operation by login into each one of them in turn. Thanks for doing that! 🙂
What AdvoCare business opportunity is all about
---
You may be familiar with AdvoCare and how this business opportunity can change your financial situation for good if you have come across an AdvoCare distributor or any MLM member. In as much as this may sound true, it's still similar to purchasing a lottery ticket.
AdvoCare, on its website, describes five different ways to make money with AdvoCare. The company also describes how you can earn besides making sales when you recruit another person into the scheme and build a down-line. Which is a common feature in all MLMs.
The five ways to make money with AdvoCare are as follows:
1 – Retail Profits
2 – Wholesale Commission
3 – Overrides
4 – Leadership Bonuses
5 – Incentives
We will read through the 2017 AdvoCare compensation plan to discover more about earning with AdvoCare. In this AdvoCare review, we will discuss each of the ways to make money with AdvoCare. This will help you answer the question, "is Advocare an MLM scam?"
1 – Retail Profit
---
The easiest way to make money with AdvoCare based on the compensation plan is through retail sales. Here, distributors get to buy AdvoCare products directly from the company at a much affordable price (20% – 24% below the retail price).
To make profits, all you need to do is purchase products from AdvoCare and look for customers who will purchase the products at retail price from you.
Note = AdvoCare retail price is more of a suggestion that you can use to set your own price(s) when you sell and also adjust the margin in profits.
The plan to add a profit margin is an easy task. This strategy has been used by salesmen for centuries. We want to assume that it's impossible for salespeople to have a 'stable income.'
This is a type of job where someone makes a lot of money, while other people (probably sitting close to them), finds it difficult to earn a living.
2 – Wholesale Commission
---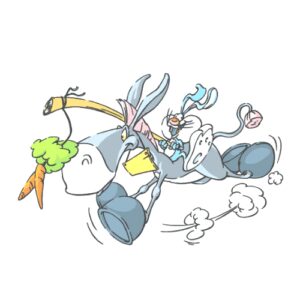 The wholesale commission is a passive way to make money with AdvoCare. You receive payment from the company when your downline (people you refer) purchase their products. The money you make is based on the difference between discount levels.
Let's say you qualify for a discount of 30%, and the person you recruit also qualifies for a discount of 20%, then you will be paid a 10% difference by the company on any product your recruit purchase.
In the event you and members in your downline are at the same discount level, AdvoCare will not pay you any wholesale commission. How clever is that?
Also, you will receive a wholesale commission on products purchased by your preferred customers. In order for a preferred customer to purchase products from AdvoCare directly at prices 20% to 30% lesser than the suggested retail price, they will pay a small fee to become a member.
All preferred customers and new distributors receive automatic qualification for a discount of 20%. To qualify for larger discounts, you will have to generate a huge Personal Volume (PV) on AdvoCare products you buy or Group Volume (GV) on AdvoCare products bought by your downline.
Your PV/GV combined is equivalent to the total recommended a retail value of all products purchased by you and members of your downline. You get to qualify for huge discounts as your PV/GV increases. As they say, "buying in bulk saves you money."
This reminds me of when I was in MLM myself. I was told that if I bought in bulk I would make a larger profit. Well I ended up with a garage full of expensive products I could not sell.

I had to share my views!
So for me, MLM no more!
There are much better ways to earn a decent and honest living online that doesn't require harassing your friends and relations …

With AdvoCare the discount level you qualify for is based on your cumulative Personal Volume or Group Volume over six pay periods. In a calendar year, AdvoCare has 24 pay periods, which ends on the 1st and 3rd Tuesday of each month. This implies that the discount you receive is based on the total amount of PV/GV you generate over 3 months.
Check the table below to see the qualification levels for PV/GV required for each discount level …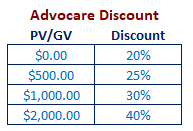 You will be at the 'Advisor Level' when you reach the 40% discount. This discount level is not available for preferred customers.
Distributors are eligible for the Advisor Level once they are able to generate a total of US$3,000 in Personal Volume / Group Volume in a year or over 24 pay periods.
3 – Override Earnings
---
You can start making money from override commissions when you reach the Advisor Level. You receive payment on Business Volume (BV) generated by members in your downline.
Also, you receive overrides up to three levels of advisors in your downline. Each AdvoCare product as a Business Volume points value assigned to it (except distributor kits and sales aid).
According to AdvoCare, BV is about 50% of the suggested retail price.
You also need to generate a lot of PV/GV in order to qualify for higher overrides; just like the wholesale discount. However, there is no accumulation of PV/GV here.
You need to generate the required PV/GV for each pay period. You will find the potential overrides one can earn as well as the Personal Volume/Group Volume needed for each below:
4 – Leadership Bonuses
---
Leadership bonuses combine commission from wholesale and override. You earn commissions on Business Volume generated by every member in your downline once you attain the level of a leader.
At this level, your bonuses increase as you advance through the 11 prospective leadership levels.
Just as wholesale commission, the money you earn is based on the difference between your leadership bonus and the bonuses members in your downline earn.
The start point for the leadership bonus is at the Silver level; here, you receive a commission of 3% on all Business Volume. You will be paid commission of 19.75% by AdvoCare on all BV in your downline once you reach the Triple Diamond level.
The image below shows different leadership bonuses as well as their qualification requirements: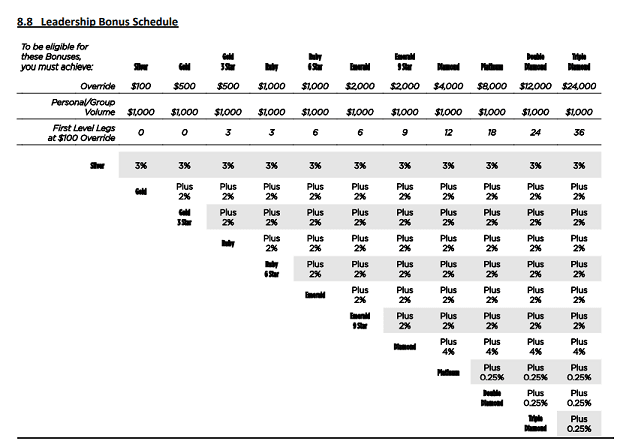 5 – Incentives
---
Top performers are receiving a reward from AdvoCare with "soft dollar benefits." Here you receive payment but not in cash. For instance, AdvoCare offers 5-star vacation as incentive, just like most MLMs.
Incentives are either created by the company or distributors at leadership levels. Incentives are designed in order to inspire downline members at specific levels to work harder during qualification periods.
Anything that will motivate people to work harder can be used as incentives. While top leaders may receive incentive in the form of a 5-star vacation, new distributors might receive incentives like a brand new iPad when they sponsor a lot of new recruits and generate Personal Volume or Group Volume in their first 90 days.
From the information I managed to find on the net, I did not come across any specific information about the current incentives offered by AdvoCare, but I'd like to believe this company makes use of incentives.
Is AdvoCare an MLM scam? Continue reading to know the answer to this question …
How much do distributors in AdvoCare make?
---
After going through the 2016 AdvoCare Income Disclosure Statement (which has now been removed from the net), I was not surprised that this company made the list of top 100 profitable companies.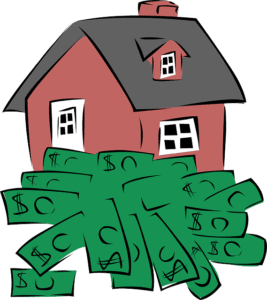 In 2016, AdvoCare had about 850,289 individual distributors; you can imagine the profits they made that year. And this figure doesn't include the number of preferred customers who purchased their products in 2016.
The distributors, however, did not partake in the cake (surprise, surprise). According to the 2016 report, about 72.31% of distributors are not receiving a commission from AdvoCare. It could be that these distributors earned from retail profit, but we are not sure since AdvoCare does not track retail profits generated by distributors.
I am certain that more than 410,000 people took part in the AdvoCare business opportunity in 2016, and none of them earned any commission. AdvoCare would disagree with this information.
According to a statement in their disclosure, the company stated that some individuals become distributors with AdvoCare so they can buy AdvoCare products at discounted prices.
I have come across lots of excuses that are very similar to this in almost all the MLM income disclaimer I have reviewed, and I did not believe any of them.
There are some people who only join the company to get products at a discount. They register as preferred customers. They wouldn't have signed up as distributors if they had no plan of making money.
As stated earlier, preferred customers are not included in the income disclosure statement, just the distributors!
Both the distributors and preferred customers will receive the same discounts on purchases made personally. AdvoCare charges preferred customers $19.95 to become a member.
To be a distributor, you will pay a $59 distributor kit, which comprises of some product samples alongside a retail sales receipts book and a magazine with testimonies from people who have earned in AdvoCare.
I doubt there is anyone who would pay an additional $40 for sales tools they do not intend to use.
The table below summarizes all the commissions received by all the distributors in AdvoCare in 2016: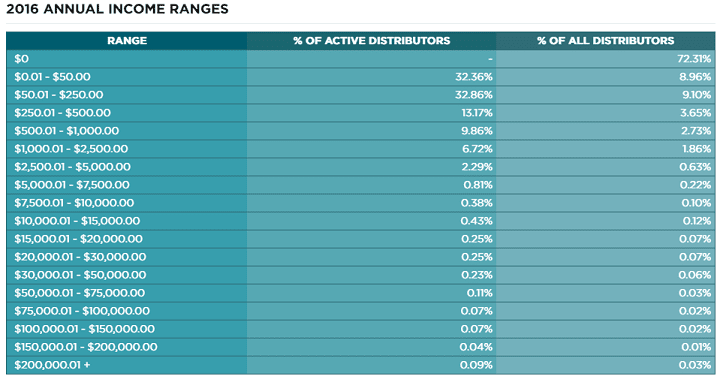 Using the table, we can tell that 99.24% of distributors received less than $100 each week as commission in 2016. Furthermore, just 0.11% of AdvoCare distributors earned a full-time annual income (at least $50,000).
Thus, we can conclude that out of every 909 distributors in AdvoCare, only one person was able to earn the same amount they could receive while doing a regular/normal job.
According to AdvoCare, active distributors are people who earned a commission in 2016. According to this statement, we are to believe that only 27.69% of distributors had the intention of making money. The remaining 72.31% purchased the sales tools so they could receive discount as preferred customers. Hum!
If we are to agree with their marketing strategy and consider only the active distributors, you will discover that about 97.26% of active distributors with AdvoCare make below $100 each week.
So the main improvement would be that about 0.38% of active AdvoCare distributors earned a full-time income from the company. Thus, the likelihood of replaying a regular/full-time job with AdvoCare has improved to 1 out of 263.
Is AdvoCare an MLM Scam? Why making money with Advocare is difficult?
---
I applied the "5 Step MLM evaluation designed by Dr. Jon Taylor" to the AdvoCare business opportunity, and I discovered all five red flags. Based on Dr. Taylor, this would imply that only a few distributors with AdvoCare actually make a profit. And that does not surprise a bit.
Companies make use of MLM to sell their products without using traditional marketing or employing a sales force. A lot of companies have made profits using the MLM system, AdvoCare included.
MLM programs exist because corporate profits can be generated through them. Why this does not favor distributor is because MLM is not a profit-sharing system like Affiliate Marketing.
Instead they operate a marketing system that is intended to generate large profits only to the owners and the few at the top. And NOT to the distributors who in fact are doing all the work!
Want to see what I do for a living? Click on the banner below …

Now, coming back to AdvoCare, if you look at what's possible, you will see they have attractive compensation plans. But if you look at what's probable, their compensation plans become less attractive.
The primary reason why making money from any network marketing company is difficult is because your upline receives most of the rewards.
4 out of the 5 ways to make money with AdvoCare has to do with your downline purchasing AdvoCare products. Your upline ends up receiving commission from every purchase YOU make. These payments are added to the wholesale price charged by AdvoCare.
You will enjoy the wholesale commissions more if you are eligible for the complete 40% discount, and you have a huge network of family and friends in your downline that buys AdvoCare products, to be "nice to you" and to "help you". Not because they particularly like AdvoCare very expensive products!
You will begin with a discount of 20% as a new distributor
---
Your upline will receive the remaining 20%. This implies that your upline will receive $20 as wholesale commission if you spend $80 with AdvoCare. Your previous wholesale price comprises of a 25% margin your upline will earn.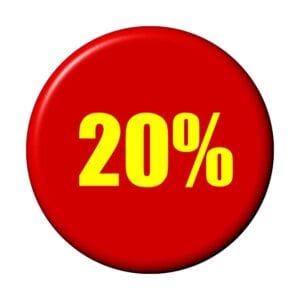 AdvoCare distributors who have reached the level of advisor can receive an override of about 7% on BV. This payment is made to 3 layers of advisors, a grand total of 21%.
Your wholesale price will also include this payment. Adding the 19.75% BV earned in leadership bonuses, you will discover that 40.75% of BV payments are included in the wholesale price all AdvoCare distributors will pay.
According to AdvoCare, Business Volume is equivalent to 50% of the suggested retail price. From my calculations using a discount of 20%, 25.46% of a distributor's wholesale price will go BV payments to people close to the top of the system, including the wholesale commission already paid by you. At this point, your upline will receive 50.46% of the money you pay to AdvoCare. Wow!
Things might improve when you are eligible for the 40% discount available to the advisor level. When you reach this level, you won't be charged for wholesale commission. But that does not stop your upline from earning payments from your BV.
According to my calculations, at this stage, your upline will receive 33.95% of the money AdvoCare receives from you.
The easiest way to earn is through retail profit, but that does not mean it's that simple. The suggested retail price is nothing more but a suggestion from AdvoCare.
There is no assurance that you will sell their products at this price. If you search on Amazon briefly for their products, you will discover that some of the products offered by some distributors are below the recommended retail price.
Do you understand why this is happening?
Well, it is very simple: some distributors have ended with a spare bedroom full of AdvoCare products that they cannot shift, their credit card is at the limit, so they have to sell some products at cost (or even loss) in order to meet the next minimum payment. Nice isn't it?
Some of these distributors even sell at prices way below what you will pay AdvoCare to get the same product. To make money via retail profits, you will have to compete with the different prices offered by other AdvoCare distributors.
The compensation plan is also included in the money you pay. What this means is that AdvoCare will receive about 62.05% of the money you pay to produce the products, package the products, deliver the products to you, and then earn a cool profit of $586 million!
The only way this system can be sustained is when the wholesale price for products offered by AdvoCare is way more expensive than the retail prices offered by most competitors.
Such practice cannot happen in Affiliate Marketing for many reasons that is explained in my #1 Recommendation. Two of which very important one are:
You do not have to stock any products
You are totally in control of your business
AdvoCare products – how good are they?
---
Selling good quality products is the best way to earn. The product quality has a direct influence on the retail price customers are willing to pay.
Like I said earlier, I did not buy any products produced by AdvoCare, neither have I used any. Any information you see about their products is completely based on information I got on the internet and users I have interviewed, distributors as well as just users of the products.
According to the information I got from various actual users of AdvoCare products, I believe that some of the products are true to their words (slight weight loss).
Some developed allergies from using some of the products. A few of them suffered pains in the abdomen from using detox products, but were told by her distributors that this reaction was normal.
According to "Diets in Review", which considered the AdvoCare 24 Day Challenge, they discovered that nearly 74% of consumers were displeased with the product.
The review also pointed out that the product contained different ingredients that could be dangerous to the body. But I cannot trust this review for sure since they are also trying to sell a similar dietary product. So I will leave you to make your judgement on that.
For a more reliable perspective, I went through an AdvoCare review at "Ancestral Nutrition" written by a certified nutrition consultant. According to the review, AdvoCare products contain rancid vegetable oils, genetically modified ingredients, and artificial sweeteners, which may cause different problems in the body.
Is AdvoCare an MLM scam or illegal pyramid scam?
---
In as much as MLMs have a similar structure to that of illegal pyramid schemes, they are not illegal, provided they have a service or product to market.
I believe that AdvoCare distributors have no intention to swindle new recruits. I feel that AdvoCare distributors believe they too might become wealthy in the future through the system.
However, some ex-distributors feel that AdvoCare is a pyramid scheme operating illegally. These distributors filed a federal case against the company on March 2017, alleging AdvoCare to be an illegal pyramid scheme.

From my own research
This could be a twist of fate, but I found it interesting that these distributors also have a problem with the compensation plan we talked about earlier.
For instance, one of the conditions to earn overrides require you submitting a sales compliance form which must show that you have generated not less than five sales to a minimum of five different customers or preferred customers during every pay period, that qualifies you to earn any override, leadership commission or any other bonus or incentive.
Failure to meet this requirement means you are violating AdvoCare's excessive purchase of inventory policy. The penalty if you fail to satisfy this requirement include loss of payments in the future, or even being expelled from AdvoCare.
Nothing new there then …
This kind of regulation is not something new to me, I have come across similar statements in different MLM documents.
The aim of the paperwork is to protect the company from any illegal activity the distributors may engage in. MLMs allow their distributors to protect the system, the rules in the paperwork are developed by them, but it is very difficult to enforce the rules.
In the event dissatisfied ex-members try to cause legal problems, then the paperwork gives the company power to fault rogue distributors who failed to abide by the rules.
Another complaint common to MLM is that the members make false and illegal claims about their product quality and the benefits these products offer.
AdvoCare is also guilty of this. In the bid to advertise AdvoCare products, a lot of distributors make unsubstantiated/unconfirmed health claims. 
Should I join AdvoCare?
---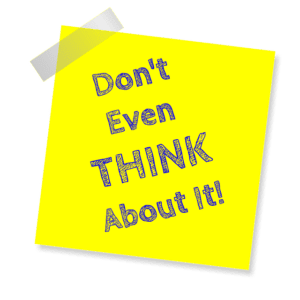 Before you participate in any business opportunity, it's advisable you do a little research on their products and the market before you commit.
I recommend you take a look at some of the products offered by competitors, study the ingredients, and check the price these products are sold in different stores.
Once you discover that value of the product is good at full retail price, then it's possible you can earn when you sell them.
Have at the back of your mind that 99% of distributors with AdvoCare are not making huge profits. This could be a sign that you should explore other money-making opportunities before arriving at a decision if you should join AdvoCare or not.
May 2019 update …
AdvoCare, on the 17th of May, announced that they would change their business model following a confidential agreement with the FTC.

Starting from July 17, 2019, commissions will be paid by AdvoCare only on "single level compensation.

Simply put, the only way to earn with AdvoCare is through retail sales commission. This implies that AdvoCare will seize to be an MLM company.

Breaking News!
As a result, distributors can only earn from sales made to retail customers (no more commission from members in your downline). According to AdvoCare, these changes are the "only viable option."
At this point, we cannot really confirm any information, but it looks like the FTC discovered serious issues with the compensation model offered by AdvoCare. 
If it appears to be true, then it could have serious consequences for the company as a whole. The truth will unfold with time, but I believe this adjustment will cause most of the distributors to leave AdvoCare.
From what you have read so far, I hope you can now answer the question, "is Advocare an MLM scam?" Please share your thoughts or feedback with us by commenting below, and if you have used any of AdvoCare's products, ensure you share your experience with us as well.
If you are a distributor at AdvoCare and you are fed up about not making any money, or you are simply looking for a way to honestly earn some money from home during your spare time, or full time, I highly recommend that you …

Thanks for reading this AdvoCare MLM scam review …
---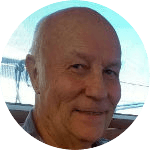 If you are looking for a great way to make a living online, just like I have been doing for years, I recommend that you first learn more about Affiliate Marketing, it will cost you nothing. 
You can even start at your own pace if you don't have much time to spare. All you have to do is join my FREE Internet Marketing Training by clicking on the banner below …