Facebook Like Page Builder 2.0 – Scam or Legit?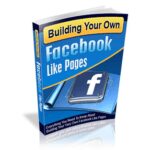 Is Facebook Like Page Builder 2.0 a scam, or is it really legit? Here is another thorough review as part of my program to uncover and expose and destroy scams, and at the same time, give a fair chance to legit businesses to be known as they deserve.
I often have to remind my readers, when searching the net to find out if a program is a scam or a legit opportunity or business, you will come across 3 kinds of opinions:
It will be a review written by someone who is an affiliate to the program in question; trying to sell you the product or service in order to earn a commission.
Or it could be a review from an affiliate marketer using the program and failing, for various reasons, and was unable to get his or her money back.
It may have been written by someone who has no clue of what the program or service is about, never tried it, or even done some research. This kind of person just wants to fill some pages for his or her blog or website to rank (Google loves product reviews).
Personally, I find the first 2 honestly expressing their thoughts, as long as they remain fair in their comments and not misleading their readers.
For me, the third group of people is totally dishonest! They are either:
Trying to get the Internet users to buy a product, or hire the services of someone, to earn a commission,
Or trying to damage the good reputation of an honest business, in order to lure their readers in buying some other products they own, or are representing.
And this without having the slightest knowledge of what it is all about. These are reviews to avoid by all means.
But how do you make the difference?
Not easy, I must admit, but this can be done by doing a lot of research, and by "reading between the lines", just like you would analyse an insurance policy before signing at the bottom of the last page.
In your research, you will often find words and phrases like:
"An honest review"
My sincere and impartial belief"
"Unbiased review"
"My honest opinion"
They are easy to write, but they do not necessarily guarantee that they are honest, sincere, impartial, etc. So, keep searching and forge your own opinion. Take some small risks, test, and leave it if you are not 100% happy.
As my regular readers know already, before writing a review, I try the product myself, or contact trustworthy contacts who are using it. So I perfectly know the ins and outs.
In the case of Facebook Like Page Builder 2.0, I particularly know it very well, for the good reason that I have been using it for many years. I can say that I am very happy with it. But, as I said, keep doing your homework. What I am going to give you here is MY personal opinion on the program, okay?
So, is Facebook Like Page Builder 2.0 a scam or, is it legit?
---
My straight answer is it is definitely legit, and here is a table comparing it with my Number 1 Online Business Opportunity. Now, I must point out that there is in fact nothing to compare between Facebook Like Page Builder 2.0 and my Number 1 Online Business Opportunity. They are two totally different and separate programs, but they work very well together and/or separately.
Okay, before we get started, you might like to take a minute to pickup my free Internet Marketing Course ⬎

Now then. I imaging that you know Facebook and that you are already using this social platform, either as a private tool to stay in touch with friends and family, or you are in business of some sort and you are using it as a tool to remain in contact with your prospects and clients.
You may know already that the Facebook platform has become an extremely powerful marketing tool. Facebook has of the time of writing this report over 2.25 billion monthly active users. Active users refer to people who log in at least once over the past 3 days period.

If you are in business, selling products or offering your services, or have a website, then, having a Facebook business page is an absolute must.
But, the problem is that it is becoming more and more difficult to create a customized page that stands out of the competition and is capable of attracting potential clients in and to get them to like your page. Unless of course, you can afford to spend hundreds of dollars to hire the services of a freelance professional programmer, like on Fiverr.
But, with a program like Facebook Like Page Builder 2.0, you can design your own Facebook business pages, as many as you want to, and for a fraction of the cost of hiring a professional to design just ONE.
Who created Facebook Like Page Builder 2.0?
---
Facebook Like Page Builder 2.0 was created and is managed by: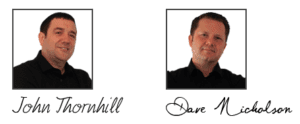 The  Facebook Like Page Builder 2.0 software is totally self hosted which means that there is nothing to download on your computer.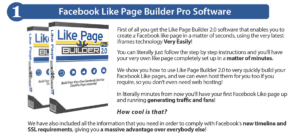 First of all, once you get the Facebook Like Page Builder 2.0 software you will love it. It will enable you to create a stunning Facebook like page in a matter of seconds, using the very latest iframes technology. Anf this very easily!
All you will have to do is to let yourself be guided by the simple step-by-step instructions. You will be able to add buy now buttons, opt-in forms, videos, banner ads, fan gate pages, and much more.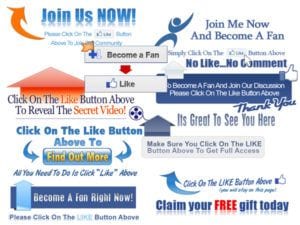 ---
You really don't need to spend a lot of money on a professional graphics designer as all has already been done for the user. The high quality graphics have been created by professional graphic designers. All you have to do  is to set up your stunning professional looking Facebook page in a matter of a few seconds by following the easy to follow guidelines.
If you had to hire the services of a professional graphics designer to do this kind of job for you, it would easily cost you a minimum of $197, to be optimistic.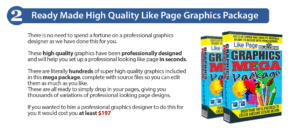 Build your own Facebook Like Pages PLR report
---
With the program you also receive the PLR Rights (Private label rights) to our latest edition of this brand new report titled:
"Building Your Own Facebook Like Pages – Everything You Need To Know About Building Your Very Own Facebook Like Pages". A $97 Value for free!

This excellent document illustrates the many benefits of having your own professional like page and lists the numerous different ways that you can make use of your like pages. It will also show you case studies of some successful like pages that were created with the Facebook Like Page Builder 2.0 software.
After reading this report you will understand exactly why it is so important to build a compelling Facebook Like Page.
You get all this, plus the complete blueprint to Like Page creation, loads of high quality ready made graphics, the PLR rights to the latest edition of "Building Your Own Facebook Like Pages", and also the "Like Page Builder Pro" software.
Now, let's recap what you will receive:
---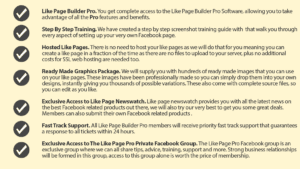 Here are some of the features that are contained in the Facebook Like Page Builder 2.0 package:
A series of step-by-step training videos to walk you through each; and every phase of setting up your very own professional Facebook page.
No need to host your Like Pages or even to upload files to your server; everything is hosted on their servers.
Your package includes a variety of professionally designed pre-hosted images; such as buttons; graphics; etc., that you might like to add to your Like Pages.
You will receive the source files for the images and have access to templates. The PSD image files will be available for all the Like Page templates so that you can create totally unique pages.
Access to the Like Page Monthly newsletter, extra trainings, reports, more videos, professionals' interviews, and more FB applications.
The exclusive access to Like Page directory which will give you ideas, to share your ideas, etc.
Super fast support to answer your questions 24/7.
Private access to the Like Page Pro Forum, which will allow you to gain support, get some extra training, etc.
And of course, being sold on ClickBank, you are guaranteed a full refund in the event that you are not happy with your purchase with 60 days; (although Dave and John make this very generous gesture look like it is coming from them)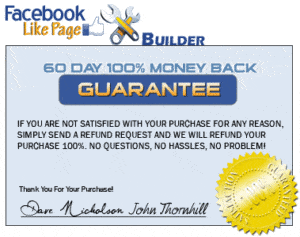 So now, how much does that costs?
---
You two options here:
The full package for only $7.95 a month; the same package but for a life time single payment of $97.00! You can order below, or get more information:


Conclusion
---
Is Facebook Like Page Builder 2.0 legit, or is it a scam?
I personally believe that it is legit!
Should you give it a try? Yes, you should. I can say that because as I said from the beginning of this review, I have purchased the one time lifetime software years ago, and it works very well for me.
Should you invest your time and money in this program?
To be honest with you, I would, provided you intend to make use of your Facebook account to promote some other businesses of yours, or to create professional Facebook pages that you can resell on Fiverr for example.
But, if I were on the market for a solid money making opportunity long term, and had a choice, I would definitely go for the Wealthy Affiliate program.
With Wealthy Affiliate, you can start for free, and you can earn as you earn. Later, you can decide if you want to make it your full time income stream; and upgrade to a Premium Member.
The training is 100% free! It contains hundreds of comprehensive lessons. It is designed with the newbie as well as the advanced internet marketer; and even the super affiliate marketer in mind.
There are weekly live webinars (really live); which are recorded to cater for those of a different time zone, who cannot attend the live sessions. They can always watch the recordings on their own time and as often as they want.
At Wealthy Affiliate, even the free membership contains 2 free domain names and hosting, a large number of WordPress themes, etc.. The member's back office is complete with reports and charts to help you track your progress, and improve on it.
And, one thing that you should keep in mind, is that if you decide to join Wealthy Affiliate, I will be available 24/7 to help you. Plus, you will have access to my private and FREE coaching.
So, what are you waiting for? You now know enough and want to start your free account immediately? No problem, it only takes a few minutes. Just click on the button below and let's get started …
Thanks for reading
---
So, now you know everything about Facebook Like Page Builder 2.0. If you have any other tips in this particular field, my readers and myself would like to hear from you. And, should you have any problems, please make use of the comments box below. I will respond typically within 24 to 48 hours. If you enjoyed reading this article please share it socially and post your appreciation in the comments area below, I will highly appreciate it!
I am a Premium Member at Wealthy Affiliate, where I learned how to share my passions and successes. You are most welcome to join my team and learn how to become successful in business and retire early. I will personally mentor you for FREE. It is 100% FREE to join, learn and earn! Click the button below and I'll see you on the other side.
Easy to Retire – Copyright © since 2017 to date!