How to Start a Blog and Make Money – My 9 Easy Steps to Success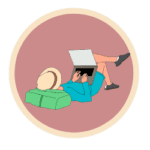 Finding great niche ideas to start your blog and make money isn't as complicated as it sounds. However, it is also very easy to miss on even one of the requirements.
In this article I will reveal the 9 essential ingredients that you need to bring together to be able to identify an excellent idea for a great niche site and how to exploit it to the max.
But before we begin, I would like for you to do me a favor:
Login to your Twitter account and click on the bar below. This will share this tutorial with your Twitter followers and help me get some useful back-links …
How to Start a Blog and Make Money – My 9 Easy Steps to Success. Enjoy and Please reTweet #bloggingtips #blogging #blogger
Click To Tweet
Thanks for doing that, and if you have several Twitter account, would it be cheeky to ask you to repeat the operation after login in each of your Twitter accounts in turn? ?
Okay, this done, let's begin with …
How to Start a Blog and Make Money …
---
This is what we are going to study in this tutorial. I recommend that you follow each of these steps in the order listed. Then, at the end you will find my free gift to you, okay?
1 – An evergreen niche
2 – Significant interest
3 – A product that sells well
4 – Interesting commissions
5 – Trusted partners
6 – Avoid competition
7 – Think outside the box
8 – Watch out for sensitive niches
9 – Make every effort to succeed
Here we go folks …
1 – An Evergreen Niche – The start of your money making blog!
---
The first thing to observe is to analyze the sustainability of this niche. Indeed, some are ephemeral and others are durable over time, these are called evergreen niches.
An evergreen niche is a safe bet that we will be able to invest in, without fear that the product will become obsolete or outdated. This may for example concern a product that has worked well for 10 years and which will continue to work well over the next 10 years.
Given that a niche site aims to position itself in Google's search results, we are embarking on medium and long term work. Hence the importance of promoting an evergreen niche.
To illustrate this, a coffee table is an idea of ​​an evergreen niche; in contrast to the latest Xiaomi Mi 8 is an ephemeral niche. It will certainly work very well, but only for one, two, or even three years max.
2 – Significant Interest
---
Another essential criterion to observe when choosing your niche is to opt for a large number of monthly searches on Google.
The more interest people have in a niche, the better. Of course, this element alone is not everything, but it is an excellent indicator of whether Internet users are interested in such a product or service; and whether we will be able to attract significant traffic to our website or blog.
To measure the number of monthly searches on your website or blog, there are several tools that facilitate the task. My favorite is Jaaxy.
3 – A Product That Sells Well
---
In some cases, a product can be enormously sought after by Internet users, but it can also very poorly sell online. We are here on a very important requirement, but one that is often overlooked.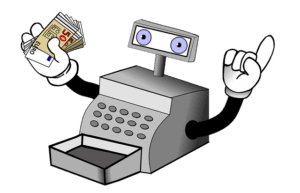 In fact, you can have the best site in the world, acquire colossal traffic and yet generate almost no sales. It's a shame isn't it?
To avoid this, we will focus only on goods and services that sell (very) well on the Internet.
How do we know that? For an ordinary product, it will be very simple. Just go to Amazon.com and observe the number of reviews left by Internet users. If there are many, this is a very good sign; but, if there is none, the niche should be avoided.
If this is a product that is not on Amazon, you can do some research on Google to see if reviews have been left on other sites.
Regarding a specific service, we will have to dig deeper to see if there is a market.
I will now give you two concrete examples:
1 – Carports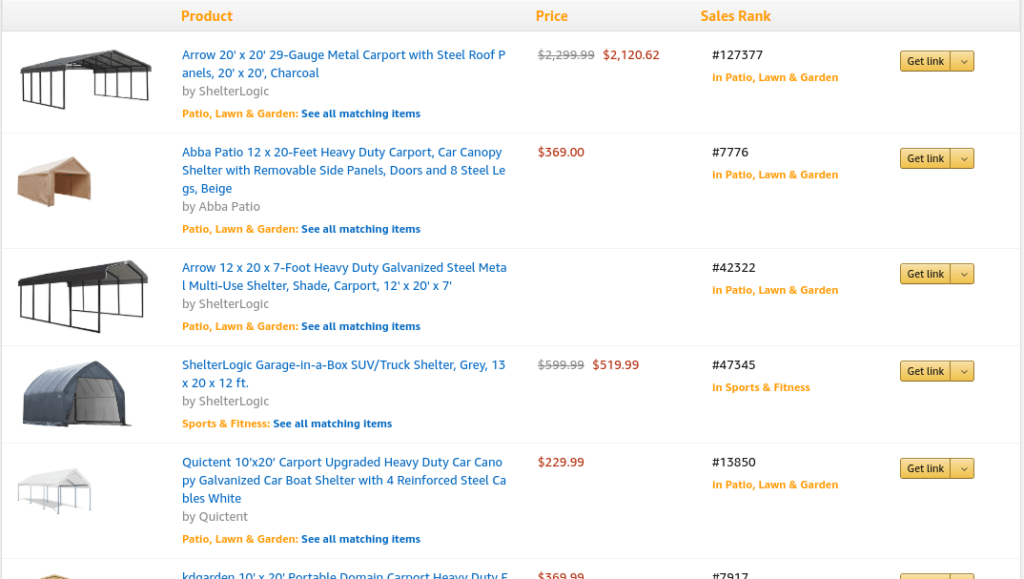 The first niche concerns carports, car canopies to protect them from the weather.
This is a query that is much sought after by internet users: about 33,000 monthly searches only for the main query. It's a huge market. Plus, we can expect a very interesting commission because it is an expensive product; often more than $1000 and can easily go to 2 or 3 thousand dollars, and even more!
However, it is a product that sells very poorly online. Indeed, Internet users first search for information on Google to get an idea and compare prices. Then, once they know what they want, they go to the shop to see what carports they are interested in look like in "real life", compare them, and finally make their decision and buy.
Therefore, it is a niche to avoid.
2 – Gaming Keyboards
On the other hand, the "gaming keyboard" query counts nearly 12,000 monthly searches (nearly a third of carport). However, the sales made are colossal.
Indeed, it is a product that is available today and that has the tendency of being purchased online more often than in the stores.
Even though it is not a most expensive item and the commissions are low for this category of product, I would prefer this niche far more than that of the carport. Makes sense?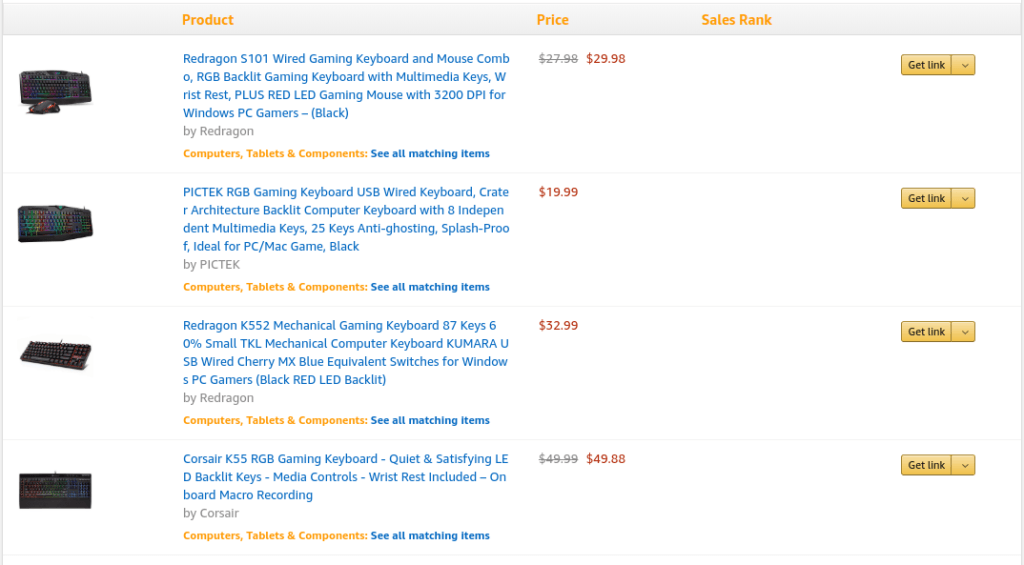 4 – Interesting Commissions
---
We now come to the commissions. Before definitively choosing your niche, you will have to do some forecasting calculations to anticipate the average commissions that you will receive.
To do this, you just need to know what is the average price of the flagship product / service that you are going to highlight and what your commission will be on each sale.
If you are an Amazon affiliate, you will earn different percentages of commissions based on each product category. These commissions have recently evolved, here are the latest at time of writing this tutorial:
As you can see on the chart above, certain categories are more interesting to exploit (such as Luxury Beauty, Home, Garden, Leisure, Sports, Cooking, Tools, etc.). While others are much less attractive (Computing, Video games, Home cinema, Smartphone, Household appliances, etc.).
To get the most up to date schedule, just click here: Up to date Amazon affiliate rate of commissions!
As you may know, Amazon is the ultimate e-commerce store. You can find everything there, the conversion rates are excellent, however the commissions are not necessarily the best.
Where are there better rates then? …
For example, ClickBank has a huge marketplace of affiliate programs of digital products. There you can find products to promote and usually earn a 75% commission, and often even up to 100%.
Outside of e-commerce, commissions are much more attractive. For example, in the area of ​​digital information products and training, commissions range from 30 to 70% (50% on average). The same goes for more sensitive themes such as charm and clairvoyance.
For most web services, this ranges mainly from 20 to 40%; for example for anti-virus, web hosting, auto-responders and marketing tools. Ditto for profitable niches such as weight loss, muscle gain nutrition and food supplements.
Some niches pay very well with fixed commissions (CPL – Cost Per Lead). This is particularly the case for credit, insurance, finance, dating and risky investments (CFD, forex, binary options).
5 – Trusted Partners
---
Suffice to say that there is no shortage of platforms and affiliate partnerships on offer online! There are thousands of them and it's best to team up with the right ones (duh!).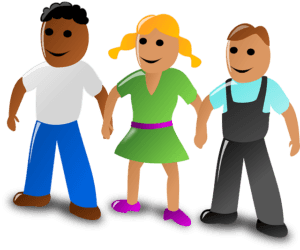 I would recommend that you focus only on serious and sustainable affiliate platforms and programs. Because you will also be investing a lot of your time in promoting them, in particular by writing suitable content.
There are many good affiliate platforms where there are a multitude of partners, in all possible fields. Creating an affiliate partnership is very simple, both for the merchant and for the webmaster.
During these last years, I joined several programs, with more or less important partners. In time I could observe that several shops had not only stopped their affiliate program, but they had also closed their business completely!
Which means, their project was not necessarily viable from the start. Hence the importance of joining forces with renowned partners; so as not to take the lead and to avoid changing programs regularly.
If you are interested in learning how to find the right affiliate programs, and how to market them for profit, I invite you to join my FREE Internet Marketing classes by clicking HERE !
In this training, you will find everything you need to know to make money online from home, during your spare time to begin with, then leave your 9 to 5, if you have any.
6 – Avoid Competition
---
In addition to the requirements we have seen so far, you will have to position ourselves in a niche with low competition (SEO). The goal is to position yourself in the Google search results. You will have to carefully avoid fighting to reach the top of the ranking.
The stronger the competitiveness in a niche, the more it will take you time and money to position yourself well. Conversely, the less the competition, the easier and faster it will be to rank in the top results of Google on some important keywords.
The easiest way to assess the competitiveness of a niche is to use a good keyword research tool like the one I mentioned above: Jaaxy
It is the best tool for assessing the competitiveness of a niche; knowing the number of monthly searches, the potential for monetization … and finding rare pearls.
7 – Think Outside The Box
---
When it comes to choosing the niche, going against the grain of what everyone else is doing can be a great strategy. We are naturally inclined to go and try what is already working elsewhere; even if it is much more difficult to break through.
Some niches are hyper competitive. And I always see the brave bloggers (not necessarily the most competent) rubbing shoulders with them. "Sexy" niches tend to attract people. Conversely, everyone ignores not necessarily fun niches. So what is a fun niche and a not very sexy niche?
A sexy niche can designate a technology, a passion, a fashion, something nice, known to everyone … As it is known to everyone, and that it can even be a passion, there are bound to be people on it. At the antipodes, a niche not very fun can designate a DIY tool, auto accessories, cleaning equipment, security, site, etc.
So I recommend that you go and dig where no one even thinks about going. There are plenty of specific niches that are little known to the general public; which nevertheless bring together a large number of searches on Google. A very good potential for online sales and low competitiveness.
Besides, everything is explained in details in my FREE Internet Marketing classes by clicking HERE !
8 – Watch Out For Sensitive Niches
---
During your research, you may come across excellent opportunities, in every way, but which may prove to be problematic in the long term.
Google asks its "Quality Raters" (those who assess the quality of a site) to pay particular attention to certain sites and pages, because there are pages that can influence health, safety, financial stability and happiness of web users.
And that makes perfect sense, since there has been a lot of abuse by unscrupulous people (and it still is).
To discover: How to Seduce Google's Quality Raters
As a result, health and money niches are particularly targeted by Google. This does not mean that there is nothing to be gained from these niches. If you have a specific skill in one of these areas and can prove it, then you can go for it.
Google is particularly interested in the expertise, the veracity of the content and the authority of the contributor. It also gave an acronym to this: E-A-T for Expertise + Authority + Trust. If you can put these three ingredients together, you don't need to worry too much about the success of your website or blog.
You will find in my free training the exact actions that I took which impacted many websites, and of course my various successful businesses, and income.
9 – Make Every Effort to Succeed!
---
My last piece of advice may seem like the most obvious thing. But yet I still see a lot of people who don't get it right.
Creating a perfect niche site is good, but once the site is online, you should not rest on your laurels, but rather work on its visibility.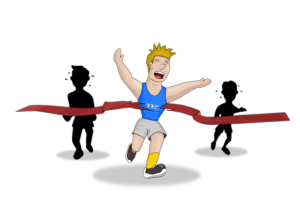 Often, it is due to procrastination or discouragement that bloggers fail to become successful, as there are no immediate results. So you have to keep in mind that you need a long term vision with niche sites.
To start your blog in view to make money is a long term project, and not for making quick big bucks, but rather to accumulate gains gradually and always larger over the months.
Like a lot of people, I started with a few random sites, and I didn't earn very much. But with a strong motivation, new skills and always more experience, I was able to accumulate a good number of niche sites, which allow me today to generate a respectable passive income which I would never have dreamed of when I was a newbie.
So do not limit yourself to the minimum, keep a long-term vision, stay motivated and persevere. I know it sounds simple and patronizing, but you have to go all the way, to give it all your soul! ?
It's not always what you know but often who you know …
To give yourself the means to succeed, you must also surround yourself with the right people (even if it's online). Equip yourself with the right tools, you must train yourself properly and make your life easier. Once you understand the ins and outs of a niche site, consider delegating time-consuming tasks, such as writing content.
If you don't bother to give Jaaxy a try, even for a month, the time to carry out your research and analyzes, you take a big risk of selecting a bad niche idea, and therefore to go on a flawed and unprofitable project.
The same goes for the theme of your niche site, you must select it with great attention, because it must be pleasant to read and navigate, efficient, responsive, secure and regularly updated.
If you choose a free WordPress theme, you will not necessarily have all of these elements. Once your site is created, think about optimizing the user experience as much as possible, the speed of loading and make sure that it is perfectly responsive on all media. Yes, lots to learn!
? You can bookmark this page by pressing CTRL + D on the keyboard.
Finally, the publishers of niche sites find it very difficult to get traffic to their website, and I mean "high quality traffic", which is, as you may know, necessary to give popularity to their site (in the eyes of Google).
This is a very broad subject, and I can recommend that you have a read at one of my recent tutorials here: How to Increase Your Website's Traffic, it is a goldmine of interesting information.
Then, I also recommend that you train in SEO, it is an essential skill for all web projects that want to be sustainable. Find out how to go hunting for links, how to avoid bad offers, and above all, don't hesitate to buy quality traffic to save you a lot of time and get you quick results. Here is where I get mine from: Highly Targeted USA Traffic, and they are excellent!
Once you know the difference between a good traffic and a bad traffic, you can invest in buying your traffic. It's one of the best investments you can make in your online business for long term optimal results.
And remember that if you want to start your money making blog and avoid all the pitfalls that you can find along the way, you can subscribe to my free Internet Marketing training right here: Making Money Online!
Congratulations for reading this far. It looks like you enjoyed this tutorial. If yes, then don't keep it to yourself, share it with your Twitter followers. All you need to do is to log into your Twitter account and click on the bar below …
How to Start a Blog and Make Money – My 9 Easy Steps to Success – Enjoy and Please reTweet #bloggingtips #blogging #blogger
Click To Tweet
Thank you!
So, Are You Ready To Start Your Money Making Blog?
---
I hope that you enjoyed reading this tutorial and that it will motivate you to start working on a niche blog and make money with it.

If you are looking for an honest way to make a living online, and to start for free, just like I have been doing for years, I recommend that you first learn more about Affiliate Marketing, it will cost you nothing. 
You can even start at your own pace if you don't have much time to spare. All you have to do is join my FREE Internet Marketing Training by clicking on the banner below …

Here are some interesting material I have selected especially for you ⬎