HP Spectre X360 Review 2021 – What is it Worth?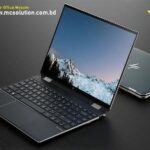 Here is my review of the brand new HP Spectre x360 for 2021. Is it worth the expense? Does it do everything that it says on the box? Well, let's find out …
The HP Specter x360 is undoubtedly one of the premium laptops we've got in 2021. For example, this 2 in one convertible laptop can rotate 360 and allows users to turn it as a touchscreen tab.
There are so many other convertible laptops from different brands such as dell XPS 13, Lenovo IdeaPad Flex 5 14, HP Envy x360 13 (2020), Microsoft Surface Go 2, and so on. But, as we will see in this 2021 review, what makes the HP Spectre x360 different from others is its elegant stylish approach with sturdy configuration.
You'll be attached to its 2.8 pounds and .67 inches thick body which can help you carry it anywhere easily. Whether you are looking for an unusual laptop or you want an extra-large screen tablet, HP Spectre x360 can be both for you. This complete 2021 HP Spectre x360 review will, above all disclose everything about this excellent convertible laptop.
Here is The HP Spectre X360 Review 2021
Inside HP Spectre x360
---
Inside HP Spectre x360 you will get Intel Core i7 11th generation processor paired up with 16 GB RAM. So, this means you are boosted and can easily reach your productivity goals with HP Specter x360. That is to say, it is a quad-core processor which is capable of boosting speed up to 4.7 GHz with Intel Turbo Boost Technology.
However, x360 is available in another variation which includes Intel Core i5 with 8 GB RAM and a lower price.
HP Spectre x360 comes with built-in 128 MB Intel Iris Plus GPU. Though it is not so perfect to run certain PC games, it will be an enhanced multimedia experience when displayed on its extra-large 3:2 screen.
HP puts some significant work in its FHD (Full High Definition) 3,000-by-2,000-pixel resolution display that features anti-reflection as well as HP Sure View privacy screen.
The OLED touch panel screen provides 400 nits brightness which can increase up to 1000 nits. That is way more than Dell XPS, Microsoft Surface, or Asus ZenBook series laptops. Also, the screen 100% covers DCI-P3 color gamut.
So, you will receive a fantastic visualization experience with a lovely touch panel for optimizing tablet mode.
Above all, HP Spectre x360 came with intel Evo badge. This means the laptop has gone through certain criteria for earning the Intel Evo badge and also acknowledges a good user experience.
HP Spectre x360 configuration – At a glance
---
Get a quick look at HP Spectre x360 full configuration below. Here is what we have insight into HP Spectre x360 review.
| | |
| --- | --- |
| DIMENSIONS (W X D X H) | 12.08 x 7.66 x 0.67 in |
| WEIGHT | 2.8 lb |
| OPERATING SYSTEM | Windows 10 Home 64 |
| PROCESSOR | Intel Core i7-11th Gen |
| GRAPHICS | Integrated Intel Iris Xᵉ Graphics |
| DISPLAY | 13.3″ diagonal, 4K UHD (3840 x 2160), OLED, multitouch-enabled, UWVA, edge-to-edge glass, micro-edge, BrightView, Corning Gorilla Glass NBT |
| DISPLAY BRIGHTNESS | 400 nits |
| DISPLAY COLOR GAMUT | 100% DCI-P3 |
| FINGERPRINT READER | Fingerprint reader |
| MEMORY | 16 GB LPDDR4x-3733 MHz RAM |
| STORAGE | 512 GB Intel SSD |
| STORAGE ACCELERATION | 32 GB Intel Optane memory |
| OPTICAL DRIVE | Optical drive not included |
| WIRELESS TECHNOLOGY | Intel Wi-Fi CERTIFIED 6 AX201 (2×2) and Bluetooth 5 combo |
| POWER SUPPLY | 65 W USB Type-C power adapter |
| BATTERY | 4-cell, 60 Wh Li-ion polymer |
| BATTERY LIFE | Up to 10 hours |
| VIDEO PLAYBACK BATTERY LIFE | Up to 12 hours |
| BATTERY RECHARGE TIME | Supports battery fast charge: approximately 50% in 30 minutes |
| WEBCAM | HP True Vision 720p HD IR camera with integrated dual array digital microphones |
| AUDIO | Audio by Bang & Olufsen; Dual speakers; HP Audio Boost 2.0 |
| SENSORS | Accelerometer; Gyroscope; eCompass; IR Thermal sensor |
| POINTING DEVICE | HP Imagepad with multi-touch gesture support |
| COLOR | Natural silver cover and base |
HP Spectre x360 Performance
---
One thing that buyers want to focus on before buying a laptop is laptop performance. Different people have different requirements for using a laptop. For example, some use it for graphic design work, some for multi-tasking official jobs, gaming, etc.
Whatever your motive for buying a new laptop, you should look at its configuration and understand whether it is perfect for you or not.
Here is a breakthrough discussion about the HP Spectre x360 performance so you can get clear sense of it.
Faster response (less than one second from sleep)
HP Specter x360 2021 version brings the best for the users as per their requirements. Its 11-gen core i7-1165G7 tiger lake processor is designed to perform faster than the previous 10th gen Ice Lake Core i7-1065G7.
The processor can boost speeds up to 4.7 GHz and also has 4 processor cores to accomplish single and multi-task smoothly. Besides, there is 16 GB of RAM to execute faster browsing and keep organized in your everyday tasks.
The HP Spectre x360 is Intel Evo certified, that is to say, it has been tested in real-life experience. Laptop with Evo badge come with distinguishing characteristics that you don't find in other normal laptops.
One of them is faster response. Report says that Evo laptops respond less than one second from sleep.
Real-world battery life
To pass the Intel Evo test, laptops should have a minimum runtime of 9 hours at a single charge. So, that's it, you can go tension-free with real-world activities with HP Spectre x360.
According to HP, this laptop can go up to 10 hours, also, the video playback battery life up to 12 hours. But, what about charging? …
Not to worry, above all, the device battery takes only 30 minutes to recharge approximately 50% of the full battery.
So, you can take a short break of 30 minutes, get some refreshments, and then head back to work again.
Fastest wired and non-wired connections
HP Spectre x360 includes 2 thunderbolt4 with USB4 Type – C connections. Moreover, it can send data up to 40 Gbps per second. It also has 1 SuperSpeed USB Type-A with a signal rate of 5 Gbps.
With a 65 W USB Type-C power adapter, the laptop includes the latest Wi-fi 6 standard Intel Wi-Fi CERTIFIED 6 AX201 (2×2) and Bluetooth 5 combo.
These all latest wireless and wired connection supports that also come with HP Spectre x360 ensures faster file transferring.
Portability
Firstly, no complaint about this beautiful device's portability. It is highly flexible to carry, maximum weight 1.2 KG and its 12.08 x 7.66 x 0.67-inch dimension looks so cool with its unique gem-cutting edge style.
So, you can easily bear your mini workstation anywhere you want.
High-definition Display video and audio experience
Dell Spectre x360 display and sound quality are amazing. In addition, it offers more brightness, more contrast, and 20% more space with its 3:2 screen ratio.
The LG Philips FHD (Full High Definition) display panel provides rich visualization of color, graphics, also enhanced video quality.
Its sky-high 1000 nits of brightness will allow you to keep up the work when you are outside. Or if you are indoor, you can go with a 400 nits display function or you can also adjust it with your environment.
There are also HP privacy screen settings to keep you safe from onlookers as it prevents seeing what's going on your screen.
Moreover, if you intend to use it more as a tablet, the OLED screen will make you feel comfortable just like using pen on paper.
For audio support, Spectre x360 has a quality audio system by Bang & Olufsen through which you can customize the audio experience by tuning its built-in dual speakers.
Using Bang & Olufsen app, you can manually adjust audio input and output settings. If specifically said, the bass output is so clean and cool.
GPU
The Intel Iris Xᵉ Graphics is not so good for hard gaming operation but goes well with other activities and software like photoshop.
It doesn't mean that you can't run any games in it, as it also depends on what you have to choose to play. You can play light interface games or can test your favorite games in low graphics mode to observe performance, for example.
Furthermore, you can use it for any multitasking activity effortlessly.
However, there is another variant with NVIDIA GeForce GTX 1650  with Max-Q design (4 GB) graphics included. Although it offers quite a high price, you can smoothly play high graphic required games with it.
Final Verdict
---
Finally, HP Specter x360 can be a perfect choice for all laptop users unless you have just gaming reasons. In such cases, you need to buy gaming laptops like Acer aspire 7, Lenovo Legion 5, Asus ROG Strix series, etc.
With Spectre x360 high definition, near borderless display, you can see more and do more. Its excellent battery lifetime of up to 10 hours, fast charging capacity, and 3:2 aspect ratio screen also make it highly worth your money.
Moreover, you can jump from laptop to tablet by rotating the screen 360⁰ take the pen, and use it as a tablet.
Its Gem-cutting shape and solid color combination make it one of the good-looking laptops with fair configuration in 2021.
Hopefully, this HP Spectre x360 review seems helpful to you. Reviewing this excellent laptop makes us consider it as one of the best convertible laptops of 2021 so far.
Frequently Asked Questions:
---
Here are some frequently asked questions that may appear to you when deciding to buy this laptop. So, the answer will help you to make your decision.
Q – What is the price for HP Spectre x360 in Bangladesh?

A – The price for HP Spectre x360 starts from 1,34,000 to 2,20,000. You can also get the 8 GB RAM version and 2020 model at the lower price and 16 GB version and the latest 2021 model for 2,20,000.

Visit our website HP Spectre page to see more x360 price variations.
Q – Is there any warranty for this laptop?

A – Yes certainly, buying this laptop from any retailing point in Bangladesh will give you 1 year of HP's official warranty.
Q – Where to buy HP Spectre x360 laptop in BD?

A – You can directly order this laptop on our website. Also, you can visit our shops located in:
Bashundhara Shopping Complex, Level #5 Block #A, Shop #86/A, 86/B
Mirpur 10, Dhaka-1216, Shah Ali Plaza, Shop No-71, 5th Floor
Q – Is HP Spectre x360 right for you?

A – It also depends on your needs. For what purpose do you want to buy the laptop? HP Spectre x360 shows good performance in heavy-duty official as well as personal tasks.

So, you can feel free to consider this as your first choice if you have the same requirement. However, Spectre x360 is not recommended for gaming.
Pros and Cons
Q – What are the pros and cons of HP Spectre x360?

A – HP Spectre x360 is good in all aspects. Also, its medium-range configuration and 2 in 1 feature make it one of the best convertible laptops you can buy in 2021.

From outer look to inner user experience, this laptop will certainly keep you moving every day with daily work.

But still, it has a few shortcomings that feel to the users. Also, according to users, they regard some bad sides in Spectre x360 which are,

– No HDMI port
– NO LTE
– Fans may seem noisy and spout heat a lot
Finally, for this review, we put the HP Spectre x360 as one of the top 5 laptops released in 2021. We would like to give it 8 out of 10. So, what's your opinion on it?
To share this product review with your Twitter followers, simply log onto your Twitter account and click on the bar below …
HP Spectre X360 Review 2021 – What is it Worth? Find Out All About it Here! #laptops #computertechnology #computers
Click To Tweet
Thanks for doing that!
About the Author
---

Fahad Hossan is a professional copywriter and products reviewer who often contributes top quality articles and reviews for major company websites and blogs. His attention to details and language skills are flawless.
His vast experience with electric equipment enables him to test and review a large number of desktop computers, laptops, smartphones, and various other modern technology products.