Where To Start In Internet Marketing: 7 questions to ask yourself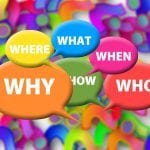 Where to start in internet marketing? Is this a question that stops you from getting your business up and running? Well, I have good news for you:
As a matter of fact, we have all been where you are at this precise moment
Once you have finished reading this step by step, you won't have this problem anymore
In blogs like this one, you will learn mostly "the operational", as well as techniques to advance in your online visibility. But let's not forget that 50% of our success in Internet Marketing will rest primarily on our strategy.
Because the marketing techniques you choose are nothing compared to the importance of your strategy. You will not have more customers by the fact of using this or that emailing platform or this or that social network. The important thing is the strategy you choose. So, take 5 minutes to (re) think how you manage your marketing strategy. The rest will follow naturally.
In short, in today's article, expect to go through a return to basics … or rather, to the fundamentals of Internet Marketing (and Marketing in general!).
The fundamentals of Internet Marketing
---
Here are the 4 main points you will need to become successful in Internet Marketing:
A target
A positioning
An irresistible offer
A sales circuit
So, let's begin …
Where to start in internet marketing ?
---
1. Who are your services for?
First of all, you need to position yourself! To talk to everyone is to talk to no one. The more you have a specific target, the more your prospects will come to you because they will identify themselves in what you have to offer. To target is not to deprive oneself. Your target is not your market. But don't worry, targeting your communication to be more effective will not prevent you from attracting customers to whom you do not address in the first place.
2. Define your ideal client
Ask yourself, "Who is your IDEAL customer? ". Your bull's eye?
Draw his photo-fit:
Who is he?
What is his income?
Where does he live?
Is it a man or a woman?
How old is he?
Does he have children?
Does he spend more time at work or at home?
What is he doing to have fun?
Do you know what matters most in his life?
What is he working on?
Whatever are his responsibilities?
What are its objectives?
His values?
What are his other sources of information?
etc.
3. Do you know where to go to find your ideal customer on the Internet?
Once you have a perfect view of your ideal customer, then you will be able to ask yourself, "Where is this ideal customer right now?"
On which blogs (on the same theme as you or not)?
Which social networks?
Within which groups of these social networks?
Which magazines (online or not) does he read?
What does he do during his free time?
Which communities of interest does it belong to?
etc.
If you do not know, look where your competitors are, this may give you an idea 😉
4. What do people come for on the Internet?
People come on the Internet looking for solutions to their problems. So propose a solution to one of the problems of your ideal client. Indeed, no matter what tools you offer them, what your client is looking for is a BENEFIT. So, do not waste time presenting the features of your products / services. Therefore, you will have to position yourself as a benefit, by providing a solution to one of his problems. For example, if you sell Internet signal amplifiers, do not dwell on the characteristics of your service, but all that your customer will be able to gain thanks to it:
to save him time?
to simplify his life?
and so on …
I have come across an excellent video, which I would like you to view, to the end if possible, and would appreciate it if you could share your views on what John Hardy is explaining. Use the comment box at the bottom of this page for that. Enjoy it!
5. Do you have an irresistible offer for this ideal client?
To find out, ask yourself:
What problem can you solve for him?
How can you save him time?
Can you save him money?
How can you simplify life?
Will you be more recognized?
Can you improve or maintain one's health?
etc.
You do not know yet? Call your ideal client or one of your old customers and ask them!
Once your profile is completed, show him in all your communications that you are here to help him. Put yourself in his place and talk to him directly (as if you were talking to a friend). Insist that you are going to remove this (stubborn) thorn off his foot for him 😉
6. Have you designed a "sales channel"?
On the web, there is a path to follow, and to respect, in order to arrive at the sale:
The pre-sale: To make yourself visible to generate leads and create a relationship with your prospects. This involves the sharing of content on social networks, a well referenced site, which has the ability to converts traffic into sales (via a registration module to your mailing list).
Create your sales channel on the Internet
The sale: Mostly via the setting up of a series of e-mailings, via an auto-responder
The loyalty of your existing customers (It is on average 10 times harder to sell something to someone who does not know you than a former customer.)
In short, it is the famous model of the funnel ⬎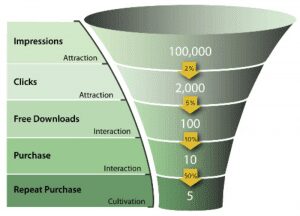 Once your circuit is set up, it will work on its own. Then, you will only have to animate it 😉
7. Do you have these 2 other things?
When you have your strategy in place, you will know where you are going with the various tools presented on this blog (or other!). You will then choose the ones that will fit best in your sales channel.
Once you have a good web-marketing strategy organized, you will then only have to add these 2 ingredients:
PASSION: Love what you do and, as a result, people will follow you naturally 🙂
PATIENCE: Be aware that, it will only work if you are not in a hurry to get results in the short term!
And finally, as a reminder, to sell on the Internet, you will need:
Obviously, a sufficiently large number of visitors
To know how to develop a relationship with an audience that is faithful to you
That other bloggers know you and/or your partners in order to support you
That Google considers your blog as a serious blog, and is especially relevant
And all that is not done overnight … 
A while ago I have written an article which has receive a lot of interest, so I thought that you might like to further your knowledge on the subject, so I invite you to read: "11 Best Ways To Start Your Business". Enjoy it !
If you wish to learn more about starting your own online business from home, click on the banner below …

You might also like to read the below articles that I have selected for you:
And remember that you can subscribe to my newsletter so that you will be instantly notified by email when a new article is made available for you to read. Just follow this link ~~> Subscribe to my Newsletter!
Thanks for reading
---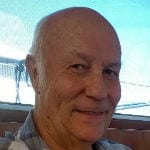 After reading this article you should know where to start in internet marketing.  If you have any tips on the subject we would love to hear from you. And, if you have any questions, please use the box below and I will respond as soon as possible. If you enjoyed this article please share it socially and leave a comment below, I will highly appreciate it!
I am a Premium Member of Wealthy Affiliate, where I have learned how to share my passions. I am inviting you to join my team and learn how to become successful in business and retire early. It is 100% FREE to join, learn and earn! Click the button below and I'll see you on the other side.
 Easy to Retire – Copyright © since 2017 to date!