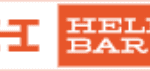 Hello Bar is a site intended to create all kinds of Pop Ups which will be very useful for you to keep your audience loyal. Send your readers on your social networks and why not, earn you some money.
The Pop Ups are beautiful and you can customize them to make them even more attractive!
You must have seen one or more of my Pop Ups that I created with this great tool when arriving on my blog.
The free registration is limited to 10 banner ads. It is more than enough to learn how to master Hello bar!
The site is only in English, which may not be perfect for everybody. But it is so simple to set up that just about anyone can use it; no matter what is the language of their site. I must say, it is very well done and is very quickly taken in hand.
But what is Hello Bar for?
It is a very good tool to create Pop Ups for Blogger and WordPress. I have been using it for over 6 months and I'm very happy with it! So happy with it that after a few days, I have upgraded to the "Growth" level. It is the middle version between the free and the higher membership, "Elite".
It is improving day by day, there are regularly new features, such as the ability to add images to your Pop Up or ask questions to your visitors, and based on their answers offer them something better targeted .
Since not very long, you can also preview your Pop Up to see what it looks like on your smartphone and tablet before you publish it; and even add animations to the Pop Up or notification bar to make them more attractive.
In this article, I will show you the essential things to know about Hello Bar. Then, you can start creating pretty Pop Ups for your blog!
The different functions of Hello Bar
Hello Bar is a customizable Pop Up creation tool. You can create different types of Pop Ups that will make your life easier. Here are the different functions it offers: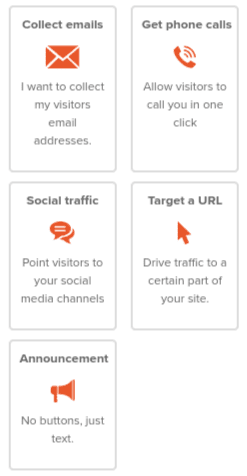 Collect Emails Pop Up to collect e-mail addresses: Ability to synchronize with e-mail services like MailChimp, AWeber etc … Collected addresses can also be stored on HelloBar.
Get Phone Calls Pop Up to allow your visitors to call you in just one click.
Social Traffic Pop Up for social networks: Like Facebook box, Tweet / follow on Twitter, etc. …
Click Link Pop Up with a clickable link: Convenient to promote another site, a referral link, another article on your website, etc.
Announcement Pop Up to broadcast a message to your visitors: Can be used to ask your users to disable AdBlock, notification of a special discount, announce the latest blog post, etc., for example.
With a free account, you can create 10 Pop Ups. It is perfect to show you how easy it is to set up; and how quickly you can convert your visitors into customers. This is what I used early on, before I upgraded and it allowed to test the site. It is okay if you do not have a big traffic. It is unlimited in time, plus you can edit, delete and recreate new Pop Up at will. But if you have some good traffic, you better upgrade to one of the two paid levels, or lose some valuable visitors that could have become customers.
The different types of Pop Up displays
Not only, Hello Bar allows you to customize your Pop UPs but it also allows you to choose your type of display. It is up to you to vary, test and find the one that suits you best!
Here are some information that can help you make the right choice: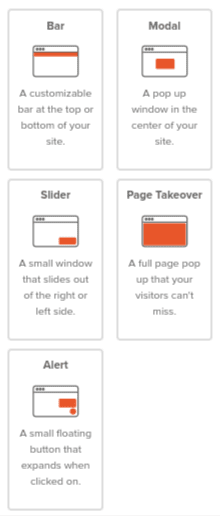 Bar: A notification bar that appears at the top or the bottom of the page. The advantage is that you can add animations so that it's catchy.
Modal: A classic Pop Up that appears in the center of the screen. It is one that I often use.
Slider: A Pop Up that appears in any corner of your page (up or down on the left, up or down on the right). Attention, at the level of the display on smartphone, that can sometimes be problematic.
Page Takeover: Display of the Pop Up in full screen. There is not a big difference with the Modal except that it covers the whole screen. Some people find it annoying, but it works.
Alert: To notify your readers of a special announcement. It floats around the screen till clicked on, then, it expands.
Note: If you have a lot of visitors using smartphones, you can use the Pop Up Bar which is very attractive! For something more classic but that works well on mobile you can use the modal.
Avoid Sliders, it does not display correctly on mobile (you can preview the effect on mobile view by using the left menu when you create your Pop Up).
How to install Hello Bar on your blog?
To install Hello Bar on your blog, you will have to go to the (1) Settings, (2) Site menu and click on (3) Installation Instructions. Below is an image where I have highlighted the process in red to make it easier for you: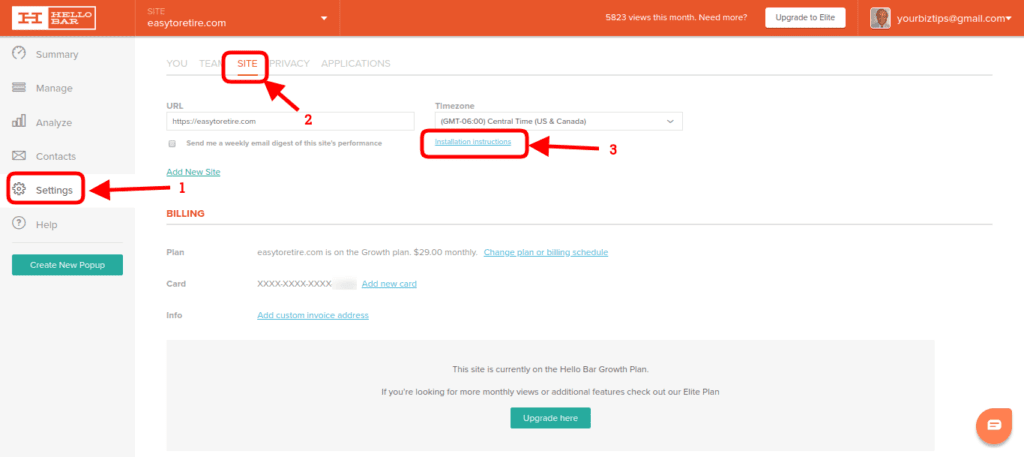 Once you have clicked on Installation Instructions, you come to the page below and depending on the platform you use to create your blog, you have several solutions to install Hello Bar.
If you are on Blogger, you must copy and paste the script provided for this purpose (highlighted in red on the image below), go to your blogger interface in the template menu, then click on Modify the HTML code and paste the script after the tag <body>.
Warning: Remember to save your model as it is before altering the code of your blog! Still in the model menu, click on Backup / Restore on the top right and then download the full template and save it!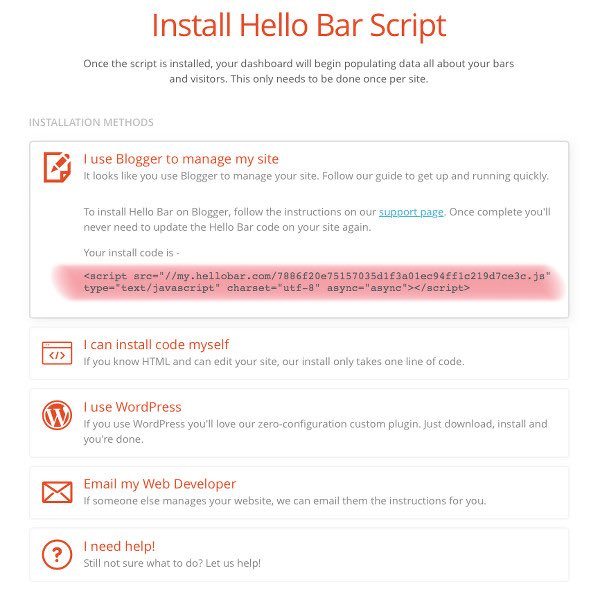 The above image shows the installation process of your script on a Blogger blog. But as you can see, the Hello Bar can be installed in various ways and even easier and safely if you have a WordPress website.
Indeed, if you use WordPress, it will be easier because there is a plugin that you can download by clicking on I use WordPress. If you need help you can post a comment at the bottom of this tutorial and I will answer you asap.
The Hello Bar 3 versions
Hello Bar offers a free version limited to 10 banners, a Growth version and an Elite version. As I said earlier, the free version is okay to "test the water" but you will soon find out that you will need to upgrade to one of the paid versions … or lose valuable leads and even sales.
I suggest that, as soon as you are confident with the working of Hello Bar, that you upgrade. The Growth package will take you a long way, so that's all you will need for quite a while. It offers way more features than the free version.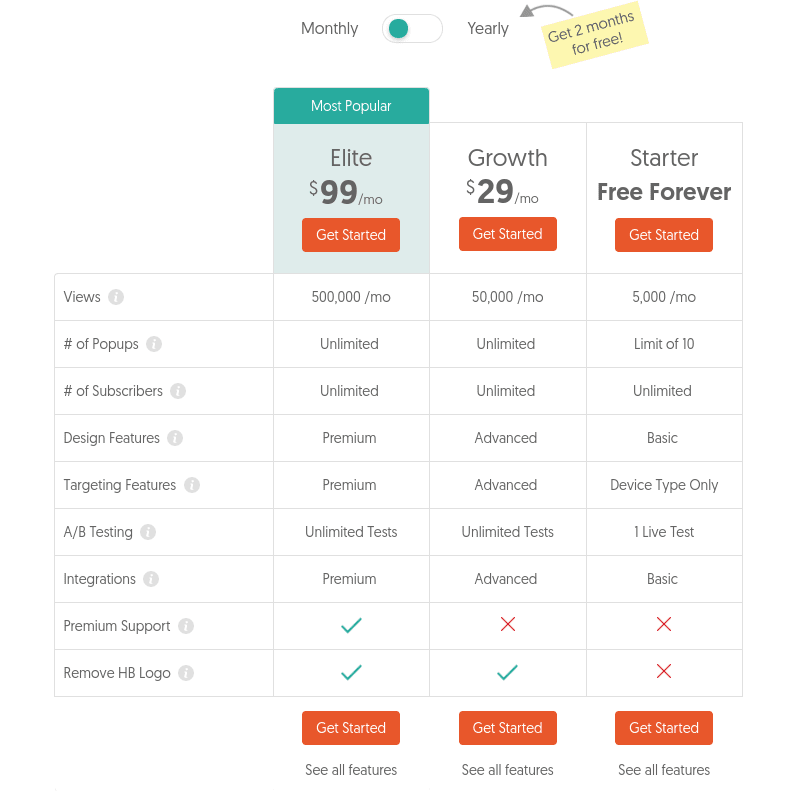 The price of the Growth version is $29 a month or you get 2 months free if you subscribe on a yearly basis. There is a surcharge applicable if you have a high traffic and exceed your allowance.
When subscribing to any of the two versions, you will have the possibility to remove the Hello Bar logo on your Pop Ups and notification bars.
I have used the free version for a while before upgrading to the Growth version and I can assure you that the difference it make to my business, is like day and night!
The Affiliate Program
Hello Bar offers an interesting Affiliate Program! Each referrals that you have introduced will earn you a 30% commission for as long as they remain! Even if you are a free member.
If you intend to register, even at the free version for the moment, I would appreciate it very much if you would use my referral link to have me benefit from the commission if by any chance you were to upgrade some time in the future. Here is my referral link to ~~>

Conclusion
I think I've been around the main functions of Hello Bar, you are now ready to create beautiful Pop Ups with ease!
Whether you want to promote your affiliate links, spread a simple message or involve your users on your social networks, this tool will be very useful!
Remember to take a look regularly at my blog because there are often new tutorials to improve your business! Or even better, register for my newsletter so that you will be notified the minute a new article is posted ~~> Register HERE!
If you encounter any problems installing your Hello Bar or need more information, post a comment and I will answer you as quickly as possible, so that if other readers have the same problem it will help them as well.
Thanks for reading this guide …
---

I hope that you will instal your Hello Bar very soon in order to start converting your website's visitors into leads and customers. 
Once you have installed it and have any tips to share with us, we'd like to hear about them.
And, if you have any questions, please use the comments' area below. You should normally receive a reply within the next 48 hours.
If you enjoyed reading this article, please share it socially. Also post a comment with us here below, I will be very grateful!
As a Premium Member at Wealthy Affiliate, I learned how to share my passions with the world. You are very welcome to become part of my team of very successful netpreneurs. You too can become a successful business owner and live your laptop life. I will be your personal mentor for FREE. It is 100% FREE to join, learn and earn! Click the button below and let's …