Technology Is Revolutionizing Sports Training – Here Are the Top 6 Ways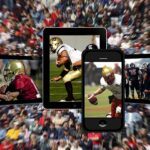 In today's fast-paced world, technology is revolutionizing sports training. It has seeped into every aspect of life. Fields like business, education, entertainment, and sports have been completely taken over by this.
In fact, we can predict that technology's influence will only increase in the future. With access to services offered by ISP sites like TVandinternetdeal.com, people today are gaining greater knowledge and awareness surrounding tech.
What was simplistic a few years ago has been completely revolutionized by technology and innovation in the current world. 
Here Are The Top 6 Ways Technology is Revolutionizing Sports Training
This is especially true for the sports industry. Athletic and sports training is now much more enhanced and modern. Here's how technology like Virtual Reality, Wearables, and Vision Training has significantly impacted this field.  
Immersive Experiences with Virtual Reality (VR) 
---
Virtual reality is one of the most popular technological tools today. While it's still not as widespread in its use, its importance is now a realization by a large number of organizations. VR headsets are designed to enhance users' experiences.
They provide an immersive setting that allows users to perceive and interact in a first-person setting. This is especially revolutionary in sports training because it saves time, effort, and the risk of accidents. 
Reduced Injuries 
---
When athletes use VR for training, they save both time and effort. Traditional methods of training mean long hours and a significant amount of strenuous physical activity. However, with VR, players can train from the comfort of their homes.
They'll experience situations and settings that look life-like and will involve similar training as with traditional methods. Moreover, VR also reduces the risk of injury. With this tool, players can't get hurt because they won't be in real situations with opponents or team members.
Serious injuries can greatly impede a team's performance. Therefore, VR plays an important role in reducing this risk.  
Body Monitoring with Wearables 
---
It's very important for athletes to be in perfect health at all times. This is crucial to their performance and it affects not just them but also their team and its members. Monitoring players' health involves heart monitoring, blood pressure, pulse rate, and other requirements.
With wearable technology, athletes can monitor all this at the same time. Coaches can then use this data to determine performance, health, and abilities. This device is so small that it doesn't hinder performance. In fact, sportsmen can use it even when running or swimming. These devices are great for analyzing energy and health.
They can also help coaches and athletes determine when rest is necessary and what circumstances trigger abnormal responses.  
Sleep Tracking 
---
Sleep is crucial to an athlete's performance. It's what helps muscle recovery and keeps players active and ready for the next game. In many cases, the number of hours athletes sleep is directly proportional to their success. 
While excessive sleeping can also lead to irregularities, it's important for players to maintain a balanced schedule. With sleep tracking technology, this is possible.
These tools monitor athletes' level of activity and some can even customize sleeping patterns for every individual. Sleep tracking tools have greatly helped players to become more agile, conscious, alert, and active.  
Improved Performance with Vision Training 
---
While sports are predominantly made up of physical strengths, mental stability also plays an important role in this industry. This is especially true for sports training. To increase chances of success, athletes must train their ability to react and respond quickly and efficiently.
This involves strong vision, solid reflexes, and an alert mind. While physical training requires time and effort, it is relatively easy to achieve. Mental training, however, requires excessive perseverance. With vision training, players can significantly improve their reflexes and cognitive operations.
Several coaches today are using visual stimulants as part of vision training. This involves simulations that allow players to react and respond to specific visuals. While these tests seem minor, they can significantly improve an athlete's cognitive abilities.  
 Enhanced Communication with the Internet 
---
The internet has led to greater communication and knowledge. Previously, athletes or potential sports players would need to search high and low for the best trainers to train under. However, the internet has made this extremely easy today.
Anybody can train for free online with the hundreds of tutorials available on applications like YouTube. This enhances communication, saves both time and effort, and makes sports available to anybody in the world.  
Conclusion – Top 6 Ways Technology is Revolutionizing Sports Training
---
While technology is revolutionizing sports training, athletes can remain safe and perform better when they have access to sports performance technology.
Therefore, it's no surprise that the these technologies are becoming increasingly popular among athletes, trainers, gym owners, and athletic trainers alike. Those who aren't on board will be left behind very soon.
Check out TVandinternetdeal.com if you're looking for a competitive edge as a professional athlete or a better outcome for your ultimate entertainment experience.
[contributed article]

This article might be of interest to your Twitter Followers …
Be kind and share it with them. It's easy … just log onto your Twitter account first, and then click on the bar below:
Technology Is Revolutionizing Sports Training – Here Are the Top 6 Ways – RT #technology #technologytrends #technologynews
Click To Tweet
Here are more great contributions:
If you wish to submit an article for publication on this blog, please follow the instructions on ~~> "Write for Us".
Sponsored Ads: