Best Paid Online Surveys – Scam Or Reality?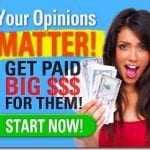 This article on paid online surveys was updated on November 19, 2020
Best paid online surveys are what a lot of people wanting to earn an extra income from home are looking for; and why not, make a full time income. The question is: how not to land on a scam in the process?
Taking paid online surveys is a common practice for earning a little money. Since the arrival of web marketing, more and more sites are offering it. Today, we wonder if this is a reality or a scam to deceive some naive.
Especially since the offers abound on the net. What is it really ?
Paid Online Surveys
---
Above all, it is necessary to return to the definition and principle of paid surveys. This is for the people behind these offers to exploit a maximum of opinions in the context of a mass survey, a project or other.
The "respondents", for their part, start out because they find it to be a simple and interesting way to earn money. But to pocket a really interesting sum, it must be a regular activity.
It is sometimes necessary to invest a bit of time to really earn sufficiently. In any case, remember that the rates differ according to the polls and surveys available; as well as the methods of remuneration.
Are Paid Online Surveys Scam or a Reality?
---
Above all, it should be noted that there are survey sites that are really interesting and that really offer more or less interesting earnings. It is then necessary to be able to detect the sites which deceive their members; in particular those who do not pay the agreed sum or, worse, which do not pay anything to their affiliates.
From the outset, it is better to be wary of offers that are too enticing to be true.
Before you start a paid survey, take the time to carefully select the offer you are going to enjoy.
First, check that the website looks professional, reliable, gives a good gut feeling, etc. It must give complete information, including its name, address and contacts without forgetting the name of the responsible person (s).
Be careful, you do not have to provide any data relating to your bank account or credit card straightaway; but you must have the possibility to add these details once you are making some money; unless you have to pay a fee to join the scheme.
In case the website insists on you providing such information, and claims to be free to join, leave it without thinking.
Personally I always believe that the best way to find out if a program is worth joining… is to join it. So, if they offer a test drive for $1, go for it. Even if they offer you to join and to pay full ball with a 30 day money back guarantee, do it, but make sure that you first find out where is the cancellation button.
Be Vigilant!
---
To be sure to avoid unreliable paid survey sites and not fall into the trap, think carefully before you start.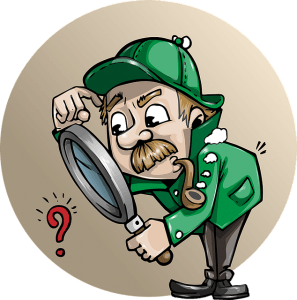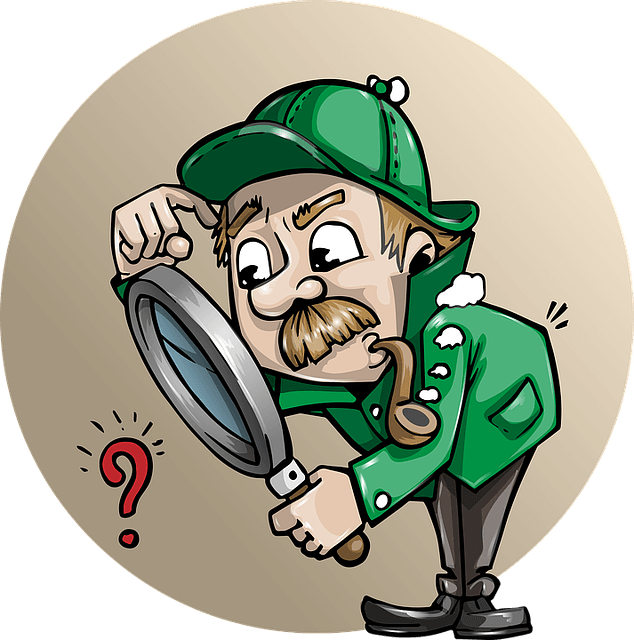 Do not dive into the first survey site that shows up on the search engines. Only trust sites that seem credible (that gut feeling again).
Do not hesitate to seek advice from other people who have already used a particular site. For this, you can browse the forums and specialized sites that give their opinion.
By learning about the experiences and setbacks of others, you can make an informed decision.
By registering on these forums and online communities, you will be able to ask all the questions that come across your mind. Good souls will give you useful tips and recommendations for the future. In this way, you will limit the chances of being ripped off. But also, be aware that recruiters are also present in these forums and groups, so they might point you to a survey website that they have some interests in having you to join.
Be Vigilant, BUT…
---
Before joining any online surveys, do your homework. Read what others have to say, but be aware that it has become a common form of marketing to mislead people by posting negative reviews on a product or service in order gain the readers' confidence and gently guide them towards joining some other business opportunities in order to earn a commission.
I have been earning online long enough (since 2001 to be precise) to know that it is best to try a product or service myself and decide for myself.
And I believe that if a product or service would be that bad as some seem to report, these businesses would not be online for very long.
Some Paid Survey Sites Worthy of Interest
---
Fortunately, there are some paid survey sites that have a good rating from the public and that propose interesting offers. I have worked with several of them in my time and earned some decent revenue from them. I am still taking surveys with the programs I feel comfortable with, and when I need to earn some quick cash to pay for some extra bills, it comes very convenient and fast.
Some are better than others, so I am only going to list a couple of them here so that you can easily join them and earn quite rapidly. It is not a good idea to join many online surveys, it is best to have just two that you trust and feel comfortable with, and just work them.
If you have never done surveys, you will see, it is not difficult at all and by working with just a few of the best paid online survey websites, you will enjoy it, especially when you see how much money you can earn and how quickly you can do so.
The Best Paid Online Surveys
---
Click4Surveys (This program has been disabled) …
This site is no longer in service or has been disabled due to a terms of service violation.

ClickBank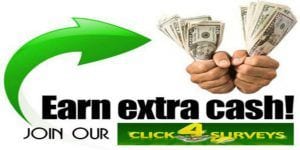 However, I left it here so that my readers who are still promoting this program can stop doing so.
This program brings together thousands of consumers who are willing to participate in different activities. These can of course respond to polls and surveys.
Is there anything more satisfying than being able to pay your bills and put some money aside while savoring the comfort and the peace of your home? You are free to take surveys while you are watching your favorite program on television or listening to the radio.
You can even take some surveys while chatting online or speaking to friends on Facebook.
What's better?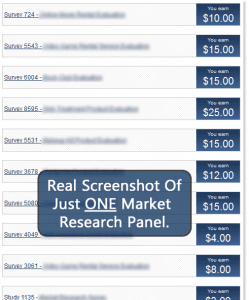 And the best of it is that you know precisely how much you will be earning BEFORE, before you even take the survey!
In the right is a screenshot of an ACTUAL Research Panel that you have access to, so that you can just pick the survey you would like to take, and collect your money! And this is just ONE of the many Research Panels for surveys just waiting to send you money.
Click4Surveys is actually one of the best paid online surveys that I have used (and still using successfully). So, if you decide to start taking surveys, I will say that this is the one you should start with.
The Click4Surveys website has the advantage of being simple and easy to use.
All you have to do is enter an email address to get notifications and information on surveys that you might like to take, based on your preferences. To benefit from it, it is necessary to register, this step being free. Plus, you are given a test survey to take, so that you have an idea of what it entails before you get involved any further.
Click4Surveys members benefit from a panel of excellent quality. And thanks to a particularly high asset rate, the site offers some of the most interesting pay on the Web. So why not take the test survey now. Simply click on the button below to…
This site is no longer in service or has been disabled due to a terms of service violation.

ClickBank
---
As you will find out, when you join a paid online surveys program, depending on the panel, at the beginning, you might receive just a few surveys to complete, probably not enough for you to earn sufficiently, but that is because they are trying to evaluate your capacity. So, if you respond quickly, you will receive more and more surveys to complete.
This is why I am suggesting that you only signup for a couple of them the start with and see how it goes.
To help you make a good choice, for now, I am going to review another great paid online survey. But if you know of any other one that you can recommend, or would like for me to test and review for you, just write a comment in the box at the bottom and I will be happy to do so for you.
So, the next of the best paid online surveys I have used successfully and that I can recommend is…
---
Take Surveys For Cash

Here is another very popular and well paying online survey program. It is very easy to use and you really become the captain of your own ship with it. This is one that I also like and still use casually. It has really been created with the beginner in mind.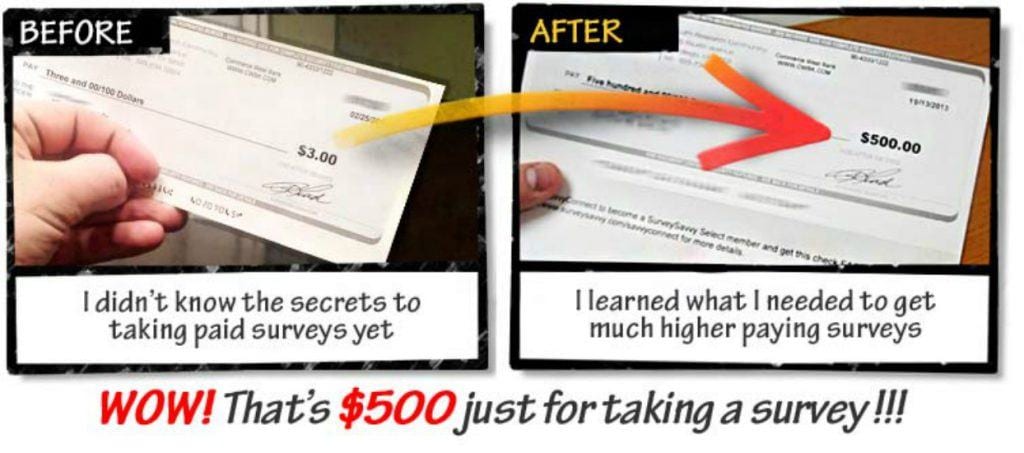 With this one, you can even select to take surveys from you own country, which means that you will honestly answer questions on products or services that you are familiar with. Which will make it that much easier and faster for you to complete.
If you have never done surveys before and don't know how to start, or you have given it a go and never made any money, this one is for you.
Plus, you can recommend Take Surveys For Cash and earn a referral commission. You have multiple streams of income. It provides you with all the tools you need, such as banners, various samples of emails to send out to your address book, landing pages, etc.
It has all the tools you need to begin and quickly get you your first check in the post. Then once you are becoming comfortable with it and can work the larger offers, you will really make some money on a regular basis, leaving you with a lot of free time to enjoy spending it with your friends and family.

Conclusion:
As you can see, paid surveys are still a good way to make money on the internet if you register on the best sites. Earnings over $1,000 per month is achievable for users working on it regularly.
The above two best paid online surveys should give you a good start and once you get the hang of it, you can add another one or two to your portfolio, making sure that you follow the guidelines above. And if for any reasons you feel that you are in a scam, just quit.
Finally, know that it is not only paid online surveys to earn money on the net! I invite you to read the guide to the best paying sites that I recently reviewed: Wealthy Affiliate.
If you wish to learn more about starting your own online business from home, click on the banner below …

You might also like to read the below articles that I have selected for you:
And remember that you can subscribe to my newsletter so that you will be instantly notified by email when a new article is made available for you to read. Just follow this link ~~> Subscribe to my Newsletter!
Thanks for reading
---

I hope that you enjoyed reading this review on the best paid online surveys.
Now I would like to ask you: have you tested any of the above best paid online surveys at all?
We would love to hear about your experience. If you have any questions, please use the box below and I will respond as soon as possible. If you enjoyed this article please share it socially and leave a comment below, I will hugely appreciate it!
I am a Premium Member of Wealthy Affiliate, where I have learned how to share my passions. I am inviting you to join my team and learn how to become successful in business and retire early. It is 100% FREE to join, learn and earn! Click the button below and I'll see you on the other side.

 Easy to Retire – Copyright © since 2017 to date!
⬐ Here are some great ideas that will make you more money ⬎