How to Build Your Email Marketing List?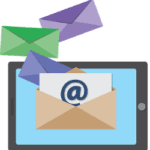 To build your email list is one thing; to build an email list of qualified prospects for marketing purposes is another one. And this is what we are going to learn all through this tutorial. So, stick with us, it is not rocket science! But there is a procedure to follow that will make a difference to your bottom line.
To create a qualified mailing list to better target your prospects and obtain a network of quality contacts. Follow the guide …
Creating a mailing list is the first step to take to set up an email marketing strategy. Afterwards, you will implement strategies of automation, segmentation or you can create a newsletter. But there is no point thinking deeply about all these strategies if you have 10 subscribers to your list.
There are many ways to build an email list: capture page, pop-up, social media contest, free ebook, etc. You can also learn more on the subject and how to begin the right way by subscribing to my FREE course …
Thanks for doing that!
By using the multiple techniques that are available for collecting people's details, you need to know if you plan to collect the email addresses from people who are all identical, from a potential purchasing point of view.
The answer is of course no! Some people will have a lot more desire and need to buy from you a product or service. While others are just visitors who are passing by, and who are just leaving their email with you.
As you will have understood, if all the email addresses are not equal, how to make sure to get a maximum of addresses from qualified prospects?
How to build your email marketing list?
---
Summary:
1 – Why I recommend targeting qualified prospects
2 – Use inbound marketing
3 – Use automation marketing to have a qualified list
4 – Make your customers ambassadors
5 – Use the network of your partners
1 – Why I recommend targeting qualified prospects
---
You surely know the expression "quality over quantity"! Even Steve Jobs was a fan with a slight hint of humor …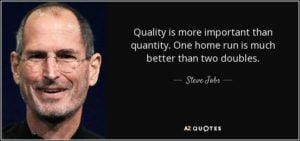 A qualified prospect is a person with a high purchasing behavior. In short, someone who is more likely to become your client afterwards.
Let's see in this article 4 solutions to create a mailing list of qualified prospects and not just passers-by.
And in fact, targeting the most qualified people possible for your mailing list works on the same principle. So, here we go …
First of all, be aware that if your list is made up of fake addresses or people with no particular interest in what you are sending them, this could distort your statistics.
For the record …
When I started email marketing, years ago, on my first blog I inserted forms within my articles. The problem is that every day I had 1 or 2 new subscribers coming from the Middle East or China. Knowing that my blog was in English, I doubt very much that they were real people who registered. Or registered only because I was offering a free gift for doing that.
Subsequently, none of them would open my emails. And all my statistics of opening and clicking would be inaccurate because of these people. It will be the same problem for you! If you have in your list a number of people who are no longer interested in what you offer.
So in addition to penalizing you for distorting your statistics, you increase your chances of seeing your domain penalized. That's right, when you send emails, your domain or IP is a reference. If you are often having people who unsubscribe or complain, your deliverability rate will decrease.
Without necessarily going to the extreme and say that you will fall into a blacklist, you still see a bad rating. And the problem is that it is easy to build up a bad reputation. And this takes a very long time to get back in the clear.
Finally, I have to tell you that with a list of 90% qualified prospects, an automation strategy is not necessarily mandatory. Since all people are in the same buying mind, there is no need to set up conquest campaigns or to win back your customer trust.
In any case, if you do not put one in place, the impact will diminish the number of qualified people in your email list.
2 – Use inbound marketing
---
Inbound marketing, the strategy that revolutionized a decade ago, is the link between a company and its future customers.
The strategy is simple: let people come to you, rather than pick them up without them asking you for anything. Of course, this does not mean that you can expect that customers will magically find your business while you are doing nothing.
This requires setting up some tools that will act as magnets to your future customers.
Among these magnets, we find the blog. Composed of hundreds or thousands of articles, a good blog allows you to attract prospects to you; then to send them to your mailing list.
And again, not all visitors to your site have the same buying potential. If you write an article called "sports car Miami", you will attract people who want to learn, buy, rent, or do something else. While with an article title like "rent a sports car in Miami", there you would attract only those who are about to take action, like renting a sports car in Miami. Duh! I'm glad you guessed it!
The method to build a list of qualified emails is therefore to attract people who are at the end of the process of purchasing a product.
To resume the example of the rental, the person knows he needs a sports car for this weekend. He or she is therefore ready to rent it, and it remains for them to find the person who will best solve their need. Got it?
3 – Use automation marketing to have a qualified list
---
Another way that I had set up to get rid of bots on my first email list is to use a very simple automation scheme.
If someone does not open my first 3 emails, I delete it from the list. Or, I put it in a special list.
In most cases, the first email you send is opened. If this is not the case, send them 2 other chances to open my next emails. If I still had no sign of life, I considered it was either a robot or, as it often happens, it was someone else who used the email address to apply for the information, not the owner of the email.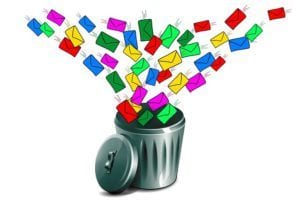 This allows you to quickly eliminate unqualified people from your main email list.
In the same idea, you can automate the sending of an email if someone does not open your emails for a while. Suppose we take 90 days without the person having opened one of your emails. You can then send them a note to ask if they want to unsubscribe or continue to follow your content.
If you give them the opportunity to unsubscribe and you do not try at all costs to retain them, they may wish to stay. If you still have no answer within 1 week, automatically moving it to that special list.
You see that, without necessarily going into a very complex marketing automation, you can use this strategy to "clean" your list.
4 – Make your customers ambassadors
---
In this part, we will make an analogy between the sale and the registration to your mailing list or newsletter. So I will talk about selling products, but you can also apply this method to collect qualified entries to your email list.
Many salespeople, once they have made a sale on a customer, end up putting this one aside and start to look for new subscribers again. However, there are still 2 steps to the sales process after the purchase …
Retention
This has a name: "Customers Retention", which consists of satisfying other needs or envy of that particular person by offering other products or services. We very well know, in the marketing world, that it is much easier to sell to someone who is already a customer, than to conquer new customers.
I have very well discussed this process in a past article ~~> How To Retain Existing Customers – 4 Simple Methods
Also, transforming your customers into representatives and ambassadors of your brand, like sharing your links with their Twitter follower or Facebook fans. Sometimes people do it naturally, but if they do not, give them a little nudge like with this little plugin below. Click on it and see what happens …
How to Build Your Email Marketing List - 4 Easy and Very Effective Solutions ...
Click To Tweet
Have you done it? Thanks!
The purpose of this last step is to ask your customers to talk about your products or services. Because nothing is more powerful as a technique of influence than the recommendation of a friend you trust.
As I told you, this can be done naturally if they are really happy with your products.
To give you concrete examples of recommendations marketing, here are just 2 examples of businesses who are offering such program …
Uber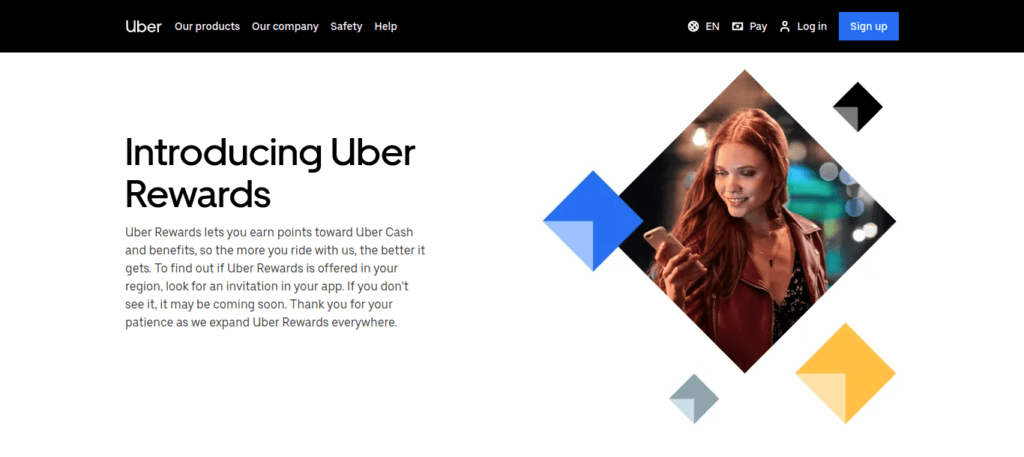 The Uber rewards program is magnificently layed out with a page dedicated to showing their customers how simple it can be to gain points. Whether they are using Eats, UberX or Pool, the riders can earn rewards for every interaction, clearly showing that the Uber program places their riders in first position.
On top of that, their riders can access the various levels where they can enjoy more attractive perks.
A good reason why Uber's customers love the rewards program is that they simply earn free rides and some of the many perks for rides they are already taking in any case. Great, isn't it?
Sendinblue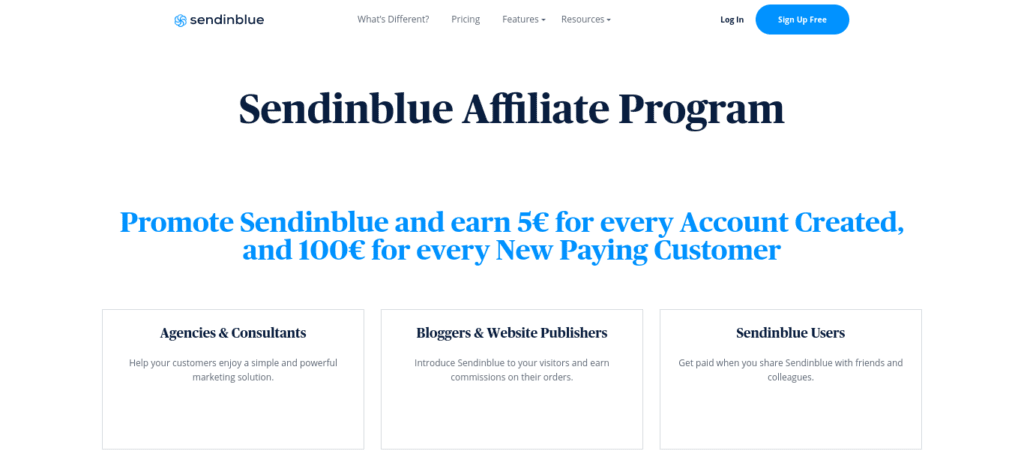 They also have an affiliate program which is a marketing strategy designed to pay a percentage of the sales to the person referring the Sendinblue emailing tool.
P.S. I have just been informed that their affiliate program is at the moment not open for subscriptions. But the rewards program is available.

Sendinblue Affiliate Program Support
Other simple marketing techniques …
---
In addition to this kind of techniques, you can create contests on social networks.
The first rule consists in suggesting your fans and followers who trust you, to recommend 3 of their friends to be identified in the comments of a post.
The second rule of the contest may be to ask these people to subscribe to your email list to receive a free gift of value.
Finally, the last method that comes to mind is to ask people who receive your emails to forward them to their contact.
The methods to develop your list are not lacking thanks to people already registered. Just be creative and get inspired by what is already done in the recommendation marketing world. 
5 – Use the network of your partners
---
On the same principle as the previous technique, I am convinced that passing through intermediaries allows you to shorten the discovery phase in your new prospects.
Trust, the key element for someone to give you their email address will be more easily acquired, if it is someone in whom they already have confidence that is recommending you.
We all know how important the network is in the workplace, so you need to surround yourself with people and create some kind of partnership.
I was recently asked by a store marketing director to write an article on "How to network like a pro!". And during the interview with this guy, I was able to explain to him how to find good partners. And this is what I shared with him …
For me, a good partner is someone who shares your values ​​and your vision from a professional point of view. There must be a long-term exchange of your "client portfolio" or audience. And only then a good partnership can be put in place.
You can also play on influencer marketing by creating partnerships with influencers. Unfortunately, most of the time, people will want to make a short-lived operation and not a long-term partnership. If however you find a good influencer, or if short-term contracts interests you then, by all means, use this method!
Why build an email marketing list?
---
As you must have understood, this article was primarily intended to show you how to build a qualified email marketing list. And not to have 50,000 email addresses of people who never open your emails.
Through automation, inbound marketing or recommendation marketing, you will be able to attract people to a high purchasing level.
Now, what about you? Do you know of any other methods that you are successfully using to attract and build up your email marketing list of qualified people?
Do you know of any growth hacking strategies for your emailing strategy? Share your best marketing techniques in the comment area!
And there is more to learn in my FREE training classes. Just fill in the form below to register …
Are you ready to build your email marketing list?
---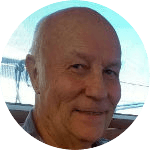 I hope that you found this article interesting and useful. As I mentioned earlier, if you know of any particular way to build an email marketing list that works for you, we would love to hear from you.
And, if you have any questions, please use the box below and I will respond as soon as possible. If you enjoyed this article please share it socially and leave a comment below, I will highly appreciate it!
I am a Premium Member of Wealthy Affiliate, where I have learned how to share my passions. I am inviting you to join my team and learn how to become successful in business and retire early. It is 100% FREE to join, learn and earn! Click the button below and I'll see you on the other side.