How to Work With Fiverr and Make a Full Time Income?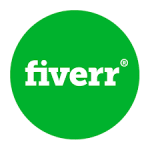 If you are marketing online, you will need to work with Fiverr sooner or later. Perhaps, you have already done so, and maybe you are already a member; as a seller, or a buyer, or perhaps both.
Please take note that Fiverr is regularly updating their TOS (Term of Service), improving and adding to their platform. Therefore it is advisable for the user to verify with Fiverr for latest regulations.

Update 09 November 2019
I have been a member myself since January 2011, just out of curiosity. I put up one "Gig" offering to promote peoples' businesses on one of my Twitter accounts.
At that time I had quite a large Twitter account with about 50,000 really responsive followers. This account was regularly cleaned off fake and inactive followers, so, I must say it was really good.
I never paid much attention to it except that from time to time (once or twice a month at most) I received an order. Okay I was only charging $5 then. I completed it, received my five bucks less 20% that Fiverr is charging. I was happy with that as it took me only 15 minutes to process the order.
New orders came the following months from the same client, and sometimes new ones. I didn't think that if I was going to promote my own Fiverr Gig on my own Twitter accounts, I might receive more orders.
I was only looking then to find sellers to help me with my various businesses.
Until early 2013, when I thought that if I were to put in some efforts, I could perhaps make so money with my Fiverr account.
So I started to work with Fiverr to make money …
---
I also created more Gigs and stated promoting them on my social platforms (Twitter, Facebook, LinkedIn, etc.). Orders started to come in, more and more, month after month. Then, I began to increase my prices!
To date, I have sold for nearly $40,000 worth of services (I never knew I had so much to offer).
I have successfully delivered over 3,700 orders, many at over $50 and up to as much as $200 – $350; with many, many regular returning customers (one of them has ordered over 300 times from me​); and I am still maintaining my 100% overall positive rating.
However, it is nothing dramatic, I know some sellers who are making this at least 5 times over; but I am happy with that, as I have other very successful online businesses requiring much less work for better pay, and in residual income, such as Wealthy Affiliate and LeadsLeap for example, plus, I am a retiree, and I intend to remain "retired " and enjoy my spare time fully.
I have quite a considerable experience as an Internet Marketer as I have been earning a full time income off the Internet since about 2005. And I have learned how to work on Fiverr, not just as a seller, but also as a buyer.
I have also bought for a couple of thousand dollars of services I needed from great fellow "Fiverrers"; from content writing, to graphic designing, video and animation, programming etc.
So, my aim with this review is to honestly and in total fairness explain the ins and outs of Fiverr as a buyer and as a seller so that you can decide for your self if it is something that appeals to you.
In a hurry? Here is my final assessment, the details are below:
---
Product Name: Fiverr®
My Overall Evaluation: 4 ★★★★ out of 5 ★★★★★– PASSED
Cost: $0 for a "Seller" or "Buyer" account: Create your FREE account
Owners: Shai Wininger and Micha Kaufman
Headquartered in: Tel Aviv, Israel
Website: Fiverr.com
Training: 4.7 / 5.0
Support: 4.0 / 5.0
Success Stories: 4.5 / 5.0
EasyToRetire.com Rating: 4.7 / 5.0
So, what is Fiverr and how to work with it?
---
Fiverr is nothing more than a freelance marketplace, where you can buy and sell services starting at $5, where the name "Fiverr" has originated.
It begun operating in 2009 and since, then it has grown at rather a fantastic speed. Micha Kaufman, the CEO of Fiverr, has claimed a while ago in an interview with TechCrunch, that the freelancing website has completed over 25 Million transactions at the time of the interview! One-third of which have come in the previous one year.
How does Fiverr work?
---
Once you have signed up for a FREE account, you will have the opportunity to buy services starting at $5, such as promoting your website or blog on social media, creating a fully functional WordPress blog, creating a custom animation video, and just about anything you can think of, it is there, and some of the most weird stuff, trust me!
You will also be able to sell your skills by creating your own Gigs, or have them created for you, ready to make money, just in case you are not of the crafty type.
For example, you might be an expert in logo designing, you might love to write and/or edit books, maybe your are a musician, a great cartoonist, you are fluent in several languages and could do some translations etc., then you can sell your expertise at the price you want.
As a matter of fact, I have a page dedicated to the best Fiverr Gigs that I have personally tests, so if you have a Gig that you would like me to review and include in my selection, visit the The Best of Fiverr Gigs.
What sorts of Gigs can you create?
---
The type of Gigs you can create has basically for limit only your creativity and imagination. You can create any Gig for whatever you like as long as it complies with the Fiverr's Terms of Service.
A Gig can simply be a skill job such as graphics designing, animation, programming, SEO or non-technical stuff like making happy birthday calls, recording funny video, advertising, promoting, writing, translating, etc.
My most popular Gig on Fiverr will help get traffic to your website, blog, Fiverr Gig, etc. by sharing your link on about 50 very popular social platforms.
If you want to know more, watch this short YouTube video ⬎
Here are a few of my over 2,550 happy clients: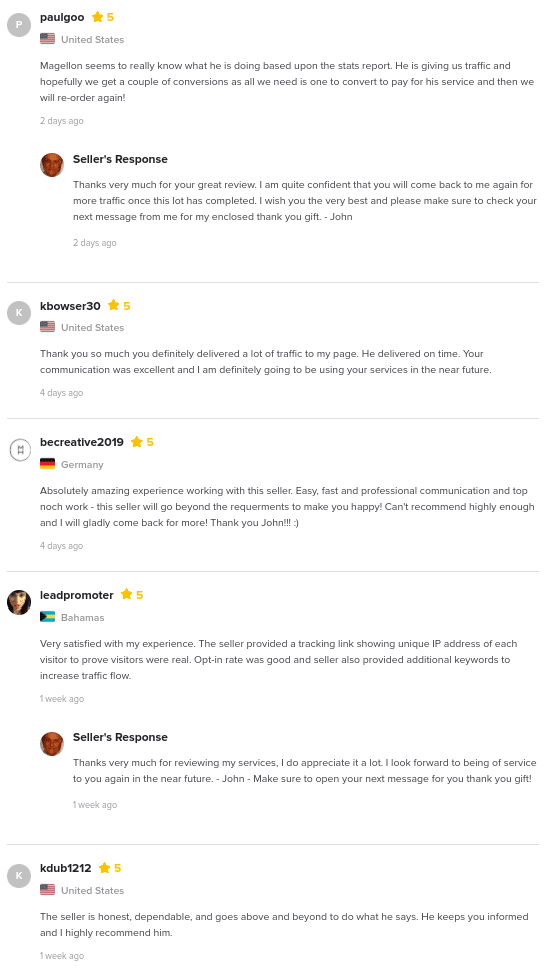 The above clients' reviews are certified real and can be viewed on my Fiverr account!
Here are top 10 work categories on Fiverr …
As we have seen, at Fiverr you can find a job for basically every type of skilled work or profession. As a matter of fact, Fiverr has a database of more than 200 distinct job categories! Some of them are more rewarding than others. I have made a bit of research for you and listed here below a few of them …
1 – Website Developers can earn between $100 and $2,000 per job:
Designing and creating a website is probably one of, if not the, best paid gigs on Fiverr. Although you can find various gigs for website concepts, designing, as well as coding, you could earn more by doing all three.
Especially for e-commerce website designing that is much in demand. There are buyers who are specifically searching for professionals who can work on platforms like Shopify, Squarespace and WordPress.
2 – A graphic designer can earn between $10 and $1,000 per job:
You will see that on Fiverr there are lots of graphic designers. As far as I know they are among the most searched professionals on this site, with at least 11,000 gigs available.
Whatever your niche is, you will not have any problem hiring a graphic designer gig on Fiverr. Anything from logo designing, to printed T-shirts, or business cards can be designed on Fiverr.
3 – A Copywriter can earn between $50 and $2,000 per order:
If you have good writing skills and can write without any spelling mistakes and grammatical errors, you can make some good money as a seller as a copywriter. However, the competition is quite fierce.
Also, as a buyer point of view, as I am explaining earlier on, the best (and only) way to make sure that you have discovered a good copywriter is to ask questions before buying and wait for the response. Unfortunately, very often the answer will be in very poor English.
4 – Video Marketing is also a good paying opportunity:
The seller can ask between $100 and $10,000 per order. Indeed, the video marketing professional is also one of the best paid seller on Fiverr. The demand for this service increased by over 100% in the last couple of years, which is a very lucrative opportunity for those who have some good video experience.
The Options include video advertisements, short white board animations and training videos. Not to mention the huge market there is for businesses wanting to develop their social media presence. There are a variety of gigs for Instagram, YouTube, and also Facebook.
5 – And then translation services which can earn the seller from $100 to $1,000 per order:
And even more in some cases. If you master two or more languages, there is a constant demand for translating various documents for businesses. Online shops are always on the lookout for sellers who are able to translate their inventory.
You can also find sellers willing do one on one conversational language practice over Skype. There are plenty people out there who are ready to pay nicely for private lessons.
6 – Social Media Marketing:
This is my line of expertise since I began on Fiverr in 2011. It pays between $50 and $2,000 a pop depending on your experience and the number of fans and followers you have on your social platforms, and the number of platforms you are a member of.
Prospects are looking for anything from promoting their business on your social media accounts to building up their own social accounts. And often, you will have someone requesting that you manage their own social accounts.
7 – Influencer Marketing can pay from $10 to $1,000 per order:
This is also part of my expertise as I have several huge social accounts. There are loads of businesses as well as affiliate marketers who are ready to pay to advertise their brand on someone's social media accounts.
The price you can ask will of course be dependent of the number and responsiveness of your fans and followers, and the number of times you will share their business or affiliate link.
8 – Now, Voice Over can be a lucrative job too:
Which can earn you between $10 and $500 a gig. I have seen some sellers charging much more than that. It is somewhat a popular service, also for those with not so much experience. All one needs is a clear voice.
There are loads of gigs on the Fiverr's platform for all types of voices in various accents too, such as the British accent, the American accent, the South African accent, both in male or female, etc.
9 – Illustration is a gig that pays about $10 to $300 an order:
Whether you are a professional cartoonist or just like scribble for fun, you will find some buyers interested in your work, and that will provide with some needed practice, while making money.
10 – A Virtual Assistant can earn anything between $5 and $100 per deal:
Being a "VA" gives you the freedom to perform from anywhere in the world! If you are well organized and can manage multiple schedules, to work as a VA could be a good opportunity.
Fiverr is full of sellers offering their services as virtual assistants. It could be for anything like data entry tasks, cold calling, appointment setting, etc.
How do you get paid when you work on Fiverr?
---
Once someone shows an interest in what you are offering, they buy your Gig plus the Extras if you have any and if they need extra services, at the price you have stated. Fiverr will collect the money from your buyer and keep it in an escrow account, after deducting their 20% commission.
This rate of commission has often raised some complains as it is rather excessive, but they have never responded to that. In other words, if you are not happy with it, you can close your account and go elsewhere.
To make matters worse, they have started to charge buyers an administration fee of $2 per order. This had the unfortunate effect of creating a drop in smaller orders.
So, once the work is delivered, the buyer will have three days to respond and post a review (or 14 days for Gigs that require shipping).
As a seller, you will have to respect the delivery time that you have specified when you created your Gig, if not, you will be penalized by Fiverr and your client can request cancellation of the order.
You cannot change the delivery date on the order you have received, but if you need a bit more time to complete the order, you can ask your buyer for an extension.
He/she is not obligated to accept!
If no response has been posted by the buyer within the reaction time, the order will have to be delivered within the specified delivery time or face late delivery penalties, unless the order is cancelled by the buyer or the seller.
If the request for an extension is accepted by the buyer (which is usually the case), then there is no penalties involved for the seller.
After your order has been delivered and marked as completed, you will have to wait 14 days to be able to withdraw your funds.
When delivering your work, your customer can refuse it and ask for a revision. This will have the positive effect of stopping the clock from ticking and you will have all the time you need to satisfy your client.
You may come across some difficult clients who expect much more than they have paid for and will keep on asking for revisions knowing very well that with Fiverr …
The customer is definitely right, no matter how demanding is your client.
I've had an experience with a difficult client once, luckily it happened to me only once, but this client kept requesting for revisions. This resulted in a job that should have been completed in a week, to stretch to as much as a couple of months.
Of course, I could have cancelled the order and face penalties, but the client would have the option to refuse the cancellation request and we would have been back to square one.
Or refuse to make adjustments and take the risk of having a very poor review from the client, plus a request for refund, which Fiverr would have accepted without any hesitation. And the buyer would walk away with the job completed exactly as he wanted it, plus his money back, and me a damaged reputation for a very long time to come.
By experience it is much better to have a satisfied customer at first delivery. Once you have a poor review from a client, your gigs drop way down the Fiverr ranks and it will need A LOT of positive reviews for you to resurface trust me, especially if you are a new seller on Fiverr.
So, my advice to a new seller is:
Communicate with your prospective and actual buyers a lot to make sure that they understand very well what they should and should not expect to have for their money.
Remain very polite with your client, even if he or she is a pain in the you know what.
Keep communicating with them even during the process so that they know what's going o.
Deliver on time of course and most importantly …
Over deliver!
Fiverr uses a simple level system for its sellers
---
No Level Seller
Level 2 Seller
Top Rated Seller
Fiverr Pro (a newly introduced sort of distinction)
The higher the level the sellers have attained, the more Gigs they can create and offer more Gig Extras as well as Gig Multiples with each Gig.
The level system can be helpful for buyers in search of a responsible seller, as sellers at higher levels are normally most trustworthy or have a better experience than sellers at lower levels.
Below are the various levels awarded by Fiverr along with their benefits (at the time of writing this review) …
No Level Seller
---
This is the level where a new seller will fit in:
Benefits at this level:
7 Active Gigs
2 Gig Extras ($5, $10, $20)
5 Gig Multiples
Level 1 Seller
---
To reach Level 1, the seller will need:
30 days of activity on Fiverr
Must have completed a minimum of 10 individual orders
Has to maintain a 4 star rating or above
Still with a low cancellation rate
Benefits at this level:
Will be able to create 15 Active Gigs
Can offer 4 Gig Extras ($5, $10, $20, $40)
Will have the power suggest 10 Gig Multiples
Level 2 Seller
---
To reach Level 2, the seller will need:
To Complete at least 50 individual orders in 2 consecutive months
Maintain a minimum of 4.5 star rating
And still have a low cancellation rate
Benefits at this level:
Can create 20 Active Gigs
Can offer 5 Gig Extras ($5, $10, $20, $40, $50)
May receive 15 Gig Multiples
And benefit from priority customer support
Top Rated Seller
---
To reach Top Rated Level, the seller will need:
Must maintain a high star rating (4.7-5 star rating)
Must have the reputation of giving an exceptional customer care
To maintain a low cancellation rate
Must be a leader in the community
A very high volume of sales
Benefits at this level:
Having 20 Active Gigs
5 Gig Extras ($5, $10, $20, $40, $50)
15 Gig Multiples
And enjoy priority customer support
Pro Level Seller
---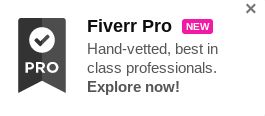 As mentioned above this is a sort of level that has recently been introduced.
For a seller to achieve a Fiverr Pro listing, they need high ratings as well as an extensive professional and educational background, all verified by references, certificates, and a portfolio of work.
What are Fiverr processing fee
---
The processing fees are rather high at Fiverr. They charge 20% or $1 whichever is higher, for their fees. which means that for a completed Gig, instead of $5, you will in fact get $4 in your account which turns out to be 20% commission for Fiverr. This is far too much if you consider that other freelance platforms like Upwork charge only a 10% commission.
Early on, when Fiverr was asked why such an expensive cut on their sellers' work, the response was that they were spending a lot money advertising the sellers' Gigs. Fair enough, but about 4 years ago they stopped advertising our Gigs explaining that we had to do our own advertisement. But the fee remained unchanged, resulting in a huge decrease in sales.
And on top of that, the sellers had to start spending money to advertise their Gigs. Often they turned to fellow Fiverrers to promote their Gigs, which then resulted in Fiverr earning another 20% commission. Well calculated!
In addition to processing fees, Fiverr also charges the seller with a withdrawal fee of 2% or $1, whichever is lower.
Update: Fiverr has recently removed this processing fee.
Is Fiverr A Scam?
---
Many sellers (including myself) have complained that some of their Fiverr Gigs had been banned with no explanations or warning, just a note saying that they have violated the Terms and Conditions.
Once I contacted Support to ask if they could help as I noticed that one of my best Gigs was not producing orders since a week or so.
The next morning, one of my many return customers messaged me to ask me where was the Gig they were used to purchase as they wanted to hire my services again.
I checked and noticed that that particular Gig had been banned. It was my most productive Gig with hundreds of satisfied customers that was shut down after 3 years of very successful operation.
When I contacted support to find out what had happened, the response was that I have violated the Terms and Conditions, and they were not allowed to tell me on which precise point.
In other words it doesn't pay to ask Support for help on a certain subject, and I have heard of similar complains from fellow sellers.
What can you do if one of your Gigs is banned?
If one of your Gigs is banned, you cannot edit it and put them back online, you can only delete it altogether.
If your Fiverr account is banned, you can withdraw your earnings only after 90 days, but some sellers have claimed that they were not able to withdraw their earnings, even after 90 days.
While such negative episodes do raise doubts regarding the credibility of Fiverr, it is certainly not a scam.
You cannot ignore the fact that thousands of people are making their living out of Fiverr without any problems. As a seller, I have had no other problems with Fiverr apart from the above issue.
It is a real fact that Fiverr favor the sellers in case of any disputes. This is because, if they offer you refund, they lose their 20% commission. They prefer that you as the seller, receive a negative review, which will impact your credibility terribly, and for a very long time, rather than them losing their commission. This is not very much accepted by the sellers and the buyers.
The advantages of being a seller on Fiverr
---
As the basic Gig is worth only $5, a lot of people turn to Fiverr for small tasks; therefore it can attract a lot of work.
You do not need to have any technical skills to sell on Fiverr. Anyone with creativity can earn money on Fiverr.
In fact you earn to do things that you love doing. So you can make money while having fun.
At Fiverr, buyers search for your Gig, as opposed to other freelance platforms where usually you would have to search for a buyer for your services.
You can do your own marketing on social media for your Gigs and get more orders.
It is possible to have your Fiverr gigs posted on some high authority websites such as the "10 Best Of Fiverr Gigs".
The disadvantages of being a seller on Fiverr
---
You have no control over the customers you want or not to work with. When someone buys your Gig, it gets automatically accepted by the system, you cannot refuse it.
It happens many times that some well informed dishonest buyers blackmail their seller by threatening them to give a poor review if they don't over deliver by a lot more than they have paid for.
If you are a new seller trying to sell a popular Gig that is being offered by many other sellers, your Gig may never be visible to the clients.
Commission charged by Fiverr is quite excessive considering that most people only purchase the basic Gigs at $5.
You can only withdraw your earnings after 14 days of receiving the payment as Fiverr claim to be for safety reasons; just in case of any issue being raised by the buyer.
Fiverr can ban you without giving any reason if they feel you violate their Terms and Conditions. This will really hurt the Top Rated Sellers who worked really hard to get good ratings to their name.
The advantages of being a buyer on Fiverr
---
If you can only afford $5 for something you want to be done, you can get better quality services at Fiverr, than Upwork or any other Freelance websites.
If you do not get satisfying results, $5 is all you lose.
Fiverr offers a variety of Gigs for you to choose from.
A new seller might deliver a much better job than some higher rated sellers in order to build a reputation.
The disadvantages of being a buyer on Fiverr
---
Many sellers offer a full refund to their buyers in case they are not happy with the services. Although it is not allowed, most buyers offer a refund if their buyer leave a positive feedback which results in seeing non-deserving sellers with higher ratings. This does show up in canceled orders, but as discussed earlier, it is difficult to make out if the order was canceled due to buyer's fault or seller's fault.
Very often, new sellers will buy fake reviews. Asking their friends or other new sellers to purchase their Gig and then give them a 5 star review. They will just lose $1 (plus processing charges). This makes the rating system totally unreliable.
You really have to shop very carefully on Fiverr. You can't really trust the rating system. Give it try and purchase only at the basic $5 at first, and after having read all the reviews.
When looking for a good copy writer or rewritten you will find many of them with well written description of their gig, but once your receive you completed job you will see it written in very poor English and with loads of grammatical and spelling errors. This is because they have hired the services of a fellow Fiverrer to create their gig. My advice is that before purchasing your order for content writing or rewriting, ask the seller a few questions and see how good is his/her English when responding.
And finally, is it worth to work with Fiverr?
---
You will find many positive and negative reviews in whichever freelance platforms you wish to deal with; and Fiverr is no exception.
In any case, as a seller, you have nothing to lose by creating a Gig and selling your services on Fiverr, and if your idea is creative enough and unique, you may just end up earning much more than you would have imagined. There are many sellers who are earning over $1,000 per month with their Fiverr business, I am one of them since 2011.
However, as a buyer, you need to be very careful when choosing a Gig. There is a risk factor in it, as with any freelance website or even with real life contracts for that matter; but it is worth losing $5 and perhaps having a great job done.
My final word:
---
Being free to join, it is worth giving it a try, as a seller, you might surprise yourself by discovering skills you had and never thought you could monetize.
As a buyer, as I said at the beginning of this review, you will need to work with Fiverr sooner or later as your business grows and find that your time is better spent attending to more important tasks when you could find a reliable seller on Fiverr who could help you on your online projects. So, yes, go for it…
If you wish to learn more about starting your own online business from home, click on the banner below …

You might also like to read the below articles that I have selected for you:
And remember that you can subscribe to my newsletter so that you will be instantly receive a notice by email when a new article is made available for you to read. Just follow this link ~~> Subscribe to my Newsletter!
So, are you ready to work with Fiverr?
---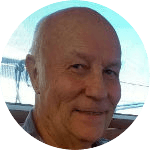 If you are looking for an honest way to make a living online, and to start for free, just like I have been doing for years, I recommend that you first learn more about Affiliate Marketing, it will cost you nothing. 
You can even start at your own pace if you don't have much time to spare. All you have to do is join my FREE Internet Marketing Training by clicking on the banner below …