How to Research for Article Writing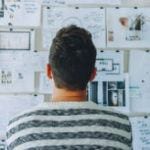 As professional bloggers, we all know that article writing requires a lot of prior research.
Therefore, to animate your content marketing, it is essential to always have ideas of subjects under the elbow. Consequently, I personally have a list prepared on a spreadsheet where I enter ideas as they come in all through the day.
However, after a lapse of time, you can exhaust your creativity and experience some difficulties in finding ideas for your blog … But do not panic!
Because, today I am going to share with you 7 tips to find new topics to pace your content strategy. It requires some research, but once you master my techniques you will never run out of ideas for writing any blog article.
As a matter of fact, people in the know use them all the time. They are very simple, however very powerful tactics, as you will see for yourself.
But before we get started, you might like to subscribe to my free Internet Marketing Course. For that, a simple click on the image below will get you in …

Done it? Right, let's get on with …
How to research for article writing …
---
To make it easier for you to go through this already easy to follow guide, I have divided it in 7 (plus 1) chapters. You can jump to any of them, in any order, by clicking on the links below …
1 – Using Quora
2 – Using Google Trends
3 – Rewrite the posts that worked the best
4 – Get inspired by questions from your customers / prospects
5 – Get inspired by your blog comments
6 – Talk about the news of your company
7 – Study the competition
… and the extra chapter: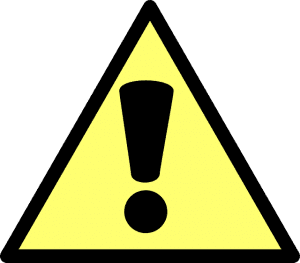 1 – Using Quora
---
First prerequisite for a successful content marketing: answer your prospects' questions. Going through their questions will not only indicate that there is a need for a certain product, but will immediately offer you an ideas for a blog post.
The perfect place to find inspiration on these questions is Quora. If you do not know yet what is Quora, it's a social network with hundreds of millions of users who are looking for answers on any topic.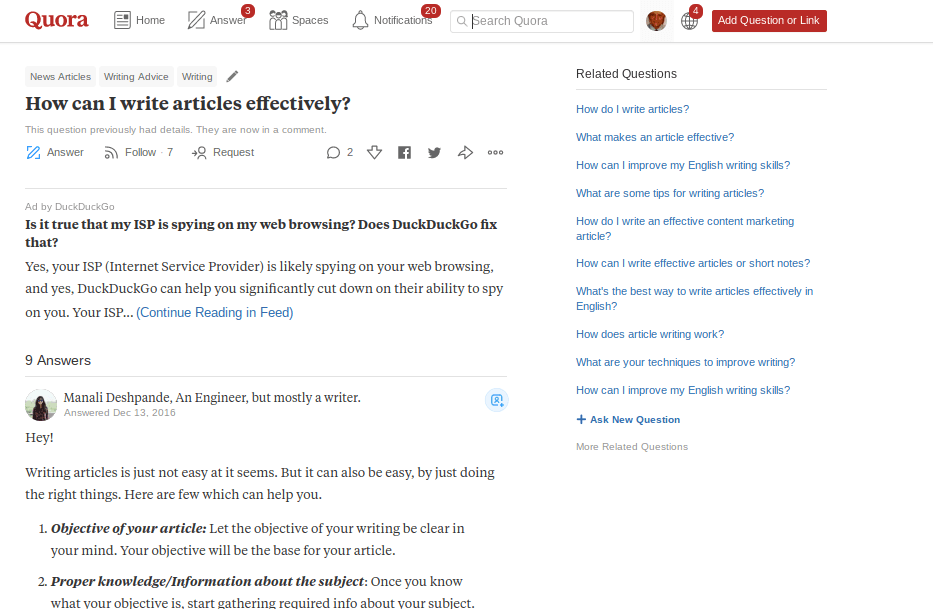 For example, a simple search by keyword or topic, and you know what your audience is waiting for! You will have access to hundreds of ideas in just a few clicks.
In other words, it is gold mine of inspiration!
2 – Using Google Trends for your article writing research
---
Google Trends gives you the latest trend topics on the web. With this tool, you are aware of everything that is searched for on the planet's leading search engine.
All you have to do is to enter a keyword, or a topic, and you will be offered a number of ideas related to your search term. They are topics that are trending at the moment.
For example, for our research, I have entered "Content Marketing", and this is what I was returned …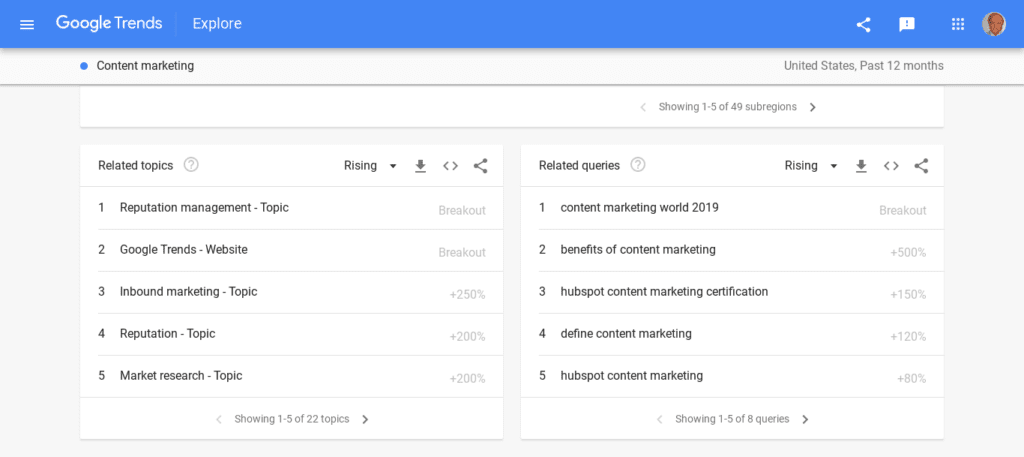 As a bonus, you find related topics that give you the opportunity to produce even more content. So, the number of fresh and trending ideas for blog contents can be unlimited.
3 – Rewrite the posts that worked the best
---
In other words, why absolutely want to write on new content? You have already written successful articles, which have generated a lot of traffic and interested your audience. So, it is time to dust them off and present them in a new light.
Develop new ideas and bring updates if necessary (especially regarding the figures and studies cited). You can even merge many of your best content into a single one, high-value report.
This is something worth doing on a regular basis. I know, I should do more of it, but I am trying to reserve a couple of hours a week to that effect. So, here, don't do what do, but do what I said and you will benefit from it.
4 – Get inspired by questions from your customers / prospects
---
We talked about Quora above to learn from your audience's questions, but you can also go directly to your current customers to discover more relevant subjects to cover in your article.
Use the 20 most often asked questions among your customers' comments or prospective clients and answer their queries through individual articles.
5 – Get inspired by your blog comments
---
Comments are valuable indicators of your readers' expectations. If they have any questions or comments, they will not hesitate to do so in this section of your blog.
Analyze the themes that come up recurrently and you are holding a valuable topic to produce your content.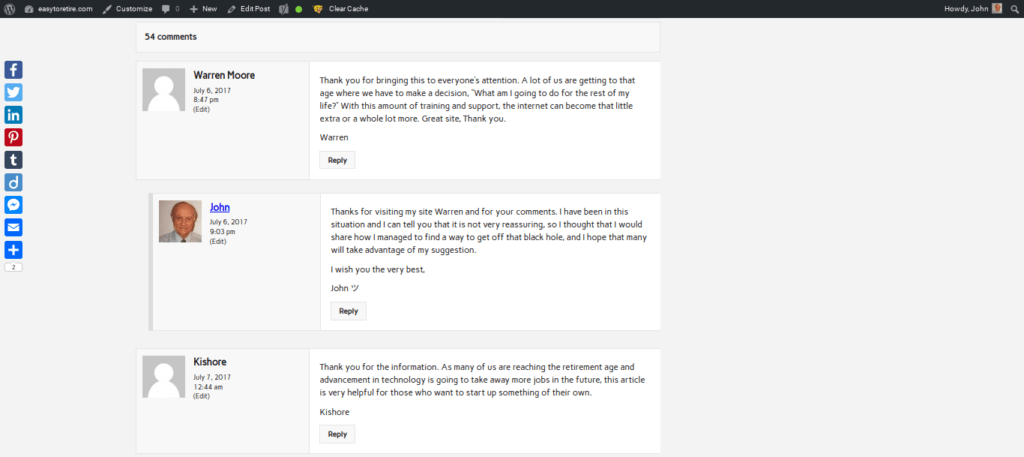 Do not wait too long before answering your readers' questions. It is not only a question of etiquette, but also the sooner you answer a question, the sooner you might make a sale, or two.
6 – Talk about the news of your company
---
Why waste time looking for inspiration outside your office? There are things going on in your business! Your audience is interested in events internal to your business, so remember to communicate on it.
Talk about your professional events, such as trade fairs, conferences, trade shows, webinars, symposiums … anything related to your industry can be article topics for your blog.
Of course, if you are like me and you are running your own business from home, there is not a lot of things that you can talk about. But, you may be a member of a club related to your niche and are having regular get togethers, then you can write about those meetings.
7 – Study the competition
---
Consider investing in some tools designed to analyse your competition and also motivate your group members to measure periodically the best-performing content of other companies in your industry.
This will give a lot of great ideas for your future blog posts.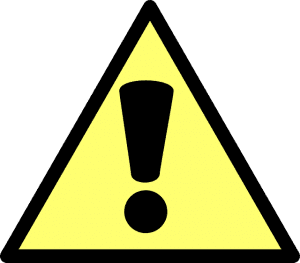 Warning about your research for article writing …
---
It's not about plagiarizing others! Instead, it is to look for other ways to contribute with more value to topics that correspond with your audience.
It helps the Internet users to find up to date information; to answer their questions more accurately and in a manner they might understand better. It is all about being helpful to the Internet community.
With these 7 tips to keep the inspiration, you will regularly generate relevant content for your audience.
How did you enjoy reading this guide? …
---

Are you ready to do your research to find ideas for your article writing efforts? I hope this guide will help you with it.
Should you have any tips to share, we would like you to share them in the comments' box below.
Also, any questions are most welcome, using the comments' area as well. You most likely will receive a feedback within the next day or two.
And of course, if this article was useful to you, please make sure to share it socially, I will be very grateful!
Being a Premium Member at Wealthy Affiliate, I have become an expert in Affiliate Marketing. You are most welcome to become part of my team of highly successful netpreneurs. You too can become a successful business owner and live your laptop life like we do. I will be your one-on-one personal mentor for FREE. It is 100% FREE to join, learn and earn! Click the button below to …