What Is LifeVantage About? – Another MLM Scam, or is it Legit?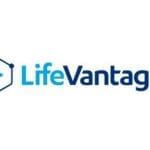 LifeVantage is an MLM company, and they sell dietary supplements and some other health-related products through direct selling. Can I earn a reasonable income with LifeVantage?
This LifeVantage review will tell you all you need to know about this platform, how the company works, as well as the products they have to offer. You may have a change of heart after reading this post.
You may feel MLM companies are suitable for you when it comes to direct selling of products. Most individuals sell products they make use of, which makes the selling process pretty easy for them. But …
Trust me, I have done the MLM (Multilevel Marketing) thing for many years. That was hard work for not much to show for, except for a garage full of health products, very expensive plastic spray bottles, boxes of noodles that nobody wanted to buy because they were far too expensive, and you name it.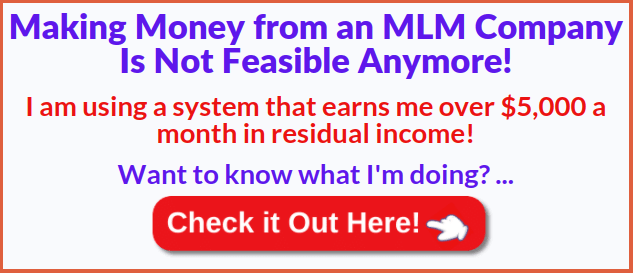 My Unbiased LifeVantage Review
LifeVantage is an MLM company founded in 2003, and its headquarter is in Utah. Darren Jensen is the current CEO of LifeVantage.
Before becoming CEO, Darren worked for Jeunesse Global and other multi-level marketing companies. LifeVantage products include dietary supplements, anti-aging products, and products for health and wellness. You can get these products in the US, Asia and Europe.
When LifeVantage was founded in 2003, they used traditional retailers to sell their products, but did not make plenty money. The company reported a revenue of $3.2 million in 2008. LifeVantage, in 2008, adopted the direct selling MLM model and their revenue increased drastically since it changed its business model.
In 2019, they reported a revenue of $226 million. Currently, the LifeVantage stock is trading at 13 USD per share on Nasdaq (at the time of my research for this review). 
Cost of LifeVantage Products – Are the Products Worth their Price?
---
You can sell products as a distributor on the platform; these products include digestive health, nutrition, beauty products, supplements, and some health and wellness products. 
One of the most popular products offered by LifeVantage is Protandium, a dietary supplement containing milk thistle, turmeric, green tea, Ashwagandha, Bacopa and other useful ingredients.
The company claims that this product have antioxidant properties and is all natural. Protandium contains Protandim NRF1 and NRF2 synergizers, alleged to decrease oxidative stress and reduce aging effects.
This highly promoted product accounts for 60% of products sales.
On Amazon, Protandim NRF2 bottles costs $113.75 for 3 bottles. That's $37.92 per bottle, and each bottle contains 30 caplets. You can use a bottle for one month.
There are some issues with this product. The fact that the product claims to be all natural does not mean it is organic. So even if the products have natural ingredients, it does not mean they were not treated previously with pesticides.
The product also claims it can reduce oxidative stress within 30 days by 40%. The company claims this product produces enzymes that can neutralize over 1,000,000 free radicals; however, they have been complaints on the BBB (Better Business Bureau) by some people who suffered adverse side effects from using the product …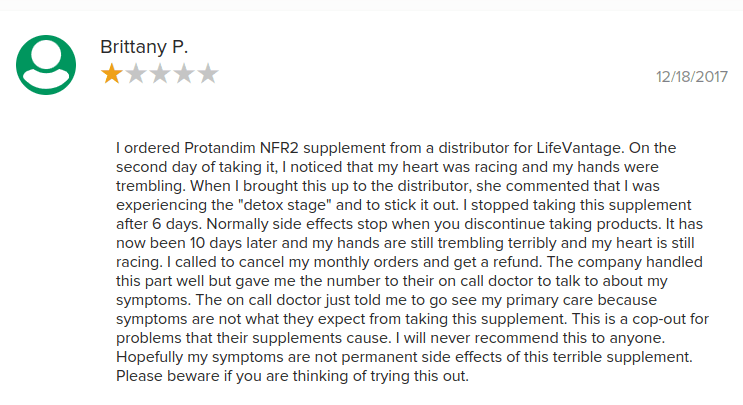 The LifeVantage Business Opportunity
---
To succeed on this platform, you have to stand behind the products you are selling. As we know, Protandim is one of the most popular products that is on offer by the company. But there is a lot of controversy around this product because of its anecdotal side effects.
You can easily find these products online. They are available on Amazon and Ebay, and they cost the same on both platforms. The sales rights are not exclusive to distributors alone; thus, selling the product could be a difficult task.
Registration cost
It will cost you $50 to join LifeVantage as a distributor. Buying the starter pack it not compulsory, but you will have to purchase products worth $100 or more.
Another requirement on the platform is to enroll for the autoship program. To qualify for commissions, you will need to order 100 PV every month. PV stands for personal volume.
Can I earn with LifeVantage?
Besides the money you will pay to join this business opportunity, you will have to enroll in the autoship program to maintain an active status; this will cost you 100 PV each month to be able to receive commissions.
Another way to earn on the platform is by recruiting people. Your ranking on the platform will increase when you recruit more people. You can increase your level from Pro 1 to Pro 10 when you start as a distributor on the platform. The idea here is that your recruits should also recruit people on their team.
There is a requirement for downline sales volume as you go higher in ranking. For example, your team needs a sales volume of 1000 GV (group volume) when you move from Distributor to Pro 1.
To make money with LifeVantage, you will have to sell LifeVantage products, recruit members to be a part of your team, and also ensure the people you recruit and also selling lots of LifeVantage products.
The Pros and Cons
---
Pros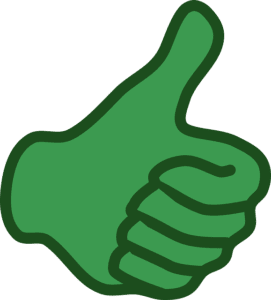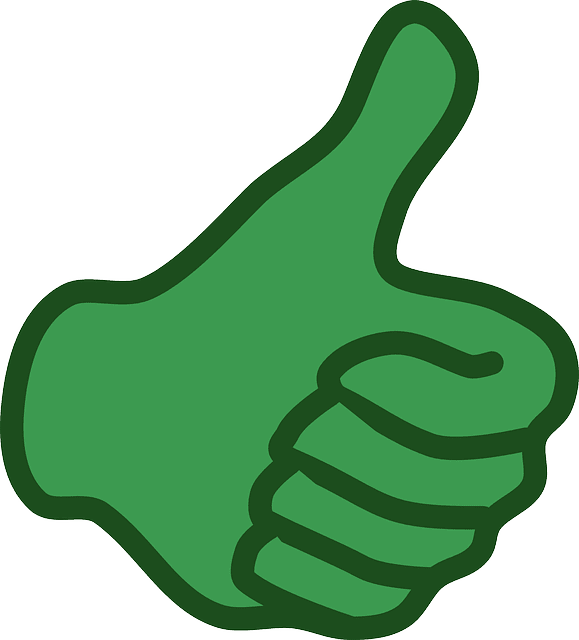 Purchasing the starter kit is not compulsory – one of the things I like about this platform is that it is not mandatory as a distributor to purchase a starter kit. However, you will have to purchase products worth at least 100 USD to begin.
Attractive commissions and bonuses – The platforms offer commissions based on the PV generated each month. You can make 30 to 40 percent commission from products bought by new customers/recruits. Also, you will receive bonus when your recruit purchases a starter kit.
Royalty commissions – you qualify for royalty commissions as your rank on the platform increases. Royalty commissions are coming from your monthly personal volume, and the range is from 2 to 9 percent.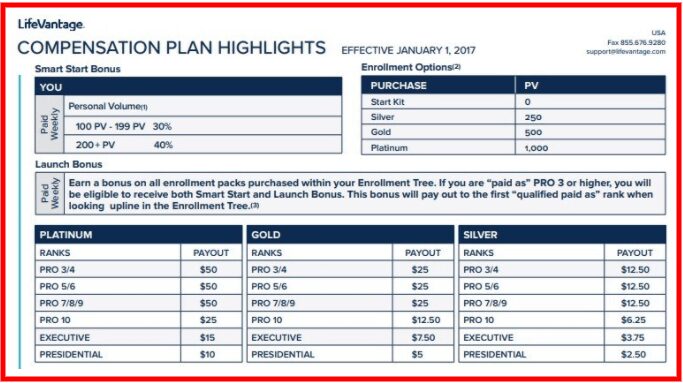 Cons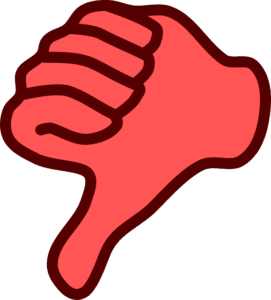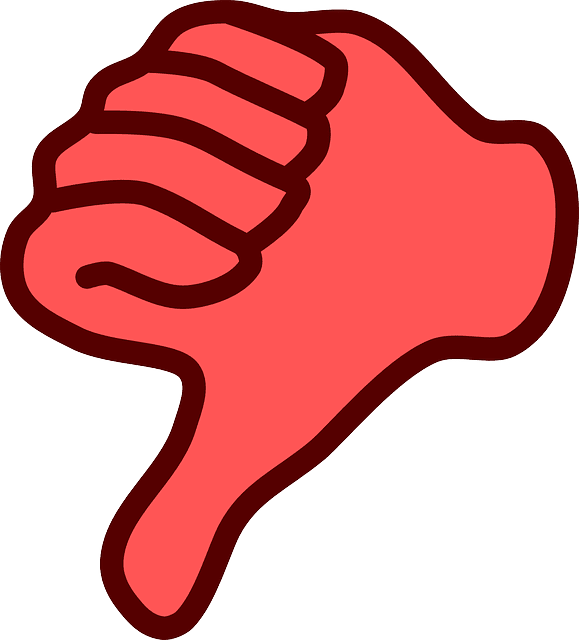 Expensive starter kits – their starter kits are expensive. The lowest starter kit costs about 300 USD. Although it is not compulsory to buy a starter kit, but you may be under the pressure of doing so since purchasing this kit will earn you sponsor commission.
Adverse side effects – The products they offer are not FDA approved. A customer who took Protandim NFR2 complained about the negative side effects she suffered from after taking this product. Her distributor told her the effect was a detox stage" and not to stop taking the product. The distributor is not in any position to offer medical advice since he/she is not a physician. The problem continued, and she was referred to LifeVantage on-call physician and was adviced to visit her own physician/doctor. The woman later cancelled her order.
Customer service …
Terrible customer service – Based on reports on the BBB, a lot of customers who contacted their customer service had to wait for a long period before they were able to speak with a care representative. Some customers also reported these representatives to be rude, irritating, and have no interest to assist customers.
Problems with cancellations – Cancelling orders online is not possible. Your customers will have to contact the customer service. You cannot reach the customer service number during weekends; they are only available on working hours, Monday to Friday.
Fraudulent practices – A lawsuit was filed against LifeVantage. According to this lawsuit, a distributor on the platform recruited another new distributor (plaintiff), and did not disclose certain information about becoming a distributor on the platform. The distributor did not inform the plaintiff that buying a starter kit is optional and was fooled into purchasing the most expensive starter kit. Also, the plaintiff did not fill any application and no Terms and Conditions was shown to him. The distributor asked for the plaintiff credit card information and handles the setup process. The plaintiff later cancelled his credit card to cancel product auto shipments he did not order.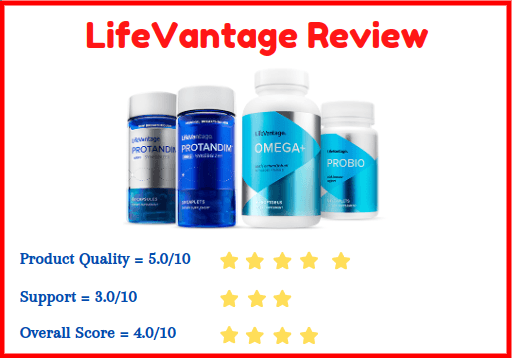 Is LifeVantage Business Opportunity a Scam?
Earning through MLM platforms can sometimes be difficult because you will have to sell products and bring in new recruits. And if the people you recruited are no longer interested and leave because they are not earning, you will lose your ranking and residual incomes.
Meanwhile, you will still make payments for product auto shipments to remain active on the platform. It's possible LifeVantage that is not a scam, but making money on this platform will not be easy.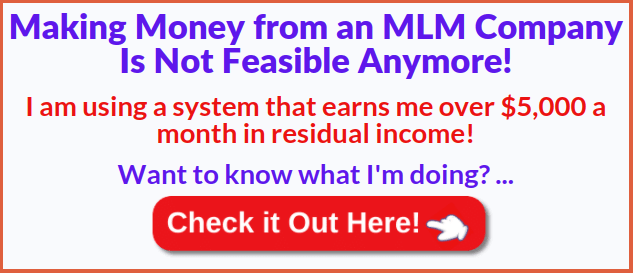 My verdict
---
You need to work very hard when selling products to earn commissions. And this can be difficult and challenging, especially if one can easily purchase these products on the Internet for the same price (or cheaper).
Even if customers prefer offline purchase, they may not be interested in using the product for a long time. Most people only want to give these products a shot, and are not willing to sign up for monthly shipment.
Creating a new business demands a lot of hard work. You need to be determined and dedicated to succeed. Succeeding with an MLM, like LifeVantage, is dependent on the number of products you sell and people you recruit.
If you want complete control over your business, then check out my #1 Recommendation, which will teach you how to run your business from the comfort of your home.
This resource is totally portable; you will receive all the materials or tools you want to achieve success. 
Thanks for reading this scam or legit review on LifeVantage
---
I hope that you enjoyed reading through this scam or legit review on the LifeVantage opportunity and that you have made up your mind as to whether it is for you or not. Hopefully, you will follow my advise and take this opportunity to learn more about my #1 Recommendation.

If you are looking for an honest way to make a living online, and to start for free, just like I have been doing for years, I recommend that you first learn more about Affiliate Marketing, it will cost you nothing. 
You can even start at your own pace if you don't have much time to spare. All you have to do is join my FREE Internet Marketing Training by clicking on the banner below …

⬐ Here are some great ideas that will make you more money ⬎