SendinBlue vs MailChimp – You Better Read This Review Before You Buy …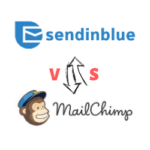 Several of my readers have approached me and asked me to make a comparison SendinBlue vs MailChimp. To be honest with you, I was rather hesitating in doing that because, although I know Mailchimp quite well, my experience with SendinBlue was rather nil.
But to satisfy my readers I decided to do some research, question some users of SendinBlue, and sign up for an account and purchased the "Lite" package to really have a feel of the software (I normally do that for all the product and services that I review).
So, here is my report comparing …
SendinBlue vs MailChimp
Having been marketing online since 2001, I have used just about every autoresponders or email solutions that crossed my path. And, as you can expect, by now I have settled with my favorite. No, it is not MailChimp, it is not SendinBlue either. In fact, it is none of the most popular auto mailers. For this reason you are safe to make your choice as I am not promoting any of them.
To find out more about my all time favorite autoresponder, when you have a moment, read ~~> How To Start An Email List – 3 Basic Steps
Implementing an emailing strategy involves selecting the most appropriate software for your business. In terms of platforms, there is certainly not a shortage of choice.
How to make the right choices in an environment where competition is raging and the comparison between software is not always obvious? … or impartial!
To help you in your approach, here is a comparison between two leaders of this particular market, namely SendinBlue vs MailChimp. Two leaders in their field, one being French (SendinBlue) and the other American (MailChimp).
Summary – SendinBlue vs MailChimp
---
Two different philosophies
---
Before you go any further in reading this comparison, know that I will not bring out a winner in this review. Both email solutions are very relevant and offer a wide range of features.
On the other hand, each of these platforms has its particular advantages and disadvantages as well as different doctrines. They will therefore correspond more to types of companies and this is where you will have to decide for yourself.
SendinBlue, the French leader
---
Created in 2012, SendinBlue is a French email software that has distinguished itself in emailing thanks to a very aggressive price policy. Today, the platform has become a leader in the French market and is set to conquer Europe with the purchase of its German competitor, Newsletter2go.
The advantages of SendinBlue
---
If SendinBlue has established itself in just a few years as a French, European and worldwide reference, it is not by chance. The company has developed significant competitive advantages over time. Here are the major benefits of SendinBlue …
A very attractive price policy
Let's be honest, the first criterion for choosing an emailing solution is the price (it's a statement, not a recommendation). SendinBlue understands this and offers a very advantageous pricing system.
First of all because you can create an account for free and use the unrestricted email tool. And then because SendinBlue does not limit you to the number of contacts in the database. So you can import as many contacts as you want.
But above all, the tool allows sending 600 emails a day for free. That's more than enough for most small businesses to never switch to the paid version.
Even the marketing tool has a free base of 2000 emails sent before moving to the paid version. This allows time to thoroughly test their automation.
In short, you will understand that SendinBlue is quite attractive and in this case, much more than MailChimp. So if this is a good enough reason for you to test this platform, I suggest that you give a try here ~~> SendinBlue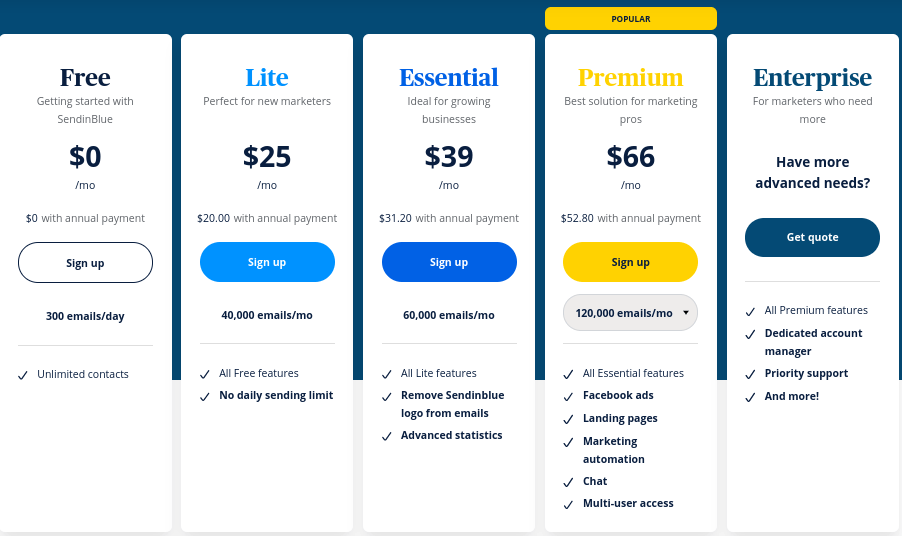 A complete marketing automation tool
Emailing does not stop with your email marketing campaigns. The trend is even rather marketing automation which, well used, is a fabulous conversion tool both in e-commerce and to convert your leads.
The SendinBlue's platform of is very qualitative and is among the best in the market, especially for the number of scenarios proposed. You will also have the opportunity to create your own custom scenarios.
Nevertheless, if it allows a first approach of very good level, it is not the best of the market and that of MailChimp is a little more qualitative. We are also far from the performance of dedicated platforms such as Plezi or Hubspot but we are also not on the same basis.
SendinBlue connectivity on the market
Another important element for an email solution, its connectivity with other tools. It is crucial in a global strategy to be able to automate all registrations in your lists.
For a French solution, SendinBlue is very active. Especially on American tools where we can find many connectors. It is rare enough to be quoted.
SendinBlue now offers about fifty plugins, an API to facilitate exchanges and also a Zapier account which is pretty well loaded. It is certainly the most connected French platform.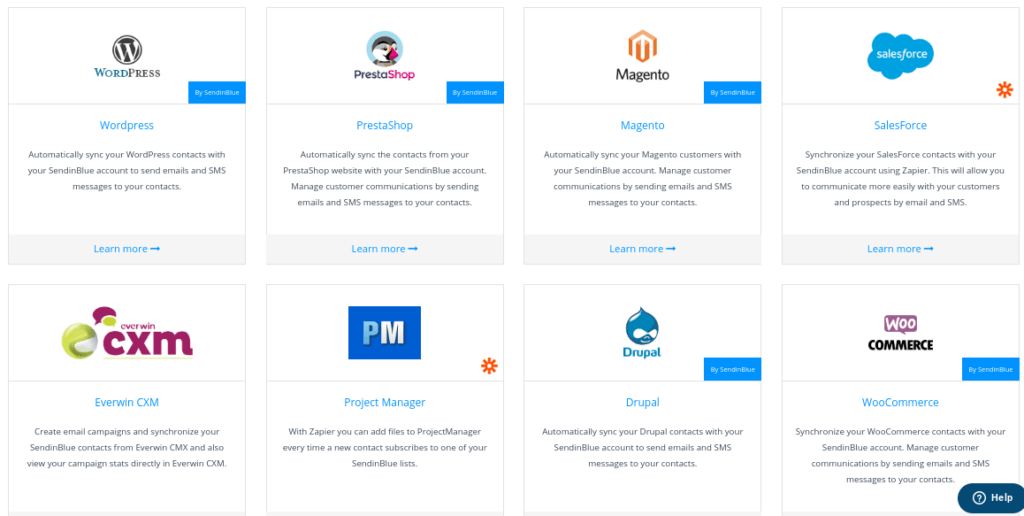 We are far from the rendering of MailChimp which is the probably the prefered platform of most email marketers, but the result remains very good.
The disadvantages of SendinBlue
---
If this email software is very good, it is not perfect and some of its features need to be improved to mature. Zoom on the few SendinBlue flaws:
The email editor is not really the best
First element to take into account, the drag and drop editor of SendinBlue is clearly not among the leaders of the market.
While it remains consistent, the drag and drop is responsive, it is however lagging behind its competitors and particularly compared to that of MailChimp, which is more intuitive and ergonomic.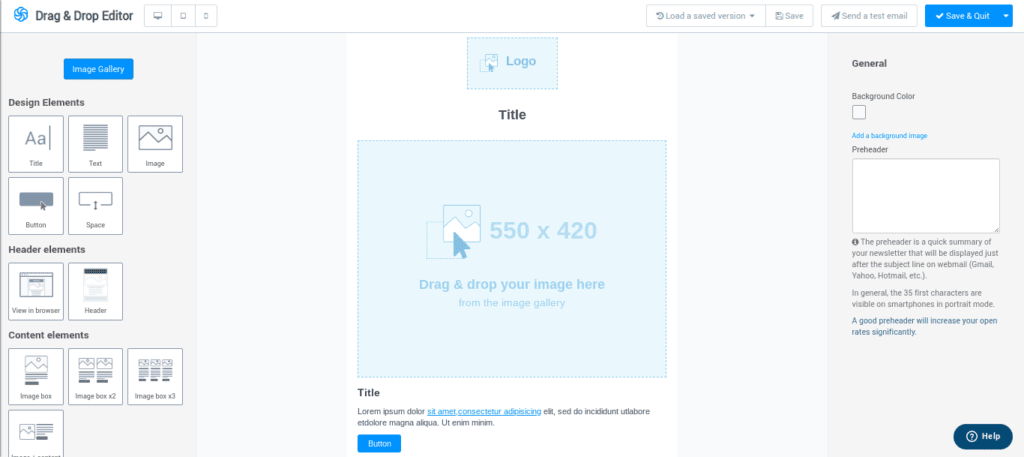 Slow and inaccurate support
There is no question of qualifying here. Clearly, support is one of the big issues of the tool. First of all because let's be clear, priority to those who pay.
I personally believe that support should be the number one quality of any any business. It is what I look for whenever I review a service or program. If they don't have a flawless support system in place, they lost my vote!
With SendinBlue, when you need help, you will have to be patient and be very precise in your requests because the answers will often be incomplete and be irrelevant and take some time to come.
But let's be impartial, this is often the case for most email platforms, including MailChimp.
Automation not always suitable for BtoB
If the marketing automation platform is very powerful, it is above all perfect for e-commerce.
As for BtoB, and for the qualification of leads, it can sometimes be limited on complex scenarios. For example, the fact of not being able to act on people not responding or the fact of not being able to catch one branch of a scenario from another.
It may seem like a detail, but if you need it, you just have to cancel your scenario. Not that easy.
My opinion on SendinBlue
---
As far as I am concerned, SendinBlue is one of the most popular mass market platforms to pay attention to for email marketing.
If you want to change tool, you have to test it. Although the software is not perfect, it offers a rare functional depth among its competitors, and we must admit that the rates are more than convincing.
But above all, know that it is the price / quality ratio that makes it one of the most popular platforms.
A small but significant detail for the French marketers, SendinBlue is 100% translated into French. We clearly recommend this email software and we are not alone:
Verified Reviews: 304 reviews – 9/10
Trustpilot: 297 reviews – 4/5
GetApps: 182 reviews – 4,2 / 5
Capterra: 189 reviews – 4/5
Who is the software for?
---
This tool is more geared towards the small businesses. The email software is particularly powerful for all e-commerce players. It perfectly integrates the marketing automation scenarios related to this sector of activity. But above all, know that SendinBlue addresses companies wishing to set up a real emailing strategy.
MailChimp, the American giant
---
Another market leader, MailChimp is one of the pioneers of emailing in the world. Founded in 2001 by two partners, Ben Chestnut and Dan Kurzius, once an Atlanta's small business is today the world's largest leader in its field, and by far. But let's see if this title is deserved.
The advantages of MailChimp
---
You will surely recognize some of the major benefits of MailChimp over Sendinblue, because most are the same (with one exception). Because the two platforms are quite close to each other.
The most ergonomic platform on the market
If there is an obvious reason why MailChimp is the global emailing software, it is surely this one.
The intuitiveness, usability and ease of use of MailChimp is by far the best of all platforms. This is saying a lot because the American company has constantly changed the UX (User Experience) of its application and still practices continuous improvement to always be at the top.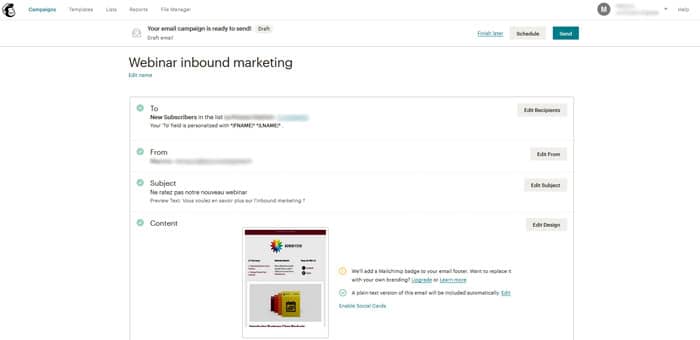 Marketing automation
Like SendinBlue, MailChimp offers a very complete marketing automation solution with many very detailed scenarios. This makes it a preferred player in the sector. Here too you can set up custom scenarios.
If the MailChimp platform goes a little further than that of its French competitor, it is however more complex to apprehend because it is coupled with a second tool, Mandrill.
Open to other tools
Since MailChimp is the reference tool for emailing, it is normal for all web software to connect to it. This makes it a de facto very open platform. In fact, you will find very few tools that do not synchronize with it.
Fun little detail … even SendinBlue offers a connector with MailChimp.
The disadvantages of MailChimp
---
The previous paragraph is conclusive and depicts MailChimp as the best emailing software in the world. That's pretty true. So why make a comparison with SendinBlue? Simply because it is not the benefits of the platform that will make you choose but rather its disadvantages that may make you flee. Because even if they are not numerous, they are sometimes blocking.
All English
And yes, it may seem strange for a world leader who is also present in various non English speaking countries that the platform is not translated.
If you want to use it, you will have to work in the language of Shakespeare. Amazing when you know the French market and one of the most important in Europe. What is really problematic is not for sending an email. It is rather when you are going to set all the complex features of marketing automation that it becomes a drag.
An exorbitant tariff system
MailChimp offers an American style tariff system. That is to say based on the number of contacts, where French solutions work on the email sending numbers.
Historically, MailChimp has always offered free access to up to 2000 contacts. Excellent for small businesses that can easily manage their emailings without ever paying.
Yes but after? After, the solution becomes excessively expensive. Easily reaching monthly payments of a couple of dollars, where SendinBlue would cost $25 a month. The more your base of contact increases and the more the costs are important.
To meditate before committing yourself. Here is an example of costs for 25,000 contacts using MailChimp: $189 a month!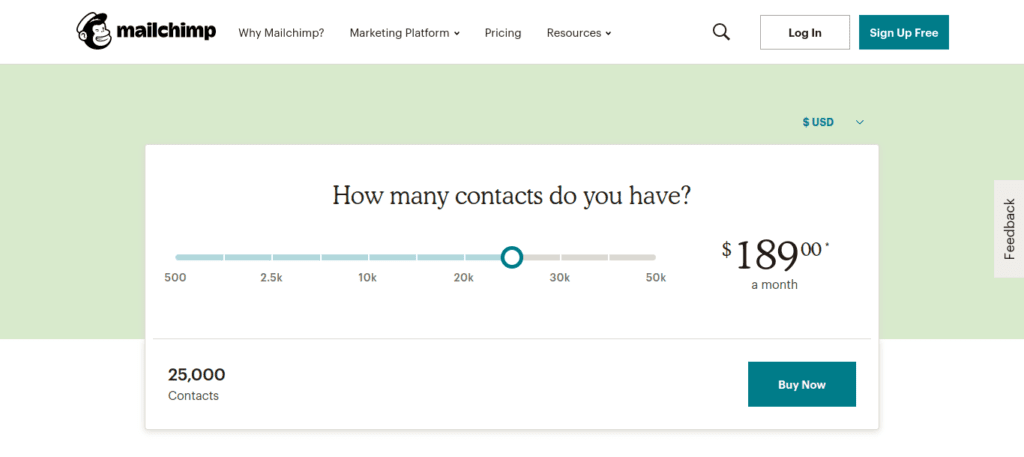 My opinion on MailChimp
---
MailChimp is a very powerful platform. The email software is in perpetual innovation and offers optimization features of your campaigns really impressive.
The ergonomics is at the top which helps to forgive the lack of translation, as so much intuitiveness is put in the center of the user experience. However, the tariff system is overly important compared to the competition which discourages the user to grow too fast. Isn't it contrary to what can be expected from a web marketing tool?
Verified Reviews: 304 reviews – 9/10
Trustpilot: 297 reviews – 4/5
GetApps: 182 reviews – 4,2 / 5
Capterra: 189 reviews – 4/5
Who is the software for?
---
Like SendinBlue, MailChimp is a software primarily created with the smaller business in mind. It can be particularly useful for any company that will never exceed 2,000 contacts on their database . However, for larger accounts, the cost could become prohibitive if you have too many contacts recorded.
So, rather SendinBlue or MailChimp?
---
As you can see, these two email software are among the best on the market. They both offer very advanced features and allow to set up a complete email strategy.
Whether you choose SendinBlue vs MailChimp, you are not going to make a mistake. It is rather in the details that these two solutions are different. To make a valid choice, it will be necessary to take into account the context of your company and the objectives that you set for yourself on this level.
In addition to this requirement to customize your tool search and to answer the basic question, I have a small preference for SendinBlue. Not that the tool is better. But my desire as an email marketer is to grow my mailing lists as much as possible. This necessarily requires going through more and more important databases and MailChimp's pricing model is too restrictive.
What about SendinBlue vs MailChimp vs TrafficWave?
---
Now, do you remember my all time favorite autoresponder I spoke about at the beginning of this review? Well, as we also said, the price being a major factor in deciding which software to go for, if this is your case then TrafficWave is for you!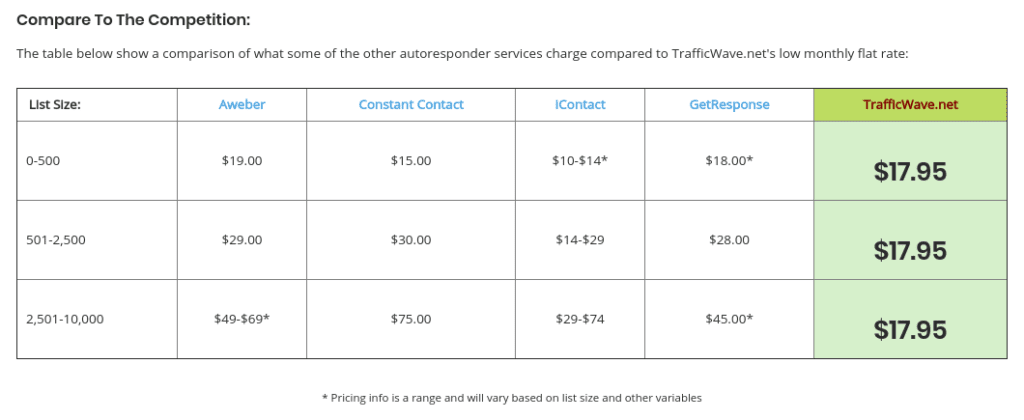 No matter the size of your database, the number of emails you send, your flat rate is from day one, and forever. This is super attractive. Plus, you can try it for free for 30 days, which is more than enough time to find out if it is what you want.
To take advantage of the 30-day-free-trial, click on the banner below …
Thanks for reading SendinBlue vs MailChimp
---

I hope that this SendinBlue vs MailChimp review will help you make your choice. If you have any suggestions to make we would love to hear from you.
And, if you have any questions, please use the box below and I will respond as soon as possible. If you enjoyed this article please share it socially and leave a comment below, I will highly appreciate it!
I am a Premium Member of Wealthy Affiliate, where I have learned how to share my passions. I am inviting you to join my team and learn how to become successful in business and retire early. It is 100% FREE to join, learn and earn! Click the button below and I'll see you on the other side.

⬐ Here are some great ideas that will make you more money ⬎