What Is LeadsLeap About? – The Number One FREE Marketing Toolkit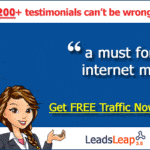 An updated review of LeadsLeap is now available.
Lead generation, conversion, traffic all of these terms are spinning wheels of the marketing world if you do not use some or all of the free tools offered by LeadsLeap.
Companies are made or break on these factors. They also need to spend thousands of dollars on marketing to stay in business. Every company runs on lead generation. Acquiring new customers is as important as catering to old ones. 
Companies strive to increase their conversion rates and keep their sales going. The marketers around the world are pounded for new and creative ideas to make more conversions and incentivized to gain as many leads as they can. And this process also goes on the product after product. It is not an easy job. But it doesn't have to be that difficult either.
What is LeadsLeap About?
What if I told you that you could gain leads through applying a certain formula? Let's talk about those leads edging towards your product like a magnet towards iron. You see, you don't have to work as hard and rather smartly.
This is where the giant LeadsLeap comes into the picture. It has been operating globally since 2008 and has become a reputable name in the marketing field. It is mistaken as just a PTC site when, in fact, it is an advertising giant in the industry. 
Above all, LeadsLeap understands the importance of traffic generation. Heck! It's their bread and butter, as it claims. The company also strives to create and employ maximum methods to generate traffic. For LeadsLeap and for its customers/members. But it doesn't just stop at creating the traffic but ensure that this traffic is converted into prospective leads for its valued members. 
So…
What is LeadsLeap Meant for? 
---
LeadsLeap developed a system over time that enables every marketer to have their share in the industry. It doesn't disappoint any of its members. It has designed several software/programs to cater to the needs of marketing individuals as well as companies. The giant's state-of-the-art marketing tools and free/paid plans help businesses to increase their conversion rate by manifolds. 
It also offers incentives, in the form of cash withdrawals, to its visitors in order to maintain the traffic on their website and their members'. Therefore, this way, many people earn easy money by visiting the ads on the website, increasing the leads and conversion rate. This is a winning situation for all stakeholders. The company covers every aspect of monetization of websites and marketing of businesses creatively and uniquely and thus is quite popular among the masses.
Summary …
---

Platform: LeadsLeap
Website: www.leadsleap.com
Who is this for? Anyone – Zero tech skills or experience necessary.
Earning Potential: Basic directly, but while generating leads the income potential can become massive.
Owner/Creator: Kenneth Koh
Cost: The Basic Membership is FREE 100%; The Pro membership only costs $27/mo.
My Score: 9.0/10 – Highly Recommended

How Does it Work?
---
LeadsLeap monitors the surfing activities through legal procedures and ensures that the visitor adds quality rather than quantity. As a result, the interaction of the visitor determines the success of the ad. The incentive multiplies as the longer and meaningful their interaction is with the ad. The individuals are also paid for their quality time and incentivized to visit the website again and again. 
LeadsLeap's many software are dedicated for this purpose alone. To detect the bots and disqualify their interaction. It also benefits their customers as the customers get their money refunded if the results are not satisfactory. 
Benefits of Using LeadsLeap
---
LeadsLeap has earned its reputation with all their members' honest efforts, be it paid or free, its amazing marketing tools, and easy to follow plans for different levels and affiliations.
Let's see why one should choose LeadsLeap for their marketing endeavors: 
People are scared of being scammed all the time. LeadsLeap's overall rating is 7.5 on IM Report Card. It tracks scam sites and reports them. So LeadsLeap is legit in that aspect.
It is free to join. LeadsLeap features free as well as paid services. For example, the Autoresponder system, The Real Tracker, etc., are free and works wonders for their users.
It helps to make your website rank better on search engines. It employs its various software in order to distinguish between bot users and human users and hence provide authentic traffic. 
Increase In Conversion Rate
As mentioned above, it ensures an authentic user experience, and hence the quality of surfing activities aid you in better conversion for your business. 
This widget is available for website owners only. You can earn through it by quality or quantity of click-throughs on your website. The more clicks you get, the more you earn. It is even mobile-friendly. So you will always have access to your statistics even on the go. 
It is a great source for monetizing your website. The more clicks you receive on the ad from the visitors, the more revenue you will generate. 
LeadsLeap has two advertising plans to accommodate its users worldwide.
Credit Plan: It is a free plan available to all members. It runs on the credits you earn. The more credits you have, the more ads you can run as a free member. The quality of surfing on your ads also adds up your credits.  
PRO plan: it is a paid plan where pro members get ten ads. They can have these ads displayed 24/7 and have better ad placement than credit ads. Paid members receive more revenues also in contrast to credit members. 
Both plans are easy to use. The members have to make the most of their time spent on the site.  
Features of LeadsLeap
---
LeadsLeap is power-packed with several unique and very useful features. These are extremely easy to utilize in maximum capacity. Marketers around the world gain many benefits by deploying them. The features are: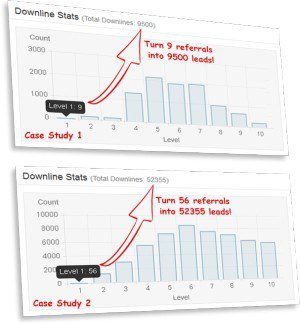 This service is also provided by LeadsLeap to all its members. It is designed to track the surfing activities of visitors on members' websites and to distinguish between bots and human activity; it also tracks the surfing duration in order to make the experience meaningful for all parties. This feature ensures an increase in the conversion rate.
The members can create their own email lists by making use of built-in Opt-in pop-up programs. You can make most of this feature as it comes in many formats according to your marketing needs. You can customize it with as many ideas as you can. It is a totally no-restricting kind of a feature.
The whole program is always running in the background, so the user never has to log in again and again. It ensures a smooth user experience.
The members can add their own ad bars from secondary parties to cross-promote other products/services. The company does not restrict its users to limit their advertisement. 
This is another very useful service from the giant. It not only provides autoresponder services but also: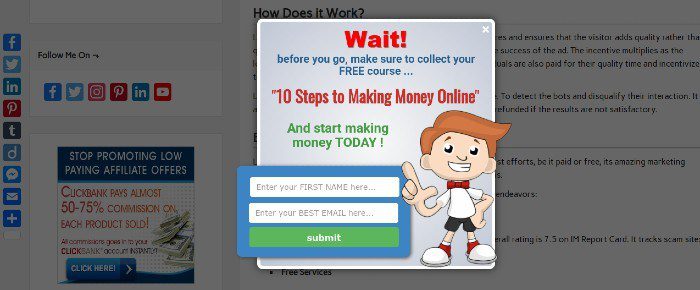 list building: the members can create their own private email lists. Which is absolutely not shared by anyone, and it means anyone. Not even the company. 
Send e-course: The members can send automated e-courses any other day. There are no restrictions. 
Smart filtering: this amazing feature helps you to filter the presence of a single subscriber in multiple lists. And exclude them when sending mass emails.  
Multiple tracking: it aids you in automatically tracking open email rate and CTR to external links.
Lifetime lists: These email lists stay with their creator's lifetime. Nobody can claim them, nor the creator loses it due to non-payment issues. So, enjoy your emails on the go.  
This service is a must for any venture because every single venture thrives on email lists and their management. 
This unique feature comes in many formats. Landing pages are important as they result in the conversion of your audience. One has to select its landing page carefully. And that's where LeadsLeap comes in handy.  
It has absolutely amazing designs for every kind of landing pages. Be it a single column message only or a short video with a text column. You can choose from its wide range of variety.  
You can write reviews of the programs you have joined. You need to provide your affiliate link with the review of that program as well. This review is public, and members, as well as visitors from the search engine, can view it. It is an efficient way to increase the conversion rate of the programs you believe in.

Final Thoughts 
---
The company has been operating since 2008, so there is no hesitation in trusting its programs. It is one of the most efficient ways to increase traffic on your website and monetize it in the process. It is also a steady method to continue the flow of cash. The site provides an authentic viewing of the advertisement, so it diminishes the fear of scams.  
Its marketing tools are unique and very handy. The unique venture has built its reputation around the world with these useful tools, which are hard to find anywhere else. And the best thing is; it is 100% FREE! 
And last but not least, it is a sure-fire way to increase the conversion rate for your businesses. Since LeadsLeap does not restrict the viewing of a particular ad, your visitors can view ads for a longer duration and hence increasing the conversion rate. 
Like to read more on LeadsLeap? Follow this link: How LeadsLeap Work?
Thanks for reading this review …
As a thank you gift for reaching this far, I am offering you this excellent FREE report titled "One Signup A Day 2.0" which was written by one of LeadsLeap members, Andre Zunde. 
In this easy to read free eBook, Andre explains how he created a forever-growing network of leads which he is even unable to stop! Click on the image below to get it.
Instant Access – No Opt-in Needed – Click on the image below …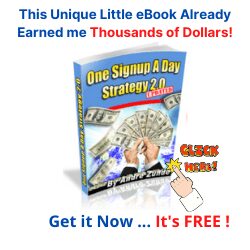 And if you enjoyed reading this report, why not share it with your Twitter Followers for them to enjoy it too? To do that, simply login to your Twitter account and click on the bar below …
What Is LeadsLeap About? – The Number One FREE Marketing Toolkit … RTplz #Leads #Marketing #emailcollection
Click To Tweet
About The Author:

Ahmed Gill, a student of master's, turned to be a blog writer with already 4+ years of experience in the content writing and SEO article writing industry. His SEO expertise enables him to write high quality blog articles following the forever changing Google algorithm.
He has accumulated loads of expertise within the eCommerce niche, especially in the listing of Amazon FBA private label products, product research and listing optimization, sourcing, launching and ranking.
You may contact him on Fiverr for an excellent service.
Also contributed by Ahmed:
– How to Make Money from Home During the Pandemic
– Why Is Affiliate Marketing Better Than MLM (Multi-Level Marketing)