How to Make Money Fast at Home – The AdCardz Opportunity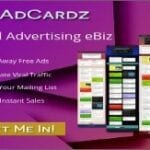 Making money from home isn't just a dream anymore. Because of the recent worldwide situation it has become a necessity for many of us; a matter of life or death for some of us.
Personally I have been very fortunate to have had the opportunity over 20 years ago to start my Internet marketing career, not as a part time hobby, but because I had to do something about my financial situation. Indeed, I had no job then, and with debts coming out of my ears and unable to even pay the minimum requirements on my many credit cards.
Two years later I was in business and was able to repay all my debts within five years. I now run several very successful online businesses and run classes for those wanting to work from home.
Like many of us in this trade, I am always on the lookout for new ways of making money from home, and from time to time I take great pleasure in sharing something that might be of help to some of my readers, so today I am introducing a very easy way to earn some money from home, where anyone can start small and grow as the money starts to come in.
It is basically a turnkey web business that you can start in the next 10 minutes, to become an ongoing income source. So here is …
The AdCardz Money Making Opportunity From Home …
This is how my adventure with AdCardz began…
I was looking for another program where I could purchase a piece and be the OWNER at the same time. I've never created a product or a "membership" platform before. It was something that I had on my bucket list for a long time but not yet looked at the possibilities seriously.
Then, I came across, purchased and now own an AdCardz adboard. As a consequence, this review comes from someone who purchased the main product line itself.
Their SaaS (Software as a Service) subscription costs only $14.00 per month at the time of writing. That is a fantastic deal. As a result, I took the plunge and purchased my own board.
After buying my adboardz "slug", which is simply a fancy name for the portion of their domain URL that is exclusive to you and your board, I chose it my own design.
Please note: This is a SaaS service, not applications you can install on your own web server. Their in-house team is responsible for both ad hosting and delivery. That means they're in charge of database upkeep and all the tedium that goes along with it. In my view, this is a victory for advertisers.
My logic dictates that panning for gold isn't the only way to make money online. The best way to make money online is to be helpful and provide a necessary service that helps people achieve their goals. To put it another way, now is a great time to own a gold panning supply store in town.
Remember the "California Gold Rush" of 1848?
---
Probably not as you were far from even being conceived, but it is well known that those who made the most money out of the gold were not the people who were digging and sifting all day long, but those who sold the shovels and pans.
My whole online marketing strategy is based on that mentality. I look for opportunities to help people succeed online by providing them with the tools they need. I am confident that this method of online marketing will pay off in the long run. And, with this article I am going to show you how to become the "shop owner" who will provide the tools to those who want to strike gold.
So, Are You Ready to Provide the Tools to the Gold Diggers?
---
Early on in my online career I learned that if you own a business, traffic is everything. Yes, no traffic = NO MONEY! And this as true for an online business as it is for a brick and mortar concern. Think of it, if you own a fashion shop in a street where no-one passes, you have very little chances of someone stopping by, right?
I resolved to work toward owning something that could help others with their website traffic issues. Every online marketer I know wants more traffic, and I'm happy to help. I'm a member of many online ad forums and communities. And I decided to look for a way to build an ad network that would help people get their bids seen multiple times.
I found AdCardz and have received nothing but positive reviews so far.
As usual, I first tested the platform and I started by making a free ad on their website to see for myself what it entails and what could come out of it, and I am pleased to say that it's not difficult. So …

I Began With a Free Ad, Which I Later Modified
---
Each ad must be "enabled" before it can be used (largely by viewing the page and seeing other ads, etc.) I realized that I needed to do something about it.
Following that, I ran a new ad to see how the platform performed. The result made me very happy.
I like the platform so much that I bought my own adboard to support others.
This, in my view, is the best part: you can have your own adboard and price the different parts whatever you want. Outstanding!
That, in my view, is the best way for new entrepreneurs to get started: owning a turn-key business that will help you make money.
My Favorite Stuff
---
I like how easy it is to use. This is very important in my opinion, as I deal a lot with newbies.
AdCardz makes it easy to get your free ad in front of the largest possible audience. It's viral in the sense that you have to either watch other advertisements or guide viewers to your own in order to bring your ad into rotation, where it can have the most effect and be seen for the longest period of time. As a consequence, there is never a dull moment. This is really user-friendly.
As an added bonus, as an AdCardz program user, I can now decide how much effort someone must put in for their ad to be shown. That means entrepreneurs can set this to a low participation point value once their platform is up and running. All can be tailored to your specifications.
My Dislikes
---
Since there is so much money involved, I can tell the owners put a lot of thought into the backend. The organization and user interface of the primary backend, on the other hand, could be more well-thought-out and stable.
Final Thoughts About This Money Making Opportunity From Home
---
With that said, I believe AdCardz is a fantastic resource for new marketers looking to launch their own program.
This item appeals to a particular demographic. Honestly, I recommend that you invest in the upgrade as your marketing efforts can only increase your business in value.
I only came across this program as I was looking for an ad channel where I could promote my various businesses, but I ended up staying because I now have a great product that I can honestly recommend to everyone.
I am sure that this analysis has helped you gain a better understanding of AdCardz and how it can help you with your marketing plan. So why not …

Thanks for Reading this AdCardz Money Making Opportunity From Home
---

I hope that you enjoyed going through this money making opportunity that you can easily start from home. Hopefully, you will follow my advise and take this opportunity to learn more about AdCardz
If you found this article useful, please do me a favor and post a comment below. Also make sure to share it with your social followers.
Thanks very much!
⬐ Here are some great ideas that will make you more money ⬎
.