11 Best Ways To Start Your Business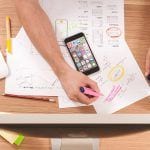 What are the best ways to start your business is again one of the questions that my readers and seminar attendees often ask me. So answer everyone in one go here is a simple little guide. It is obvious that each chapters could be developed into a book. The point here is to give the idea but if you have any questions, or need any more details on any points, please feel free to ask in the comment section at the bottom of this post and someone or myself will certainly be very happy to give you the answer.
Getting your business or project started the right way is something that all entrepreneurs have in mind day and night during the first months of their creation. For a good reasons, since the commercial success greatly depends on it… and that it also flatters the ego a little bit. No?
However, it is also very often believed that the only way to get your business started the right way is to spend a lot of money at the beginning. That is a totally false idea that is intended to take advantage of the newbies.
The 11 best ways to start your business:
---
Here is a short list of basic things to do very quickly, starting from the very first days of starting your business, even, so that people start to get to know you and talk about what you have to share!
1 – Choose your name
---
It sounds silly like that, but a good name is not so common. But it must be a name that is easy to remember. Your business name should be simple, unambiguous, and if possible is representative of our niche. You must also be able to buy the .com.
2 – Create a website right away
---
No need to create a very complicated or necessarily the most beautiful on the web, again it is simplicity that prevails. It must be easy to navigate so that your visitors can easily find their way around, understand what it is about and take action.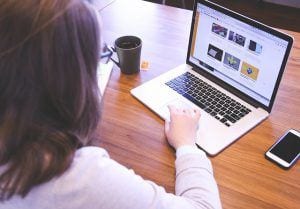 I remember in my early days of building websites, I have always been intrigued by the advert that had become very popular among home sellers, some of you here might recall the title which read "We Buy Ugly Homes". Based on that I created a very simple website and on purpose mage it look ugly and yes, you have guessed it, I ranked high very quickly and had many more visitors than any other websites I had created and took a lot of time to make them look very nice.
Of course, I don't mean that you should make all your websites look ugly, but it proves that it doesn't need to have all the bells and whistles to be successful.
3 – Write a press release
---
Sounds like a bridge too far to you? It shouldn't as it is nothing more than a blog post or a website article. Here is what Wikipedia says about and how to create your Press Release.
4 – Participate in conferences
---
if possible as a guest (because you are an expert, aren't you!). It's always good to have a lot of people listening to you in a short time, you never know who can be in the room, and take advantage of it to introduce you to people who can help you, they just love doing that!
5 – Be a louse!
---
Take advantage of every opportunity to talk about yourself cheaply, if not a little elbow grease, creativity and a maximum of audacity and nerve.Apply loads of guerrilla marketing or buzz actions as possible. In short, like most entrepreneurs, be a bold opportunistic.
6 – Make use of social platforms
---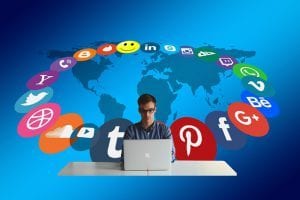 Like most successful entrepreneurs, share on social media as this will allow you to quickly share your thoughts with your followers, and beyond when making use of #tags (hashtags). Interact with your fans and followers, or potential customers, point back to your website, and invent other uses!
Consider opening an account specifically for your business on Twitter, Facebook, LinkedIn, Pinterest, Tumblr, to name just a few of the big boys.
7 – Keep a blog and post regularly
---
Highlight the great services you provide to your customers; present your new products; create rapport and complicity with your customers by making them live day by day the progress of your project. Take a stand in the debate fund or news of your sector. Write quality content showing that you are an expert, give the floor to suppliers or customers, appeal to the creativity of your readers … the possibilities are almost limitless!
8 – Create a newsletter
---
Collect new email addresses; invite your contacts to add them; keep up the pace by sending regular news specially written for your subscribers, as if it was your fan club.
Below is a YouTube video that will walk you through step by step to create your first professionally looking newsletter:
9 – Talk about yourself on other blogs
---
Not only will this increase your credibility, it will also improve your SEO by giving you some so-called back-links. Besides, you will have many other opportunities that will result from this operation. For once, it is other people who will be talking about you. People tend to believe what other people are saying about a product, service or simply someone else. That is why reviews and comments are very powerful.
10 – Ask your friends …
---
… to talk to their friends about you and your project. We often underestimate the power of our own network and the power of word of mouth. Obviously, you have to offer a good product or a good service, otherwise it can quickly turn back against you.
11 – Offer something free
---
This is the best way to make people listen to you, especially if you do it in a friendly way! There are many things that you can offer for free. For example, a free book, guide, tutorial, or a free sample of the product that you are selling.
If you wish to learn more about starting your own online business from home, click on the banner below …

You might also like to read the below articles that I have selected for you:
And remember that you can subscribe to my newsletter so that you will be instantly notified by email when a new article is made available for you to read. Just follow this link ~~> Subscribe to my Newsletter!
Thanks for reading
---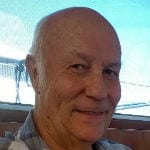 I hope that you enjoyed reading this article. Now that you have an idea of what the best ways to start your business is about, I hope that you will test a few of my suggestions and share your experience with us here. If you have any questions, please use the box below and I will respond as soon as possible. If you enjoyed this article please share it socially and leave a comment below, I will hugely appreciate it!
John
P.S. Only a few more students can access my FREE Internet Marketing mentoring class. If you are interested, click on the button below and let's …

And I have also selected for you a few books that you might find useful for your business ⬎