What Is a Good Open Rate for an Email Campaign?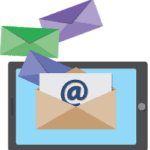 So, how can I say if the open rate of my email campaign is good or not? Also, what numbers should I aim for?
I am often asked these questions, and rather than give a response like "It depends …", Therefore, I prefer to give you some statistics from a study conducted by my eMailing solution "TrafficWave".
As you will see in this study, there are many factors that come into play when it comes to figuring out what makes a good open rate in an email campaign.
Some figures will most likely surprise you, as it did for me, but I am quite sure that as a whole, we are pretty close to reality. In a hurry? Click on the banner below …

I have taken great care in comparing notes with statistics carried out by various companies, and I have also consulted email marketing experts before writing this report.
In this article, we are going to discuss the following …
Okay, but before we get on with it, you might like to invite your Twitter followers to join in. To do that, simply click on the box below and that's it …
What Is a Good Open Rate for an Email Campaign? - Here Are 6 FREE Expert Tips
Click To Tweet
What Is a Good Open Rate for an Email Campaign?
But first of all, what do we call the open rate in an email campaign? Here is how Wikipedia explains it …
The email open rate is a measure primarily used by marketers as an indication of how many people "view" or "open" the commercial electronic mail they send out. It is most commonly expressed as a percentage and calculated by dividing the number of email messages opened by the total number of email messages sent (excluding those that bounced).

Wikipedia
Simple, isn't it?
1 – What is the average opening rate in the US vs Europe for emails?
---
The infographic below shows that the average opening rate of an email campaign in North America is 19.49% and the click-through rate is 3.32%, while in Europe it is 26.91% and 4.61% click-through rate.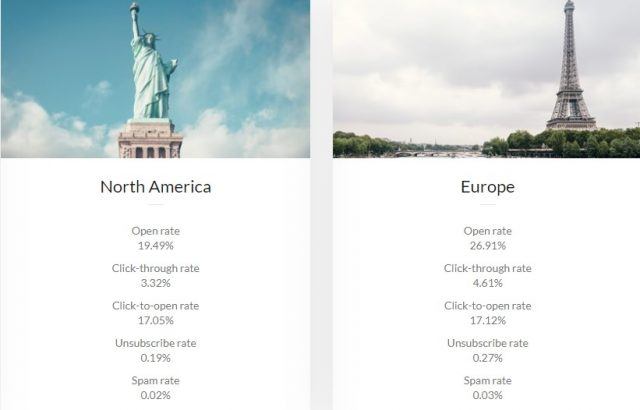 However, this surprised me a bit as I would have imagined that the Europeans would be more careful about opening an email coming from an unknown sender.
So if you are above these numbers, well done!
2 – A good opening rate for an email depends on the sector of activity
---
For example, within the Internet Marketing industry, the average opening rate is 18.41% (and 2.94% click-through rate), which is one of the lowest …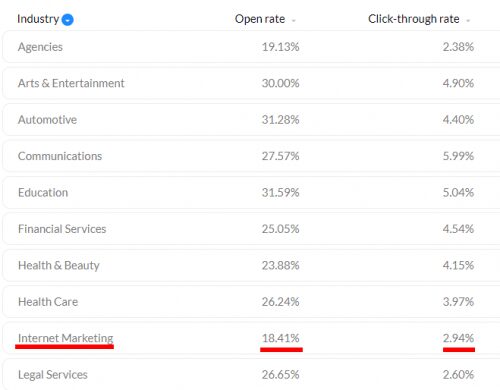 3 – What time is better for email campaign open rate?
---
There is no absolute truth, but there would seem to be more effective niches:
In the morning around 10am, once people arrived at the office, they read their emails accumulated in their email inbox, have a coffee, and they return to their desk to read their new emails that have arrived in the meantime.
Also, in the afternoon around 2pm, after lunch, with a 22.51% opening rate.
Between 6pm and 7pm, with a much lower reading rate, but a click rate that explodes (the senders intend to target either people who stay late in the office or people who come home).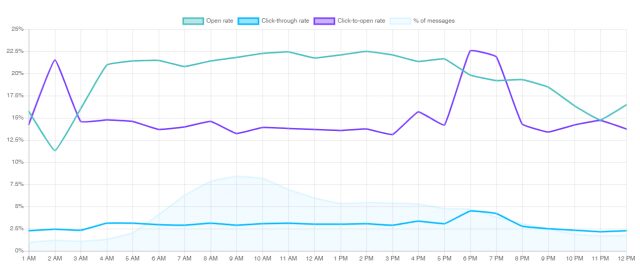 However, I have read many reports and we find quite a wide variety of results which means that each one of us have to do their own testing.
One thing that most stats seem to agree upon is that the best days to do a mailing are Wednesday, Thursday and Friday, except if they happen to be on a holiday.
4 – Should you do marketing automation or newsletters?
---
Unsurprisingly, marketing automation (email scenarios) is much more powerful …
For emailing (newsletters): an average opening of 20.92% and 3.07% of clicks
For auto-responders: 33.05% open rate and 6.72% clicks
And for marketing automation (email scenarios): 46.53% opening rate and 10.98% clicks!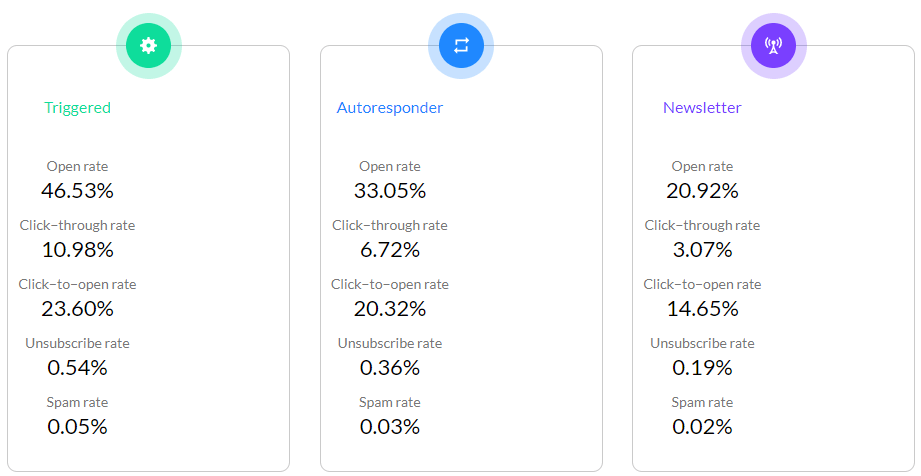 "Marketing Automation" simply means the automation of marketing. The concept brings together tools and techniques that automate repetitive tasks such as sending emails or sms.
One example might be the sending of a welcome message as a response to a newsletter subscription.
There are fastidious and time-consuming tasks that a marketer would do better, but yet, they remain essential. So, their automation helps to improve efficiency and productivity.
It can be used for:
Promotion of an event
Scoring and qualifying leads, ie identifying the most qualified leads, those most likely to buy a service or product
Optimization of lead generation, as a result of Content Marketing strategy
5 – Will Emojis help with your open rate email campaign?
---
The answer is not completely straightforward … it is certainly more powerful, but it is not either day and night: the opening rate of emails with Emojis is 24.94% against 22.73 % for an emailing with only text.
It is therefore necessary to add an emoticon only when it makes it possible to reinforce the object of the email. And as we say: "Everything in moderation!".

6 – Should I put a preheader in the message body?
---
The Preheader is the first line of your email that will be seen, especially on mobiles.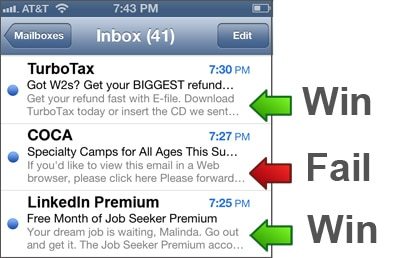 It is no wonder that the impact of the preheader is strong because it helps to reinforce and complete the purpose of a message.

View these quarterly updated statistics! …
---
All the above statistics are updated quarterly and you can consult them by clicking on this link ~~> Updated Statistics

Want to go further and improve the opening rates of your emailings? It's all in my FREE Email Marketing course below …

NOTHING is as powerful as a well written email!
Never a Youtube video, a Live Facebook, a notification via the browser, a message via Facebook Messenger, a blog post, a podcast … will have the scope of a good database of emails.
And this will be true again this year, and in the years to come, because to date nothing replaces email.
But, there is even better than collecting emails and doing some emailing: it's a good marketing automation scenario.
With a good marketing automation scenario, you can get 10 times more results than with a classic newsletter or a badly written autoresponder sequence.
You don't believe me ?
You have seen previously the comparison of methods of sending emails:
For emailing (newsletters): an average opening of 20.92% and 3.07% of clicks
For autoresponders: 33.05% open rate and 6.72% clicks
As for marketing automation (email scenarios): 46.53% opening rate and 10.98% clicks!
If you are still doing social marketing, paid or free ads, link exchange, etc., I have only one thing to say to you …
STOP, stop everything!
Indeed, by switching to marketing automation you can multiply your results by 2 or 3, without increasing your base of prospects or your promotional efforts.
Going into marketing automation is not complicated, but you just have to do it the right way, especially by anticipating the reaction of your prospects, by programming messages that will tickle the chord … the right chord!
I'm just explaining how to do an excellent marketing automation scenario in my training.
Everything is explained in my >> Free eMail Marketing Course! <<
You will see how it should really be done. How the experts are doing it, and how you too should be doing it.
I can already read in your mind, you probably say to yourself "Another one of these trainings at $300, with some extra coaching offer at $1,000!"
Well no !
The training costs you only $0 (limited time only), and you have access to the complete eMail Marketing course.
Now it's up to you to decide:
Or you continue as usual, with your own outdated way of promoting your business.
Or you decide to learn how it is done now, and boost the power of eMail Marketing.
The money is in the list! …

The ball is in your camp, because as usual this introductory price of $0 will not last long … it may soon be too late and you will pay the high price …
Thanks for reading this guide to the end …
---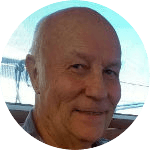 If you have any questions or ideas regarding this topic, or Affiliate Marketing in general, or even if you know of better ways to make money online, please do share your experience with us in the comments' space below. You will always get a reply! 
And again, if you wish to learn how to grow your email list and automate the whole system,  join my FREE Email Marketing Training by clicking on the banner below …