How Can You Know What Your Audience Wants?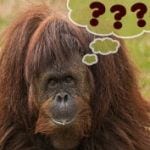 Do you know what your audience wants? What your visitor was looking for when he landed on your blog or website? In short, do you have a way to know?
In the first place, your reader came to your website for one and only reason … to find the answer to his question. His question was the word or words he entered in his searches. This question lead his to your blog. Therefore it is important that he finds the answer in your blog post.
In other words, continually posting value-added content is not always easy. On the other hand, netizens who read your articles want new knowledge, inspiration, and why not motivation?
For that, it's simple: you must innovate, always give useful information for your reader to remain faithful to you, and come back for more.
Seth Godin, author of "Permission Marketing", is a very interesting American author in the marketing field. He suggests a simple thing "do not look for customers for your products, look for products for your customers".
But how do you know what your audience really wants?
There are no miracle methods, but together we will look at some simple techniques to put in place to avoid as much as possible a dud with your future publications, okay?
So, first of all …
Define your target
---
By typing queries in the search engines, a user has only one goal: to find THE site owner or THE article writer who will know exactly what his audience wants, his needs. So, if he visits your site, he wants to know that you will answer his questions in a relevant way.
This is where it becomes important to know the target of your articles. It will then be easier for you to define the needs and desires of your readers.
Know who you are talking to
You must know who you are talking to in your articles. Do your readers share the same profession? The same hobby?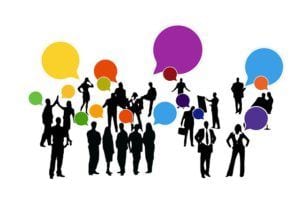 Ask yourself if you are addressing:
A particular genre
A defined age range
People from the same region or city
A specific social group
etc.
As you can see, the targets can be multiple. Therefore, by defining them more precisely, you will be able to know the desires of your readers better and you will know on which points it will be necessary to insist in your articles.
Focus on their needs
Now that you know who your article is intended for, you should make a list of the queries that users could make to find the topic that concerns them.
I advise that you make use of the most simple but advanced keyword research tool that is Jaaxy. It is very useful for finding the most relevant expressions that can be searched for.
Every day, millions of queries are typed into the search engines, by identifying and analyzing correctly the most searched keywords, you will only better understand the needs of the Internet users you target.
Moreover, Olivier Roland, in his book, for the french readers: "Tout le monde n'a pas eu la chance de rater ses études" (Everyone did not have the luck to miss his studies), recommends writing at least once a month a "Pillar" article with interesting and useful content that can spark even more interest than your previous articles.
Your reader wants to learn things easily, be inspired by your articles. With this famous "Pillar" article, you will awaken his curiosity even more. Also, the topics can be diverse and varied!
For example, tell yourself that you must help the reader to visualize the solution through your article. Constantly analyze the keywords that concern the subject of your articles, then you will know what are their desires and needs in real time.
Remain constantly on standby
---
Sounds like not being possible right? But let us see together how we can be constantly on standby.
Understanding what your readers want implies that you must analyze your own site or blog and find out what is going on in the niche you have chosen.
Of course, no need to do extensive research for several hours every day, you could lose a lot of time without being effective.
For example, a permanent watch, say 20 minutes every day to optimize your website to its best, can be sufficient.
Also, do not forget to plan occasional, more specific and more thorough watches from time to time.
There many sites that can help you do that, such as Feedly. I personally use Feedspot. So, all you need to do is to enter the blogs and websites that you wish to follow and each time a new content is published, you are notified on the platform. This is essential for an effective monitoring.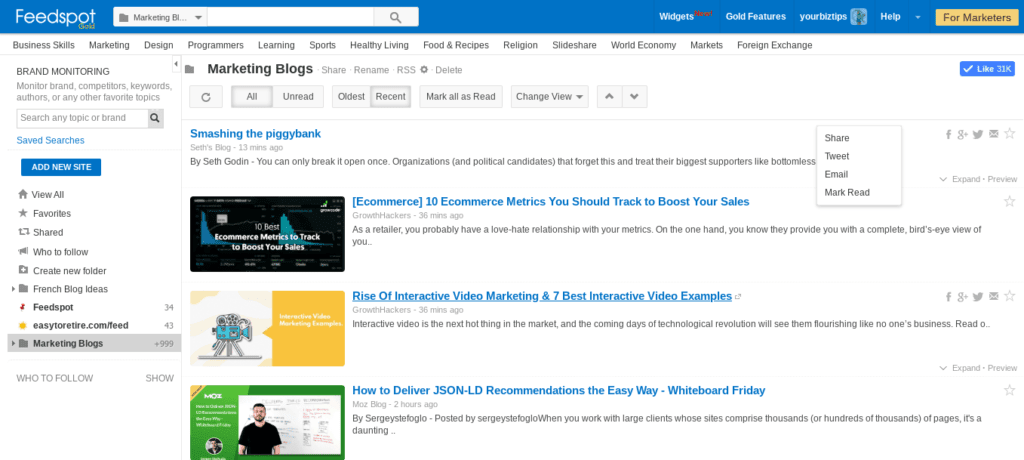 Analyze your site
To know what your audience wants can be very simple. Once you understand what it is that they really want, you will have a pretty good idea of whether you are heading in the right direction or not.
Ask yourself the right questions :
What are the most read articles?
Most commented?
The most shared?
The least read?
etc.
By properly reviewing your articles, you will know which articles are the most popular. Analyze the statistical data well and you will understand why these articles are the most popular.
And for that, Google Analytics will undoubtedly be a very good partner! Free and easy to access, it will give you all the information you need to develop your website:
Geolocation of your readers. Convenient if you are heading to a particular geographic area.
Equipment used. You will then be able to know the priorities of the optimizations to be done on your site.
Bounce rate. Very important element to know the performances of a page of your site!
Provenance of the traffic (direct traffic, research, …).
The most viewed pages.
Demographics that will tell you the age and gender of your readers.
etc.
Very useful for increasing the traffic of your website and to know which direction you need to take from there.
And thatś not all! You can find many other interesting features.
Analyze sites that are of the same niche as yours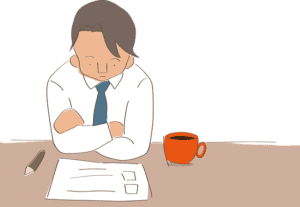 It's simple: Use what's around you to better understand people.
By analyzing your own site, you now more or less know what your audience wants from YOU. By leaning on competing sites, you will be better able to understand the expectations of Internet users in general.
Browse the various websites …
Do competitors who target the same target as you do have a different approach?
Do their most popular articles all point to the same theme?
Analyze the techniques of your competitors. Did you spot catchy titles? Types of titles that seem to attract more clicks than others? I invite you to read one of my past articles explaining how to write a powerful title that attracts clicks. This way, you will better understand why some titles attract more users.
Create a relationship with your readers
---
The one that will best explain the desires of your audience is your audience itself.
Create a real connection with your readers. You will know better and better their expectations and especially the mistakes not to commit.
Take their opinion into account
Internet users who browse a site usually expect to find a comment area at the end of the article they read.
Although some of them will only leave a "thank you for this article", others will try to leave a more elaborate, more complete opinion about your article or the ideas you mention.
Some people will want you to explain how to complete a task step by step. Others will want to know practical ways and shortcuts to do things, without getting tired.
These comments can have a certain quality and give you essential information: an advice, a justified criticism, a shy opinion … a comment of quality will only allow you to discover new development paths for your site.
And if you answer them, as you should, it can only be better! You then establish a real human relationship with your readers: you show them your open-mindedness and your desire to improve just for them.
Do not hesitate to browse over the comments left by users on the articles of your competitors as well. An inspiration, a revolutionary idea can happen at any time!
The ideal is to use polls as with Google form for example. You will directly ask what your reader needs. What's better than having your questions answered by your readers directly?
Between what you want to write and what your readers want to read, there may sometimes be a huge gap!
Here is one of my polls for example:
A survey helps to better know what your audience wants and to be able to react.
Be connected to others
According to "We are social Singapore", at the beginning of this year (2019) we were 3.484 billion to be active on social networks. The interaction is immediate, simple and effective. You see what I mean?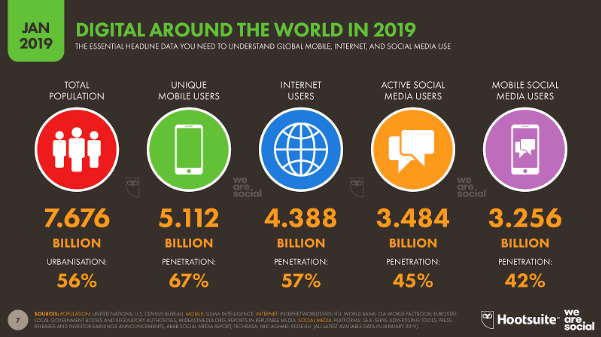 Internet users need to know your personalities before reading your article. They want to feel your passion, and especially know that they can trust you. Social networks will make it easy for you since it is one of the best ways to talk to someone.
So, be active; participate in discussions; respond to comments, even if it is a simple "nice article!". Your reader will know that you are listening to him.
Go to forums and chat with people (do not forget to drag a link to your site in your signature after one or two weeks of exchange); create polls on your Facebook page; be part (or better, create! ) a community on a blog …
In short, there are a thousand and one ways to get closer to your readers.
For my part, although I should try to do better in this area, I particularly like the idea of ​​creating a YouTube channel.
Internet users see you as you are, with your shambles and your messy hair (if you are not bald like me). It's also a way to connect with your audience and inspire them with confidence.
In short, the more links you create with users, the more you will know about their expectations. And the more you know, the more complete your articles will be!
Conclusion
---
It's never easy to know if an article will please your readers. Despite your calculations, your analyzes, it is possible that your article is a big flop because yes, it is impossible to predict the future at 100%.
I listed in this article some of the ways that I use to better understand the expectations of my audience. Writing articles naturally requires constant vigilance, but I also strongly advise you to create and maintain a good relationship with your audience.
I have learned early on in my Internet Marketing career that to write well, one must read more than one writes, it is almost a rule.
This will only help you to visualize your readers' expectations, desires and increase your knowledge on the subject.
Thanks for reading this guide …
---

I hope that you have retained a few tips from this article that will help you know what your audience really wants.
If you have any suggestions, we would love to hear from you.
And, if you have any questions, please use the comments' area below. You should normally receive a reply within the next 48 hours.
If you enjoyed reading this article, please share it socially. Also post a comment with us here below, I will be very grateful!
As a Premium Member at Wealthy Affiliate, I learned how to share my passions with the world. You are very welcome to become part of my team of very successful netpreneurs. You too can become a successful business owner and live your laptop life. I will be your personal mentor for FREE. It is 100% FREE to join, learn and earn! Click the button below and let's …