Best Free Web Design Templates – Wix vs WordPress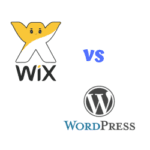 Ever wondered which could be the best web design templates offered by these two free software, Wix and WordPress?
As you can imagine, both has its pros and cons, so I have reviewed and used both of them and written a review for you here. Enjoy it and I hope it helps you make the right decision.
Gone are the days when the creation of websites was reserved for a small number of technical experts. However, today, many software will allow you to create your website from a customizable graphic template.
It is a much simpler and less expensive solution than starting from a blank page.
So, let's have a look at the two most popular software available: Wix and WordPress …
The best free web design templates
Among these kind of software, Wix and WordPress are market leaders. They both offer a wide selection of free templates. So, in this article, we will compare the offer of free templates for Wix and WordPress.
Each of the solutions, as will be seen, has its advantages and disadvantages.
Warning ! We are talking in this article about the commercial version of WordPress, that is to say "WordPress.com", not WordPress.org (which is open source and free).
Summary:
At the level of the variety of templates, Wix is the winner

---
In terms of variety of templates, the difference between Wix and WordPress.com is like the difference between day and night. Wix currently offers a library of nearly 600 templates, the majority (more than 500) are free.
I insist on the word "currently" because this library is constantly enriched. Also, the richness of the templates is one of the big strengths of Wix.
These templates are not only free, but also of high quality.
Just, take a look at the template library to see it. These templates are all "responsive design", that is to say designed in such a way that your website is displayed optimally on all screen sizes: computer, tablet, smartphone.
WordPress, for its part, offers just under 350 templates, but less than half are free. There are therefore 4 times less free templates available on WordPress.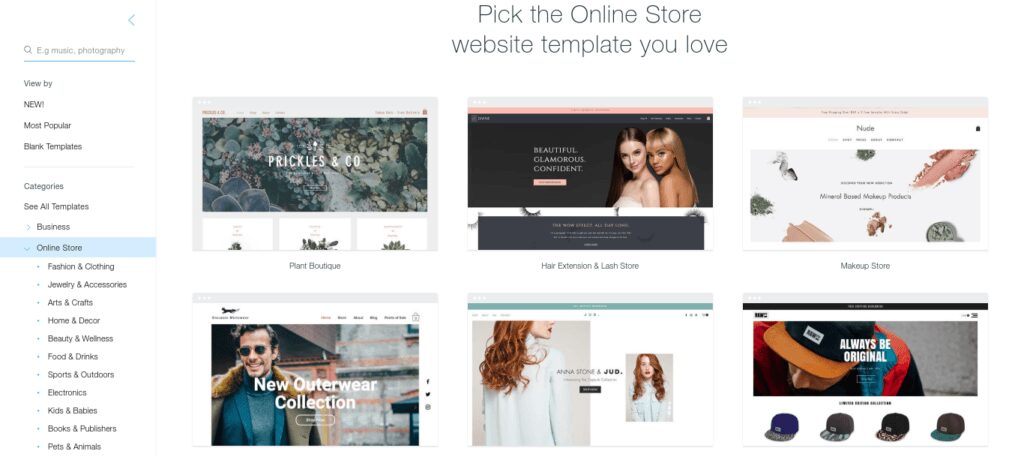 To help you choose, Wix and WordPress classify their templates into categories. Wix offers 15 categories, against 8 for WordPress. But Wix goes further by offering subcategories, as can be seen in the screenshot above.
With Wix, for example, you can choose a template specifically designed to create a nightclub or a bakery site. But, WordPress for its part, only offers 8 categories.
Quantity and variety are two distinct notions. In this case, WordPress offers a relatively good choice of free templates (a little over 150), but the variety is quite low because it is a lot of templates of the "blog" type.
If you want to create a forum kind of site, an online CV, a portfolio, it is a bit complicated with WordPress. On the other hand, if you want to create a blog, WordPress offers more choices than Wix.
Wix is ​​easier to use than WordPress

---
If you plan to create your first website and / or are not very comfortable with this activity, be aware that Wix templates are much easier to edit and customize than their counterparts in WordPress.
The Wix editor is indeed one of the most intuitive and easy to use on the market. It is based on the drag-and-drop mechanism.
For example, if you want to add a form at the bottom of the page, simply choose a form in the left menu and drag it to the desired location. You then have a small pop-up window that allows you to customize the item.
Also, you can modify (or delete) the elements already present on the page by clicking on them.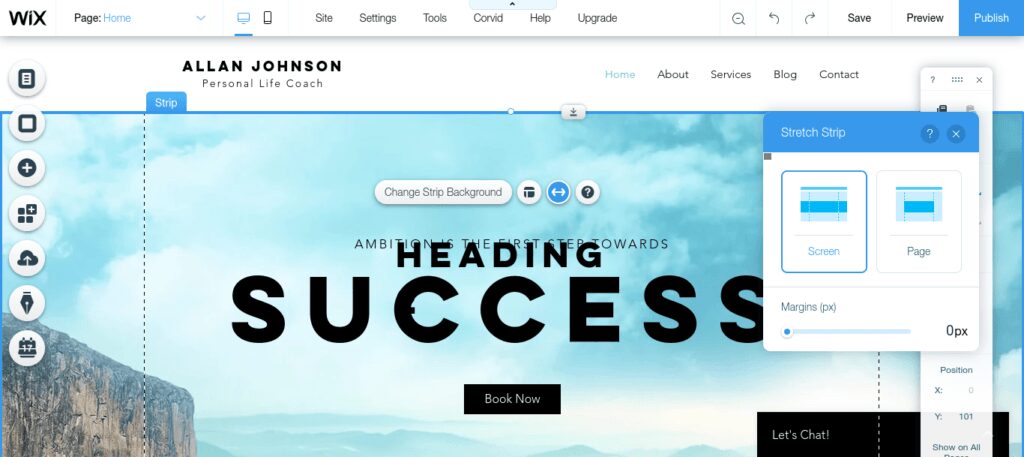 With WordPress, it's a bit more complicated. You cannot customize your template using this drag-and-drop technique. You must edit and configure each page and article individually.
What's more, you cannot view your changes in real time:
when you edit your site, you do not see it as visitors to the site see it, you work in a back office.
If you want to add applications to enrich the features of your site, you can do it very easily with Wix. The publisher offers a wide range of applications of all kinds, in total more than 250 applications that allow you to install on your site in a few clicks a forum, a contact form, a livechat, an online booking system, a newsletter, a calendar, a Google Maps, a countdown, etc.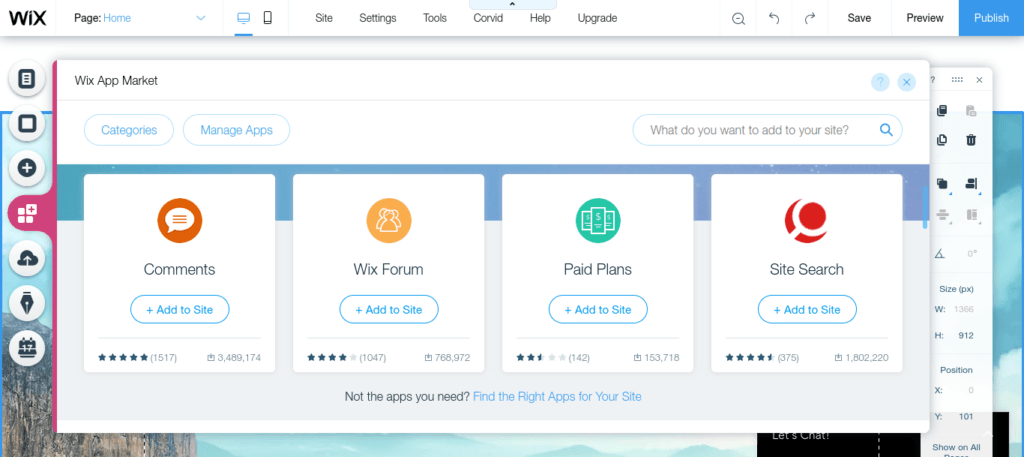 For WordPress, you must opt ​​for the Business formula at about $30 (at time of writing) to benefit from applications that are not integrated into your template. Creating a site with Wix is ​​a real pleasure. We cannot say the same thing about WordPress …
As a reminder, in this article, we are talking about "WordPress.com", not to be confused with WordPress.org. To learn more about this distinction, find out what are the differences between WordPress.org and WordPress.com.
WordPress is more mobile-friendly than Wix

---
Overall, the WordPress templates are more "mobile-friendly" than those of Wix, even if we saw that all the templates of Wix were "responsive design".
With WordPress, templates are automatically optimized for mobile. On Wix, you have to spend a little time optimizing the mobile version of your site's pages yourself, because the display is not always satisfactory.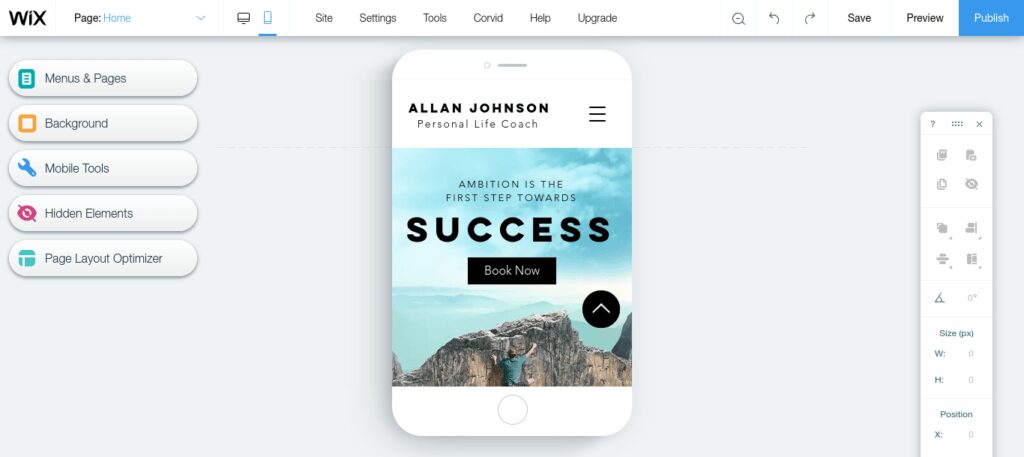 Nearly 100 free WordPress templates are optimized for mobile. If you want to easily create a highly optimized mobile website, without having to worry about editing the mobile version, WordPress is the best choice.
Find out how to SEO seduce Google in 4 steps.
On the question of portability, WordPress crushes Wix

---
There is really a point on which Wix clearly does not carry weight against WordPress, as far as free web design templates is concerned, it is the one that deals with the portability of themes and websites.
Specifically, if you choose Wix, you cannot change templates or migrate your site outside the Wix ecosystem. You are trapped! If you want to change the overall design of your site, you have to start from scratch.
With WordPress.com, it's different. You can change templates as you change folders. You just have to install it and activate it on your WordPress admin interface.
It's simple and it only takes a few minutes. In 95% of cases, your content will remain unchanged. It is possible that there are applications that are not supported by the new theme. This is the only problem you may encounter.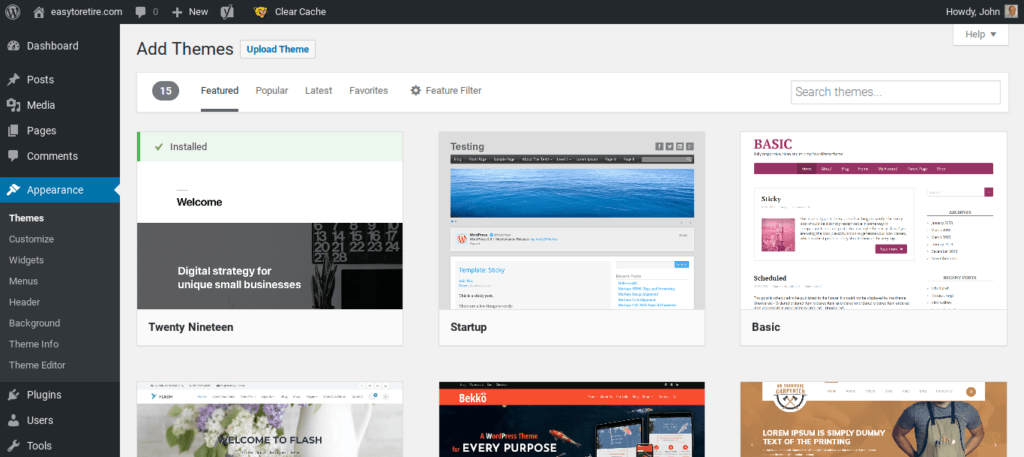 With WordPress, you can export your site to a new server without difficulty. You can copy all your files, databases, and themes to a new solution. Most hosts will offer to migrate your website for free.
Paid WordPress templates are cheaper than Wix ones

---
The templates of Wix are not paying in the classic sense, in the sense that you could acquire them for a certain amount of money. That's why some people say that all Wix templates are free.
On the other hand, certain templates can only be used in higher subscription packages, this is the case for e-commerce templates in particular.
You can choose them, but you will not be able to use the e-commerce features until you have subscribed to the e-commerce formula. It is in this sense that we can talk about paid templates.
What good is having an e-commerce site template if you cannot install payment buttons? … If we take into account the cost differential of subscriptions between the basic formulas and the e-commerce formula, we understand that some Wix templates are very expensive.
If you opt for the WordPress.com Premium Formula, you have access to all the templates. The "Premium" plan costs 8 euros per month, the equivalent of Wix's basic "Combo" formula.
Free templates: Wix vs WordPress my final word

---
The choice of the website creation solution depends on two essential parameters: your level of technical skills and your needs.
If you are a real beginner, Wix is ​​a great solution. You will never have to code anything. You will never even see a single line of code from the interface! Wix is ​​also a very good solution for small businesses looking for a simple site to implement and offering e-commerce features.
If this software looks like it is for you, I encourage you to give it a try and see for yourself.
WordPress is a better solution for people who have little knowledge of coding and who want to have more control over their website. From the Premium WordPress formula, you can customize the CSS code of the site.
Which has the best free web design templates?
If I had to designate a winner, let's say that Wix passes slightly in front of WordPress, because of the wide variety of its templates and its extreme simplicity of use.
Wix is ​​a very good starting point for the perfect neophytes. It is quite possible to create a very professional site at design level with Wix.
Otherwise, let's be honest, you will be a little limited in terms of customization (design). When you have progressed in web-design, you will probably be tempted to change the solution, but for beginners there is hardly any better choice than Wix.
I hope that you benefited from reading this review of the free web design templates and that you have now made your choice between Wix and WordPress.
If you want to learn more web designing for your business, hobby, or just pleasure, just click on the banner below to …

Thanks for reading
---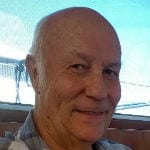 Once you have made your choice between these two free web design templates, and used them, please make sure to come back here and share your experience.
Should you have some recommendations to make concerning this particular article, we would be happy to hear about them. And, if you have any questions and wish to have an answer, please make use of the comments box below. I typically respond within 24 to 48 hours.
If you found this article useful, please share it socially and write your valuation as a comment below, I will be most grateful!
As a Premium Member at Wealthy Affiliate, I learned how to share my passions with the world. You are very welcome to become part of my team of very successful netpreneurs and to become a successful business owner and to live your laptop life. I will be your personal mentor for FREE. It is 100% FREE to join, learn and earn! Click the button below and let's …