The Ecom Freedom Blueprint Scam Review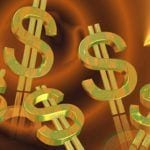 What you didn't know about The Ecom Freedom Blueprint …
The Ecom Freedom Blueprint scam review is intended to answer a few questions that you may have about this online money making opportunity. If you are looking for an unbiased review of The Ecom Freedom Blueprint, you will find here exactly what you need to know before deciding whether you should get involved with this money making opportunity or not?

You have landed in the right place. In this open minded review, I will honestly share with you exactly what I have learned during my research and interviews about this program and how it works, so that you can decide for yourself if it is a scam opportunity or a legitimate business that is worth getting involved with.

This is what we are going to look at during this review …
A brief summary of The Ecom Freedom Blueprint
What is The Ecom Freedom Blueprint about
How does it work
What I like about this program
What I don't like about it
My final thoughts on The Ecom Freedom Blueprint
Let us compare …
The Ecom Freedom Blueprint scam review
---
So first things first, let's get a brief idea of what is The Ecom Freedom Blueprint.
1 – A brief summary of The Ecom Freedom Blueprint
Product Name: The Ecom Freedom Blueprint
My Overall Evaluation: 3 ★★★ out of 5 ★★★★★ – PASSED
Cost: $47 + HUGE upsells 
Founders/Owners: Teo Vee
Website: leadmagnetspecial.com/start.php
Head Office: Most likely Panama
Training: Yes
Support: Yes
ScamAdviser Trust Rating: New Site (48%)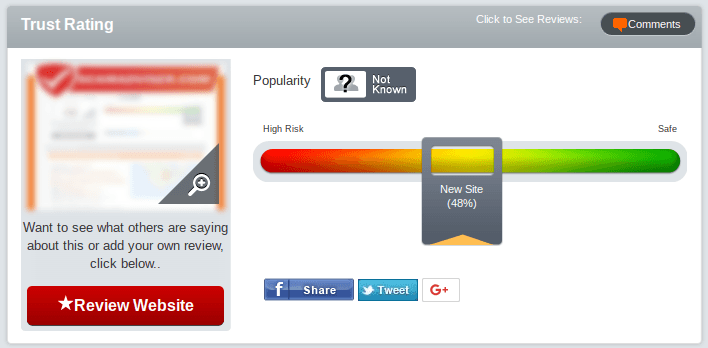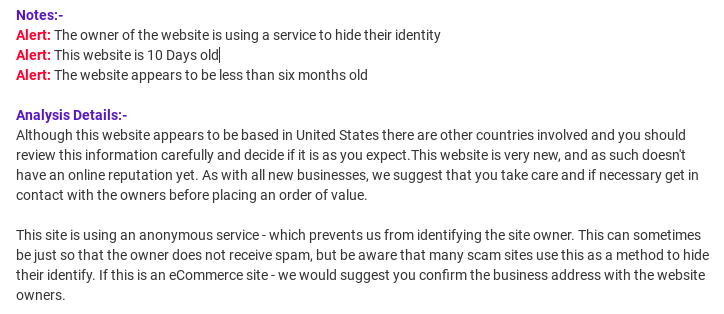 2 – What is The Ecom Freedom Blueprint about
I landed on The Ecom Freedom Blueprint (leadmagnetspecial.com/start.php) really by accident. What caught my attention is that it was claiming to be the "#1 money making secret of the highest paid online business owners". So, I had to find out more about his bold statement.
This website is provided by a chap by the name of Teo Vee. He is in fact someone I have come across before. He is creator of a few websites I had the pleasure to review. Some of them are: "Get The Discovery", "Get This Plan" and "Passive Money Miracle" …
In reality, Teo creates many different websites to promote just ONE program in the name of "My Ecom Club".
The trick is that all these websites seem to be marketing something different; when in fact, it is not the final purpose. They are ALL made to market this one and only program.
The idea behind using that many different websites, you probably have understood it, is to act as a fishing net; … it catches fish of different species, sizes and shapes. In other words, it permits him to make use of different marketing 'hooks'; so that he can sell this one and unique program to a larger variety of people. Which means that one site will be aimed at a younger public, while another is targeting retirees, etc.
But as you understand it, they ALL end up to the same unique program: "My Ecom Club". Clever hey?
However, the cost of joining this program is $47. It is supposed to teach you how to get started with eCommerce. You will also see on the sales page a few impressive testimonials; from people claiming that they are earning US$1,000 a day!
So it is definitely enticing!
The question is: does it really work? and if yes, how? This what we are going to see now …
3 – How does it work
Basically, The Ecom Freedom Blueprint works more or less like all of the other 'My Ecom Club" funnel sites I have had the opportunity to review.
Usually, the first contact that you will have with this program is when you will receive a spam email. It will be telling you about an incredible opportunity, at least, that's what i got. Then, when you follow the link in this email, you will land on a sales page.
This sales page tells you just about everything you need to know about making a LOT of cash online; with very little effort and very quickly. This sort of spam pitch is not new to me at all, I am used to read much 'spammier' sales emails than that to be honest, however this can be considered as an average 'make lots of money online' pitch.
If you were to click on the 'Order Now' button, you would land on exactly the same order page that all websites promoting "My Ecom Club" utilise. A normal generic web page that does not even show you the name of what you are about to buy.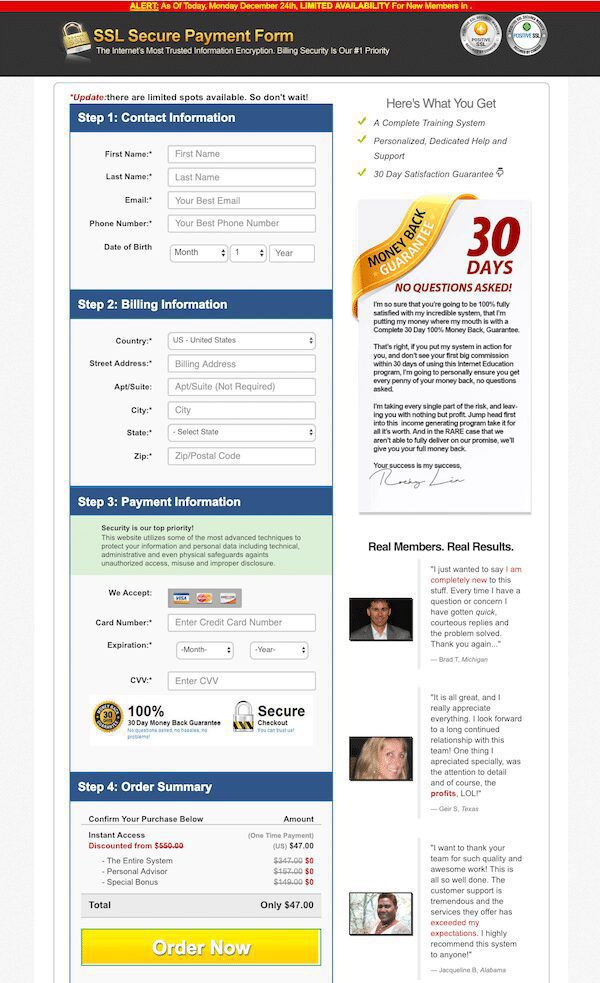 If you place your order and buy, you have access to a very basic training about making some money Dropshipping.
What is Dropshipping?
This is some kind of eCommerce type of business model where you supposed to sell some actual products on an online shop. In this particular event, it is with a Shopify store.
Obviously, the way it works is much easier than if you were to create your own online shop and offer physical products, fulfilling the orders, collecting payments, and following up on orders, etc. Here, you are partnering with some wholesalers who will do everything for you. All you have to do is to promote your shop and collect your commissions and the sales that came through it.
Of course, it is a legitimate kind of business model which can earn you money. Many people are operating this way, and some, very successfully too.
Not that easy though!
But it is not as simple as the website insinuates, suggesting that they know some 'secret tricks' and 'little known techniques' that will get you to make some huge profits in no time at all, and with very little effort. From experience, I can tell you, a business is a business, and a business takes time, effort and persistence to build. There is no shortcut, or magic recipe available!
One thing that I want to remind you, is that you can expect to have some HUGE upsells offered along the way. The initial signup fee is only US$47, but this is just the start. Are you sitting comfortably?.. The first huge upsell will be around US$2,000! That's right, no typo here, I did say two thousand dollars US!.. and it only gets more and more expensive from there on. And don't forget that you will have huge advertising costs in order to get traffic to your online store.
I can imagine that at this stage, you are thinking "why bother to continue reading about something that you cannot afford anyway?". You are quite right, so let me show you my #1 recommended business opportunity. This one is most likely to be up your alley, because, first it is FREE to join, no hidden upsells, in fact NO upsells at all, ever, and you get … but find out all the details for yourself. Click on the button below ⬎

Okay, it's not all bad with The Ecom Freedom Blueprint. It is not what we can really call a scam program. It just has the too often hype phrases and promises that we see all the time, which unfortunately scammers make use of all the time. Well, it seems to work isn't it? But, let's see …
4 – What I like about this program
As I said in my summary, The Ecom Freedom Blueprint scam review is based on a brand new website that is only meant to promote My Ecom Club. It is quite neatly created program I must admit.
The training is easy to follow, and the principle, although nothing new, can be learned by anyone, with no particular experience in marketing online.
The very affordable initial fee is at only $47 which offers you a training, helping you to start your own Dropshipping business.
And now …
5 – What I don't like about it
The upsells are horrendously expensive. And in any case, it is not something 'secret' that they are going to reveal if you agree to pay in excess of a thousand dollars for it.
This program will not lead you to some quick and easy cash online, as they make you to believe.
You could learn how to build your own Droshipping business for free by watching some YouTube videos.
Or you can even learn how to start your own very profitable Internet Marketing business for free by clicking on the banner below ⬎

A real businesses requires time and some effort to become profitable, and this so called 'unique system' has not reinvented the wheel.
We know that a great percentage of online businesses struggle to become profitable in their first year or two, and The Ecom Freedom Blueprint has not discovered the magic recipe to success.
6 – My final thoughts on The Ecom Freedom Blueprint
I tried to give you the most accurate and honest review on The Ecom Freedom Blueprint. One thing that I can say is that it is not a scam program. The only thing that I don't like is that you are not made aware from the start about where you are going and what the upsells are.

But fair enough, would you join if you were told from the beginning that it will end up costing you thousands of dollars just to start a business of your own? Most likely not, especially that we know that you can learn all that for free if you take the time to search, Or …
Luckily, there are some more serious ways for an average person, with very little, or no knowledge at all of doing business online, to start a very profitable online business, from home, during their spare time, etc. And, I very well know that because I have done it myself.
It is called Wealthy Affiliate. Heard of it? Well, if you are looking for a way to make serious money online, this is where to go. Whether you are a newbie to online marketing, or an experienced business owner, this is for you. It is FREE to join, learn everything you need to know about making money online, and there are NO upsells whatsoever, and there will never be. They hate upsells anyway.
For interest sake, let me show you what the difference is between The Ecom Freedom Blueprint and my #1 Recommendation, which is Wealthy Affiliate, then you can decide for yourself which you would prefer joining. Okay
7 – Let us compare …
If you clicked on the green button above, which I hope you did, you must have seen me on the following page. And I hope that you continued and created your free account because, as a gift, you will benefit from my one-on-one coaching.
It is quite a valuable gift because, I have not told you yet, but I have over 15 years of online marketing experience under my belt, and I am going to share my knowledge and experience with you for free, on top of the totally FREE first-class Internet Marketing course that is already included in your membership. So, if you have not done it yet, do it now! …
And don't forget to subscribe to my newsletter so that you will be instantly notified by email when a new review or marketing tip is made available for you to read. Just follow this link ~~> Subscribe to my Newsletter!
Thanks for reading
---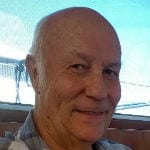 I hope that you enjoyed reading the Ecom Freedom Blueprint scam review. If you have any other tips in this particular field, my readers and myself would like to hear from you.
And, should you have any problems and would like to find a solution, please make use of the box below and someone and/or myself. I will respond typically within 24 to 48 hours. If you enjoyed reading this article please share it socially and post your appreciation in the comments area below, I will highly appreciate it!
I am a Premium Member at Wealthy Affiliate, where I learned how to share my passions and successes. You are most welcome to join my team and learn how to become successful in business and retire early. I will personally mentor you for FREE. It is 100% FREE to join, learn and earn! Click the button below and I'll see you on the other side.

Easy to Retire – Copyright © since 2017 to date!