How to Get More Subscribers on YouTube Channel – 12+ Incredible Ideas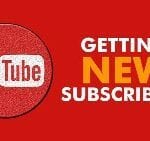 YouTube is one of the most popular video sharing platforms to enhance your popularity. One of the key metrics to measure your success on YouTube is the number of subscribers your channel gained. So, if you have more subscribers, you will get more views for your videos. 
However, posting videos regularly has the key to increase your YouTube subscribers count. Because if you post countless videos, you will get the chance to watch your videos frequently. Hence, you can easily get more engagement, likes, and shares on YouTube. So, here are …
12+ Incredible Ideas To Get More Subscribers To Your Channel
Let's be detailed!
#1. Create & Upload Highly Watchable Videos
Creating the best of the best content is a great way to grab your YouTube subscribers and get more videos to your videos. Here are few ideas to make killer videos than the competition: 
Do your research – Find and watch your competitor's videos and other industry videos to get a better idea. Also, use your own creative ideas to do it better and try to tell your own message, don't copy others videos. 
Make a script – Script is the important strategy to make your video successful. So, you have to plan your script to convey your message in the most powerful way. 
Get an impression – Did you know? 20% of viewers decide whether or not to watch your videos? It's important why you should make an impression in the first few seconds of your YouTube videos. 
#2. Upload Videos Regularly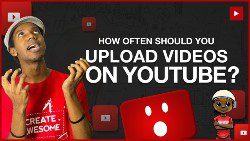 There is no doubt consistency and work regularly helps to increase your YouTube subscribers. According to the research, YouTube channels upload videos daily which perform better. 
When someone subscribes to your YouTube channel, they will receive a notification whenever you publish a new video. So, if they get an email every day or once a week, you will get a chance to engage with your video. 
However, using a frequency strategy gains more subscribers to your YouTube channel. Once you're done with the uploaded content on YouTube, you should also optimize them to get a higher rank. 
#3. Develop Your YouTube Channel 
In order to gain more subscribers on YouTube, you need to optimize your channel. It is one of the best strategies to enhance your brand reach and also increase your social presence. 
Here are some of the simple ways to increase your channel growth:
Create a YouTube trailer – A trailer is a way to give your audience an idea of what's about your channel. By making trailer videos, you can also give your audience a preview about
Your video release schedule
The type of content your post
An idea of your future videos.
your brand products &s services
Design attractive look – Make your YouTube channel by using relevant keywords, channel art, description, as well as tags. You also have to include an effective call to action at the end of your channel description. 
Add playlists on your homepage – If you have a lot of videos, you can arrange them into several sections and playlists on your home screen. 
#4. Create Quality Videos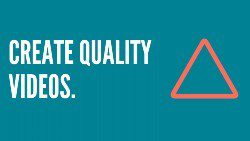 Most people don't like to watch poor videos and audios. So, you have to create and post high quality videos on YouTube to get more engagement. 
If you have a professional video on YouTube, people will likely watch your videos. Here are few steps that will help you to build your reputation: 
Set up an attractive background and use bright lights during recording videos. 
Choose the best video editing software to edit your videos. 
Ensure that you capture your video in a peaceful atmosphere with no noise in the background. 
Capture videos in 1080p to increase visibility. 
Plan your video script before recording videos. 
#5. Optimize Your Videos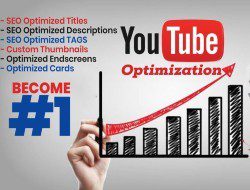 Optimizing your YouTube videos helps to get a high content rank on YouTube. If people see one of your YouTube videos, they also interact with your content by liking, replying, or coming to your videos. 
If you want to reach your YouTube videos among your target audience, you have to optimize your video elements such as the video title, description, video quality, meta tags, and much more.  
Title – Using an exact keyword in your YouTube video title will also help you get more views and subscribers.
Description – If you write the video description, you should add all the necessary information, such as keywords, links, and timestamps. 
Tags – YouTube video tags help other users to find your videos easily. 
Links – Adding other video links in the video description gives you the chance to show your videos in front of a wider audience.
#6. Add Relevant & Eye Catchy Thumbnails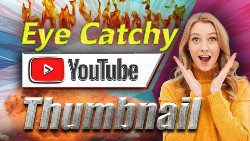 YouTube thumbnails are the small images that help to preview your videos. YouTube users will see your video thumbnail after they search for the keyword. Thus, you should add eye-catchy thumbnails if you want YouTubers to click on your video and watch. 
There are several ways to make the best thumbnails, here are few techniques: 
Use title text in your video thumbnail to easily identify your videos. 
Add contrasting colors to attract your audience. 
Use quality and also best images. 
Select 1280*720 pixels with a minimum width of 640 pixels size thumbnails. 
With YouTube video thumbnails, users can easily specify what the video is about. So, you can easily create thumbnails for your videos by using content creation tools. The easy way to create the best thumbnail is by taking a screenshot from your YouTube video, which also helps to show a real look of your videos. 
#7. Publish Lengthy Videos
YouTube is one of the powerful networks for sharing lengthy videos. You can upload videos for up to 12 hours on YouTube. Most people love YouTube for watching videos to gain in-depth knowledge. 
Longer videos always get a high rank on YouTube search as well as it keeps user engagement. According to data, longer videos encourage many people to build a community and also grow the audience on the internet world.
#8. Add Engaging CTA's In Your Videos
Are you wondering how to gain more viewers and subscribers to your YouTube channel? 
Call to action is the best way to drive clicks on your website and grow sales online. For marketers, YouTube allows you to add an effective call to action in the form of end screens and cards into your videos. 
End screen – an end screen is just like a screen, and your call to action will appear at the end of your videos. It will help you to encourage your viewers to subscribe, point them out to move on to the next videos, promote your websites, and much more. 
Cards – It allows you to do more activities while watching videos on YouTube. For instance, it invites viewers to a specific URL, promoting your channel, showing a video or playlists, and polling your audiences. 
#9. Share Your YouTube Videos On Other Platforms
If you want your videos to get more subscribers outside of YouTube, promoting your videos on other platforms is a smart strategy. Here are some useful tricks to promote your videos: 
Social media –  Use the different social media platforms which you already have a large following, such as Instagram, Facebook, or Twitter. 
Influencer marketing – Influencers have a massive following, so you can easily reach your content in front of a wider people. It will help you to gain a lot of subscribers to your YouTube channel. See also: "How to Become a YouTube Tech Influencer".
#10. Share Informative Contents
If you want people to watch your videos and subscribe to your channel, you should create engaging and informative content. Here are few techniques to create amazing contents: 
Make your content relevant to your target audience. 
Plan your video script before creating videos, which helps you cover all the relevant points. 
Give real-life examples to your content that will help people easily understand your concepts. 
Always make videos with your original content. If you use other user's content, people don't like to watch your videos. 
#11. Ask Viewers To Subscribe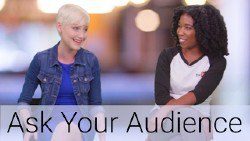 Are you trying to get more subscribers to your YouTube channel for free? 
Asking your viewers to subscribe to your channel is the best strategy to increase your rank. Simply, you can ask people to subscribe to the intro of your YouTube video. 
For example, "Hello everyone, welcome back to my YouTube channel. Please subscribe to our channel to get more interesting videos!
You can also include a subscribe watermark to your videos. It is an excellent way to remind people to subscribe to your channel. It is a small icon that displays in the bottom right corner of your video. A YouTube watermark can be a brand name, logo, or a simple call to action. 
#12. Host A Giveaway
Hosting a giveaway is the best way to grab a lot of attention from your YouTube channel. Some people think that they have a large channel to host an interesting giveaway at a reasonable price. 
But, most small channels on YouTube start to host giveaways with a simple price to increase their subscribers. You can simply run a giveaway with a 50 dollar gift card as a prize to get a lot of content entries to your channel. 
There are lots of tools available in the market to run awesome contests and giveaways. For example, "rafflespress" helps you to build an effective giveaway landing page. 
Wrapping Up: 
There are endless opportunities to grow your YouTube subscribers! One of the best strategies to attract your viewers is when you focus on creating and posting the best and high-quality content. It will help you to grow your channel, generate sales and enhance subscribers organically!
Hope you enjoyed reading this tutorial. If you did, make sure to share it with your Twitter followers. To do so, simply log onto your Twitter account and then click on the bar below. Thanks for doing that …
12+ Incredible Ideas To Get More Subscribers To Your Channel – Must Read and reTweet please #youtubechannel #YouTube #YouTubeVideo
Click To Tweet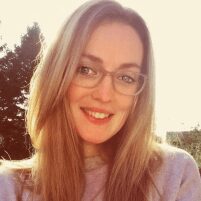 About the Author:

A social media expert, Victoria Daniel is also a writer working in PixelGroovy. Victoria is a frequent contributor to some well-established IOT blogs. She has been involved in Internet Marketing since two years. You can also find her on Twitter