Is The Income League A Scam?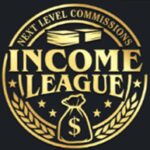 Can we really make $1000 a day just by posting advertisements?
If you have been searching for some online money making opportunities, you must have come across the Income League. Perhaps, you have watched some videos. And, you are most likely asking yourself: "Is the Income League a Scam? Or, is it yet another one of these cleverly set up scams?".
Is it really possible to make $1,000 in a single day? Yes of course it is possible, and even more than that, but maybe not with the Income League money making opportunity.  Okay, but, is it really that bad? Is it a scam, or is it a legit program?
This is what we are going to find out in this detailed review.  But to save you time, here below is a recap of my evaluation:
Product Name: Income League
My Overall Evaluation: 3 ★★★ out of 5 ★★★★★ – PASSED
Cost: $47 – Downsells at $24.99 followed by 3 upsells
Founders/Owners: Jamie Lewis and Matthew Neer
Website: Income League
Head Office: USA
Training: Some training
Support: Some support


Positive points:
It is a legitimate system, no doubt about it
A basic training is included
Sold on ClickBank with a 60-day money back guarantee
Negative points:
Loaded with hype
Not as easy to make money as they say it is
Getting traffic to your offer could cost you a lot of money
Using your email list could cost you loss of credibility
You will need to buy upsells to get full training
After reading this far, you might feel that you know enough about this opportunity and do not wish to go any further. But you are still looking out for ways to make some honest money online. In this case, may I suggest that you check this one out  …
Still here? Okay then, let's see what the Income League is all about …
I am quite sure that you are aware of the number of programs out there that are promising quick and easy money. You might have even joined dome of them and wasted your time and money.
For you I have tested this money making opportunity and questioned a number of users to come up with this review. So, here, you will find what it entails to be involved with this product, in total fairness.
It will then be up to you to decide whether or not it is worth being associated with the Income League opportunity which claims to make you money when posting free ads.
Who is behind Income League?
---
While researching this opportunity, I discovered that it was not the first program that Matthew Neer had created. He, in fact, has quite a few to his name. Here are some of them:
Viral Cash App
Speedwealth Commission System
Wealth Ascension System
5K Formula System
Operation 10K and
List Leverage
Visibly, Matthew is a visionary with a flair for money making products, but are his programs of appreciable quality and does he teaches marketing techniques that are recommended to follow? This is what we are going to find out in this review.
You might like to take a break and signup for my free Internet Marketing Course ⬎

As I have been interested in what Matthew was up to for some time, I was on his mailing list, therefore I know that he was promoting what I consider as being low-quality products. Personally, I have never been very much interested in doing business with him.
On the other hand, it is comforting to see that he is not shy to put his real name to his creations which normally dodgy internet marketers don't do.
As for Jamie Lewis, he has been in this game for some years now and is responsible for developing several programs already:
IM With Jamie
How to Make Quick Money Online
The Last Goldmine
Domainer Elite
and several more.
To be frank with you, I have not yet tested or reviewed any of them yet so, at the time of writing this review, I can't comment on them. But as I intend to do you in time, I will post a review when done. So, if you wish to be notified as soon as it is done, make sure to join my mailing list which is located on the right column, towards the top. But, there one thing that I know about Jamie is that he is a millionaire and he made his fortune marketing on the Internet. So, He knows what he is talking about.
Like Matthew, Jamie is not afraid to put his name on his creations, which is a good thing!
Income League … what is it about?

---
A product that is created by two well known and successful marketers can only inspire confidence. Matthew and Jamie offer to show you how you can make money just by placing free ads online. Couldn't be easier, right? Whenever you need to make more money, all you have to do is to post more free ads.
The way the system is supposed to work is by getting traffic to your landing page which is intended to collect email addresses in order to build a mailing list. Then, all you have to do is to promote products of your choice to your subscribers. When they buy something, you earn some commission. That's not rocket science, so, why pay $47 to learn just that, plus the upsells to learn more of something that you can learn for free by doing some research online. Or, even better, by simply going directly here ➸ FREE Internet Marketing Course and Mentoring.
Basically, your task consists in getting people to your capture page.
What about the sales video?
---
Jamie Lewis and Matthew Neer are the actors in the sales video. Matthew act as a successful internet marketer and Jamie is a skeptical prospect enquiring about how successful Matthew is making his money.
As you can guess, all is not revealed regarding the workings of the system. To get the recipe, you have to pay my friend! The only thing you get to learn from the sales video is that Matthew makes loads of money and he displays some screenshots of his earnings.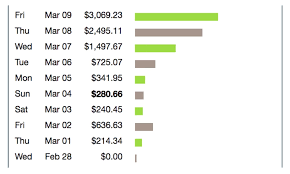 But, nothing proves that these earnings are the results of working the Income League opportunity alone. We know that Matthew Neer made a lot of money in creating several programs that are sold on ClickBank, which means that the earnings shown in the screenshots could have been taken from one of his most lucrative programs, or the combination of all of them put together.
Remember also that there are so many affiliates that are marketing Matthew's many programs and he could have very well picked the results of one of his best affiliates, which may not necessarily be his earnings for marketing the Income League. Personally, I would qualify this proof of earning misleading.
Matthew says that whenever he wants more money, he just posts more of these enigmatic "small ads" and affirms that he only works a couple of hours a day. Hum!
One of  Matthew's comments which put a smile on my face is "We are only doing it for YOU, we can do without the money". Yeah right!
Okay then, why is it that I receive many emails each day, coming from Matthew, offering me  crappy products? So, are they doing it for me? Or, is it to try to make themselves even more money? Not only I paid for a program, but I gave them my email address for free, so that they could send me more programs to buy. Does it surprise you now that THEY are making loads of money, and not YOU, or ME?
In their sales pitch, they say that the the fee you are paying is only to cover part of the cost of the landing pages provided and the hosting. You know, a support team and a bunch of programmers costs money.
The sales video, which I am showing you below is not one that we can consider as the most professional type, but perhaps they are trying to reach out to the newbies. It repeats my earlier statements: easy to make money, hype, little work required, not sure whether the testimonials are genuine, and if they are, do they have anything to do with the Income League program?  So, watch it now and see what you think …
Hope you enjoyed it. Now, I am not here to sell you anything, although, you know that we are all here to make a living. I am just trying to give you a fair review of a money making opportunity that you might like to be associated with, why not? I cannot say it is a bad move if you joined. You might love it and make money. So, if you think that this is something you would like to do, then, feel free to give it a try by pressing on the button below:

But if you are not totally convinced that this is really your cup of tea, and that you would prefer to join a FREE money making opportunity, with a full on training and probably the best support system, then it might be wise that you take a look at …
Okay, still here? There is still much more for you to know …
How does Income League works
---
The Income League program is teaching you a well know form of online marketing which works very well with affiliate marketing which is email marketing. Have you heard the phrase "The money is in the list"?
Well, you will learn how to build your email list and how to market any products to your subscribers.
There is no secret, it is how Matthew is making his money. It is the simplest way to promote and sell a product. Very little skills to learn, and when it's done, it's done. You just repeat the process over and over. I have been on his mailing list for years, and have been promoting some of his products very successfully, some not that well. I have been watching how he proceeds, so I am receiving emails from him literally every single day, with offers for some of his ClickBank products.
So, is the Income League a scam?o To be fair, it is not, because I know Matthew Neer and Jamie Lewis quite well now. I know that they are honest, but it is just the hype they use to promote their money making opportunity that annoys me a bit.
But wait, there is more …
---
If you really want to build a very successful Internet business of your own, that will earn you a serious regular income, for years to come (no hype here), you need to follow a proven method. It cannot be done in just a few clicks and by spending roughly 2 hours a day on it, trust me!
Personally, I strongly believe that if you want to sell a product successfully, you need trust your product 100%. Use it and believe in it. I know and use both the Income League opportunity and my #1 Recommended Affiliate Training Program which is Wealthy Affiliate, of which you can read all about by following the links.
It is definitely much better to market products that you really believe in. Your readers deserve to know the truth. This is why they are visiting your website in the first place. For this reason, I have prepared a comparison chart for you to judge for yourself and make the right choice.
 So here is Wealthy Affiliate vs Income League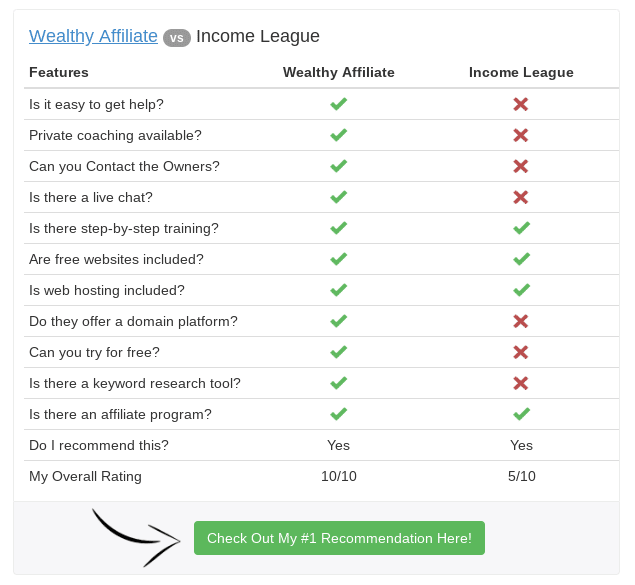 First of all, your aim should always be to help your readers. Either it is the recipients of your mailing, or the readers of your website or blog. Once you gained their trust, they will respect your recommendations and only then will deserve to earn money.
And this is not as easy as it is suggested by Matthew for the Income League.
Perhaps you'd like to take a break now, and meanwhile you can subscribe to my free Internet marketing course below:

Now, let's talk about the Training
---
You can find a bit of basic training that can be quite sufficient for the newbie, or perhaps and already experienced affiliate marketer who want something simple and add an extra stream of income to his or her business portfolio. In this "training", you will learn how to:
open your ClickBank account
select and set up an autoresponder
get traffic from paid ads. You are suggested some traffic sources
embed your unique affiliate into your sales page
Matthew will recommend some "top selling ClickBank affiliate products" for you  to promote. Guess what they are … surprise?
You've got it, they are his own products! So for you to make money with the Income League program, you will have to promote similar low-quality products.
Another thing that bugs me a bit is that the training doesn't include how to write a converting email. The program being based on email marketing, it would be obvious that part of the training would include a section on how to do that. But it is not the case. However, you can have some samples of emails to load into your autoresponder, but, guess what? … you have to pay extra for that!
The traffic sources

---
The recommended traffic sources are:
Traffic generation software
Solo ads
Warrior forum ads
Lead generation sites (low-quality ad networks)
Ad swaps
These sources are okay provided you have a marketing budget available for your campaigns but for a newbie it can become quite expensive. Many of the recommended resources point to poor quality methods to get traffic to your capture page which will inevitably get you very few subscribers onto your mailing list.
What will the Income League really cost you?

---
We know already that the basic program costs $47 which downsells to $24.95. Then you will be offered the 3 upsells which you can't really do without. They are: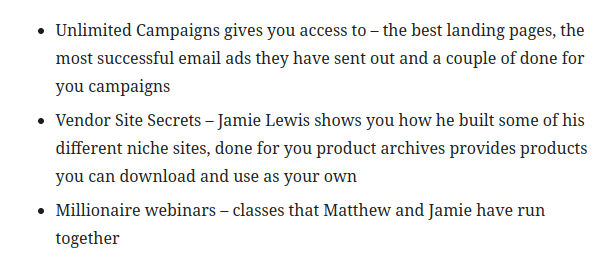 To buy them all will cost you nearly $500! I personally think that if these extras were included in the basic package, the affiliate could have a better chance to succeed, and Jamie Lewis and Matthew Neer to make more money, don't you think so?
Of course, the program is covered by the 60-day money back guarantee. So, if you want to try the Income League to see for yourself if you like it or not, go for it, but make sure to cancel your subscription on time before the guarantee elapses, and directly through ClickBank, so that you are sure to get your refund.
My Verdict

---
It is true that the Income League provides a fair amount of training, which could be sufficient to start with, however, the hype shown in the sales video is definitely misleading. Anyone who has been marketing online already for sometime will tell you that earning money online is definitely not as easy as Matthew Neer and Jamie Lewis are trying to get you to believe.
Okay, the system that you will learn, which is email marketing, will help you make some money, it is definitely a legitimate way of making money online. But, as I have said earlier, I consider the sales pitch rather misleading to my liking, and there are several other issues:
One very important thing to remember, if you are new to making money online, is that building a business online is no different than for a conventional brick and mortar, although it is cheaper to get it started, but it also takes some time, hard work and some proper training. There is no such things as "making money overnight", or "doing nothing", or "we do the work, you make the money" … 
So, don't let anyone get you to believe that it is easy to make money online. When buying Income League you might learn a few things and make a bit of money, but you will never get rich with it. On the other hand, you will succeed in making Matthew Neer and Jamie Lewis, the creators of this program much richer, but NOT YOU!
If you are serious about making some long term and serious money online, from home, and you are ready to put in the work, there are some very reputable online training programs that will really teach you how to build your own online affiliate marketing business. A business of your own that your readers and subscribers will trust and happily join with you.
If you are prepared to work with me and follow a REAL training online, no matter how many hours a day or week you can put in, I will show you what it feels like to become financially free, to tell your boss goodbye, to stay home and take care of your kids, to pay you monthly bills with a smile on your face, etc., then accept my invitation by clicking on the button below …

Thanks for reading
---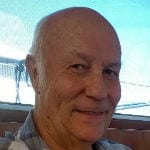 So, is the Income League a scam? I hope that this review will help you decide whether it is a scam or not. If you have any other tips in this particular field, my readers and myself would like to hear from you. And, should you have any problems, please make use of the comments box below. I will respond typically within 24 to 48 hours. If you enjoyed reading this article please share it socially and post your appreciation in the comments area below, I will highly appreciate it!
I am a Premium Member at Wealthy Affiliate, where I learned how to share my passions and successes. You are most welcome to join my team and learn how to become successful in business and retire early.
I will personally mentor you for FREE. It is 100% FREE to join, learn and earn! Click the button below and I'll see you on the other side.
Easy to Retire – Copyright © since 2017 to date!