Copy And Paste Income Review – Scam Or Legit?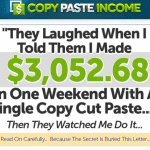 Copy And Paste Income Review – Is it another of Ewen Chia's scams?
Is it legit? Is it a scam? Read on to find out the truth …
As always, in order to give a very accurate review on any program or product that I analyse, I always signup for the highest level of membership so as to leave no stone unturned; or I buy the product and use it myself and/or have someone that I trust to use it.
I guess that if you have landed here, it is because you were doing some research prior to investing on what seemed to you as a possible great product.
So, well done, this is the best way of avoiding scams when you are in search for a money making opportunity online.
Just to give you an idea, the founder of Copy Paste Income, Ewen Chia claims that you "easily" can earn $3,052.68 in a single weekend simply by copying and pasting certain things.
Question is: what is it exactly that you have to copy and paste?
What really makes me laugh is that Ewen Chia believes that he is a prominent speaker. Ah … ah … and,  where is this figure of $3,052.68 coming from? And why is it so important that it is so precise? That gets me beat.
But, one thing that is certain is that it is a clever attention grabber. It is most likely a made up amount, but it seems to work.
Before we get into this copy and paste income review in details, let me quickly introduce this opportunity that you are doing some research on:
Product Name: $ Copy Paste Income
My Overall Evaluation: 2 ★★ out of ★★★★★ – AVOID
Cost: Product sold on ClickBank
Owners: Ewen Chia
Website: $ Copy Paste Income
Founded in: Ewen Chia claims to have started marketing online in 1997
Business registration appears to be in the US
Training: 2.0 / 5.0 very basic
Support: 0.0 / 0.0 I didn't find anywhere I could ask for help.
Marketing Tools: None
WordPress Hosting: Not available
Success Stories: 0.0 / 5.0 Only his personal "achievements"
Product Price: US$37 plus a LOT of Up-sells and Down-sells
EasyToRetire.com Rating: 2.0 / 5.0
Who can benefit from this opportunity: Ewen Chia himself and the affiliates who are promoting his program.
The Copy and Paste Income review
---
In a few words, the Copy and Paste Income program is basically one of the sales funnels that were put together by Ewen Chia for his affiliates to market his products which can only fill more money into his own pocket.
This shows very well in the tactics he uses. I will explain to you below during this review.
As for all the reviews that I make, I leave it to you, the reader, to make up your mind and decide for yourself whether you want to go for it or not. But if you feel that you now know enough with this "money making opportunity", but are still on the lookout for a serious way to make money online, and from home, I highly recommend that you click on the button below ⬎

Okay, obviously, you still want to know more about it, so let's continue …
What is a Copy and Paste Income?
---
A Copy and Paste Income would basically be a way of making money; with a very minimal effort; and with no more skills than to be able to "copy and paste".
As the name suggests, all you would need to do would be to simply copy and paste whatever is given to you by the creator of such program. This simple action should return a profit to you, the affiliate once someone buys into it.
In the case of this particular opportunity under review, it is a highly hyped-up product offered on ClickBank by which Ewen Chia who claims that it helps affiliates to earn thousands of dollars from home with a minimal effort.
As its name suggests, Ewen claims that the ONLY skill you need to make money with his program is the ability to "Copy and Paste".
He also assures that:
The Copy and Paste Income program is the most profitable and fastest way to get yourself into business. As well as making 1,000's of bucks on auto!
Anyone can get it up and running in less than ten minutes
AND (wait for that) … get yourself ready for a future where you will have more cash in your pocket than you will ever be able to spend …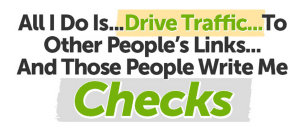 These comments of course can be very tempting for a newbie. But for an experienced online marketer like myself, I can assure you that it is all hype and rubbish.
These are just simply exaggerated and fanciful claims to get you into purchasing his product.
And also he uses a number of screenshots of incomes to make you believe that earning some money online is very easy; that all it takes is to buy the right product …
HIS of course!
Sadly for him, the purpose of this review is to warn my readers. To tell them that making a living online is definitely not as easy as Ewen Chia is trying to make you believe.
Yes, it is true that you can earn a few hundreds and even some thousands of dollars a day. But trust me, it is not by doing nothing. It requires A LOT of work and patience to get get to there.
You might never find out how much work those who have succeeded online have gone through. They will usually publicise their success stories and show you their results, tell you a little bit about how they got there, but they will probably not tell you that they worked on their project day and night.
At this stage, you might think that I simply do not like the man based on my personal feeling; or that I do not like the Copy and Paste system, not at all. It is just that I cannot stand the way he puts it to make believe that anyone can make a lot of money while doing nothing.
For you to understand how I have come to this conclusion, just keep reading …
First of all, who is Ewen Chia?
---
As in everything, to understand how and why things are what they are, one needs to get to the root of it. And I feel that I have the responsibility to expose all of what I have learned while doing my research on Ewen Chia, his business and this particular opportunity that is under review. Get yourself ready to be as shocked as I was when I came across certain details …
Ewen is an internet "businessman" from Singapore who started his online career  sometime in 1997.
He appeared in the media in various parts of the world. He made a fortune online and was inspired to write his best-seller printed book titled "How I made my first million on the Internet".
Even better than that, he spoke at many events and also shared stage with some of the most famous  speakers in the world.
You can watch below a video of Ewen speaking at the National Achievers Congress:
If you watched the video, you will certainly agree with me. This sort of success level is terribly motivating and exciting to many, especially to newbies.
It is obvious that by displaying so much success, folks will easily gain total confidence in any of the products or services he might offer at any time.
This is my main concern about Ewen …
Although I cannot deny that he had a successful beginning, most likely due to his hard work and many sleepless nights, but now, he seems to take advantage of that to suck in innocent newbies into buying his poor quality and overpriced money making opportunities. And once you are in it, you will realise that you need more extras to make anything work …
Such situation will never happen with my #1 recommendation below ⬎

I will give you some examples …
How does Copy and Paste Income really work?
---
If you are smart enough, you will quickly understand that what Ewen claims cannot be right. So then, how can Copy and Paste Income possibly work?
This is what you have to understand …
Copy and Paste Income is simply a program made to help people to make money online through the business structure known as affiliate marketing.
BUT …
Ewen teaches expired marketing techniques that can't work any longer these days. They have done their time but are now way beyond their sale by date. Not cool !
He claims that the only thing you will ever need to do is "copy and paste", "copy and paste". You don't need any other skills, and by doing just that all day long, you will make money.
And why is he saying that?  It is simply because his so called "secret method" consists of only "dishing out free eBooks" that have the capability of, according to him, going viral.
Mind you, Ewen is not the only one to say that. If you have read my review on "Is Auto Affiliate Program (Scam or Legit)" you will understand that there are many who are still taking advantage of this system. Which does work to a certain extent. I know that for fact, as I have made quite a lot of money with Auto Affiliate Program in the past, and still do right now.
In a nutshell, Ewen has a few already written eBooks with Private Label Rights (PLR) contents that you encourage to distribute via various means, and they are free.
Ewen's system requires that you find affiliate products or services online that match the topic of the book and insert your own affiliate links in the eBooks before giving them out.
However, Steven Hall, the creator of Auto Affiliate Program goes even further, as he does that part of the job for you. He looks for the appropriate affiliate links and inserts them in the eBooks that you have to give out for free.
How does that work then?
Very simple: when somebody clicks on your affiliate link and decides to make a purchase, you earn a commission.
How are you supposed to distribute these eBooks?
Ewen suggests that you post these eBooks on your website, places like Slide Share, on forums and Facebook Groups, other social platforms, etc., and according to him, that's all you need to do to make money!
Unfortunately, that worked well some years back, but as so many marketers have milked this form of promotion, it doesn't work anymore. But Ewen is still maintaining that it is the best way forward.
Let me just ask you a question:
When last were you offered a free eBook? And if by any chance you downloaded it, did you really take some time to sit down and read it completely?
It is most likely that it never happened.
So, if yourself you are not doing it, why should a complete stranger spend his or her precious time to read a very poor quality eBook that you have sent them and decide to click on some of your affiliate links that are in the content make a purchase?
Furthermore, if you are not an experienced social marketer, it would be very difficult for you to distribute your eBooks. Even though they are free, simply posting a message and a link on some social platforms, in groups or forum, etc. without having previously engaged with the public and contributed some sort of quality content will have no positive results whatsoever because that doesn't work anymore. Too many people have done it. It is out of fashion.
I hope that you are now beginning to see why it is basically impossible for Ewen Chia's "Copy and Paste Income" system to work?
If by now you are fed up with scams like this, I suggest that you have a closer look at my #1 recommendation below ⬎

The inside of the Copy Paste Income opportunity
---
Once you enter the member's area, you will find just three 3 main sections. Everything else is just rubbish. Here is what I mean by that …
1. The Coaching Videos
Ewen recorded six tutorial videos to introduce you to the principle of dishing out free eBooks in order to make you money using affiliate marketing.
These videos have a grand total of two and a half hours of "training" of totally out of date techniques and hype that do not work anymore these days.
For your info, here is what these 6 videos contain:
Choosing Your Profitable Niche
Finding A Relevant Affiliate Product To Market
Researching Relevant And Targeted Keywords
How To Create A Mini eBook
Promoting eBooks Containing Your Own Affiliate Links
eMail Marketing (Advance Strategy)
What Ewen labels as his "Advanced Strategy" is in fact a very vague tutorial on eMail marketing that has no hope of being successful.
But if you look closely, you will realise that it is nothing more than getting you to promote another of his digital products called "Autopilot Profits".
2. His Copy and Paste eBooks
Ewen offers only less than a dozen re-brandable eBooks containing links into which you can add your own ClickBank ID and distribute them as your own.
For those who do not know and find this idea of distributing free eBooks containing your own affiliate links, I know of a much better program which not only has an unlimited number of eBooks (and of much better quality) which already contain YOUR affiliate links embedded.
I have written a comprehensive review on this seriously totally automated program. As you might guess, it is called the "Auto Affiliate Program" put together by Steven Hall. There you will at least have a proper tutorial, tools, high quality eBooks and 24/7 support.
Coming back to Ewen Chia's program, he also supplies some vague information on how write your own eBooks. You could easily find much better how to on the Internet, and for Free. Or even better, have someone do the whole thing very professionally for you on Fiverr.
The drawback with these pre-written eBooks is that they are definitely NOT unique.
Just imagine for a moment that 1,000 people join the Ewen's Copy and Paste Income program and start dishing out these identical eBooks in order to buildup their business, do you really believe that it is going to work?
3. Support
As simple as possible. You will have access to an eMail support and a help desk pointing you to a FAQ before allowing you to submit a support ticket.
I tested both systems and as I was expecting, it took a very long time to receive a response that wouldn't solve my problem anyway.
And it gets even worse. But before we get to it, you might like to have a closer look at my #1 recommendation below ⬎

Copy and Paste Income Review – The ugly truths revealed!
---
Here is to the best part of it.
If you are a regular reader of my reviews, you can testify that I only write information based on actual facts. So, are you ready? …
1. All FAKE Testimonials
Right in the sales page of the Copy And Paste Income, Ewen posts the words of a person by the name of Brittany who is assuring that she is using the program and is already earning hundreds of dollars a day simply by following his system …
And look at what I have come across during my research:
The picture on the left is a stock image from Free Images. Which means that this testimonial is completely made up, and Brittany is simply a name coming out of Ewen's imagination (maybe an ex girlfriend of his).
If Copy And Paste Income was that good and delivered what it says on the tin, why would he need to use fake testimonials?
To tell you the truth, I don't believe in testimonials, but most people do, even though they know very well that they can mostly be fake.
Unfortunately, this kind of sales practice is very common, because they work!
Personally, I prefer buying the product myself and make my judgement based on the reality. This is what I always do before writing a review.
For example, if you have a look at other money making opportunities I have reviewed, such as Auto Affiliate Program, LeadsLeap, Affilorama, just to name a few, you will see some testimonials. Are they real, or fake? Hard to know really, unless you do some serious in depth research.
On the other hand, honest money making programs such as Wealthy Affiliate will give you access to hundreds of testimonials which are guaranteed to be genuine!
How do I know that they are not fake testimonials? Simply because you can contact any of the reviewers in person and communicate with them. It is, as far as I know, the ONLY program online that gives you this crystal clear insight. In fact, if you want to read some of the testimonials that come out of this program, here are a few success stories.
2. And the Ferrari?!
The far too common "dream builder". Yes, the famous Ferrari … who doesn't dream of owning a Ferrari? And to sacrifice countless number of hours and their life savings to, maybe, one day own one of them?
Oh yes, the Ferrari is real, but is it really owed by Ewen? I don't think so, as again, after doing my research, I discovered that the car is a Ferrari Enzo which in fact belongs to a well known American actor, film director and producer. His name is Nicolas Cage.
The proof? Here it is: Most Stunning Cars Of Your Favourite Celebrities
How can Ewen even think that this will go unnoticed? To claim that it is his own Ferrari Enzo, he must really believe that his readers, and possibly future customers/affiliates are totally ignorant.
He was probably searching for the picture of a Ferrari to put on his website, like many scammers do, and fell on this one, not knowing that this particular one belonged to a celebrity.
3. A complete misleading HYPE!
I just couldn't let this one remain unexplained:
Take a quick look at his misleading income proofs, income claims and compare that to the very little work Ewen says that it is required to devote to this business opportunity. Can you really believe that it is possible? Does it seem to add up to you? To me, they are just lies.
4. An abondance of up-sells
It looks like Ewen is a master of "up-sells". It is the key feature for all his products. He lives on that.
One of his other products known as Autopilot Profits, has not less than 14 up-sells … just in the member's page !! Can you believe it?
Don't be surprise if I told you that Copy and Paste Income is an up-sell offered in Autopilot Profits, and Autopilot Profits is of course an up-sell featuring in Copy and Paste Income.
In other words Mr Ewen Chia is simply using his affiliates to cross promote his products.
I have never seen any money making opportunity during my 15+ years of being earning on the Internet that bluntly offer so many up-sells immediately after someone has signed-up for a program. This certainly isn't happening with my #1 Business Recommendation, where that is ZERO up-sells! A transparent and honest business opportunity doesn't need that.
5. Old-fashioned techniques
As I have pointed out earlier on, dishing out eBooks for free; posting articles in directories, Facebook groups and forums, doesn't work anymore.
We have moved on. Now, we need to build our own blogs or websites and post quality information to bring real value to our readers. And you can't expect anything in return straight off you front page. That would be too easy.
Legit opportunities will first teach you how to put together all these basic elements by offering a full on training course. Scams will just lie to you. Saying how quick and easy it is for you to make a lot of money.
6. Do you think that anyone can access the Member's Area?
According to you, yes or no? Here is another surprise I had when I discovered that to have access to the Copy and Paste opportunity you had to pay $37. Well, I was wrong …
You, me, or anyone can access the member's area by going here ~~> Members Only
7. The paid member's area is stuffed with banner ads
And finally, a paid member will find some advertisements within their Copy and Paste Income member's area.
Such advertising practice should only be reserved to free members. NOT to those who have paid $37 (or $27) to become paid members. It is obvious that Ewen is trying (again) to milk his members to the maximum. This is totally unethical !
By now, you should be fed up reading so much crap about Ewen Chia's ways of making money on his affiliates' back …
so it may be time for you to have a good look at my #1 recommendation below ⬎

Okay, let us ba fair, all cannot possibly bad about Ewen's way of doing business. There must some good bits. So here are some positive areas of his Copy and Paste Income program:
1. The 60-Day Money-Back Guarantee
If you have already had some dealing with ClickBank, you will know that this is an un-contournable condition for selling products on their platform. As Ewen's products are available on ClickBank, he has no choice but to offer this guarantee.
So luckily, the newbies, and everyone else is protected. Which give them time to realise what they have landed on and get their cash back when they find out that they could use the very same system for FREE.
2. Is it a legit business model?
During my Copy and Paste Income review, I have gone through so much research and came across so many opportunities that could be labeled as un-ethical. But is that to say that they are scams?
Probably not. But it is the way that many of them are created to milk their subscribers as much as possible that I can't stand.
All these up-sells intended to gently make you "buy more if you want to earn more" are perfectly legal, but they are not my cup of tea.
I learned about Internet Marketing some years back, when competition was not that fierce; when one didn't need to bleed his or her affiliate like a vautour on its prey to make a living. And I intend to remain part of my old school.
But in order to remain totally impartial for the sake of my Copy and Paste Income review, here is another positive point about Ewen's opportunity …
At least the Copy and Paste Income program is founded on Affiliate Marketing, which is a totally legitimate business form of marketing, which I have been involved with from way back and highly respect and recommend. But I would not recommend it to promote programs such as the Copy and Paste opportunity.
Then, is the Copy and Paste Income a scam or not?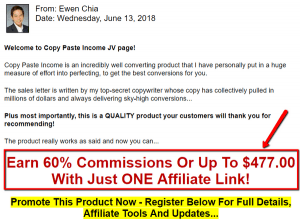 To be honest with you, my reader, and Ewen Chia, I would say, that it is not really a scam. This program as some training (although very basic as we have seen).
But we found so many grey areas and misleading information and false and exaggerated claims throughout his sales process.
So to remain totally open minded, I would conclude that it is not a scam as such. But I would strongly advice you to keep away from this offer. There are much better programs available. It is what we are going to talk about shortly.
I can tell you now, you are not going to make any money with Ewen Chia's Copy and Paste Income opportunity.
But HE will for sure. … And his unscrupulous super affiliates who have no problem tricking newbies into their nets.
Remember the fake testimonials? The Ferrari that doesn't belong to him?
I don't mean to scare you away from Affiliate Marketing. Far from that, but I want to let you know that not all money making opportunities are made for that. Ewen's system is definitely one that will not make you any money that way. That's it!
If you want to stick to the noble art of Affiliate Marketing and learn how to make money with it; and a lot of it. Find the right, high quality, products to work with, that sell, and most importantly have access to a full on training program with an experienced mentor to guide you all the way to success, then, Wealthy Affiliate is the one for you.
Wealthy Affiliate is by far the best and only place where you will learn and earn what really is Affiliate Marketing.
You will find zero fake testimonials and no fake Ferraris. And most importantly, there are no up-sells! Plus, it is totally free to join, learn and earn.
At Wealthy Affiliate, you will learn how to build your own websites and how to promote your own affiliate products. You will follow techniques that are up to date. You will be guided by hundreds of members who have no other interest but to help you succeed.
Ready to make a difference in your lifestyle? Click on the button below and let's get started ⬎
If you wish to learn more about starting your own online business from home, click on the banner below …

You might also like to read the below articles that I have selected for you:
And remember that you can subscribe to my newsletter so that you will be instantly notified by email when a new article is made available for you to read. Just follow this link ~~> Subscribe to my Newsletter!
Thanks for reading
---
I hope that you enjoyed reading copy and paste income review. If you have any other tips in this particular field, my readers and myself would like to hear from you. And, should you have any problems and would like to find a solution, please make use of the box below and someone and/or myself. I will respond typically within 24 to 48 hours. If you enjoyed reading this article please share it socially and post your appreciation in the comments area below, I will highly appreciate it!
I am a Premium Member at Wealthy Affiliate, where I learned how to share my passions and successes. You are most welcome to join my team and learn how to become successful in business and retire early. I will personally mentor you for FREE. It is 100% FREE to join, learn and earn! Click the button below and I'll see you on the other side.

And I have also selected for you a few books that you might find useful for your business ⬎