How To Convert Traffic Into Sales – 4 Killer Tips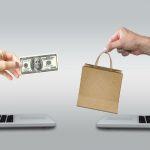 "But, how to convert traffic into sales?" is a question that flooded my email box soon after I published my previous article "How To Attract People To Your Blog". So, instead of responding individually to each one of you, I decided to answer this question in details here.
It was my intention to cover that topic soon, but due to the pressure I was put under, I decided to do that sooner that later to satisfy my avid readers and satisfy their thirst for an answer. So here it is:
First, it is obvious that you must have a website that attracts the right visitors, the right audience.
Second, your visitors must do more than just browse your website. You must have the capability to convert visitors into leads, otherwise they will represent a missed opportunity for you to generate business.
Finally, those leads that are converted to your site (as well as leads that you already have in your database) must be fed throughout their buying journey.
Here is how to convert traffic into sales
---
This article will focus particularly on the second point: Turn visitors to your website into leads, which will eventually convert into sales.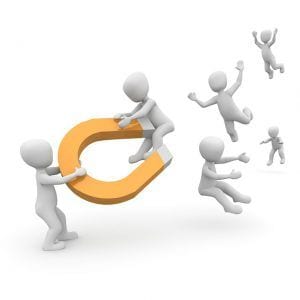 You are receiving traffic on your site and this traffic corresponds exactly to the one you want to attract …
Perfect ! You are heading in the right direction. But what is the quality is this traffic from a commercial point of view? Because this is the only point of view that interests us in the case of a website in the industry and in BtoB (Business To Business).
In order for your website to become an interesting sales tool, it must do more than attract the right audience; it must reveal exactly what this audience is. I want to talk about names, email, phone number, address … And the only way to get there is to request this information with the appropriate form on your site and to offer your visitors an added value .
For this, your site must present some key elements:
---
# 1 – Offer quality content
Finished the time of "For more information please contact us". For a visitor to become a lead you have to give him something in exchange. Whether it's a white paper, an e-book, a series of free webinars, it is a real chance for your company to win the trust of its audience and showcase its expertise.
From experience, I can tell you that it is the quality content that attracts visitors. For example, at "Cure Psoriasis Holistically", I realized that the topic of "site redesign" was a concern of many leads. Indeed your website should be an asset to generate business, not the other way around. To this end, I have written for my readers a tutorial which comes into three parts, the first of the series being: "How To Cash In On Traffic (Step By Step Tutorial – Part 1)" that answers the questions our prospects are often asking.
# 2 – Implement high-performance Calls-to-Action
Once you have set up quality content, you must let your reader know what you have to offer. Rather obvious no? There is an ongoing debate to decide what works and what does not work with calls-to-action.
A good call-to-action is simply an attractive button that sends a strong and seductive message that makes the visitor want to know more. Often the call-to-action is written with an action verb as the first word, this is also good.
Typically the buttons have titles such as:
"Discover how …"
"Learn more about …"
"Download the essentials …"
"Click here to …"
… or



You must make sure to have a call-to-action on every page of your site. And if you want to raise the level one notch, be sure that each page contains several calls-to-action (one for each offer) and this for each step of the purchase cycle of your targets.
# 3 – Optimized Landing Pages
So what happens after a reader clicks on a call-to-action? They are directed to a page where they get details on the offer that they will be able to download by giving their personal information. It's a landing page.
This page does not present the site's navigation menu, making it difficult for users to leave the page.
After all, you have managed to get your visitors here, now you have to convert them!
And the text that reinforces the call-to-action (which takes them to the landing page) is essential to the success of this one.
Once a potential lead arrives on your landing page, there must be no distractions or opportunities to escape. They are only a couple of clicks away from giving you their information. Do not let them go. Your page must have a clear, concise text describing precisely to your leads the offer they will get in exchange for their contact information.
# 4 The capture form should not be overlooked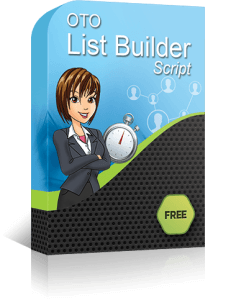 Last, but not least, you absolutely can not ignore the lead capture form on the landing page. I always recommend collecting basic information: name, email, company name … But you must think beyond that too. Be creative. Ask questions that will give you insight into potential problems your potential client may have. Ask questions to determine if this lead deserves an immediate call.
Obviously, do not make a form too long. Only require fields that you know your potential lead will not hesitate to give you. Marketing automation software like OTO List Builder (which I have been using for years) allows you to adapt it to any websites, or blog.
This impressive technology can help you build a strong sales database.
And that's it!
These are all the steps between you and the next customers that you will get online. You now know how to convert traffic into sales – just do it.
To go further in the marketing approach, and find out exactly how many leads you need to achieve your goals, I invite you to download this very informative and free e-book: "1 Signup a Day"
If you wish to learn more about starting your own online business from home, click on the banner below …

You might also like to read the below articles that I have selected for you:
And remember that you can subscribe to my newsletter so that you will be instantly notified by email when a new article is made available for you to read. Just follow this link ~~> Subscribe to my Newsletter!
Thanks for reading
---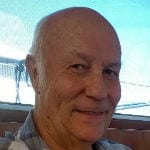 I hope that you enjoyed reading this article. Now that you know how to convert traffic into sales, I hope that you will implement my suggestions and share your experience with us here. If you have any questions, please use the box below and I will respond as soon as possible. If you enjoyed this article please share it socially and leave a comment below, I will hugely appreciate it!
John
P.S. Would you be interested in having me as your Affiliate Marketing mentor … for FREE? If yes, click on the button below to see if I can still fit you in my classes …

Have a look at these books that you might find useful for your business ⬎