Is Money Looper Scam or Legit?
Is Money Looper scam? Or is it a legit money making opportunity? First of all, let me say that Money Looper is a relatively new system (or is it not?) that claims to make the user some instant cash.
Of course, this sounds like yet another scam, the administrator of this program affirms that it is a genuine system that delivers money on autopilot … sweet!
Just what I was looking for!
Okay, let's be serious about it. For those who know me, I never pre-judge or assume. So, before making any judgement as to whether it is a scam or a legit money making opportunity, let me go through what I discovered while preparing this review.
In this unbiased review, I will itemize what you can really expect, or not, from this program and conclude this review with my personal feeling about the promises made by the creator.
This is what you are going to discover …
1 – A brief summary of the program
2 – What is Money Looper about
3 – How does it work?
4 – What I like about Money Looper
5 – What I don't like about it
6 – My final thoughts on this program
7 – Let's compare this with my #1 Recommendation
So, let's get on with it then …
1 – A brief summary of the program

---
Product Name: Money Looper
My Overall Evaluation: 1 ★ out of 5 ★★★★★ – NOT RECOMMENDED
Cost: $37 + upsells up to $197
Founders/Owners: Mike Dee (a "borrowed" name)
Website: copyhissuccess.com
Head Office: USA
Training: basic
Support: none
Scam / Legit Rating: See below:
Why would I grade this opportunity so low when it is rated "100% Safe"? One of the main reasons for it is that I found it extremely difficult to objectively research it. No, it is not by revenge, but because the website has changed name, perhaps several times, during its lifetime.
You see, my "Trust Report" indicates that it is a new site (less than 2 years old). It is a ClickBank product, but I couldn't find it in the marketplace. And still the website shows proofs of ClickBank earnings dating back to 2009. Or, are they really earnings generated by a Money Looper's affiliate? See below: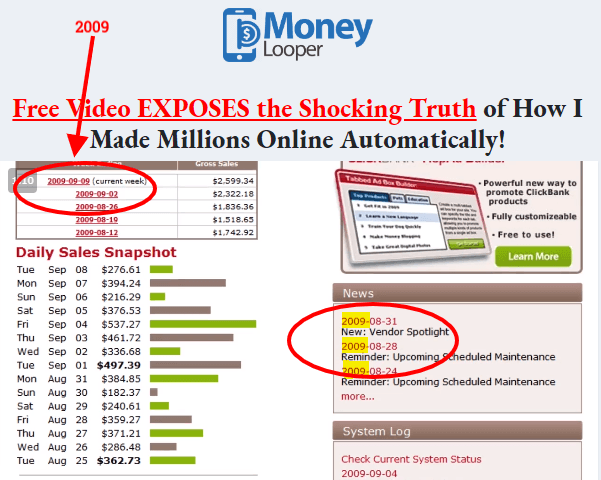 Is Money Looper scam?
At this point, you might not be bothered to continue reading this review, and I can't blame you. Why wanting to learn more about a scam, when there are some legit money making opportunities out there, that are totally free to learn everything you need to know about Affiliate Marketing, while even earning at the same time, such as my #1 Affiliate Marketing Opportunity!
But for those who wish to know more about this scam, here we go …
2 – What is this program about

---
If you have ever heard about the Money Looper program it is most likely through a promotional email. The link you must have been asked to follow would have been: http://www.copyhissuccess.com/moneylooper. Now, this is one thing that I found strange, and why I battled to learn more about this opportunity that is supped to make you millions of dollars … automatically!
Also, as you can see, the main link is in fact a page on another website: http://www.copyhissuccess.com. Why is it like that?
Then, to pay for the program you will go through ClickBank. The well known marketplace which unfortunately is the home of too many poor quality products and scammers. However, I could not locate Money Looper in ClickBank's listings. This raised another red flag for me.
There could be several reasons for that:
Mike Dee could not get approval to market this product on ClickBank
Money Looper might have been banned from uploading the program on ClickBank
Their reputation might have become so bad that Mike Dee had to hide Money Looper behind another website
In any case, this alone does not inspire me confidence in investing my money … would you?
To me, this program has, so far, all the characteristics of a perfect online scam. Starting from the sales page, and its video presentation. They are full of hype, claiming that it can make you thousands and even millions of US dollars simply by using a system that requires no real effort.
The narrator affirms that all you need is a computer or, even just a mobile phone. Then, you can make the system work for you in just a few clicks. Everything is ready for you and will work automatically. So just sit back and see the money pour into your bank account!
Yeah, right!
Anyone who has been making, or trying to make, money online knows that it, in reality, takes a minimum amount of work. There are so many scammers and hypers who claim to hold secret code to easily make money online. But, all they are interested in, is not for you to make any money at all, but shamelessly for them to make the money instead.
And Money Looper is not the only program like that. I have already reviewed so many that operate in exactly the same way.
Just to name a few:
All scam programs created and promoted in a very similar way. Unfortunately they get enough people into their nets to make themselves sufficient cash to make it worth the effort.
They milk these programs until the income dries out, then they create a new one with the same principle.
I have never come across a legit program that can earn you some money without some effort. Even the simplest program needs some effort. One that I can recommend, if you are interested in just an extra side income, is Auto Affiliate Program. It does work on autopilot, once you have set it up. I know because I am running it myself and never have to do anything with it.
So, to come back to our Money Looper scam review, the video spokesperson says that his name is Mike Dee. However, if you scroll down the landing page, where the disclaimer is, it is specified that this is only a pen name. So, why not use your own name if you have nothing to hide? Then, foolishly admit that it is not your real name. Makes no sense to me.
By experience, I know that many people promoting poor-quality products and scammers use fake names. This one is of course not a surprise for me.
Tell me, if you were to create a legit program and you had serious faith that it would help those who buy it from you, wouldn't you be proud to use your name? I know that legit program owners are proud of their work and their name. They are not afraid of sharing their names, display their faces and tell everyone what exactly they will gain from their products or services.
As for the Money Looper video presentation, you can't even understand what is it exactly that you will get once you have paid your 37 bucks. Do you know why? It is because, the people behind the Money Looper program will use the same video and sales sytem over and over as this one dries up, and get to a new none. Typical of a scam program!
Getting tired of reading this scam review? Don't go away, there are some legit money making opportunities out there, and here is my favorite ➸ Your 1st Step To An Easy Retirement Income!
Really, when I compare it to Money Looper, it makes me sick just to write this review. But I feel that it is my duty to expose scams. I came to Affiliate Marketing in 2001, when this profession was not yet polluted by scammers. My dream is that one day the good name of Affiliate Marketing will become synonymous to legitimacy again. The title it deserves.
So to get it over with, let's continue with our Money Looper scam review …
3 – How does it work?

---
Money Looper displays a number of ClickBank screenshots. As you know already, ClickBank is a platform where products owners can offer affiliate programs to people who wish to promote them for a commission whenever there is a sale. It is a legit network, no problem with that. However, more and more scam programs are on offer on the ClickBank platform.
Affiliate Marketing is in fact a very simple online business model. You do not need to own a product, but you can promote other people's products for a commission on the sales that you can generate. Also, the rate of commission can be very attractive, it can be up to 75%.
This is why, many newbies are interested in getting started with affiliate marketing.
However, you must be aware that it takes some work and determination to succeed, like with any legit business. You will never earn money doing nothing like the so called "Mike Dee" claims his scam program can.
A successful affiliate marketer creates quality content for his or her readers. They publish it in some way, like I do here, on a blog, via some email newsletters, through a video, or on social media, like I often do as well. Then, from time to time, they recommend useful products (not scams) to their audience.
In my training on Affiliate Marketing, I share how I have been making money as an affiliate for years. If that interests you, click on the banner below and get it. It is FREE ⬎

However, Money Looper is not teaching you how to write content for your website, or how to get traffic. They only sell you a software that produces pre-made websites with very little content and a bunch of videos on how to utilize this software.
The problem with pre-made websites is that everybody who is buying into their scam will the same identical one. They are not unique. Unless you spam your mailing lists and social accounts you have zero chance to make a sale. You need to be competitive to receive some traffic from the search engines or social media. Without unique and quality content, it is just impossible.
So, the system you would be buying from Money Looper will never help you earn thousands of dollars as they pretend on the sales page.
4 – What I like about it

---
This will be a quick one, don't you think? If you read this review that far, you know already that there is not much that I can say of positive about this scam program. So, you may as well jump to the next chapter …
However, let's be honest, there are a few things that I like about it. For example the sales pitch is well done. The idea is very convincing. My congratulations to "Mike Dee", he must catch quite a few flies with his honey!
5 – What I don't like about it

---
There are many things that I don't like about the Money Looper scam program, which I have talked about earlier on, but here are a few more that come to mind:
Every website selling a product or service, by law, they should display term of use and privacy policy. Obviously, "Mike Dee" is not bothered about his legal obligations. Why should he? He doesn't really exists.
There is no way to contact the owners or creators of this program, even for just a simple question. A common aspect for a scam program.
First thing they do is to collect your email address. So be prepared to receive loads of spam emails, should you buy or not. They sell your email address over and over.
"Mike Dee" uses the law to his advantage. He sells a product through ClickBank for $37. Therefore you get something for your money, that no-one forced you to buy. And you benefit from the ClickBank's compulsory 60 day money back guarantee. However, I don't know if you already had the opportunity to request a refund from ClickBank, but trust me, it is a whole procedure that has very little chance to finalise in your favor. And scammers know that very well.
The fact that it is very difficult to know exactly what Money Looper is. Sometimes you will come across it as Copy His Success, other times as Rich Janitor (which by the way has received many complains). So, it is like trying to catch an eel, it slips through your fingers the minute you think you've got it.
And of course, there a many, many more things that I really don't like about this scam program.
6 – My final thoughts on this scam program

---
I am quite sure that you already know what I am going to say. Are you a mind reader? Or are you just guessing? As I said earlier on (and perhaps a couple of times already), it is not possible to make the kind of money they claim to be possible, with no effort.
Earning hundreds and thousands of dollars a month, or even a week, is definitely possible with Affiliate Marketing, but for that you need to follow a procedure. And there is no shortcut.
A legit money making opportunity requires some real effort and determination. The owners of Money Looper, or whatever you want to call it, make money selling digital programs to inexperienced people, perhaps like you. For this reason, if you are one of them who came to my website for advice, thanks for doing that, but I recommend that you stay well away from the Money Looper, Copy His Success, or Rich Janitor scam programs, and the "Mike Dee" gang of scammers.
For starters, honest online marketers who are willing to help beginners to get started online will never make use of a pen name. Nor will they display screenshots of earnings that don't belong to them. They will happily show you a portion of their work and share with you what and how they do it to make a living.
Be very careful where you get your information from, as learning from the wrong person, will lead you to learn the wrong things. So, make sure you draw your knowledge from legit programs and honest and experienced marketers.
That said, we are now coming to the end of my review. But as usual, for those who want to quickly compare the product under review with my #1 Zero Risk Affiliate Marketing Opportunity, I have prepared a comparison chart which I am displaying below:
7 – Let's compare it with my #1 Recommendation
---
Remember to subscribe to my newsletter so that you will be instantly notified by email when a new review or marketing tip is made available for you to read. Just follow this link ~~> Subscribe to my Newsletter!
Thanks for reading
---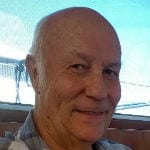 I hope that you enjoyed reading "Is Money Looper scam". If you have any other tips in this particular field, my readers and myself would like to hear from you. And, should you have any problems and would like to find a solution, please make use of the box below and someone and/or myself. I will respond typically within 24 to 48 hours. If you enjoyed reading this article please share it socially and post your appreciation in the comments area below, I will highly appreciate it!
I am a Premium Member at Wealthy Affiliate, where I learned how to share my passions and successes. You are most welcome to join my team and learn how to become successful in business and retire early. I will personally mentor you for FREE. It is 100% FREE to join, learn and earn! Click the button below and I'll see you on the other side.

I have selected for you a few books that you might find useful for your project ⬎