Explode My Payday Scam – My Unbiased Review
Explode My Payday scam is a review that I have been longing to write to warn my readers about this so called money making opportunity … Keep well away from it. In this unbiased report, I will explain why in details. I am breaking this review into 6 distinct parts:
1 – Who is Explode My Payday aimed to?
2 – What is in Explode My Payday?
3 – How does Explode My Payday work?
4 – What I like about Explode My Payday
5 – What I don't like about Explode My Payday
6 – My final thoughts


---
If Explode My Payday is a program that has been tempting you for a while and you have never purchased, let me tell you now, you have done very well, because, it is a first class scam.

I don't often say that straightaway, because many programs out there have their percentage of legitimacy. Even if they are loaded with hype, doesn't necessarily make them scams, let's be fair. However, Explode My Payday is purely and simply a scam.
Don't worry, I don't intend to bore you with yet another scam that you have no intention to invest in. But, if you are interested in joining an honest money making opportunity, so before you log off, and jump into an other con plan, permit me to introduce to you my #1 recommendation ⬎

Okay, so you are back and would like to know more about Explode My Payday ; and what makes it to be a scam program.
Explode my payday scam review
So first things first, let's get a brief idea of what is …
Product Name: Explode My Payday
My Overall Evaluation: 1 ★ out of 5 ★★★★★ – FAILED
Cost: $47 + upsells 
Founders/Owners: Meaghan Harper (not real name)
Website: https://www.explodemypayday.com
Head Office: Most likely Panama
Training: No
Support: Yes, but requests remain unanswered
ScamAdviser Trust Rating: Looks Safe (86%)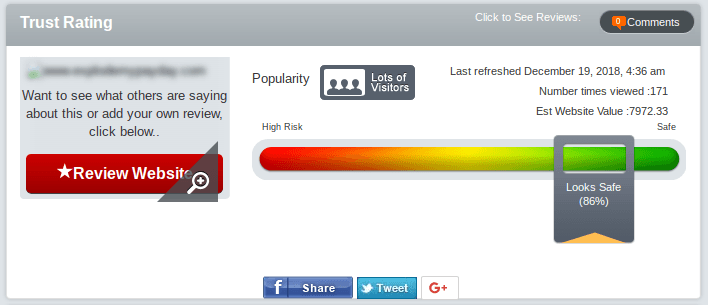 1 – Who is Explode My Payday aimed to?
To you, to me, to everyone and anyone they can get in their net. Their market territory is extremely vast. Just to give you an idea, according to a report by CNN, as many 44 million Americans have a side hustle in order to supplement their regular income. And that's only America.

I couldn't find a figure for the rest of the world, but we can easily imaging that if only a minute percentage of these people would join Explode My Payday what it would do to their bank account.
So, their target market is basically people in need of some extra cash. In particular, people without a job, a low paid job, with a job that they hate, at home moms, retired people on a low retirement income, a disabled person, etc., the list is vast …
2 – What is in Explode My Payday?
Guess what? I am still trying to figure out what you get for your money; apart from the promise that thanks to a loophole you will be given the secret to get your receiving 3 checks a week . But once you paid your $47 you are bombarded with upsells offers; without which you cannot do if you want to receive your 3 checks a week.
Maybe, that is what you get for your money: upsells! Lol
3 – How does Explode My Payday work?
Explode My Payday is made to work in such a way that it will only make money for the owners. But definitely not for you, while sucking to the last cent of your hard earned cash, plus every red cents that you might have dared to earn while using the system.
You will NEVER earn the promised one thousand dollars a day. For the simple reason that earning money online isn't working like that.
Of course it is possible to make a thousand dollars a day, and more, online, but this will never happen using Meaghan's techniques.
Although, this program uses a legitimate business model known as affiliate marketing, except that they use it as a one way traffic, to their advantage only. We know very well that for the affiliate system to work, there must be a win-win situation in place.
In the first place, I don't understand how this program can benefit from Google, Yahoo or Bing's traffic.
Getting traffic from the search engines to a website is a complete process that has to be learned, and it takes time and effort to acquire such skill. As far as I know, and all professionals will tell you as well, there is no software or system that is able to do that for you.
Obviously, these scam experts are assuming that you are a newbie, therefore, they are taking advantage of your lack of knowledge in creating a money making website.
Earning "proofs" are from other scam programs
Also, they are using earning "proofs" from other scam programs to post on their website as their own, unbelievable!
Although it is a very tempting money making opportunity to join for someone who is just starting and wanting to earn a descent income online. Unfortunately, too many of those scammers are taking advantage of this very noble form of marketing that is Internet Marketing to spread their scam programs all over the world. If you are someone wanting to learn how to honestly make a living online, for whatever reasons, a good place to get started is by subscribing to my free Internet Marketing course. For that, all you have to do is to click on the banner below.
There is zero charge for that …

You will probably ask me at this stage, how do I know Explode My Payday is a scam? Well, that's easy for me to say that as I have been marketing online for over 15 years now and I can assure you that Explode My Payday is not new, it is an old program that is regularly revamped!
Yes, same scam but new name, owner's name, people, pictures, sales pitch, upsells, etc., but same crap! The reason why ScamAdviser can't really pinpoint it and can only report that it is an 86% safe site to work with (clever isn't it?).
If this is not enough to convince you that Explode My Payday is a scam, then stick with me, the fun bit is yet to come …
4 – What I like about Explode My Payday
Trust me, this chapter will be quite short, as there is nothing much that I can say I like about this program, really. But perhaps it is because I am wearing my honest reviewer cap. You might think that I am exaggerating, so to be fair, I have prepared a comparison chart and posted it below. You will see on the left column what a proper, honest and legit online money making business should have, and on the right column, what Explode My Payday has:
5 – What I don't like about Explode My Payday
1 – One of the main things that I don't like …
… about scam programs in general, and that goes for Explode My Payday, is the number and cost of the uptsells that they offer you immediately after you have paid for the basic fee. And they have the guts to tell you that if you don't buy some, or all the upsells, you have no chance of making any money at all. The image below shows you what are the upsells are for Explode My Payday. If you don't call this a scam program, I really don't know what you can call it.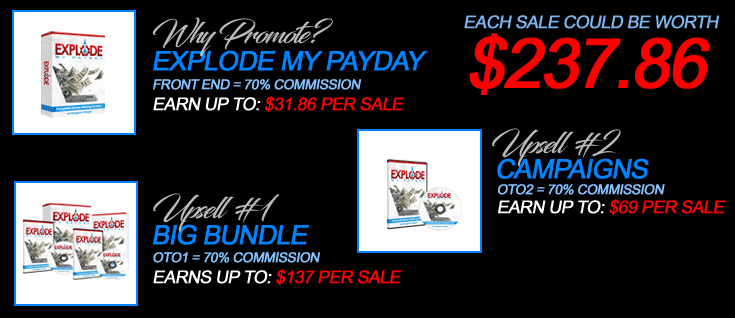 2 – They are selling your details to other scammers!
That's right, when you join, they are building up some mailing lists and renting, or selling them. Have you heard that the money is in the list? Yes? Well, they know it too, and they really know how to make money out of that, with your name and email address on several of them.
And, oh! wait, that's not all, they will even send you offers for other scam programs that they are affiliated to. You know what that means? It simply means that you have paid at least $47 to build up their mailing lists. To me, that's ingenuity at its best, but only they are benefiting.
So, if you have already given Explode My Payday your email address, I suggest that you systematically delete all emails coming from unknown senders, and even flag them as spam.
3 – The testimonials are fake!
I have recently written a review on a scam program that has become extremely popular (the scam program, unfortunately) which is also loaded with fake testimonials. If you'd like to see it, here it is: Copy And Paste Income Review – Scam Or Legit?
You will see that the pattern is exactly the same. Here is what makes me say that Explode My Payday uses fake testimonies: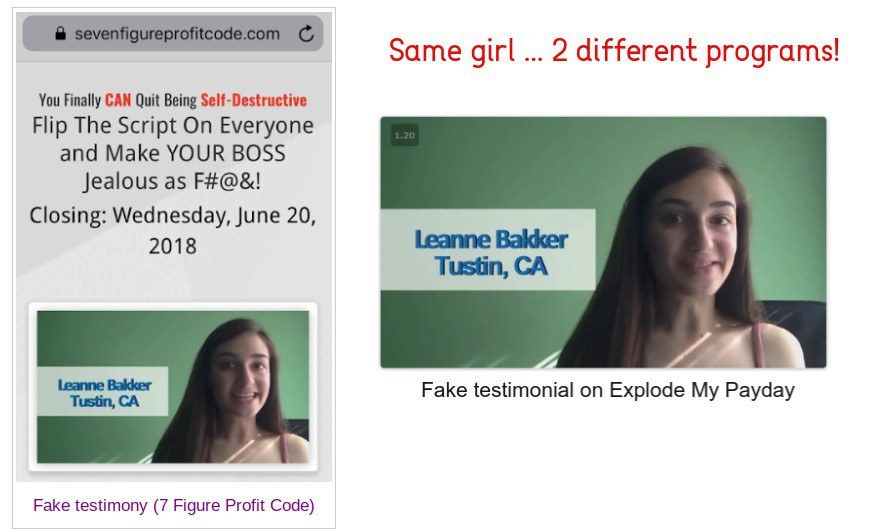 I am really having fun researching these fake testimonials, especially that I have been a seller and buyer on Fiverr for many years, and still am. So, I will show you something really funny. See Leanne Bakker above? Now, look at the picture below. Can you spot any similarity?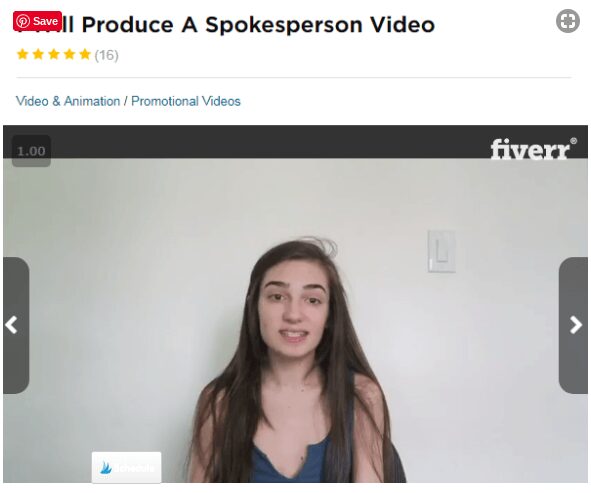 Now, what about that? …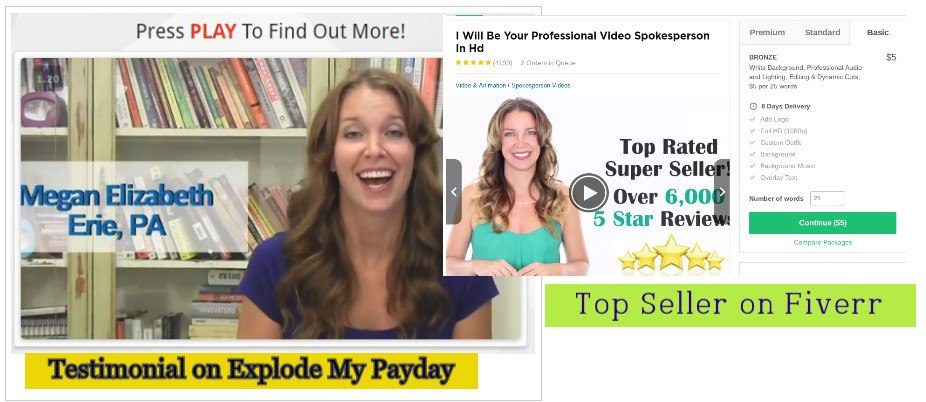 Didn't I tell you at the beginning of this review that Meaghan Harper was not the real owner of Explode My Payday? Then tell me what you make of this: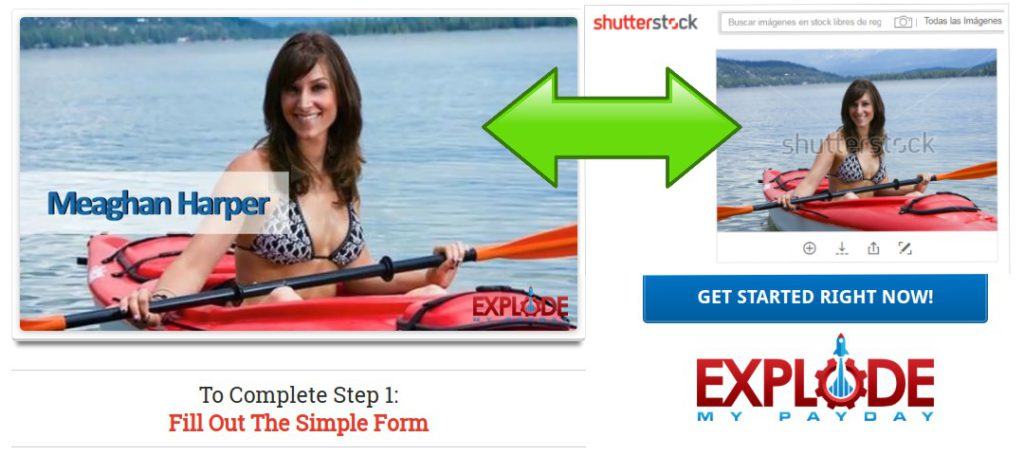 And this can go on and on. But, perhaps you had enough of this scam program and would like to know about some serious, honest and legit money making opportunities that you would like to join in total confidence. So here is …
6 – My final thoughts
So, we have seen in details what Explode My Payday is all about, and I hope that my review has convinced you that it is pure and simple a scam program. The dangers of promoting such scam opportunities is not only that you are not going to make any money, and waste a lot of your time and money on them by trying to make a few quick bucks, but your audience will stop taking you seriously in time. Then, whatever you undertake after, they will just avoid you and flag you as a scammer.
Therefore, honestly making money online is much safer if you are serious about building a long-term business of your own.
As you have been reading my review that far, I can only assume that you are on the lookout for an honest way of making money online, and I must congratulate you for your patience and persistance in your hunt for the right opportunity.
So, I am happy to introduce you to my all time favorite: Wealthy Affiliate!
See some of the main features that makes Wealthy Affiliate the #1 money making opportunity in the world!
Why?
It is 100% FREE to join
There is ZERO upsells (what I love most)
Your receive a full on training for free
As a special gift for joining you will benefit of my one-on-one FREE mentoring
You get to learn how to build your websites and share your passion, with free hosting
The owners are available to guide you at any time
The support system is the best in the industry
You have all the tools you need at your disposal for FREE
You have access to hundreds of extremely successful business owner at anytime, and can contact them if you need help
There is a live chat available for you to ask your questions and receive an instant help
and so much more …
The number one reason that made me join Wealthy Affiliate was because I could create a business of my own, grow it, andearn some money from the very beginning while still learning to improve my skills.
I can now consider myself to be one of the Wealthy Affiliate successful entrepreneurs on the rise. Although, my earnings at this time are only just above a thousand dollars a month, but regularly increasing, I can show you what some other members are making. It is simply astonishing … 
I have selected a few articles that might interest you. Make sure to let me know what you think about them:
And don't forget to subscribe to my newsletter so that you will be instantly notified by email when a new review or marketing tip is made available for you to read. Just follow this link ~~> Subscribe to my Newsletter!
Thanks for reading
---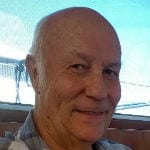 I hope that you enjoyed reading this special Explode My Payday Scam review. If you have any other tips in this particular field, my readers and myself would like to hear from you. And, should you have any problems and would like to find a solution, please make use of the box below and someone and/or myself. I will respond typically within 24 to 48 hours. If you enjoyed reading this article please share it socially and post your appreciation in the comments area below, I will highly appreciate it!
I am a Premium Member at Wealthy Affiliate, where I learned how to share my passions and successes. You are most welcome to join my team and learn how to become successful in business and retire early. I will personally mentor you for FREE. It is 100% FREE to join, learn and earn! Click the button below and I'll see you on the other side.
Easy to Retire – Copyright © since 2017 to date!