Best Way to Generate Leads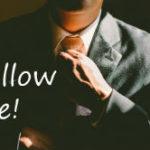 Let me ask you a question: do you know what is the best way to generate leads? Probably not, because there is not ONE best way to generate leads, but there are several.
So, in this article we are going to identify 9 simple tips and tricks to quickly generate prospects through your blog, via social media, etc. …
I acquired these skills from the famous free Wealthy Affiliate training and I have been personally using these techniques all the time since then, and trust me they are worth giving it a try!
One thing that you should always keep in mind whenever you write a blogpost or a sales message, either to share on social media or for your advertising campaigns, is to be more impactful and relevant about the purpose of your business.
You must be able to present your Sales Presentation or Unique Selling Proposition (USP) so that your customers and prospects know exactly what your offer is, and how different you are from your competitors.
With this in mind you will have to write a Slogan for your blog (the subtitle of the blog), and reuse it everywhere: in all your profiles: LinkedIn, YouTube channel, Facebook, Twitter, etc., in your email signature, on your business cards …
In short, your pitch is summarized as:
What is the problem you are going to solve
Who are your clients
How are you going to solve their problem(s)
What sets you apart from your competitors
Also, if possible your pitch must be fun intriguing, short, memorable …
So, here are 9 great ways to generate leads
But before we get started, take a minute to join my FREE Internet Marketing class by clicking on the banner below to register …

Done it? Great, let's continue then …
Here is the summary of what we are going to discuss …
1 – Write blog articles about your clients' problems
2 – Show how your products or services work "in real life"
3 – Reply by email to comments, and do not hesitate to pick up your phone!
4 – Set up a blog that really stands out
5 – Get in touch with the major influencers
6 – Learn to promote your best content
7 – Improve the conversion of your website and the generation of a list of prospects
8 – Conduct a study of your customers and prospects
9 – Look at topics that work well in others …
10 – Your free gift!
1 – Write blog articles about your clients' problems
---
Above all, you must demonstrate through your articles, videos, images … how you care about your prospects or customers and how you can help them solve their problem quickly and easily.
At the same time, you must explain where there problem might be coming from, and why the previous products / services they used so far were not working.
These articles will serve you for SEO and appear on the results of Google, but they will also serve to convince your prospects by showing in different ways how you can help them.
Remember that selling is above all intended to RESOLVE a problem that someone has.
So even before writing blog posts on a topic, write blog articles to help and inform a target who have urgent and important issues to solve.
2 – Show how your products or services work "in real life"
---
You need to show how easy and quick it is to solve the problem, as well as testimonials from some happy customers …
But that's not enough … you must also:
Reduce the skepticism on product: reassure, propose test offers, testimonials …
Increase the perceived value: explain the benefits, put up a before and after image …
Offer "bonuses" and boosters to encourage action: limited time offer …
3 – Reply by email to comments, and do not hesitate to pick up your phone!
---
Often what will make the difference is your involvement and your listening to the prospect.
Do not be like everyone else who responds by email or when "they find the time" … Show your responsiveness!
Similarly in your landing pages, on your website, add your phone number. You will see that only few people will contact you, but your conversion will increase tenfold. This will prove that there is a real person who cares behind that website or blog.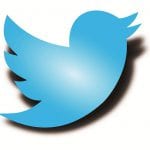 By the way, I was just wondering if you wouldn't like to share this tutorial with your Twitter followers? Why not? Just click on the box below, and that's it …
Best Way to Generate Leads - Here Are 9 Easy and Super Effective Techniques ...
Click To Tweet
I don't know if you are like me but before spending my money on something new to me, I first pay attention on what other users are saying …
Are they happy with their results?
Do they plan to buy more of it?
Would they happily recommend it to their friends and relations?
Etc. …
An example …
Here is a comment I received, among many others, regarding one of the products I am promoting that earns me over $5,000 a month (and growing):
"Dear John,

Thanks for the detailed review on Wealthy Affiliate. I am a Wealthy Affiliate member since 2016 and I do agree with all the information you have provided. Indeed Wealthy Affiliate is the best program I came across online (after several years of search).

Wealthy Affiliate training is awesome and the support is mind-blowing. One thing I am very impressed with Wealthy Affiliate is they keep updating according to the developing market. You are recommending a great program and Wealthy Affiliate changed and changing many lives.

Wishing you great success!

Your Friend,
Paul"

Unedited comment from a colleague at Wealthy Affiliate
Well, don't you think that this sort of recommendation deserves an immediate reply?
4 – To generate leads, set up a blog that really stands out
---
The blog is the best way to communicate directly and quickly with your customers and prospects, but also to improve your SEO.
However a blog is not just about "writing articles".
Indeed your blog should not be "a blog like everyone else's", but it must be different from others.
So, for that you need to …
Work on your titles to stir curiosity
Use a Pro and modern theme
Surf the hot and trendy topics
Give your opinion and put your emotions in your articles
Trigger a debate or a controversy
Interview experts
Write a collaborative white paper
Make a list of Top Blogs, Articles, Tools … in your industry.
etc.
5 – Get in touch with the major influencers
---
The idea is to produce content with them for your blog or their site within your industry in order to capture some of their traffic, via a guest posting (you write an article on their blog), via an interview, via a collaborative a delivery, via a physical meeting, asking them to answer a question for you to insert in an article …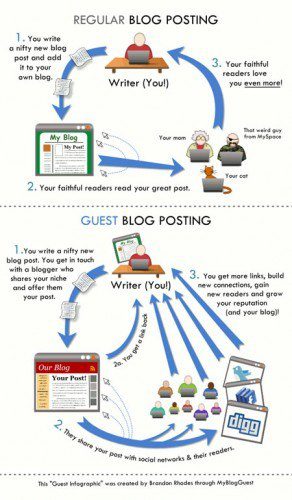 Guest Blogging is basically a content marketing method as well as an SEO technique where one party writes an article to be posted on the other party's blog or website to advertise their personal and/or business brand.
The guest blogger exposes his brand to an appropriate audience which can become an effective way of generating interest.
But one must be careful not to receive penalties from Google.
However, this is a great opportunity to demonstrate your skill and to show it to others; and also it is an occasion to increase the traffic of both players' blogs.
Of course, guest blogging is definitely an excellent way to identify yourself as being an authority symbol in your topic and to build relationships with other bloggers and experts in your field.
Since the guest blogging should work both ways, you should also consider publishing articles written by other parties in your area. The guest articles will also expose your audience to a new perspective and content.
6 – Learn to promote your best content
---
Writing a good blog article is useless if no one is aware of it…
So learn how to promote it via:
By sending an email or SMS to your bloggers or journalists contacts
By mentioning bloggers or influencers when republishing on Facebook
An @ on Tweeter to industry experts
Mentioning an influencer in an article
By making an agreement with another blogger to cross-promote your articles
By republishing it on Twitter, Facebook, ScoopIt …
etc. …
7 – Improve the conversion of your website and generate valuable leads
---
As far as I am concerned, emailing is undoubtedly one of the most effective tools for finding new prospects and converting them into customers. It is also the opinion of most successful Internet Marketers that I have been in contact with.
Email can affect the buying behavior of consumers. Contrary to what one might think, the fact that there is so much information available on the internet does not make emailing less effective, on the contrary!
Indeed, according to an iContact study, 83% of consumers will be willing to spend more on a product or service they have heard about via email.

iContact survey
Of course, this is true on the condition that the emailing is done in the rules of the art and in the respect of ethical rules.
Lead generation is definitely the key to the success of your business! There are lots of ways to bring potential customers to you, whether online or offline.
But according to experts it all starts with how well (or not) you keep your website or blog updated and optimized.
Here, in my opinion, are the best practices to use to optimize your site and turn it into a machine to generate leads! you should …
From personal experience …
Have a navigation mainely aimed at your audience's needs to help them understand your content
Produce content focused on your target customer that helps them in the buying process
Integrate calls to action that encourage the user to register, download, contact or buy. Use quality images and large call-to-action buttons.
Help prospects by offering them simple rates to understand
Add contact forms or any other way to contact you on your sidebar, but also within your content.
The 5 techniques presented above are the most common and do not represent an exhaustive list. It's all about finding the formula that suits you and works best for you! I suggest that you test the ideas that sound better to you and see how they resonate with your target.
SEO is also a very effective way to bring quality prospects to your website.
Being well ranked in search engine results pages gives you better visibility and allows you to get a steady stream of leads. There are several techniques to improve your SEO, including content marketing, which should be in your top list!
Combining content marketing and SEO to get more leads is a good technique.
8 – Conduct a study of your customers and prospects
---
This is as easy as to ask them what is the # 1 problem they would like you to solve for them.
The goal here is to identify the problems of the target, and from there to offer products and services which will be of help to them.
Not only that, but this way you will have a clear idea of what sort of content will interest them.
9 – Look at topics that work well in others …
---
And produce the same content … but better!
This is basically what everyone does in the world of marketing (and engineering). There is no point in reinventing the wheel, but there are hundreds of good reasons for trying to improve it!
For example look what are the most read and commented topics in the forums, look at the blog articles that have the most comments or tweets that receive the most likes and reTweets … It's all there for you to improve on.
The name of the game is to generate leads! And it's not rocket science, trust me.
Your FREE gift …
If you want to learn more on how to generate qualified leads, sign up for my FREE Internet Marketing training below …

Now it is your turn to generate leads …
---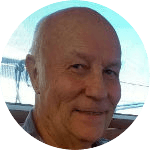 Now that you know how to easily generate qualified leads, your views on the subject would very much be appreciated.
If you are already using one or more of the methods described above and have any tips to share with us, we'd like to hear about it. And, if you have any questions, please use the comments' area below. You should normally receive a reply within the next 48 hours.
If you enjoyed reading this article, please share it socially. Also post a comment with us here below, I will be very grateful!
As a Premium Member at Wealthy Affiliate, I learned how to share my passions with the world. You are very welcome to become part of my team of very successful netpreneurs. You too can become a successful business owner and live your laptop life. I will be your personal mentor for FREE. It is 100% FREE to join, learn and earn! Click the button below and let's …