How Do I Create a Landing Page for My Website? – Your Complete Guide!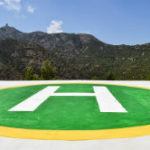 "How do I create a landing page for my website?", a question that comes over and over during seminars, in forums, in comments, etc. So, I have decided to gather all my knowledge and experience, and write this complete guide.
But, first of all, why is it important that you create a landing page for your website?
When you have a website, your goal is to transform the maximum number of visitors to it into customers, subscribers and sources of revenue. So, that's why you need a landing page.
Also, landing pages are at the heart of any conversion strategy on the web. In other words, they are unavoidable.
All along this tutorial we will learn how to create a hyper-efficient landing page for you to use on your website. But first of all …
Why create a landing page for your website?
Landing pages are essential elements of your digital and commercial marketing strategy in that their role is to increase your conversion rates as well as lower the cost of acquiring your leads or customers.
Our training will be divided into four major topics which are …
As there is a lot to talk about, let's get started now …
The 4 reasons why landing pages are essential
---
So, you have created your website, you are starting to have visitors. Consequently, our goal now is to follow up with them: collecting their emails and converting as many users into leads and customers.
How?
By creating beautiful landings pages. I will also explain in this complete guide how to create such successful landing page for your website while respecting all good practices.
Landing page: you have certainly heard this term before. Moreover, if you read these lines chances are that it is because you did a research on this subject.
But have you any idea of what it is? We will pretend here that your answer was no. We must start from the beginning and define what we are talking about.
This might surprise you but your landing page must NOT be your home page. That is to say, the home page, which is the front page of your website, is a page that contains menus and links to all the pages of your site.
In other words, its goal is to guide your visitors to the different contents of your site. It is a page that plays the role of hub, gateway, crossroads too. But a landing page does not contain links to any other pages of the site. Also, normally it does not contain a menu either.
Why?
To not sidetrack your potential client who lands on it. Therefore, the only purpose of a landing page can be summed up in one word: conversion.
Everything must be organized for this purpose: to maximize the conversion rate, to make that the visitor has only one desire: to fill the form.
Technically speaking, your landing page must be the place where the surfer lands (hence the name: landing page) after clicking on an advertisement or the button of an email.
According to HubSpot, the average conversion rate of a landing page oscillates between 5 and 15%, but "some very well optimized landing pages display conversion rates of 30% or even more".
There are essentially two categories of landing pages:
Informational landing pages = they are pages that deliver relevant and engaging information to the visitor, or a summary of your product, or service.
The transactional landing pages which, as the word suggests, are intended to encourage visitors to buy or for the least to leave their contact information via a form.
For example, here is an "informational" landing page: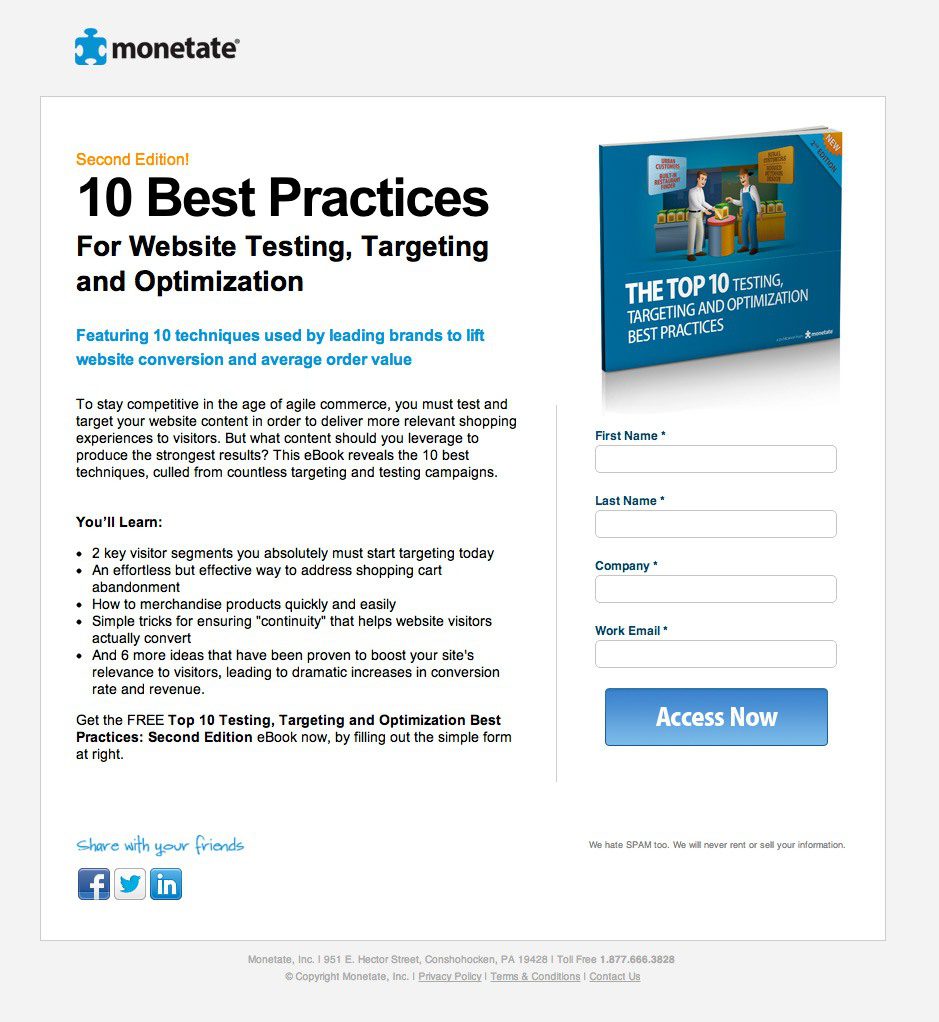 And, here is an example of a "transactional" landing page: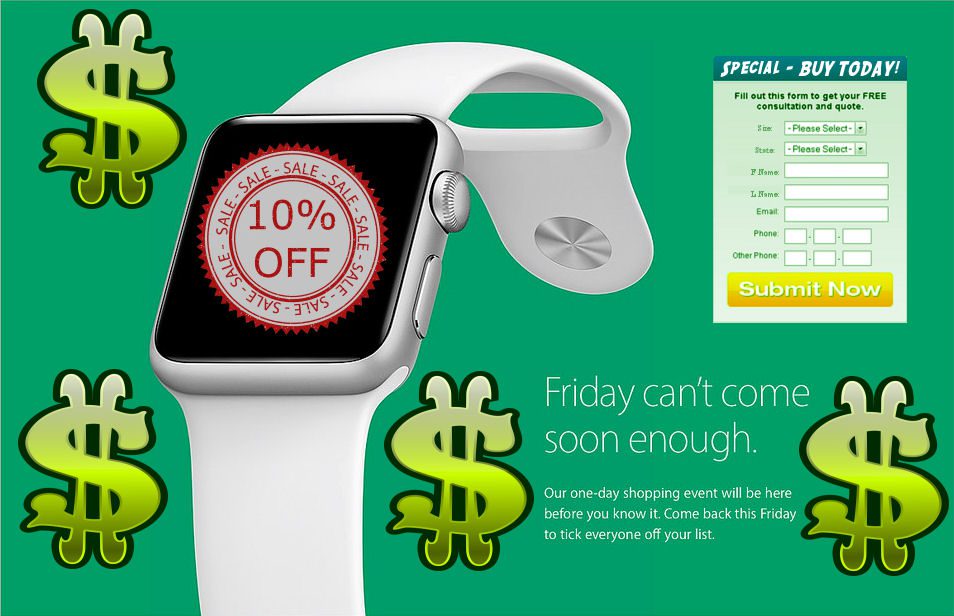 1 – A landing page helps you obtain leads
You could spend your entire budget to communicate with contact lists. But you can also make sure that the leads arrive directly to you … simply by creating a landing page.
Landing pages, when successful, are the number one tools for capturing leads. And not only leads, but better: quality leads, qualified.
2 – It is a very effective manner to advertise
Also, whatever the time, the amount of money and the effort spent on creating and managing your advertising campaigns, it will always be an investment. So, you expect the best return on investment.
Offering personalized messages to a targeted public, a landing page is the most impactful and efficient means of advertising. Therefore, targeting them boosts the ROI of your campaigns.
3 – They improve your local SEO
According to ThinkWithGoogle, "18% of local mobile searches result in a same-day purchase, compared to a 7% for non-local mobile searches."
The gap is considerable. Of course, this makes sense when we remember that Google tends to be increasingly interested in the intent of users and not only the keywords used. It is becoming essential, particularly for smaller businesses, to become focussed on local landing pages.
If you wish for your website to be more visible in Google when someone is doing a local search, if you want to conquer local customers, create local contents that "speak" right away to your customers. Therefore, landing pages are an excellent tool to improve its visibility on local queries.
4 – They improve the user experience
Above all, every user is unique, or feels unique. Therefore, they need to be handled as if they were. Landing pages allow you to address your audience in a more personalized way.
When correctly customized, the landing page will meet the expectations, needs and ambitions of your target customers wherever they are on your customer tour.
In addition, a high conversion landing page helps you boost your credibility. So, this is a point not to neglect. Moreover, a successful landing page is a landing page that addresses a specific problem and provides an adequate response. Therefore, your landing pages must target the needs of your visitors. As a result, your visitors will trust you more.
So, now let's see how can create your landing page in just 10 steps …
How to create a successful landing page for your website in 10 steps
---
Creating your landing page will be one thing. Creating an effective landing page that meets the needs of your visitors, which makes them convert is another. So, we will see how to create a successful landing page for your website.
1 – Create a persona as you create your website landing page
---
You need to know what your potential customers need. Or rather, you need to know what they want, what they expect. We buy something because we want it more than because we need it!
To find out what your potential customers need, you need to get to know them, put yourself in their heads, in their skin. Also, you should be interested in their personality, age, habits, budget, and other information that will help you sell your product or service better.
That's why I advise you to start by creating a persona before you even start creating your landing page. Above all, it will help you better understand your target customer and create a landing page designed to meet their needs and expectations.
Here are some examples of different personas …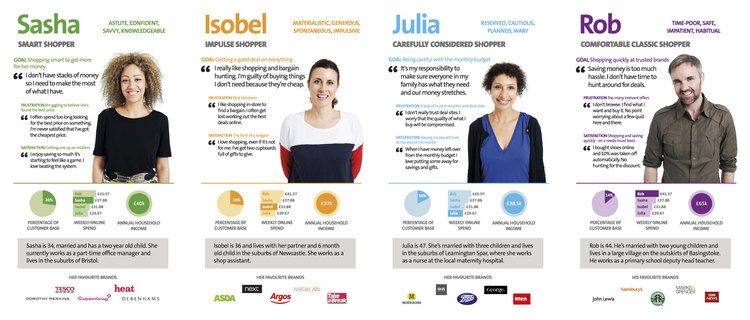 2 – Set your goals before you create a landing page for your website
---
Before creating your landing page, you must know why you want to create it. In other words, you need to know what you expect from people who will visit it. What do you want them to do?
Here are some examples of possible answers:
Fill out a form,
Answer a survey – a questionnaire,
Subscribe to a free trial period,
Download an ebook,
Download a white paper,
To order a product,
Sign up for a webinar,
Give his contact information,
Download a coupon,
Subscribe to a newsletter.
Also, you must focus on one goal. This reduces the possible choices on the visitor side and makes it possible to create more efficient landing pages.
3 – Targeting the right keywords
---
It is a pretty time-consuming job, but if you want to get good results, you should be interested in this keyword chore. You must identify the right keywords, that is to say those for which you want your landing page to be positioned at the top of the search results.
Keep in mind that long tail keywords have more impact in the medium and long term than short tail keywords. These are often less competitive keywords because they are more specific. They allow you to position yourself on the first page of results on highly qualified queries, even if the search volumes are lower.
A tip on the subject: focus on specific keywords. In this way, you will attract exactly the audience to which you wish to address.
Make a list of relevant terms for your landing page.
So, let's take a simple example. If you are a Paella chef in Madrid specializing in seafood paella, you really do not want to use broad keywords like "paella chef" or "paella". Instead, choose the keyword "paella chef seafood paella in Madrid" or something like that.
4 – Write a captivating title
---
I cannot stress enough the importance of the titles … Three quarters of the people who land on a page only read the title. So that your visitors do not stop at the title, you must captivate their attention immediately. The impact of the title of a landing page on the conversion rate is considerable.
What is a successful title?
Let's take several examples to answer that …
Example # 1 – Titles that catch the attention
Here is a first example, proposed by Adobe.
Discovering this landing page, we have only one desire: to get the continuation. We do not really know why, what will it bring us, etc.? The title is short and goes straight to the point: it intrigues, arouses curiosity, makes us dream, makes imagination work, fantasizes about all the possibilities offered by these solutions. You do not know what you will be able to do with these tools, but you can imagine a lot of things. It's enough to make you click on the button!

Adobe
This landing page is particularly successful – especially the very evocative, formidable title of simplicity and efficiency.

Example # 2 – Titles that summarize the product value proposition in two words
Here is another approach. It is no longer a matter of arousing curiosity and playing on the irrational drivers of decision. In the following example, the title clearly says what the product is, or rather what it brings. It describes its benefits, summarizes the value proposition.
For this type of title to work and make the visitor want to fill the form, it is obviously necessary that the value proposition is interesting, that you have a good product …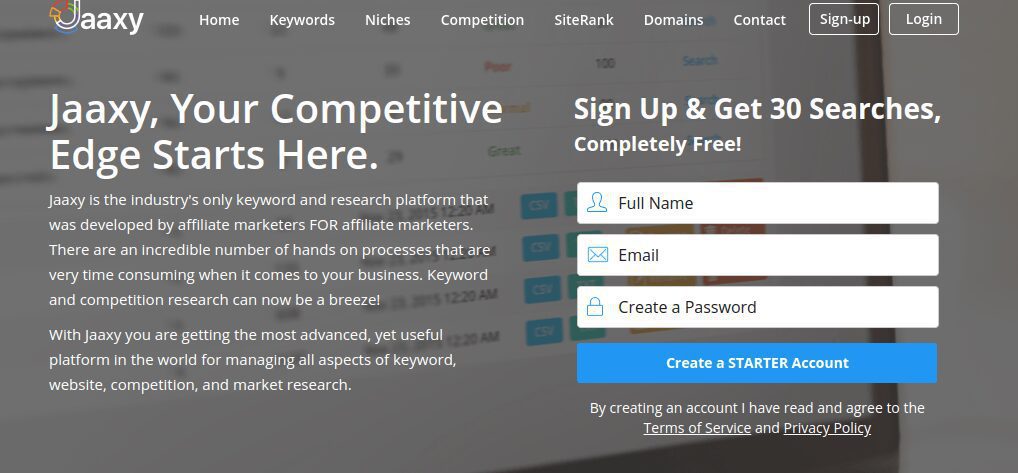 Example # 3 – Short and irresistible titles
Here is a third example, different from the two previous ones. Observe the use that is made of capitals, the use of the imperative, the very concise character of the title. Keto Diet goes straight to the point.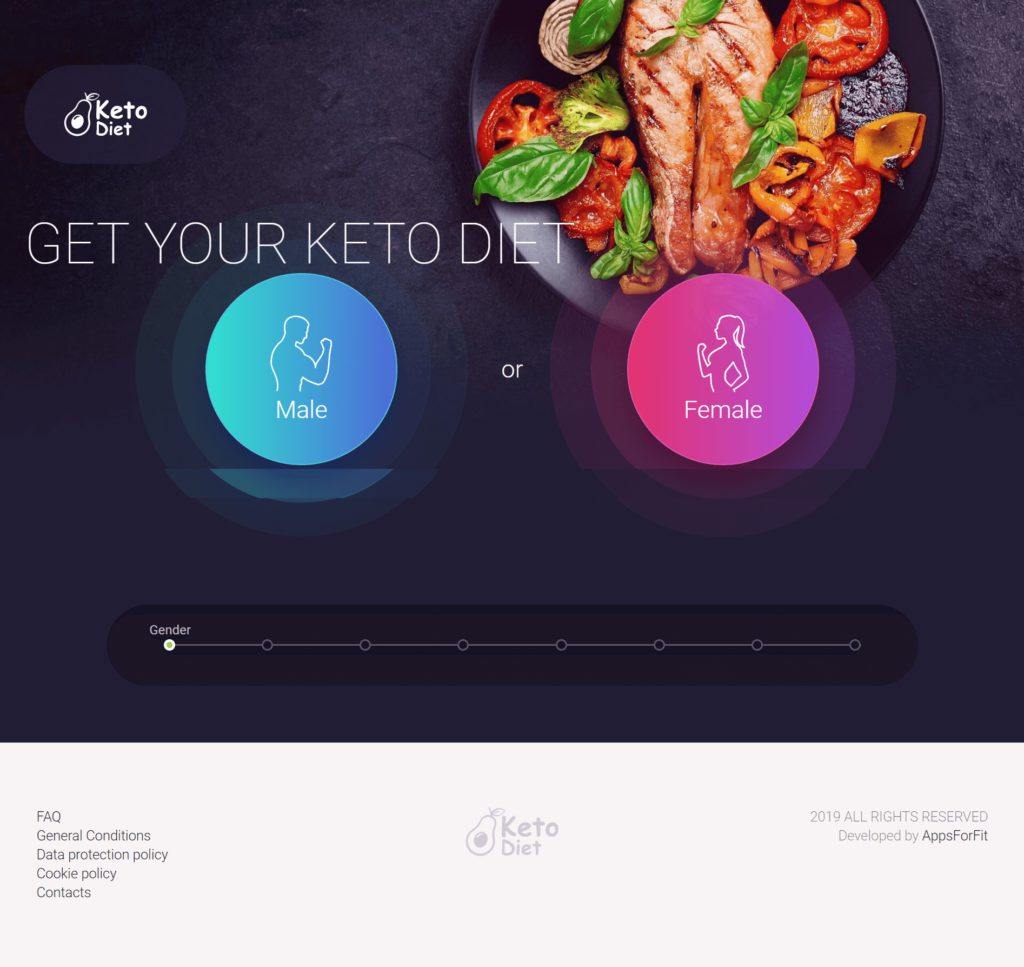 5 – Create an irresistible CTA button
---
This is obvious, but it deserves to be mentioned. The CTA is the button that invites visitors to "take action". Your goal is for as many visitors as possible to click on this button. It must be clearly visible: in the right place, big enough, using a color that makes it stand out on the page. The message must be incentive. It must contain a verb.
Here is a good example of CTA, which is for my free Internet Marketing course :
Check it out now by clicking on the image below …

Your visitors must understand the message very quickly. You must aim for simplicity. Do not use complicated words or word games that no one will understand apart from you. Get inspired by what Wealthy Affiliate does: the message is particularly clear, the words are simple, the design is sober and clean. See below …
Your visitors want to know what you are doing but also know what you want them to do. Be specific in how to make them understand what you expect from them. In your way of formulating CTA's text, get right to the point. The visitor must know what will happen if he clicks.
6 – Use visual content
---
You must have heard it dozens of times, this formula: "A picture is worth 1000 words". But it must be repeated as it is true.
Many people often underestimate the power of images, concentrating on the text. The level of attention is very low on the internet. If you do not succeed in communicating your message in less than a few seconds, you will never have customers.
Do not be afraid to use images and videos in your landing page. Here is an excellent example of a landing page that uses visuals …
~~> Retire Early – How To Fire The Boss <~~
7 – Link your landing page and your ads
---
Having an optimized ad is not enough. You must connect it to a powerful landing page if you want to have a good conversion rate. Ads that redirect to the home page have a handicap right away … Remember to connect your landing pages and ads to get the full potential.
8 – Integrate social evidence
---
A survey of Bright Local published in 2018 showed that 91% of consumers trusted online reviews as much as recommendations from others. This result demonstrates how social evidence can influence a buyer.
Social evidence plays a vital role in the buying process and decision-making. Put them forward!
Aaptiv, a US fitness app, has perfectly understood and highlights images of users: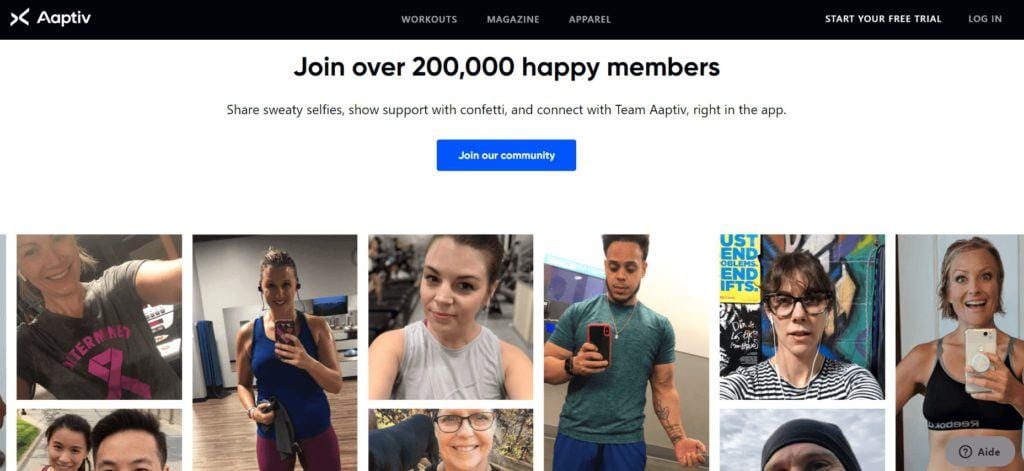 There are several types of social evidence that you can use on your landing pages:
The testimonials customers,
The case studies,
Reviews and customer ratings,
Mentions from influencers,
Certifications,
Brand logos,
The logos of your customers,
Social sharing,
The number of likes, subscribers on social networks
Polling tests,
Etc.
9 – Trace the activity on your landing pages
---
You did most of the work. You have created your landing page. It is attractive. But, by the way, how do you know if the landing page is attractive? You do not know anything about it … because you have not set up a tracking yet.
Web analytics solutions like Google Analytics can accurately measure the performance of your landing page. They show how your visitors have landed on the page (which link they clicked on), who they are, and how they behave on the page.
It is essential to measure performance if you want to improve it!
10 – Optimize your landing page for SEO
---
It is essential if you want it to be well referenced in the search engines. Pay attention in particular to …
Title of the page: this is the first impression you give to people who discover your landing page on search engines. Your title must be at least 60 characters long.
Meta Description: It summarizes the content of the page. It is a new opportunity to capture the users' attention and encourage them to click.
Header tags: H1, H2, H3. They help structure your text and are important for SEO. Feel free to embed keywords in your Hn tags.
The contents. Yes, the content is king. It must be of quality, do not use copy-and-paste and contain the keywords you have targeted.
All this and more is treated in my FREE Internet Marketing course. Just click on the image below to get started …

What tool to use to create your landing page for your website?
---
We will now see what kind of tools to use to create your landing page. There are a number of tools designed for that. Here are the criteria to consider when choosing the tool …
Templates – The tool must offer quality templates. You may not have the finances to hire the services of a professional who will create a landing page from scratch. But still, you want a pro looking landing page. So you have to choose a tool that offers qualitative templates as landing pages.
Mobile Optimization – You may be reading this article on your mobile. And you are certainly not the only one. In 2019, more than half of web visits are from a mobile device. You must choose a tool that offers responsive templates. It is no longer a nice-to-have, it has become a must-have.
A / B Testing – Preferably choose a tool to perform A / B testing. This will allow you to continuously improve the performance of your landing page.
Integrations – Your landing pages must be easy to integrate with your marketing tools: lead-capture tools, CRM, etc.
Code Customization – Choose a tool that allows you to customize the source code of your landing pages. This is essential if you want to track the performance of your pages.
Multimedia Management – Choose a tool that allows you to easily add videos or GIFS to your landing pages.
Analytics – Choose a tool that offers a dashboard to analyze the performance of your landing pages.
Good practices and practices to avoid
---
Finally, here are some tips on what you should do and what you should not do.
What you need to do …
Aim for simplicity – Choose a clean and simple design. Be minimalist. Go straight to the point.
Put the buttons in value – Big enough, with colors that stand out well.
Use bulleted lists and numbers to communicate information in a more pleasant and faster way to the visitor.
Polish your thank you page – This page helps to increase the trust of your visitors. It can be used to collect feedbacks.
What you must not do …
Avoid endless sentences and paragraphs – Yes, you want to explain to your visitors what your landing page is about. But the goal is not to bore them! Even worse, not to lose them … Write short, airy texts.
Do not ask too much information in the form. The more fields you have, the lower your conversion rate will be (all things being equal). Ask only the information you need.
Complicated words and slang is definitely not acceptable.
Do not entertain your visitors by offering links to other posts or other pages. Your visitors must focus on the main message. No off topic.
No multiple CTAs – This creates confusion for your visitors who are not sure what you expect from them. To propose several actions is the best way to see your visitors doing none …
And here we come to the end of this guide. I hope it has been useful to you and taught you a few things!
Thanks for reading this guide …
---

I hope that you now know how to create a highly converting landing page for your website. 
Once you have created yours and have any tips to share with us, we'd like to hear about them.
And, if you have any questions, please use the comments' area below. You should normally receive a reply within the next 48 hours.
If you enjoyed reading this article, please share it socially. Also post a comment with us here below, I will be very grateful!
As a Premium Member at Wealthy Affiliate, I learned how to share my passions with the world. You are very welcome to become part of my team of very successful netpreneurs. You too can become a successful business owner and live your laptop life. I will be your personal mentor for FREE. It is 100% FREE to join, learn and earn! Click the button below and let's …

⬐ Here are some great ideas that will make you more money ⬎