6 Unique Ad Channels Your Business Should be Leveraging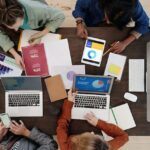 If you are running a business, you need to be leveraging these 6 unique ad channels in order to remain competitive.
In today's fiercely competitive business landscape, distinguishing your brand from the crowd remains a perpetual challenge. To effectively connect with your target audience and make a lasting impression, it's imperative to venture beyond conventional advertising platforms.
Image from: https://www.pexels.com
In this article, we will delve into six distinctive advertising channels that every business should consider leveraging to amplify its reach and influence.
Podcast Advertising
---
The realm of podcasts has witnessed an extraordinary surge in popularity over recent years, offering access to engaged and often highly specialized audiences.
Podcast advertising opens up avenues for connecting with your target demographic through various means, including host-read ads, sponsorships, or even the creation of bespoke branded podcasts.
The genuine and intimate nature of podcasting provides an excellent platform for storytelling and cultivating brand loyalty.
To embark on podcast advertising, initiate by identifying podcasts that align with your industry or product, and reaching out to the hosts for potential advertising collaborations. Crafting compelling ad scripts that resonate with the podcast's audience is crucial to maximizing the impact of your message.
TikTok Advertising
---
TikTok, with its captivating short-form video content and viral challenges, has swept the world, particularly among younger generations. This platform presents a unique space where businesses can engage with a diverse and active user base.
TikTok advertising, when strategically managed by a skilled social media advertising agency, manifests in various forms, such as in-feed ads, branded challenges, or sponsored content.
Harness the dynamic and trend-driven culture of TikTok to fashion attention-grabbing ads that strike a chord with your target audience. Engaging with prevailing challenges and trends can augment your visibility and help you authentically connect with the TikTok community.
Quora Advertising
---
Quora serves as a question-and-answer platform where users seek answers from experts and the broader community. Also, Quora advertising provides you with the opportunity to establish your brand as an authoritative source within your industry by targeting users actively seeking information and solutions.
Forge highly relevant and informative ads that address common questions and pain points within your field. These ads should link to dedicated landing pages or blog posts offering in-depth answers. Quora's advertising platform boasts precise targeting options, guaranteeing that your ads are directed at the most pertinent audiences.
Out-of-Home (OOH) Advertising
---
In this digital age, out-of-home (OOH) advertising may appear somewhat unconventional, yet it remains a potent channel for fostering brand awareness. Billboards, transit ads, and digital screens in public spaces can facilitate the reach of a wide and diverse audience.
OOH advertising provides opportunities for creative endeavors that can capture attention, especially in areas with high foot traffic. The incorporation of elements like QR codes or interactive features within your OOH ads can promote online engagement and enable the measurement of campaign effectiveness.
Direct Mail Marketing
---
While email marketing is pervasive, direct mail marketing can offer a unique and impactful way to connect with your audience. Tangible mail pieces, including postcards, catalogs, or personalized letters, have the potential to stand out amidst the digital clutter of today's marketing landscape.
Personalization is the linchpin of successful direct mail marketing. Utilize data-driven insights to craft tailored messages and offers that resonate with each recipient individually. By integrating digital components, such as QR codes or personalized URLs, you can seamlessly bridge the gap between physical and online experiences.
Augmented Reality (AR) Advertising
---
Augmented reality (AR) is reshaping the way businesses engage with consumers. AR advertising enables users to interact with your products or services in immersive and interactive ways. Popular mobile apps like Snapchat and Instagram offer AR ad formats that allow users to try on products, visualize how furniture fits into their space, or partake in interactive brand campaigns.
Leverage AR to construct memorable as well as engaging experiences for your audience. Whether it's virtually trying on clothing or visualizing how your product enhances their daily lives, AR advertising can leave an indelible impression and drive conversions.
Conclusion
---
In the ever-evolving realm of advertising, businesses must continuously explore unconventional channels to remain competitive as well as capture the attention of their target audience.
Podcast advertising capitalizes on the intimacy of audio to connect with niche audiences, while TikTok provides a platform for creative and engaging short-form video content.
Quora offers opportunities to establish your brand as an industry authority, and both out-of-home advertising and direct mail marketing present unorthodox yet effective avenues for building brand awareness.
Finally, augmented reality advertising immerses users in interactive experiences.
Therefore, by diversifying your advertising strategy and venturing into these unique channels, you can extend your reach, engage your audience in novel ways, and ultimately yield improved results for your business.
It is also essential to remember that the key to success lies in crafting compelling and relevant messages that resonate with each channel's distinct audience.
6 Unique Ad Channels Your Business Should be Leveraging … 💪
Click To Tweet
About the Author of "6 Unique Ad Channels Your Business Should be Leveraging"
---
Here is another creation from our regular, very talented author, Stephanie Caroline Snyder.
Stephanie has studied communications as well as mass communication at the well known University of Florida. There, she obtained her Bachelor of Arts degree in 2018.
At present, she is a widely read Blogger, a Freelance Internet Writer, and an Author. She was brought up in Panama City, in Florida, and still lives there with her family.
Stephanie, the firstborn of the four children. She uprooted her family by the beginning of 2019 and pointed toward the west, to Utah, while searching for professional opportunities. Thereafter, she started producing quality content, blogging material, and also writing articles for the Internet.
Apart from "6 Unique Ad Channels Your Business Should be Leveraging", here are a few of her previous articles:
Sponsored Ads: