How to Be a Successful Day Trader – Uncover the Secret Weapons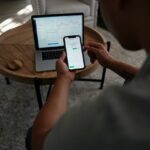 To be a successful day trader, you need to combine thorough market research, understanding risk management, as well as continuous learning to make informed trading decisions.
Being effective in day trading, a quick-moving trading method where positions are established and liquidated during the same trading day calls for a special set of abilities, resources, and tactics.
Image from: https://www.pexels.com
How to Be a Successful Day Trader
---
Day trading necessitates a solid knowledge of the markets. An organized strategy due to the possibility of huge gains and losses is also necessary. This article will examine seven essential hidden tools that day traders may use to succeed in a difficult environment.
Comprehensive Market Knowledge: The Foundation of Success
---
A solid understanding of the market serves as the cornerstone of day trading. Also, successful day traders have a thorough grasp of it no matter what type of financial item they are trading—stocks, FX, cryptocurrencies, or commodities.
They carefully research price-moving news, historical data, as well as market patterns. Their decision-making process depends on closely monitoring geopolitical developments, earnings reports, and also economic data.
Day traders may make educated judgments. Correctly forecast prospective price changes, as well as take advantage of the market by positioning themselves strategically with the help of this extensive information.
Robust Trading Plan: Guiding Every Move
---
A clearly defined trading plan is the hidden weapon that sets successful day traders apart from the competition. Beyond providing general guidelines, this strategy carefully describes entry and exit methods, risk management measures, position sizing factors, and also profit objectives.
The trading strategy is a constant reference and also a safeguard against impulsive and emotional trading decisions, which are harmful in the unpredictable day trading environment.
A successful day trader must develop a plan and regularly modify and adjust it in light of their knowledge and the market's shifting dynamics.
Cutting-Edge Analytical Tools: Gaining an Edge
---
Day traders now have unrestricted access to cutting-edge analytical tools that considerably improve their trading ability. By utilizing technical analysis tools like oscillators, moving averages, and candlestick charts, they can better identify complex trends and patterns in market data.
Additionally, algorithmic trading systems and real-time data feeds provide the benefits of quick transaction execution and availability of the most recent market data. By properly utilizing these tools, a successful day trader can make quick judgments, take advantage of new chances, and maintain an edge in the fast-paced world of day trading.
Risk Management Strategies: Preserving Capital
---
One of the pillars of day trading, risk management is sometimes overlooked yet essential to long-term success. Successful day traders use a variety of risk management strategies to protect their cash and reduce possible losses.
These strategies include using stop-loss orders to limit possible trading losses, carefully managing positions according to account balance and willingness to take risks, and strategically diversifying transactions across several assets to spread risk.
Day traders' endurance in the face of market volatility and uncertainties is ensured by adhering to a policy of risking just a tiny portion of their cash on each deal.
Emotional Discipline: Mastering Psychology
---
Even though it sometimes goes unnoticed, the psychological aspect of day trading significantly impacts traders' results. Day trading's high volatility and brisk speed can cause a variety of emotions, including fear, greed, and nervousness, all of which can cloud logical judgment.
Experienced day traders develop emotional control by sticking rigidly to their trading strategies, remaining patient during slow market periods, and resisting the need to pursue losses. Day traders may successfully regulate their emotions through meditation, mindfulness exercises, and maintaining a healthy work-life balance. This increases their chances of success.
Continuous Learning and Adaptation: Staying Ahead
---
The financial markets are always changing, so day traders must be flexible and knowledgeable. Day traders are aware of changing market trends and changing situations thanks to the undiscovered potential of continuous learning.
Staying current with the most recent information, business developments, and cutting-edge trading techniques is crucial. An armory of ideas and viewpoints may be developed by active participation in webinars, rigorous reading of market-focused books, and forging relationships with other traders through networking channels.
Achieving long-term success in day trading requires the capacity to fluidly adjust to changing market environments and fine-tune methods based on accumulated expertise.
Tools for Stock Trading: Enhancing Efficiency and Performance
---
Having the appropriate tools at your disposal may greatly influence your performance when it comes to day trading. Among these instruments, your computer is essential for speedy trade execution, precise market data analysis, and workflow maintenance.
Investing in the best computer for stock trading will increase productivity, guarantee dependable performance, and support your whole trading plan. 
Conclusion
---
Day trading is a difficult activity that requires a mix of abilities, resources, and tactics. Day traders can arm themselves with the hidden weapons required for success by embracing thorough market knowledge, creating a solid trading plan, using cutting-edge analytical tools, carrying out effective risk management, acquiring emotional discipline, and performing continuous learning.
Remember, trading success needs effort, patience, and dedication to perfection.
How to Be a Successful Day Trader – Uncover the Secret Weapons
Click To Tweet
About the Author of "How to Be a Successful Day Trader – Uncover the Secret Weapons"
---
Here is another creation from our regular, very talented author, Stephanie Caroline Snyder.
Stephanie has studied communications as well as mass communication at the well known University of Florida. There, she obtained her Bachelor of Arts degree in 2018.
At present, she is a widely read Blogger, a Freelance Internet Writer, and an Author. She was brought up in Panama City, in Florida, and still lives there with her family.
Stephanie, the firstborn of the four children. She uprooted her family by the beginning of 2019 and pointed toward the west, to Utah, while searching for professional opportunities. Thereafter, she started producing quality content, blogging material, and also writing articles for the Internet.
Apart from "How to Be a Successful Day Trader ", here are a few of her previous articles:
Sponsored Ads: