Top Marketing Strategies for Small Businesses – The Top 5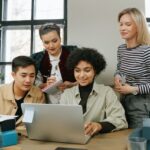 The business world can be highly competitive, and this is why effective marketing strategies are vital for small businesses' success.
With limited resources and budgets, these enterprises must be strategic in their efforts in order to gain visibility, attract new customers, and boost sales.
Image from: https://www.pexels.com
1. Content Marketing: Creating Valuable Connections
---
Content marketing is powerful because it can attract and engage a target audience. This strategy consists of creating and sharing relevant content that is valuable to readers. For small businesses, producing high-quality content can establish them as industry authorities, building trust and credibility among potential customers.
A well-maintained blog, engaging social media posts, and informative videos can all contribute to an effective content marketing strategy.
By incorporating SEO techniques and relevant keywords, small businesses can enhance their online visibility and reach a broader audience, including potential customers searching for related products or services.
Content marketing also allows businesses to showcase their expertise and educate their audience about their offerings. When done right, this approach creates a lasting impact on the audience's perception.
Making them more likely to choose the brand over competitors. Hiring a direct mail consultant to assist in crafting compelling content for campaigns is an excellent way to ensure the message resonates with the target audience.
2. Social Media Marketing: Building a Community
---
Social media platforms have become essential tools for small businesses to reach their target audience directly. The widespread usage of platforms like Facebook, Instagram, Twitter, and LinkedIn provides businesses with an opportunity to connect with potential customers on a personal level.
To succeed in social media marketing, small businesses should identify the platforms most frequented by their target audience. Then, tailor their content accordingly. Engaging posts, visually appealing graphics, and interactive elements like polls and contests can foster a sense of community and encourage brand loyalty.
When implemented effectively, social media marketing allows small businesses to humanize their brand, creating a deeper connection with their audience. Regularly interacting with followers, responding to comments, and addressing queries builds trust and fosters a positive brand perception.
A consultant can offer valuable guidance on integrating social media marketing with other strategies to create a cohesive and impactful marketing plan.
3. Email Marketing: Nurturing Customer Relationships
---
Email marketing remains one of the most effective and cost-efficient strategies for small businesses. By collecting email addresses through website sign-ups or in-store interactions, businesses can build a valuable database of potential customers.
Sending personalized and targeted emails allows small businesses to nurture customer relationships, provide exclusive offers, and share valuable content. The key to successful email marketing is to deliver relevant and valuable information to the audience without overwhelming them with promotional content.
Furthermore, email marketing allows businesses to segment their audience based on preferences, behaviors, and demographics. This segmentation ensures the right message reaches the right people at the right time. This will result in higher open rates and click-through rates.
4. Influencer Marketing: Leveraging Trust and Reach
---
Influencer marketing has become a popular strategy, especially on social media platforms. Collaborating with influencers who align with the brand's values and target audience can significantly expand a small business's reach.
The key is to identify influencers whose followers match the target market. By partnering with influencers, small businesses can leverage their credibility and trust to endorse their products or services. This strategy can be particularly effective for businesses in niche industries seeking to increase brand awareness and drive sales.
Influencer marketing provides an authentic and relatable way to showcase products or services. When a reputable influencer recommends a product or service, their followers are most likely to check it out and consider making a purchase.
As small businesses embark on influencer marketing campaigns, they must prioritize authenticity and choose influencers whose values align with their brand's vision and mission.
5. Referral Marketing: Harnessing the Power of Word-of-Mouth
---
Word-of-mouth remains one of the most influential forms of marketing, and small businesses can capitalize on this by implementing a referral marketing program. Satisfied customers can become brand advocates by referring friends and family to the business, leading to an increase in both customer acquisition and retention.
To encourage referrals, small businesses can offer incentives such as discounts, exclusive offers, or even a reward system for loyal customers. This organic approach to marketing can be a cost-effective way for small businesses to grow their customer base and build long-term relationships.
Final Thoughts
---
With the right approach and a keen understanding of their audience, small businesses can leverage these strategies to create a meaningful impact and build lasting connections with customers. Remember, seeking professional advice can further refine marketing efforts and maximize their effectiveness.
Embracing these strategies will position small businesses for success in today's ever-evolving business landscape.
The Top 5 Marketing Strategies for Small Businesses by Stephanie Caroline Snyder 😃
Click To Tweet
About the Author of "The Top 5 Marketing Strategies for Small Businesses"
---
Once again, our regular author, Stephanie Caroline Snyder, is showing her talent with another of her excellent creations: "The Top 5 Marketing Strategies for Small Businesses"
Stephanie has studied communications as well as mass communication at the well known University of Florida. There, she obtained her Bachelor of Arts degree in 2018.
At present, she is a widely read Blogger, a Freelance Internet Writer, and an Author. She was brought up in Panama City, in Florida, and still lives there with her family.
Stephanie, the firstborn of the four children. She uprooted her family by the beginning of 2019 and pointed toward the west, to Utah, while searching for professional opportunities. Thereafter, she started producing quality content, blogging material, and also writing articles for the Internet.
Apart from "The Top 5 Marketing Strategies for Small Businesses", here are a few of her previous articles:
Sponsored Ads: