How to Remain Focused & Productive at the Office – 7 Useful Tips …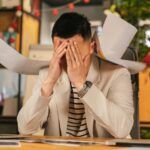 Are you feeling overwhelmed with too much to do in too little time? Do you struggle to stay focused and productive in the office? If so, you are not alone.
Fortunately, there are proven strategies you can use to maximize your office success. By implementing a few simple techniques, you can learn to stay focused, productive, and organized in the workplace.
Image from: https://www.pexels.com
Being Focused and Productive in the Office …
From creating a schedule and setting goals to taking breaks and scheduling time for yourself, you can increase your productivity and be successful in your career.
Setting Goals and Creating a Schedule
---
One of the most important strategies for staying focused and productive in the office is to set clear goals and create a schedule. Setting goals helps you to prioritize your tasks and focus on the important things that you need to do.
It also gives you a sense of direction and motivation to get things done. By creating a schedule and sticking to it, you can ensure that you are able to stay on top of your many tasks.
When creating your schedule, it is important to consider how much time you have available and how much work you still need to do. You should also factor in breaks and time for yourself.
This will help you to avoid getting overwhelmed and ensure that you are able to stay focused and productive. Be realistic with your goals and your schedule.
Taking Breaks and Scheduling Time for Yourself
---
It is important to remember to take breaks and schedule time for yourself. Taking regular breaks can help to reduce stress, improve focus, and boost productivity. Similarly, scheduling time for yourself can help to give you a sense of balance and ensure that you are able to recharge when needed.
Prioritizing Tasks
---
By prioritizing tasks is another important strategy for staying focused and productive in the office. Prioritizing tasks helps you to focus on the most important ones first and ensure that you are able to get them done in a timely manner. It also helps to reduce stress by getting more pressing tasks out of the way as soon as possible.
Managing Stress and Finding Motivation
---
Managing stress is a must for maximizing office success because stress can have a significantly negative effect on your productivity and focus. It can also lead to physical and mental health issues. To manage stress, it is important to practice healthy habits outside of work such as getting enough sleep, eating well, and exercising. Additionally, it is important to take time for yourself and find ways to relax.
Finding motivation is equally as necessary. To find motivation, it is important to set realistic goals and celebrate your successes. Additionally, it can be helpful to find a mentor or role model who can provide guidance and support. Remember to reward yourself for your efforts. This can help to keep you motivated and focused on achieving your goals.
Staying Organized and Reducing Clutter
---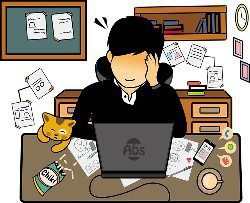 Staying organized and reducing clutter helps in many ways. This can reduce stress, improve focus, and make it easier for you to complete tasks.
To stay organized, you should create a system for managing tasks and documents. This might include creating a filing system or using task management tools.
It's easy for a workspace to become messy and disheveled throughout a busy workday. For this reason, be sure to regularly organize your workspace each week.
Working Collaboratively and Leveraging Technology
---
Working collaboratively is another key strategy for staying productive and focused in the office. By working collaboratively can help to reduce stress and improve communication. Additionally, it can help to improve team morale and allow everyone to share ideas and resources. When working collaboratively, it is important to make sure that everyone is on the same page and that tasks are being divided fairly.
Leveraging technology can help to improve productivity in many ways. It can help to streamline processes, reduce paperwork, and make it easier to store and share information. Additionally, it can help to improve communication and collaboration. To leverage technology, it is important to ensure that everyone is using the same systems and is familiar with them.
Removing Distractions
---
Removing distractions is crucial to staying focused and productive at work. Distractions can be anything from a noisy coworker to the temptation to surf social media. You can also find distraction by how you are feeling, both physically and emotionally. While all distractions are different, they have one thing in common.
They can reduce your focus and productivity and make it difficult to stay on task. You must do your best to create a distraction-free environment. This might include turning off your phone, closing windows, or ditching that uncomfortable office chair for an active sitting chair. By removing things that may draw your attention elsewhere, you will naturally increase focus and productivity.
Conclusion
---
Staying focused and productive in the office can be challenging, but it is not impossible. By implementing a few simple strategies, you can better your chances of staying organized, reducing stress, and increasing productivity. If you are fed up with dwindling focus and low productivity at the office, consider the useful tips mentioned in this article.
How to Remain Focused & Productive at the Office – 7 Tips …
Click To Tweet
About the Author of "How to Remain Focused & Productive at the Office" …
---

Our regular talented author Stephanie Caroline Snyder has studied communications as well as mass communication at the well known University of Florida, where she obtained her Bachelor of Arts degree back in 2018.
At present, she is a widely read Blogger, a Freelance Internet Writer, and an Author. She was brought up in Panama City, in Florida, and still lives there as well as her family.
Stephanie, the firstborn of the four children. She uprooted her family by the beginning of 2019 and pointed toward the west, to Utah, while searching for professional opportunities. Thereafter, she started producing quality content, blogging material, and also writing articles for the Internet.
Here are a few of her previous articles:
Sponsored Ads: