How Pinterest Can Help Your Business – My 4 Strategies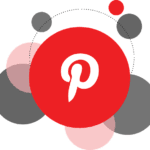 How Pinterest can help your business, the market's most effective marketing platform, perfect for bloggers, entrepreneurs, online trainers and more.
Hi there! Here we are again together to talk about a formidable weapon and often forgotten to quickly increase its traffic: the famous Pinterest.
Pinterest is among the most underused marketing platforms, yet it's possibly the most effective at the moment. And not enough people use it to develop their blog or their business. Big mistake!
Want to expand your traffic and expand your audience? With Pinterest, you can!
Ready to start with my 3 Pinterest strategies to quickly increase your blog traffic? Let's go !
How Pinterest can help your business – My 3 strategies
1 – Conceive a Pinterest profile that seduces the correct users
---
When creating a business or a blog, what is the FIRST action that most gurus suggest that you take? … "Determine what is your target audience".
Pinterest is no exception to the rule.
Among other big mistakes that people tend to make with Pinterest is that they do not adapt their content and profile to their intended readers.
As you wish to get great returns with Pinterest, you have to create a profile precisely intended to interest the right users.
Let me explain how to do that …
Let's start from the beginning, that is your bio. In this field, you must enter 3 important items:
Your biography that describes who you are helping, how you are helping them, and giving people the opportunity to join.
A picture of yourself (not your cat), with preferably a big smile.
And keywords within the profile name that you have chosen.
If you do not know where to set your profile, here is a screenshot to help you, and details below …
Open your Pinterest account. Click first on your profile picture at the top right, then on "Settings", go down the page that appears and here is your Pinterest profile to fill (do not forget to save after each change).
Your Pinterest profile
Now let's get back to the three points that we will go through.
In the very copy of your biography, you have to explain to people what you have to offer them. They are not there just for your beautiful smile, even if it is very beautiful, people are there because you can bring them something.
People will only pay attention to you, once they know how you are going to help THEM.
Here is a quick technique that you can apply to complete the "About You" section: I often help (who is it that you help?) to / grow / learn (what is it that you do to help them?).
Rather simple, no?
After this sentence, which has already helped your visitors understand what you can do for them, you want them to do something. It is called a CTA, or call-to-action.
For example, here below, I am offering you a free eBook which you can have simply by clicking on the image. It is a good example of a call-to-action. I offer you something of value for free.
Now let's discuss your bio picture
For that, I suggest a bright place, preferably a sunlight environement and especially to display a big smile on your face.
Because a person who smiles and enjoys life to the fullest is much more compelling than a prison door.
You do not need a professional equipment for this picture, just about any cellphone will give the right results, unless you already have a Nokia 3310.
Finally, you must add keywords in your Pinterest name.
That way, your profile will have a better chance of showing up when a user searches for some of these keywords not only on Pinterest, but also on Google.
As an example, if you sell Harry Potter jewelry that you make yourself, you can put "Angela Schmit | Homemade Harry Potter Jewelry Creation"
This way, when somebody looks for Harry Potter jewelry on Google, you may be able to show up in his search results.
In addition, people need to understand who you are when they fall on your Pinterest profile. Do not beat around the bush, just do it!
In the end, by generating a pleasant Pinterest profile, there is a chance that when someone lands on one of your pins, they stay longer.
Even if your Pinterest account is still small at the moment, there will be HUNDREDS of users reading your profile every month.
Would you wish for these people to view your profile, to easily understand what you are doing, and click on "subscribe", or would you prefer that they get puzzled and to go elsewhere? The choice is yours !
2 – Create a Pinterest SEO
---
Then, when you have created your nice bio for your Pinterest account, it will be time to delve into geek stuff like the implementation of Pinterest SEO.
"What did he just say? S–E–What? "
Many people compare Pinterest with various social media networks, such as Facebook or Instagram.
However, Pinterest is nowhere close to being a social networking platform!..
… Pinterest is in fact a search engine, similar to our friend Google.
So, if Pinterest is an online browser, we must consider applying Search Engine Optimization, i.e. SEO.
SEO (Search Engine Optimization) is a term that basically suggests that we should optimize our message in order for it to appear as the top answers in the results. "
When going to Google and typing in a single term or a short sentence, you will receive a number of reports and sites that you can go through, ranked in the order of relevance and usefulness for the results you looked for.
Pinterest does the same thing
When you are looking for something in particular on Pinterest, a feed appears. This flow did not happen there by chance.
Pinterest utilises an algorithm intended to class its pins in the sequence that they believe will be more meaningful for their users.
For that reason, look at it like this: when you sign in to your Pinterest account and your page is stuffed with "pins" which are not relevant to your profile and your activities, what do you think will happen?
You will stop visiting Pinterest!
Also if many users stop visiting Pinterest, then they will lose users, money and investors, and ultimately their integral brand.
It would be a pity, right?
It is therefore in their interest to apply algorithms that get you content that they know you will love, so that you stay on their platform.
What does it mean to you ? This means that you need to make sure that Pinterest ranks your work in its feed (and if possible in any of the best positions).
The content most relevant to your search ranks at the top of your feed and will eventually have more clicks and "re-pins".
Now you understand why it is important to optimize your Pinterest account?
But how to go about it ? This is what we are going to talk about below …
1. Conceive "Boards" that your targeted public wants to see
As you may know Pinterest is a name composed of English words "pin" and "interest" which mean "pin" and "interest".
Your blog probably has "categories" meant to systematize your articles.
For example, if you have a travel blog, do you think that it would be wise to consider having a category for "how to grow saffron"? Probably not.
So, delete all "boards" which are not relevant to your target readers and create new ones that they will definitely like.
Generally, I recommend that you should have at least active 20 boards.
Caution: when deleting a complete board, this will remove all subscribers that follow it.
But do not panic ! I have the feeling that you are panicking.
It is not really annoying to lose subscribers who are not concerned with your key message or topic.
In addition, by focusing on your main message, you will attract more good fans (and normaly much faster).
2. Include keywords in the descriptions of your board.
If you can put a description in a board, there is a good reason to do it. It is not to look pretty, so let's do it, but intelligently.
Describing a board is a great place to put keywords to attract more followers to Pinterest.
For example, for our Harry Potter jewelry, you can create a board like "Gryffindor Jewelry – Harry Potter" and place the keywords: "gryffindor pendant, gryffindor necklace, gryffindor ring, gryffindor harry potter house accessories, gryffindor bracelet, etc."
Why is it important to do that? It is of most importance for several reasons.
Number one, your boards are most likely to rank on the search engines.
It means that when a user enters a sentence in Google searches, your Pinterest pins and boards might appear as a top-ranked result.
Is it not cool?
For you it is a real bargain. It can bring you loads of new subscribers, visitors to your website and even emails. And all that by doing what? By writing a precise description.
Secondly, Pinterest, registered members can arrange by "boards" when searching for information. By including keywords to the descriptions in your board, you increase the chances that it will show up in the results.
Okay, let's take a break now. In the main time I invite you to get my free Internet Marketing course by clicking on the banner below …

3 – Include crucial definitions for your pins
---
Yes, that description again !  I strongly support the fact that good descriptions can boost your traffic.
Your pins will go a long way in making you known, so this is where you will put all your efforts.
Here is what you need to do … For each pin you share, you must come up with keyword-rich statements.
Obviously, composing commentaries of items that you pin on other users sires will only inflate your SEO, which will require additional effort and personally, I do not think it is necessary.
So, I recommend you focus on the pins that come only from YOUR website.
What is it that you need to include in your description?… Keywords, simply.
Also the most crucial rule of optimization is to make use of keywords that will attract the correct audience.
To understand how to attract these coveted people, you must put yourself in their shoes. A bit like Patrick Jane in The Mentalist.
What is your target audience going to type in the searches for your pin?
Build up a list of about 5 to 10 long-tail key phrases, and then include your best ones in the description of your pin.
"Long tail? What is he talking about? "
I got excited and forgot to explain this term. A long-tail keyword and a keyword or key phrase that has a minimum of 2 or 3 words.
For example, when I write SEO content for this website, or for my Pinterest boards, I use a free keywords research tool called Jaaxy. This tool helps me find the best keywords to use.
Let me explain …
Instead of entering "pinterest", I write "pinterest help business". The Jaaxy keyword research tool returns a number long-tail keywords containing these words, and I select the one that is the most relevant to the article I am planning to write, for example "how Pinterest can help your business".
If you just enter "pinterest", you will be competing with millions of people. When you use a long-tail keyword, you target a little more your keyword.
In addition, when users look for information or stuff online, they seldom look for general single words.
You can try this tool here below and see for yourself:
People are always looking for a specific idea.
If you are a beautician and have pinned a content "5 Nail Art ideas for the holidays", you are not going to simply put "nail art" as a keyword. It is too broad. Rather, you can use terms like "Nail Art Ideas for Christmas" or "Easy Christmas Manicures".
Remember that you need to put yourself in your audience's shoes and therefore use the kinds of phrases your audience could be looking for.
You do not know what they are looking for when on Pinterest? … Here, you are in luck because Pinterest will help you see more clearly!
To do this, just click on Pinterest, type a few broad keywords (like "wedding"), press "Enter" and note what Pinterest has to offer!
As an example, in the above image, Pinterest offers terms such as "Wedding Dresses",  "Wedding Rings", etc.
You can even go one step further and produce even more precise keywords.
Use one of the keywords you found in your search as "Wedding Dresses".
Then, once you've produced 3 or 4 great keywords / phrases, put them in the description of your own pin!
If your pins have keywords, you will greatly raise the chances that your dream spectator will land on your pin when searching for answers on Pinterest.
Pinterest also offer something they call "chosen for you," they are pins that Pinterest actually chooses for you, related to your niche or interests, and appears in your feed.
In case you do NOT use keywords, it will become difficult for Pinterest to locate your pins and propose them to users who might become dedicated visitors after viewing your pin as a "chosen for you" proposition.
What to remember about SEO Pinterest:
Fill out your profile carefully.
Create boards specific to your target audience. Sort out your old boards if necessary.
Include keywords to the descriptions of your boards.
Add crucial statements to your pins as well.
Now that you have carefully filled in the descriptions of your boards and pins, let's tackle our latest Pinterest strategy.
4 – Manage your pins carefully
---
Now that you have applied (hopefully) all of the suggestions you have seen above, you can devise a method where you regularly share ideas on your Pinterest boards.
Here are some tips to get you going:
Whenever you post a new article on your blog, pin it to Pinterest.
For my part, on my sites, immediately after I publish a blog post, I use a very useful little program called Tailwind. It makes my life extremely easier as I can program my pins days in advance and they are posted at the best time of day on the desired boards automatically (a real gem).
For those who wish to use the Google Chrome extension to pin on Pinterest, here is how to install the Pinterest extension to Chrome:
Click this link: https://chrome.google.com/webstore/search/pinterest
Install the first extension that appears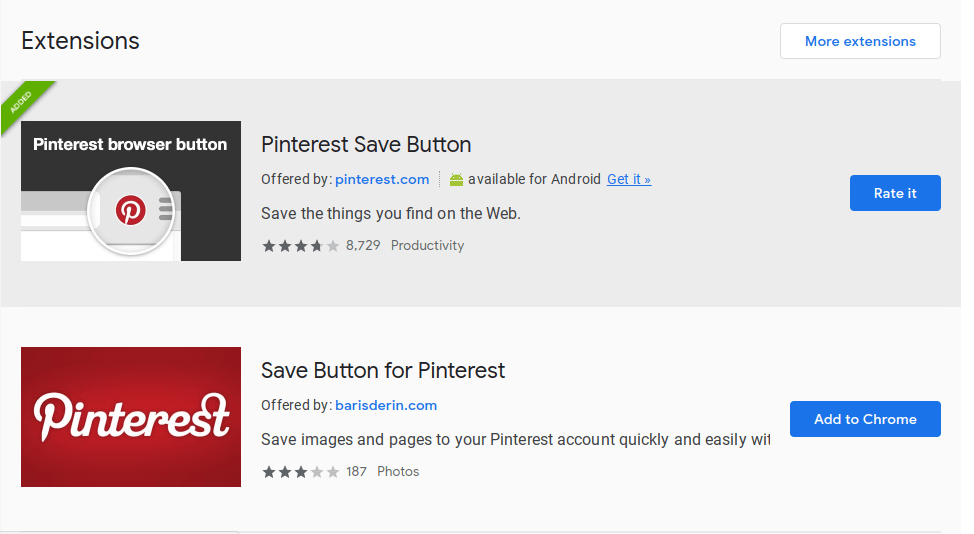 But I do not pin it just one time. To start with, I pin my message to a board specific to my blog articles, and then to other boards similar to my content. This is a bit time consuming, but it works. (that's why I prefer to use Tailwind).
I advise you to have a board specific to all your blog posts and other specific categories.
After pinning your content to your board where you put ALL of your blog posts, you must pin it to your other boards that match its category.
For example, if you are a travel blogger, pin your photos "10 tips to leave peacefully in Iceland" in your board where you put ALL your blog posts AND on your board "Traveling in Iceland", not in your table "Go to the meeting".
Why put it in several boards?
Because, several of your subscribers will only follow a single board of yours. But thanks to Pinterest's algorithm, your subscribers will not see your duplicate pin on their Pinterest account.
For example, when pinning your message on multiple boards, you increase the likelihood of someone viewing it on Pinterest. Great, no?
Plan the content of your Pinterest boards
I advise you to plan your content on Pinterest.
Why ?
Just to have content every day posted at the best times of publication.
You are most likely a very busy person and cannot be everywhere at once. So, you need help planning and nothing better than a good tool to do that.
Personally, I use Tailwind.
With Tailwind, it is extremely easy to program new pins on your boards.
You simply schedule using the Tailwind chrome extension, and then your pins are automatically posted to your Pinterest account based on the hours you have chosen in your calendar.
When you publish, I suggest that you include a mix of your own pins and other people's content.
Often, if you do not see a lot of Pinterest traffic, it is because you are not sharing enough of your own pins.
You should aim for about 20% up to 30% of your own pins and 70% to 80% of other people's content in your boards.
Will pinning help me to make myself known?
Well, it is like any good influencer, your audience should not forget you and for that, nothing better than to remind them of your presence everyday.
In addition by regularly publishing quality content, you feed the SEO of your Pinterest account.
Warning ! Pin only quality content and not just gossip stuff just to say "I share everyday".
By pinning information on your boards everyday, you increase your probabilities of see your pins at the top of someone's feed (which will ultimately result in more traffic and then, subscribers). Oh yeah !
Psst … do you want to start your own business? Here is "How To Start An Online Business" ? It is an asset that explains step by step the essential methods before embarking on business creation and avoid mistakes!
CONCLUSION
Let us recapitulate. Here are the 4 major actions you need take in order to use Pinterest as a fantastic marketing tool:
Create a Pinterest profile that attracts the right people
Create a Pinterest SEO
Add strategic descriptions to your pins
Manage your pins carefully
If you follow these 4 tips, I guarantee you more traffic on your website.
If you have questions or if you have your own tricks to increase your blog traffic with Pinterest, share it with us in the comments below!
Also, I invite you to get my free Internet Marketing course by clicking on the banner below …

Here are some articles that you will find useful too:
Thanks for reading
---
Hopefully, you now understand how Pinterest can help your business. If you have any other tips in this particular field, my readers and myself would like to hear from you. And, should you have any problems that you would like to be resolved, please make use of the box below and someone and/or myself will respond typically within 24 to 48 hours. If you liked reading this article please share it socially and post your appreciation in the comments area below, I will highly appreciate it!
I am a Premium Member at Wealthy Affiliate, where I learned how to share my passions and successes. You are most welcome to join my team and learn how to become successful in business and retire early. I will personally mentor you for FREE. It is 100% FREE to join, learn and earn! Click the button below and I'll see you on the other side.
 Easy to Retire – Copyright © since 2017 to date!