How To Plan A Marketing Strategy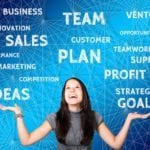 How to plan a marketing strategy is certainly quite a wide subject. There are many ways to approach this subject and you may find in this article some suggestions that you have already read somewhere else.
The area that concerns us today is that of online marketing, a complex subject that is approachable from several perspectives.
Today, we will talk about the preliminary steps to establish a good online marketing strategy as well as tools to use to get the maximum profit possible.
To study this wide subject, we are going to break it down as follows:
Study your audience
Take into account the competition
Know your business's needs
Give value to its objectives
Choose the proper tools
Check out results to test efficiency
The 5 basic tools of online marketing
Lots to cover, so, are you ready ? … Here we go …
How to plan a marketing strategy
1. Study your audience
---
We can identify it by asking the following question: what type of person likes my product?
This is a crucial step for a correct development of the online marketing strategy, because it will condition the tools and formats that we will use for our campaign.
Traditionally, the target audience must be partitioned into several groups according to variables such as sex, age, household revenues, lifestyle, etc. …
Any new business that wants a successful marketing must clearly define the target audience (s), because online marketing must be in agreement with it.
Let's take a few examples:
If our target audience is young, it will be necessary to put forward the following social platforms: Facebook, Twitter, and Instagram, as they are mainly utilised by this group of people. The use of an every day language and proximity, as well as the publication of contests and special sales, can be very useful for this type of audience, who will be more than willing to share, or to participate in these competitions if they attract their attention.
If we are a technology company and our target is specialized and has specific knowledge in this area, we can create more complex content. Instead of using social networks it would be more interesting to have, for example, a business blog.
New trends: in the news, we are not talking about traditional segmentation, but also global consumption segments. A global consumer segment is made up of people from different countries who have a similar lifestyle (think, for example, of video game players).
Identifying these segments is a key step for any company that wants to become international. The interest in identifying the global segments of consumption is to choose the one that corresponds best to our offer to find a common axis that goes beyond differences and is shared by all individuals; this axis will serve to establish the message of the online marketing strategy.
2. Take into account the competition
---
It would always be important to know the actions taken by the competition to capture its customers, also on the Internet. If the primary firm in your industry has a business blog that is closely followed by your target, it may be interesting to create one that is similar. You can also choose alternatives to your competitors and try to distinguish yourself.
In all cases; study your competitors over time, study their keywords and communication strategies; this will help to adapt your strategies somehow.
3. Know your business's needs
---
Once you know your audience and your competitors, you will be in a position to analyze the current situation of your online marketing and know the degree of development that you have at the moment.
For this, it will be necessary to make a SWOT analysis of the company on the Internet. This analysis will allow you to know your drawbacks, risks, capacities and possibilities.
With this you will know what are the strengths of your business, the capabilities and funds at hand and the environmental factors that can be exploited, as well as the niches of the market.
On the other hand, it will also serve to detect our weak points and environmental factors that can be dangerous for us and thus anticipate future difficulties.
4. Give value to its objectives
---
The best method to set goals is the SMART method. This method seeks to set specific, measurable, acceptable, realistic and temporally defined objectives. For example, set the goal of increasing web visits to 1,300 (specific) visits using to measure the Google Analytics tool (measurable).
Taking into account that our current visits are 800 per month (+500 are acceptable) is it useful to increase the visits (relevant) within two months (limit in time)?
5. Choose the proper tools
---
To decide which tools are most relevant to your marketing strategy, you need to ask yourself three questions:
What is the target of the campaign? Depending on the segment chosen, it will be necessary to maximize one tool or another.
What are the priorities? It will be necessary to define the main objective and the secondary ones.
Do we have the resources to complete the strategy?
Depending on the answers and your objectives, you will be able to choose the tools that best suites your needs. We are going to explain these tools next.
6. Check out results to test efficiency
---
Once your online marketing actions are in place, you will measure their effectiveness. It will be necessary to make a careful check over time to detect possible issues and solve them as quickly as possible.
It will also be necessary to make a final check. At this point you will have to look for results through your devices: unique clicks, conversion rate, number of visits as well as the visit time spent on your web page, the origin of the traffic … It is very important to see if the goals have been accomplished and, if not, see what the reasons are.
There are many free tools and web pages to control the results, just tap on Google "tools to measure online results".
Among the most important tools for measuring the performance of online marketing is Google Analytics. There are also pages like Moz that help measure two indicators: Domain Authority (notoriety of your domain on the web) and Page Authority (notoriety of your page on the web).
There is a software like Hootsuite which, in addition to helping you in the management of your RR.SS give you the key figures of publications (number of impressions, I like …).
Finally, the natural positioning on Google (if it appears among the first results or not in a research and what is the evolution) which must be controlled over time.
Personally, I find the above tools very complex and full of useless information. In everything in life, and most especially on the Internet, I believe that "less is best". So, to take care of my online analytics, I use a little program called "Clicky". It does just what I want.
7. The 5 basic tools of online marketing
---
Once you have defined your goals, your target and your resources and conducted an internal and external analysis, you will have to think about the tools you will use to implement your strategy.
In a very competitive and constantly changing online environment, you must choose the online marketing strategy and adapt to changes to improve your Internet positioning.
What tools will we need to acquire without spending too much?
The fundamental pillars of online marketing can be found on "free" tools such as the web page, search engine positioning, the blog, mail marketing and social networks. Let's see them individually …
1. The web page
Depending on your skills, you will need a higher or lower investment. Your web page should be both your cover letter and your store.
A good web page must be attractive, optimized, easy to navigate, and generate quality content on a regular basis and take into account your keywords. For that, I can highly recommend using WordPress. It is free and also the most popular nowadays, among beginners as well as by large companies.
Finally, and this is also very important, it must push the user to buy! One of the major benefits of having a business website is the ability to offer your products without having to have a physical store.
2. Positioning SEO, or said differently, "Positioning on Google"
It is closely related to the web page and serves to maximize the visibility of your company on the web.
To succeed in being well positioned, one must first have a quality web page that combines all the aspects described above.
Then, the definition and repetition of the keywords is mandatory. So, when a customer does a search with your keywords, being well positioned on these words will help you to be well placed on Google, which will be in direct relation to the number of visits to your web page.
On the other hand, having an attractive and optimized web page that brings quality content, will be in direct relationship with the time that the user will navigate on it, which is a directly link to the SEO (more time visitors will spend on your web page, the better your positioning).
Other factors such as the number of external webs pointing to your web page; and the quality of the web pages that name you, are also very important to have a good positioning. The more external links to your page, the better your SEO. But appearing on any page is useless and can even penalize you.
3. The blog
A blog is useful to share information with customers, but it is also useful for your SEO positioning. The blog helps to continuously update the web page, as well as to define and repeat the keywords.
It must, of course, contain quality content, because if no one reads it your effort will be useless. The content must be related to your products and always include attractive images and texts.
4. Email marketing
This online marketing tool will help you build customer loyalty and create trust, giving your brand credibility.
We call it an "autoresponder"
It will send your messages to your subscribers automatically on the day and the time you decide. You can program a series of emails to be sent months in advance if you wish.
Nevertheless, you should use this tool with care, because spamming or sending too many mails can have the opposite effect to the one you want. We must be sure that email contacts are made and we must avoid sending mail "anyhow to anyone".
It is an interesting tool because it allows us to know the number of people who have read the email and thus to measure the effectiveness. It is also a very popular tool for launching new offers or promotions.
You can find several of these tools out there, I have tried them all during my many years of marketing online, and one that I am still using now is "TrafficWave". Not only that it is the cheapest but it is by far the easiest to work with; and the first month is free. Plus, it has its in-house affiliate program with its own followup emails already in it.
Be careful when deciding for an autoresponder, you might find some that are free, but their deliverability might be poor, and you might be flagged as a spammer. So, yes, these two things must be taken into consideration.
5. Social Networks
They serve to create a community of users who follow your content day by day as well as to build loyalty. The primary purpose is not to sell the product but to actively engage the people who follow you.
This is how some of them will end up on your web page. The most used social networks are Facebook, Twitter, Instagram and LinkedIn. YouTube is also another social network that is increasingly popular among marketers.
Finally, as for Google Plus, it is a relatively new network that is developing little by little. Note that each RR.SS serves to reach a target of varying age. LinkedIn has a professional audience. On Google+, Facebook, Twitter and YouTube we can target very different age segments. Whereas on Instagram most of the users are young people.
Now you know, you need to strengthen your online presence, and for that, online marketing strategies must be put in place. In order to survive in this environment, analyze, set goals, take advantage of your strengths and opportunities. Pay attention to risks and use the tools that best fit your business and bring you the most profit.
The purpose of this article was to quote free tools to improve your online marketing. However, if you do not have the time or the human resources to develop your presence on the Internet, you also have the opportunity to subscribe these services to specialized companies such as Fiverr to ensure the correct execution of tactics.
Also, I invite you to get my free Internet Marketing course by clicking on the banner below …

Here are some articles that you will find useful too:
Thanks for reading
---
Now you know how to plan a marketing strategy for your business. If you have any other tips in this particular field, my readers and myself would like to hear from you. And, should you have any problems and would like to find a solution, please make use of the box below and someone and/or myself will respond typically within 24 to 48 hours. If you liked reading this article please share it socially and post your appreciation in the comments area below, I will highly appreciate it!
I am a Premium Member at Wealthy Affiliate, where I learned how to share my passions and successes. You are most welcome to join my team and learn how to become successful in business and retire early. I will personally mentor you for FREE. It is 100% FREE to join, learn and earn! Click the button below and I'll see you on the other side.
 Easy to Retire – Copyright © since 2017 to date!